Barbie Partners With She Should Run To Inspire Girls With New President, VP Dolls and Leadership Tools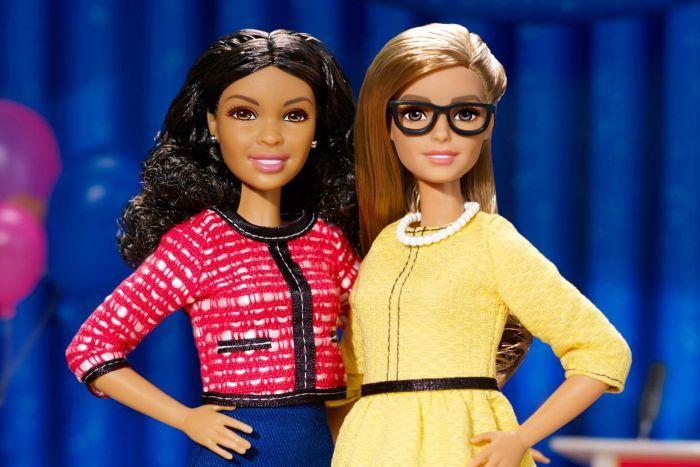 On Wednesday, Mattel introduced their newest doll-duo: President Barbie and Vice-President Barbie. Barbie teamed up with She Should Run, a non-partisan organization that aims to "expand the talent pool of future elected female leaders," to create their mini Commander-in-Chiefs.
Co-Founder and CEO of She Should Run, Erin Cutraro, says the strongest way to to get women to run for leadership positions is leading by example. "You have to help women envision themselves in these leadership roles by showing them the examples of women who are using their voices to make change," she shared in an interview with Her Agenda.
But for young girls who aren't yet receiving daily inspiration from feminist leaders such as Emma Watson, Malala, and Hillary Clinton, portraying the message through the iconic Barbie doll seemed like the perfect way.
"I had the opportunity to serve on a Global Advisory Council last year and this year, advising Barbie along with others on cultural conversations and the real challenges we face being girls and women running for leadership roles. The conversation really started there and the partnership…it really was a beautiful coming together," Cutraro said. "Barbie has the incredible opportunity and exposure to take this doll that girls use for play and relay this message through these Presidential dolls."
Although we can't help but wonder if the fictional all-girl ticket could foreshadow a possible real Clinton/Warren ticket, Cutraro argues that there's more than just the upcoming election that we need to keep in mind. "We hope that this conversation goes further. There are 500,000 elected offices across the country and we really need to be grooming women to run for all of them." Currently, women make up 19.4 percent of Congress, 20 percent of the Senate, and 19.3 percent of the House of Representatives.
This isn't the first time Barbie has empowered young women through their platform. Not only has Barbie run for presidency before (this will be her 6th debut), but the company also started a Twitter hashtag #YouCanBeAnything to promote female leadership.
Article continues below advertisement
The campaign uses inspirational videos, pictures, and quotes from Barbie to remind girls of the endless careers that women are capable of pursuing.
Article continues below advertisement

She Should Run has no plans of slowing down. While the feminist organization is still reveling in this exciting new launch, a streamline of new projects are in the pipeline. Come this November, they're launching a national program called the She Should Run incubator where women who are interested in running for elected roles can dip their toes in the campaign trail. "It's meant for women who are curious about elected office but don't know what goes into it," said Cutraro.
As Barbie and She Should Run continue to fight for gender equality in leadership roles nation-wide, there is no question that the world will be seeing a lot more female leaders in the future — and not just the doll-sized kind!