Grammy Wins: Beyoncé, Viola Davis, And Others Shine And Define Greatness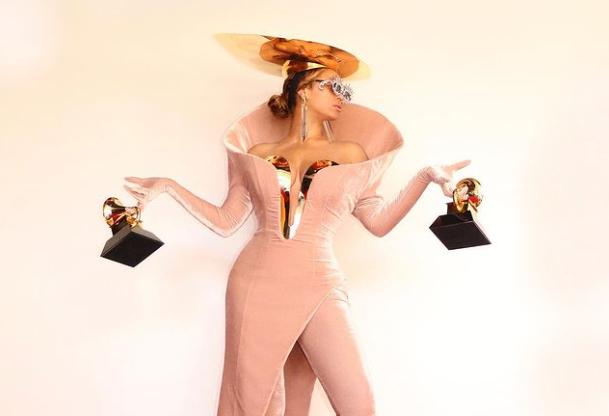 The Beyhive is sure to be celebrating today after Beyoncé proved that she could very well be considered the greatest of all time last night. Queen B officially broke the record for the most Grammy wins of all time after winning her 32nd Grammy for best dance/electronic music album for her critically acclaimed work, Renaissance.
"I'm trying not to be too emotional," she said in her acceptance speech. "I'm trying to just receive this night. I want to thank God for protecting me. Thank you, God. I'd like to thank my Uncle Johnny, who's not here. But he's here in spirit. I'd like to thank my parents — my father, my mother, for loving me, and pushing me. I'd like to thank my beautiful husband, my beautiful three children who are at home watching."
She continued, "I'd like to thank the queer community for your love, and for inventing this genre. God bless you. Thank you so much to the Grammys. Thank you."
There were many moments from the women in entertainment we love that had us cheering from our couches. Here are a few more of the other top moments from the Grammys:
Article continues below advertisement
1. Viola Davis Reaching EGOT Status
Viola Davis has proven that she can do just about anything. After winning an Emmy in 2015, an Oscar in 2017, and two Tony's in 2001 and 2010, she has now taken home a Grammy for her audiobook Finding Me. While accepting her award, she celebrated reaching the legendary status. She said, "I wrote this book to honor the 6-year-old Viola — to honor her life, her joy, her trauma, her everything. And it has been such a journey. I just EGOT!"
2. Lizzo's 'Record Of The Year' Win And Empowering Speech On Positivity
There are two things that are abundantly clear about Lizzo: She loves her some Beyoncé and she loves to spread positivity. As she accepted her Grammy for Record of the Year for "About Damn Time," she dedicated her win to Prince, who she credited for helping her fall in love with positive music.
"I stayed true to myself because I wanted to make the world a better place so I had to be that change to make the world a better place," she said. "And now, I look around, and there are all these songs that are about loving our bodies and feeling comfortable in our skin and feeling good! And I'm just so proud to be a part of it."
Article continues below advertisement
She also paid homage to Beyoncé in her speech. "Where you at, Beyoncé — my eyes are wet," she said. "You changed my life. You sang that gospel medley. And the way you made me feel, I was like I want to make people feel this way with my music. So, thank you so much. You clearly are the artist of our lives!"
3. The Intergenerational Hip-Hop Tribute
Hip-hop legends banded together for a performance to celebrate the 50th anniversary of the genre. LL Cool J began the segment by giving Dr. Dre a 2023 Global Impact Award.
Jay-Z, Missy Elliott, Busta Rhymes, Queen Latifah, and Method Man joined the stage with some of Gen Z's icons to perform. The segment was broken into three parts, honoring the inception of hip-hop in the Bronx with DJ Kool Herc and his sister Cindy throwing parties in a rec room with their turntables and mixer.
Having the opportunity to celebrate the milestones of the performers we love is still as exciting as ever. Whether it was watching Beyoncé get emotional or watching rap legends showcase their talent, the 2023 Grammys left us feeling proud of our favorites.