Beyoncé's Foundation Is Offering Grants To Help Individuals Facing The Housing Crisis
Beyoncé is continuing her efforts in philanthropy and is providing $500,000 for round one of grants dedicated to helping those facing eviction and foreclosure due to the Coronavirus pandemic through her BeyGOOD foundation.
"Beyoncé is continuing her heart of support and helping where needed most. Phase Two of the BeyGOOD Impact Fund will now help those impacted by the housing crisis," according to a news release on the singer's website.
"The housing moratorium is set to end on December 26th, resulting in mortgage foreclosures and rental evictions. Many families are impacted, due to the pandemic that resulted in job loss, sickness and overall economy downturn," said the release.
Renters who have lost employment income, likely due to job loss or reduced hours, are worried about keeping a roof over their head through winter. An estimated 15.5 million adult renters who lost employment income report no or slight confidence that they can pay next month's rent – 38 percent of such renters.
That's considerably higher than the 14 percent of renters who have not lost employment income. Among renters who lost employment income and are not caught up on rent, 51 percent say they are very or somewhat likely to be evicted in the next two months, according to the CBPP website.
Once the moratorium ends, many of these renters will be expected to pay their entire back rent or come up with some sort of payment plan with their landlord — or they could face losing their homes.
While the CDC moratorium currently provides protections from eviction, many renters who have lost employment income are accumulating debt from back rent and late fees. Renter households with a COVID-related job loss will owe an estimated average of $5,400 in back rent.
Article continues below advertisement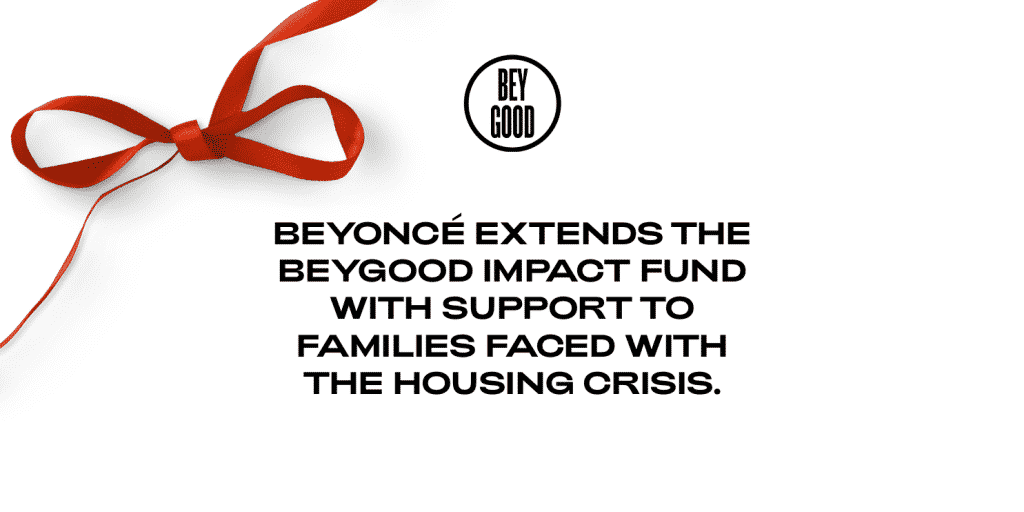 "When we were faced with the pandemic caused by COVID-19, BeyGOOD created a plan to make a difference. We assisted organizations across the country that were providing people with basic needs like food, water, household supplies and COVID testing. We also provided mental health support," stated the BeyGOOD news release.
In May, Beyonce and her mother Tina Knowles-Lawson set up mobile COVID-19 testing sites in their hometown of Houston, Texas.
She also partnered with Twitter CEO Jack Dorsey, and donated $6 million to coronavirus in April.
BeyGOOD and the NAACP have also teamed up to support Black-owned small businesses impacted by the pandemic, providing 250 businesses with $10,000 grants. Her Agenda was among those businesses to receive a grant.
Those who apply for the grants must submit the necessary documentation to the National Association for the Advancement of Colored People (NAACP). The applications open on January 7, 2021. $5,000 will be dispersed to 100 individuals in late January. Round 2 will open in February.
To avoid a widespread spike in evictions and homelessness in early 2021, the President and Congress must act swiftly and create a policy that combines an extended CDC order with comprehensive rent relief to help households address their rental debt.
Failing to act swiftly will cause unnecessary hardship and long-term damage to households struggling to pay rent, stated the CBPP website.