Beyond Social Media: How To Get The Right People To Talk About Your Work In Real Time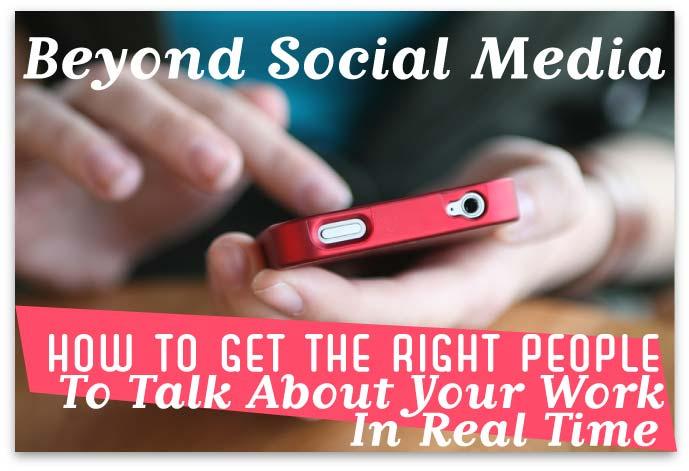 Social media gives us the opportunity to promote our work to infinity and beyond –but the foundation for a strong brand starts with establishing your credibility as a professional in the real world first.
If used properly, social media can help enhance our personal brands, allow us to engage in important conversations, and build meaningful relationships. But what happens when we want to engage beyond social media and have our names mentioned positively in meetings that happen behind the scenes in the real world?
When I first moved to Washington, D.C. three years ago, I had no idea what it meant to leverage my brand as young professional, nor did I know how to use social media to my advantage. But once I began using my blog to show my thought leadership as a millennial (in addition to attending events that aligned with my interests) I began to notice ways in which I could not only build my network, but get people to really trust the work that I was capable of producing. This in turn has opened up doors for me professionally, and provided a boost in times when I needed it most.
To those of you looking to gain momentum in building your credibility as a young professional, here are a few tips to get you started:
1. Don't be afraid to talk about yourself and your work.
Dr. Maya Angelou once said, "I have no modesty. Modesty is a learned behavior. But I do pray for humility, because humility comes from the inside out." Whether you're attending a networking event or joining a weekly Twitter chat, never be afraid to share your passions with others. If you don't, who will? It's important to have your 30-second elevator pitch memorized as a means to effectively communicate who you are, what you're passionate about, and what you've done. Now, this doesn't mean every networking event will yield a new business opportunity, but there is always a way to connect with someone that may be able to point you in the right direction.
Article continues below advertisement
2. Be willing to offer your services to causes that align with your interests.
While we all ultimately want to get paid for what we love to do, sometimes there will be times when we have to volunteer our talents and services. Using websites like Catchafire to connect with nonprofits and other organizations that are looking for help could result in receiving great professional recommendations, and potentially open doors for a future paid opportunity.
3. Show that you're a thought leader that's always yearning to learn more.
I always admire my peers that use social media platforms to not only share what they're doing professionally, but how they are learning to improve their craft. Attending free workshops or webinars in your field of interest and sharing out what you have learned is always a great way to build professional clout. The more you're willing to invest in yourself, the more trusted you will become to those that are seeking your expertise and insight!
Article continues below advertisement
4. Be prepared for when opportunity knocks.
You never know when there may be an opportunity for you to flex your muscles, so if you stay ready, you'll never have to get ready. What do I mean by that? Keeping your personal collateral (LinkedIn profile, Twitter bio, business cards, etc.) up-to-date, and remain flexible. It may call staying up for a few late nights, but if it drives and excites you, it's going to be worth it in the end. Also, don't just wait for opportunities to land at your lap, go look for them! As I've said before, social media gives us the chance to not only share what we care about most, but also to discover the work of others that share our interests.
5. Now that you've made the connects, make sure you follow up!
So you've attended the premier networking event, handed out all of your cute business cards and made the right connections — now what? To get the most out of the work you put in 'working the room', you must follow up in order to build these potential relationships. With those that I've felt I made a genuine connection with, I usually follow up with a short and sweet email within 24 hours, expressing how nice it was to meet them and offering a meet-up time in the next week or so to continue the conversation. This step is the most important because it opens the door for you to learn more about the person you've connected with, and to share your personal and professional passions as well. It may be daunting and vulnerable at first to put yourself out there, but you'll be pleasantly surprised at the amazing lessons you can learn. Also, more seasoned professionals will be always be impressed with you taking a risk to learn how you can become better at your craft.
Following these five steps will not only enhance your personal brand, but also put you on track for boosting yourself professionally as well. Have you been able to bring your work online to life? Tweet me your story, I'd love to hear it.