#BlackLivesMatter Co-Founders Say Their Org Is 'A Love Note To Black People'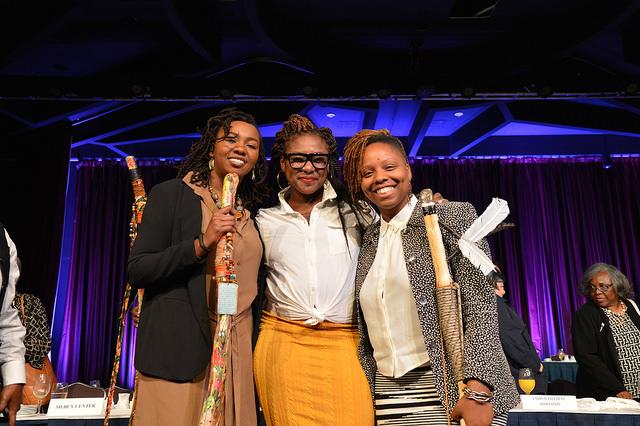 Celebrating Women Breakfast Hosted By The New York Women's Foundation
NEW YORK, NY – MAY 14: (L-R) CWB honorees and co-founders of #BlackLivesMatter, Opal Tometi, Alicia Garza and Patrisse Cullors appear onstage during The New York Women's Foundation Celebrating Women Breakfast at Marriott Marquis Hotel on May 14, 2015 in New York City. (Photo by Slaven Vlasic/Getty Images for The New York Women's Foundation)
You don't know what empowerment feels like, until you are in a room with over 2000 women who are actively working to change their circumstances and communities.
The 29th Annual Celebrating Women Breakfast kicked off with an all-female acapella ensemble ELEMENT and we went on to hear from grantees throughout the program who spoke passionately about the meaningful impact that the New York Women's Foundation's generosity had made on their communities, their lives, and the people within them.
Regardless of wealth, age, race or profession, these women came together to ensure that 80 community-based, women-led, non-profit organizations throughout New York City had the $6 million it needed in funding for 2015. With this commitment, the New York Women's Foundation is the third largest women's fund in the world.
In a time where there has been so much racial tension in our country, from Ferguson to the Baltimore riots, there could not have been a better choice for the recipients of the Celebrating Women Award. NYWF board member, Yvonne Moore, and the Director of the Center for Race, Religion and Economic Democracy at Union Theological Seminary, Charlene Sinclair, presented the three co-founders of #BlackLivesMatter, Patrisse Cullors, Alicia Garza, and Opal Tometi with their walking stick awards for their fearless leadership in the national movement for Black Lives.
Article continues below advertisement
#BlackLivesMatter was created in 2013 after Trayvon Martin's murder and has continued to be a movement and a response to the anti-Black racism in our communities throughout the United States. The three co-founders of #BlackLivesMatter led the over 2,000 breakfast attendees in a powerful "Black Lives Matter" chant to solidify that #BlackLivesMatter is not simply a moment in time or a hashtag, but "a movement to build a multiracial democracy that benefits all of us." Alicia Garza spoke of the origins of the movement, reminding us that "[It] didn't start as a 501c3. It's a love note to black people." Their powerful words brought the crowds to a standing ovation as they accepted their awards.
President and CEO, Ana L. Oliveira, spoke on The Foundation's work in tackling racism because "all lives are black lives," and economic inequality in New York City. About 25 percent of women and girls in New York live below the poverty line and about 46 percent of New Yorkers can't afford to live here. She highlighted the issues, like living wages, that the city needs to address and how we need to work together at an inclusive set of tables to create better solutions.
"Problems and solutions are found in the same place," she said, and challenged us to think differently about philanthropy, which is about accountability and not privilege.
So far, 2 million dollars have been raised and every dollar that is donated to The Foundation from now until Friday, May 22nd, will be matched dollar for dollar by an anonymous donor.