Blogging While Brown 2014 Conference Gives Bloggers The Secrets To Become Profitable And Productive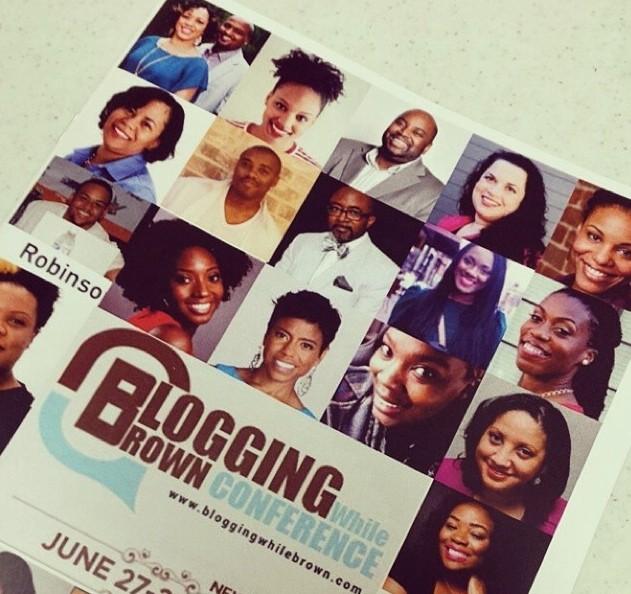 Blogging can be an extremely isolating experience.
Huddled behind the glowing screen of a laptop, sitting for long hours day in and day out tapping away at the keys, sometimes an entire day can pass by without ever really uttering a word out loud.
Beyond the socially crippling aspect of blogging, questions and issues can arise and unlike a normal job where you can walk over and chat about your problems with a supervisor or co-worker, often there isn't an outlet or resource to get the answers you need in the blogging world — especially for bloggers of color. That's why Gina McCauley launched a conference seven years ago titled Blogging While Brown.
"People are getting their problems solved, they're asking for advice, they're getting their questions answered and there's something about getting that facetime that's so valuable," McCauley explained to Her Agenda at the seventh annual conference that took place in Harlem Schomburg Center For Research In Black Culture on June 27th and June 28th.
"Some people might not feel comfortable going to a larger general interest conference. When you come to blogging while brown everybody looks like you, you're welcome and our speakers look like you and so it's really great."
This year's conference did not disappoint. The topics and workshops covered useful insider tips and advice for everyone from a blogger just starting out to more experience bloggers.
Speakers were incredibly transparent and open with their experiences and sharing the most helpful advice that you can apply to your blog to grow, leverage your platform, effectively collaborate and elevate your brand. Just a few examples of the useful workshops and sessions included Six Ways to Make Six Figures from Blogging Without Ad Revenue, The New ABCs of Blogging (presented by the co-founder of Blogher) and How To Get Invited To Speak At Conferences.
Elisa Camahort, co-founder of Blogher shared an incredibly simple yet insightful tidbit about being a blogger, "You are RIGHT NOW the founder of a business."
Article continues below advertisement
Below are a few of the highlights from her talk:
B bootstrapping and barreling
I incubators and accelerators
M multiple income streams
P preferences (exit strategy — how much money investors get back before you get paid from an exit)
Y you are a salesperson now
Perhaps the most enlightening thing she revealed is the list of reasons investors do notgive you money. The top reason would be "because you're tired." She asked attendees to think about how "hot is the fire in your belly"– and whether or not it would kill us if someone beat us, or if someone else succeeded with our idea. Also, she says to put yourself out there, and don't be afraid to pitch, and to ask for more.
"You don't have to be the person telling yourself no you can't all the time, other people will do that anyway. Don't be your own barrier, put yourself out there," she said. "Money doesn't buy happiness but it does buy freedom. It doesn't have to be perfect. Put it out there. Get feedback. Business is not a science. Set your own bar."
The presenters from the "Making Six Figures" session, Lamar Tyler and his wife Ronnie Tyler, pushed the idea that having a product is more valuable than chasing traffic all day.
"If you have the correct mechanism for products and services in place, you'll gain the customers."
Article continues below advertisement
An interesting twist to close out the conference included an announcement from AT&T (one of the conference sponsors) about their new initiative and conversation focused on the ways faith based organizations and churches are using technology. They're calling it #InspiredMobility.
AT&T partnered with Ebony Magazine to conduct a study that found more than 90% of survey respondents believe that mobile technology has a place in church.
On the panel that launched the initiative, one of the panelists shared her personal insight that, "Millennials like to be taught, not preached to in the traditional sense. Mobile is a good fit."
You can read more about the research and findings in AT&T's newsroom, here.
The Blogging While Brown conference is an experience every blogger should invest in. The founder of Blogging While Brown sums it up best. In our interview with her she shared her motivation for putting on this conference year after year.
Article continues below advertisement
"My goal is to make sure that black bloggers keep up with the social space. From making money to mastering technology to building camaraderie. If people stop blogging because they just want to move on to something else that's fine, but if they stop blogging because they could never get the answers to their questions or they were frustrated and they could have gotten advice from another blogger then that's a tragedy," she explained.
"We need all of these voices. It's a very diverse group of people here. We just want to do what we can to keep people blogging and to help people achieve their dreams."