Bring It: Take Your Real Self To Work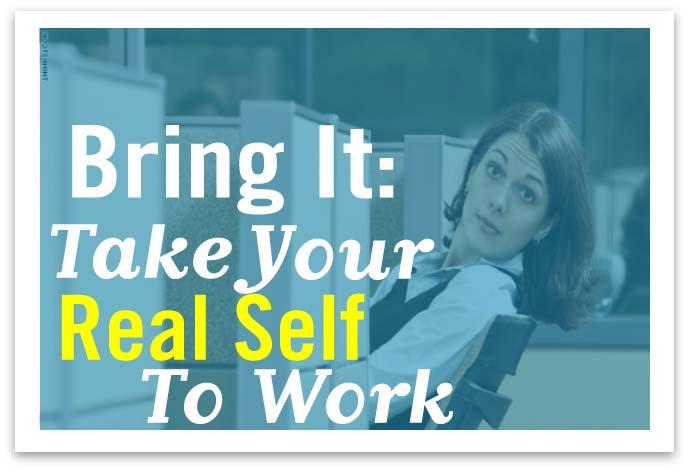 I have so many interests, plans, and ideas – it seems like I could do anything if I wanted to. But it's kind of a double-edged sword –I could go in a dozen different directions, but that's also overwhelming and it makes it hard to "be yourself."
I've started to realize that "being myself" isn't what is really the issue. What I need to do is be who I want to be and practice the walk and talk of the person I want to become.
Having a bunch of different jobs over the years and learning first hand the ups and downs of it all has taught me that the best thing to do is to be consistent. What I try to consistently bring to work is my personality, my drive, and my ambition. I learned a long time ago not to try and please everyone – maybe you've had the same experience. Sometimes we can find ourselves a bit lost in the effort to come across as professional. However, bringing your real self to work means bringing the person you are and the person you want to be with you everywhere.
1. Know Yourself
What are your highest and best aspirations? What are your defining qualities? Your limits, even? It's important to ask ourselves these things – instead of making New Year's Resolutions, I spend a little time on my own in January and think about these topics. I want to be clear with myself about who I am and what I stand for. For me, ethics and values really influence the choices I make about where I work, what kind of work I do, and even the amount of work I do. I choose to work for employers (if I can) who respect women's rights and align with my priorities. Knowing yourself, your ethics and values, and your goals will help keep you going the direction you want.
Article continues below advertisement
2. Know Your Limitations
Knowing your limitations is also important; for example, I'm a pretty introverted person but I'm great with one-on-one conversation. That is good for my job in Business Development, but not so good for the times I have to go to large conferences and make a lot of small talk. My strategy: I know I need downtime and that I have a hard time being with people for more than 8 hours a day, so I usually take the breaks between sessions to walk around alone, out of the conference. That way, I know that I can come back and be my outgoing, happy self without being worn out too.
3. Know Who You Want To Become
Knowing the direction I wanted to go in helped me pick opportunities that would align with that, for example, teaching science education to kids at a bird rehabilitation center supported my goal of being someone who changed people's perspectives for the better. Fast forward to today: still not sure what I want to be when I grow up, but still sure of what kind of person I want to be. Every day, I come to work with that in mind: I want to be a woman who makes things better in the world.
Article continues below advertisement
4. You're a Natural
It's so important to realize that you're not in a movie: you are you in real life! You are a smart, talented woman who can certainly run the world if she so chose. Come to work confident and sure of yourself. You don't have to be ready with your ten year plan or ready to explain all your life choices, but you do have to be ready to embrace the values, ideals, and personality that embodies who you are.
5. Push Past the Faux
Often, as you navigate the professional world you may feel like you're not being yourself because you have to talk or dress a certain way. But naturally, we all have multiple expressions of who we are. We have the self that we are with our friends, the self that we are when we are with family and the self we are when we are alone. Throughout your career, as you grow from level to level, you're constantly developing your professional self and while it might not seem natural yet, keep going. It's ok to have the after-work you and the at-work you; I think what keeps it all real (and helps you push past the faux) is constantly maintaining your values. Values always manifest the same way – your nail polish, hair or shoes don't have to.