When Carla Vernón joined The Honest Company as CEO in January, she also became the first Afro-Latina CEO of a U.S. publicly traded company.
Spanning two decades of growing consumer-driven brands, Carla used her leadership skills as VP of Consumables Categories at Amazon to lead double-digit topline growth in Amazon's baby care, household products, food, beverages, health and wellness, and beauty categories and transformed the shopping experience, product selection, and seasonal merchandising strategy across Amazon's beauty stores. She also guided General Mills as Corporate Officer and Division President to grow the brand to the second-largest maker of natural and organic food in North America and grew sales of iconic brands like Cheerios, Nature Valley and Lucky Charms to record growth.
Carla is down-to-earth, honest, and passionate about helping America's multicultural groups get the recognition they deserve. In addition to her influence in the C-Suite, she serves as co-founder of the Princeton Tiger Sisters, a network of 1,250 female Princeton alumnae and students from the African American diaspora. In partnership with Honest's Founder and Chief Creative Officer Jessica Alba, Carla is determined to take this new step in her business journey by expanding the awareness of Honest as a clean and conscious company with purpose-driven consumer products designed for everyone.
Her Agenda spoke with Carla about where she plans to take Honest, her corporate journey breaking the glass ceiling, and what she experienced to get to this milestone.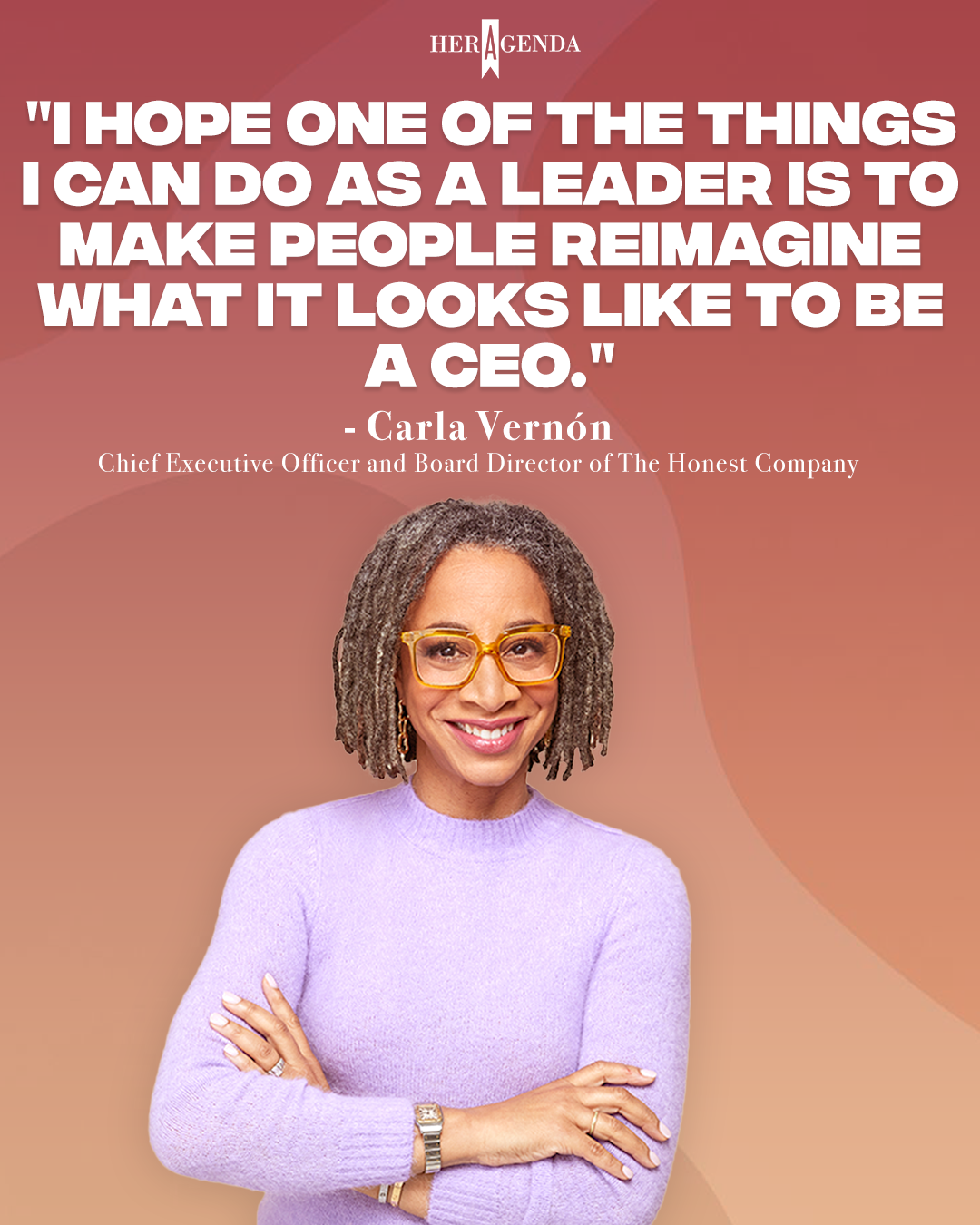 Article continues below advertisement
Her Agenda: How does it feel to be the first Afro-Latina CEO of a publicly traded company in the US?
Carla Vernón: It makes me emotional when I think about it. I'm so proud to be of Panamanian descent. We're a proud but small group of people. And my father's not alive anymore, but he was the proudest dad you could imagine. So I really think about what a punctuation this was on his journey as an immigrant to come to this country with barely anything but just a few belongings, and going to college with that ambition that so many immigrants come to the United States with for themselves and for their children knowing that this is something that we can accomplish.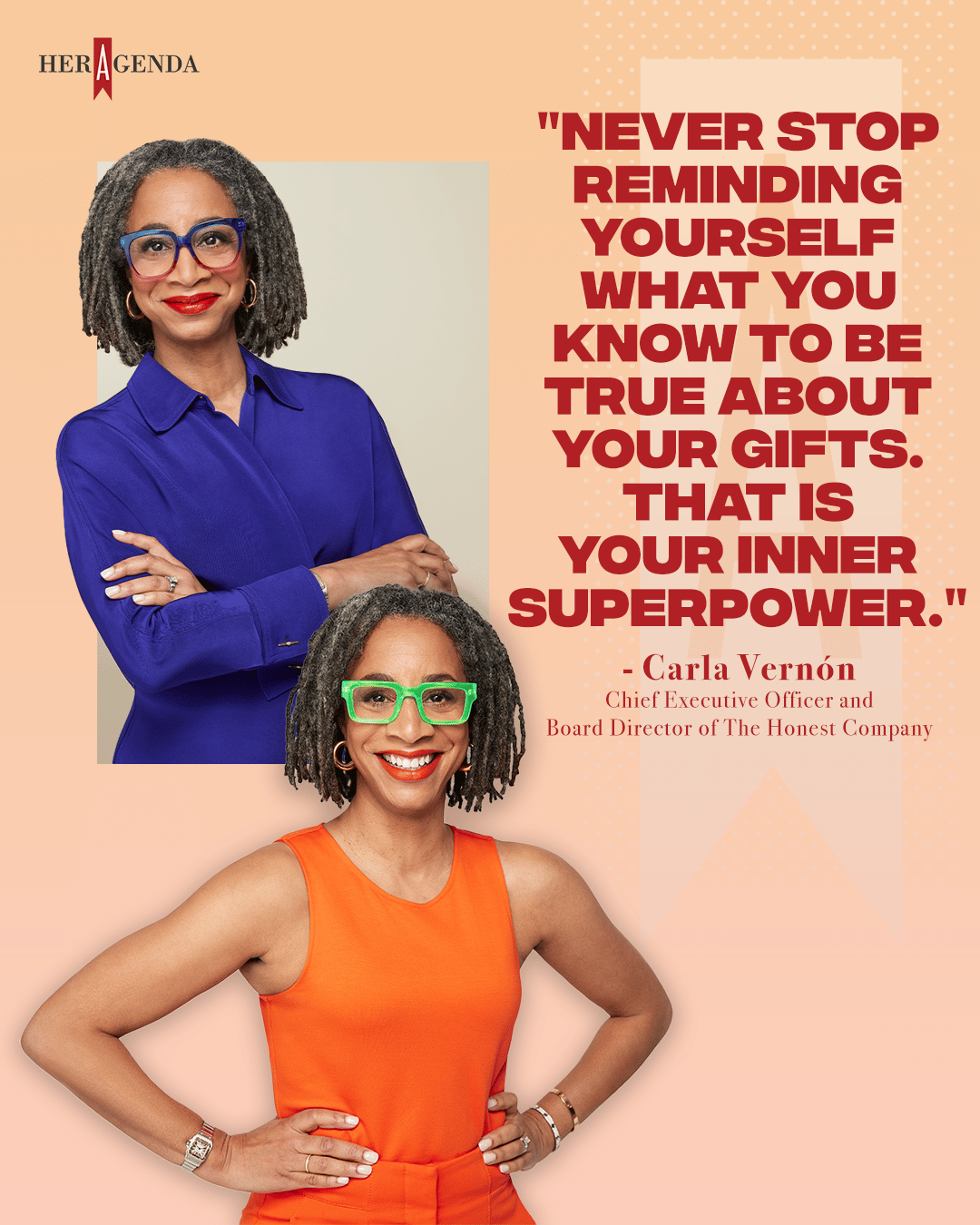 Article continues below advertisement
Her Agenda: How does being the daughter of a Panamanian immigrant and one of NASA's Hidden Figures influence your work today?
Carla Vernón: I start my life story by grounding it in my parents' breakthrough journey as Black people in the United States. It is so important to set the foundation of why I was so focused to reach my own personal best by thinking about what barrier-breakers my parents were.
Many Panamanians are Black Latinos originally of Jamaican descent. When my father came to this country, he came to the United States from a country where he was free. He was seeking a better opportunity, which is really a big statement to say when you're coming to a country where many of your rights and privileges will be taken away.
And my mom is such a barrier breaker. She was indeed a NASA Hidden Figure in Louisiana at the NASA plant that was just outside of Baton Rouge. She's a game changer who was always striving to do things that were beyond what people defined women could do at her age and stage.
My parents both achieved their PhDs and always encouraged us to reach our maximum and personal best. Having a NASA Hidden Figure for a mom and a Panamanian father who came to this country during segregation sets you up to have the mindset that there's nothing you can't do if you give it your all and do not let anybody stand in your way of reaching your personal best.
Article continues below advertisement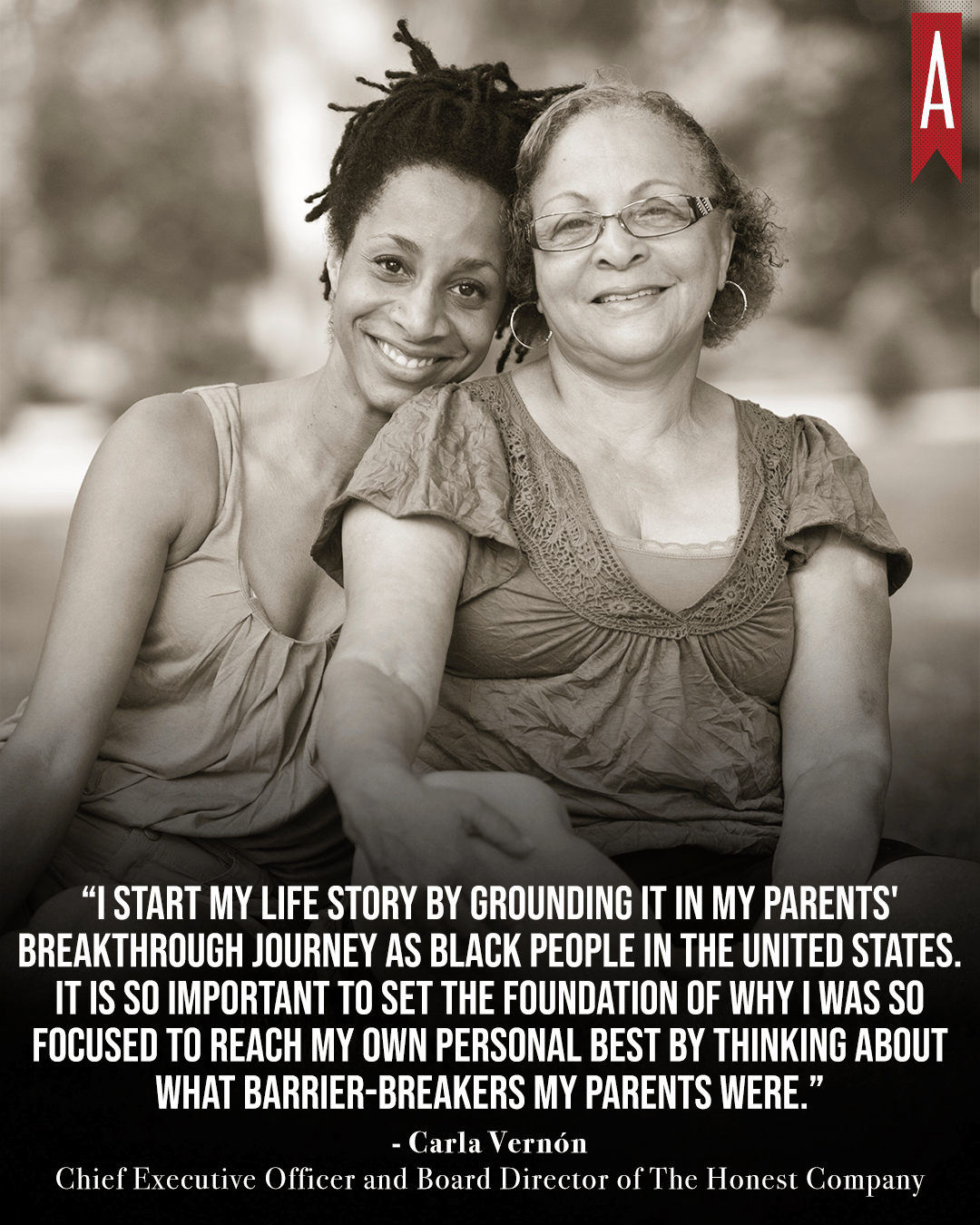 Her Agenda: How has being yourself helped you to recognize trends in consumer shopping at Amazon and General Mills?
Carla Vernón:​​ It allows me sometimes to see the data differently.
I'll use an example from when I was managing all of the household, beauty, baby, and grocery categories at Amazon. Sometimes we would look at our competitors' top-performing items and I would see which ones were doing well at other retailers that weren't doing well at Amazon.
Article continues below advertisement
I could look at that data and say, 'Oh, these are beauty products used by people of color.' And I remember saying in a meeting, 'This looks like it was in the top 25 or 50 items at another retailer. They must have a better selection for people of color.' Nobody else on the phone was of Black or Latina heritage, so they were like, well, how do you know about these particular products? And I said that those are brands I'm very familiar with. I know what kind of comb that is. That's a comb for people with curly hair. Those were brands that were very familiar to me because my lived experience was different and not familiar to anybody else in the room.
"At The Honest Company, we want to design and build our products and how we talk to consumers in a way that recognizes what today's people look like."

Carla Vernón
-
Article continues below advertisement
Her Agenda: So I want to ask you about your role as CEO of Honest. Where are you planning to take the company?
Carla Vernón: The Honest Company is such an amazing, superstar company. In the four months, I've been at Honest, I've become more confident about the products made by the Honest brand, the inspiration of our founder, Jessica Alba, and the path we have ahead.
When I came to Honest, one of my main observations was that Honest is this little-known gem waiting to shine its light in more homes. We're only in 4% of households today, even though the products are some of the best formulated. There are 3,500 ingredients that we don't use in our products because we're always on a journey to have clean and sustainable considerations when we develop a product. And yet the products work so well.
At The Honest Company, we want to design and build our products and how we talk to consumers in a way that recognizes what today's people look like. I'm very excited to continue to push on that and make sure that this generation of shoppers sees that the Honest brand speaks to them authentically in our marketing and product development.
Article continues below advertisement
Her Agenda: How are you planning on getting Honest's products into more households?
Carla Vernón: One of our newest product launches is a great example of how we want more people to know about Honest.
It's a green juice serum. It comes in this gorgeous glass bottle that's green because the ingredients come from fruits and vegetables. It was developed because we know that Latine households really value products that bring a benefit from nature.
We wanted to make a product that would speak to this growing constituent of households. We also wanted to make sure that we brought it to life in our marketing campaign with relatable, Gen Z influencers. So I think that that's a great example of how we can make sure we have different ways of reaching different consumer bases to introduce them to Honest at earlier stages in life.
Her Agenda: Sometimes corporate bosses try to put you in a box, but you rose and became the CEO of Honest. How were you able to navigate those barriers and be authentic?
Carla Vernón: I started in the corporate world in a different millennium, when the rules were pretty specific about what you should wear and that you should speak in a corporate, rounded way in order to get your point across.
Article continues below advertisement
Many times, I was given coaching that encouraged me to be more like the middle of the bell curve. The average of what people look like versus the unique ends of the bell curve, which is probably where I gravitate more to. In corporate America, there was very little about me that fit. And what I came to notice was that when I tried to squeeze myself into the prototype that reflected the average and norm of corporate America, it was so constricting and confining.
When I finally recognized that that was tiring and it just wasn't working for me and I broke out and said, I'm going to sprinkle a little more Carla into all of this, I had more energy. My innovation and creative ideas were actually more breakthrough and more unique. Those insights are why I'm different because they are the ones that allowed me to spark growth in businesses and see opportunities or consumer groups we were leaving out in ways that others couldn't.
Article continues below advertisement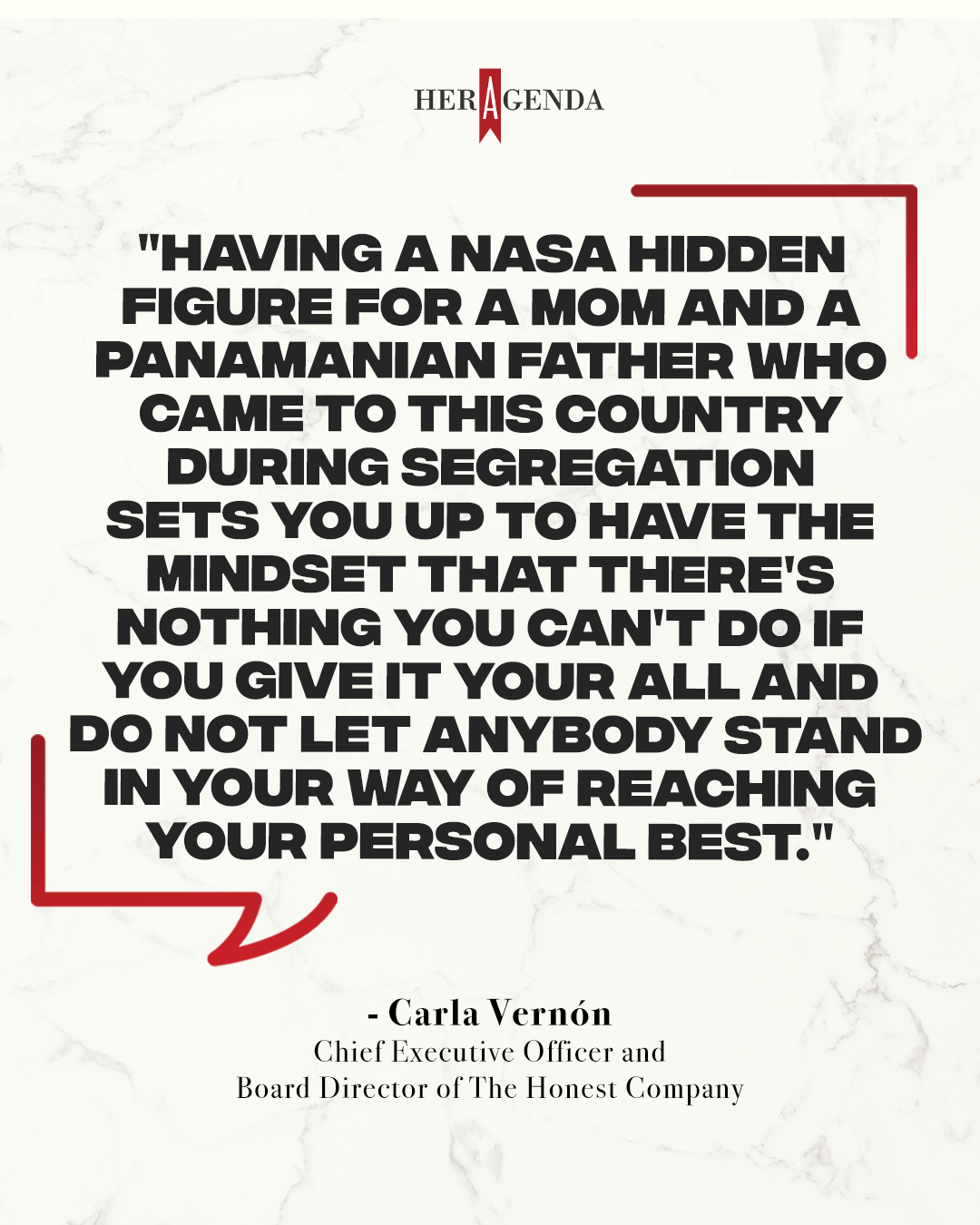 Her Agenda: For any woman of color aspiring to enter the C-Suite but facing hardships in the corporate world, what advice would you give to them?
Carla Vernón: My advice to anyone who's still on the bumpy roads and uphill moments of the journey is to always remember what you believe about yourself.
You will get so many signals from either the work being very hard, everything not being a win, or people who just don't see your gifts in you. If you know you have your own assets and your own gifts, never stop reminding yourself what you know to be true about your gifts. That is your inner superpower. That is your battery pack to stay energized for the tough sledding that we will all encounter. And one day, while making that pace up the hill, you will be on the top surveying all that you've conquered and be thankful that you remembered to stay true to your own self-knowledge of your gifts, skills, and talents.
[Editor's note: This interview has been edited for length and clarity.]