Celebrate International Women's Day by Joining the #HeForShe Movement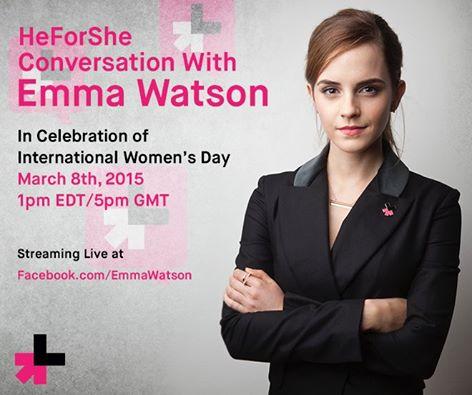 The gender equality campaign #HeForShe, which gained global attention last year is ready to become another trending topic during this year's International Woman's Day.
In an effort to continue this global movement, actress and UN Women Goodwill Ambassador Emma Watson will be hosting a live Q&A this Sunday March 8th . Although the event will take place in London, Watson encourages everyone to tune in and join the discussion through the Facebook hosted event at 12pm EST. "Decide what your commitment is, make it public, and report back so we can share your story," says Watson. "We want to support and reinforce your efforts."
The United Nations campaign was introduced to the public with the aid of an inspiring speech delivered by Watson. As part of the campaign launch, Watson shared her own path to feminism and the importance this topic should play in everyone's lives, including men.
Since the speech went viral in September 2014, several other actors, such as Joseph Gordon-Levitt and Steve Carell, decided to join Watson's passion to create a fairer society where males and females are treated as equals. In addition to the entertainment industry, the corporate and political world also stand by this plea for gender equality
In January, political leaders from Sweden, The Netherlands and Sierra Leone signed on. And three major companies consumer goods giant Unilever (UL), Tupperware Brands (TUP) and global professional services firm PwC also pledged to support the movement.
Paul Polman, CEO of Unilever released a statement saying he was delighted to join the campaign, which resonates passionately with Unilever's ambition to empower 5 million women by 2020.
Article continues below advertisement
"As part of our commitment to HeForShe IMPACT, we are promoting women's rights, embedding the Women's Empowerment Principles and creating concrete initiatives with UN Women on gender equality, skills building and job opportunities," he said. "I will continue to use my voice across the business to encourage our male employees, as well as sons, husbands, brothers and fathers to pledge their support and take action. Together we can accelerate progress towards achieving gender equality."
CNN reports that the UN sees this corporate and governmental support as a step in the right direction, since women are underrepresented in both politics and the workplace.
According to the World Economic Forum, the gender gap in the workplace will not be closed until 2095, and gender parity in political representation will take another 50 years, unless we change this.
This gap is what inspired Elizabeth Nyamayaro, senior advisor to the Under-Secretary General and Executive Director of UN Women, to launch the HeforShe campaign as a means to promote the rights of women around the world, through solidarity.
"We call it solidarity because, as you very well know, the traditional history of the feminist movement has only been led by women for women," Nyamayaro told HuffingtonPost. "It's the first time that we are calling upon men, and men are saying, This is not a women's issue. This is a societal issue. It requires both men and women to work together."
She continued to say that while this is only the beginning, the campaign has strong online and offline components. Online, men worldwide are supporting gender equality by signing up through the interactive map, which currently shows 63,135 men in the United States alone, and over 230,000 men globally. And on Twitter over 1.2 billion tweets have been dedicated to this movement, making #HeforShe a global trending topic.