Today We Officially Celebrate Indigenous Peoples' Day For The First Time In History
By
Asha Bey
Oct. 11 2021, Published 11:53 a.m. ET
Indigenous Peoples' Day, formerly known as Columbus Day, is officially a national holiday. On October 8, 2021, Joe Biden nationally declared in a Proclamation on Indigenous Peoples' Day, that this year and onward Columbus Day will now be recognized as Indigenous Peoples' Day. Today, Monday, October 11th marks the very first day that Americans officially celebrate Indigenous Peoples' Day to honor Indigenous and native peoples' contributions to American culture as we know it today.
What prompted the change? 
I remember learning about the story of Christopher Columbus in my middle school history class. Vividly, I remember thinking "how can he 'discover' land where people were already living on?" Unsurprisingly, the same thoughts and questions were held by citizens of America which later became major political debates across the United States.
Article continues below advertisement
In the 1990s, South Dakota, a state that is known for their large Native American population took the initiative to officially recognize Native Americans' day and to honor the culture and history of the native people who were living in the Americas before Columbus arrived. Others believe Columbus is a national symbol and we should celebrate the legacy of the man who "discovered" the new world.
After countless debates across social media and as the country recognized the invaluable contributions of Native Americans, President Biden settled debates by officially declaring Indigenous Peoples' day, "For generations, Federal policies systematically sought to assimilate and displace Native people and eradicate Native cultures," Biden wrote in the Indigenous Peoples' Day proclamation. President Biden continues "…we recognize Indigenous peoples' resilience and strength as well as the immeasurable positive impact that they have made on every aspect of American society."
Article continues below advertisement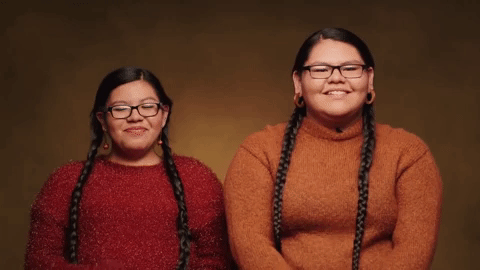 Celebrating the contributions of Native Americans
Outside of taking a day off from work and school today, we can appreciate Indigenous people by showing gratitude to the many aspects of life they have contributed to through their culture. One significant aspect of our lives Native Americans have contributed to is food. Many of the foods we eat today were first grown by Native Americans such as corn, potatoes, peanuts, peppers, pumpkins – the list goes on! They shared their agricultural methods with European settlers to learn how to grow food as well. In addition to the foods we eat, historians believe the balance of powers between federal and state governments within the American government system is influenced by the Iroquoian government from the Iroquois tribe.
Article continues below advertisement
Another contribution would be sports! Sports are a great part of American culture. Specifically, sports games like Lacrosse and Kayaking originated from Native Americans. The game of Lacrosse, originally known as stickball was initially played by the Algonquian tribe. As for kayaking, the kayak is known as a popular boat crafted by early Native American tribes used to travel and hunt for fish.
There were over 500 different native tribes who often traded goods and shared resources who did not speak the same language. Native Americans utilized sign language, a system of communicating through your hands to create words and symbols. The idea of American sign language which is often used to communicate with people who have impaired hearing originated from Native American Sign Language.
With the new national holiday declared, Her Agenda encourages you to learn more about Indigenous People through the links below:
National Museum of the American Indian – Schedule your visit to the museum if you're in the New York or Washington DC area. They also offer online exhibits to learn in the comfort of your home.