Celebrating the 96th Anniversary of Woman's Suffrage with Four Suffragists You Should Know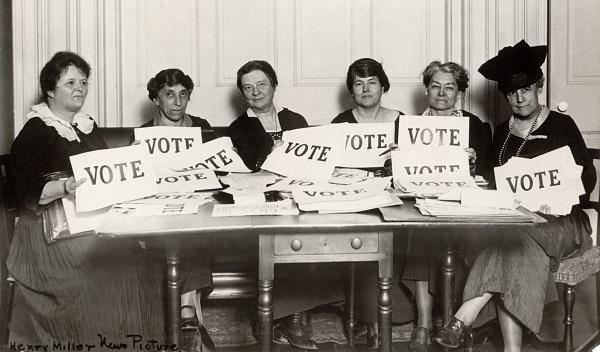 In 1921 Missouri women were given the right to hold political office with the amendment of the state constitution. That same year, on August 18th, they held the first election in which (white) women were allowed to cast their own ballots after the ratification of the 19th Amendment.
Now 96 years later, a female nominee is soaring ahead in the polls. It's important to remember that there's no finish line, that life is made up of constant progress, and the suffragettes of the 1920's would be proud as hell of all that we've accomplished.
So in celebration of the 96th anniversary of woman suffrage, we've done a round-up of 4 inspirational suffragists you should know.
1. Lucy Stone (1818-1893)
A gifted public speaker and writer, Stone dedicated her life to promoting rights for women, and in 1847 she became the first woman in Massachusetts to earn a college degree. She helped yield tangible change when she initiated the first National Women's Rights Convention in her hometown of Worcester. She then continued the fight by writing for a weekly periodical, Woman's Journal, for 21 years.
2. Susan B. Anthony (1820-1906)
Article continues below advertisement
Anthony was a full-fledged powerhouse from a young age. An active abolitionist, she started anti-slavery petitions at the age of 17, and became an agent for the American Anti-Slavery Society shortly thereafter. She began fighting for women's rights when she founded The Revolution, a newspaper revolved around women's rights, and in 1869 she founded the National Woman Suffrage Association. She spent most of her life traveling in support of woman's suffrage, conducting inspirational speeches and campaigns throughout the country.
3. Elizabeth Cady Stanton (1815 – 1902)
Article continues below advertisement
Like Anthony, Stanton's activism began with a focus on abolition. But as her political focus narrowed to woman's rights, she made sure to include more issues than just voting rights. She fought for women's parental and custody rights, property rights, employment and income rights, divorce, the economic health of the family, and birth control. (Not too far off-base from current political campaigns…)
4. Sojourner Truth (1797 – 1883)
Article continues below advertisement
Born into slavery, Truth is known for finally escaping captivity with her infant daughter in 1826. Most notably, she went to court to recover her son and became the first Black woman to win a case against a white man. She became a well-known speaker at women's rights organizations across the country, and was best known for her speech "Ain't I a Woman?" that she gave at Ohio Women's Rights Convention in Akron, Ohio.