Brittney Griner Released: Celebrities, Advocates, And Supporters Respond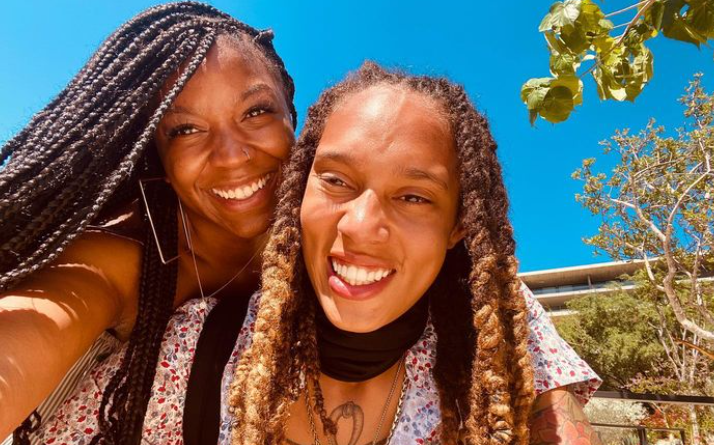 WNBA star Brittney Griner has officially been released in a prisoner swap between the United States and Russia.
Griner had been detained in Russia since February 17, after Russian authorities "accused her of having hashish oil in her luggage." In a politically-charged court hearing, Griner was found guilty of attempting to smuggle narcotics into Russia and sentenced to nine years in a penal colony. She was also fined 1 million rubles (about $16,000).
Outrage at the sentencing was voiced across social media, with activists, celebrities, and politicians posting about their disappointment in the verdict. The White House vowed to work hard to get Griner home as soon as possible.
"I call on Russia to release her immediately so she can be with her wife, loved ones, friends, and teammates," President Joe Biden said in a statement, adding that he would keep working to bring home Griner and Paul Whelan, a former American marine imprisoned in Russia on an espionage conviction.
Griner's family expressed gratitude to the Biden Administration in a statement released Thursday evening and asked for the safe return of Whelan.
"We sincerely thank you all for the kind words, thoughts and prayers – including Paul and the Whelan family who have been generous with their support for Brittney and our family during what we know is a heartbreaking time," it read. "We pray for Paul and for the swift and safe return of all wrongfully-detained Americans. We ask that you respect our privacy as we embark on this road to healing."
Griner was detained during the beginning of the conflict in Ukraine, when tensions between the US and Russia were heightened. According to The New York Times, Russia was accused of using Griner as a pawn in a bigger political game due to those tensions.
Article continues below advertisement
Ultimately, the White House was able to strike a deal with Russia to free Griner in return for Russian arms dealer Viktor Bout, who was being detained in the US. According to CBS News, the administration ordered that Bout be freed and returned to Russia, signing the commutation order to cut short Bout's 25-year federal prison sentence.
Upon her arrival, President Biden stated that he was "glad to be able to say Brittney is in good spirits." He dismissed the "show trial in Russia" that landed her in prison and said "she didn't ask for special treatment."
Celebrities, supporters, and politicians have been expressing their excitement for her return on social media.
Article continues below advertisement
Article continues below advertisement