Unlike most people who need to experiment to find their purpose, Liz Rogers who also goes by Chef Liz, knew exactly what she wanted to do since she was a child.
Growing up, watching her mother and grandmother in the kitchen sparked Liz's joy and passion of becoming a chef. Instead of watching them cook, she joined in and started learning the ropes of cooking traditional southern meals for her family. Years of cooking and learning led Chef Liz to attend culinary school, open her own hot-spot restaurants, become a celebrity chef, and launch her first ice cream brand, Creamalicious, the only African-American-owned ice cream brand in mass production nationwide!
Since building her brand and creating professional success for herself, Chef Liz is now on a mission to help other entrepreneurs achieve success with their ideas through her foundation that focuses on entrepreneurship. Not only is Liz giving back to the creator community but she is passionate about women's empowerment, especially in the culinary field.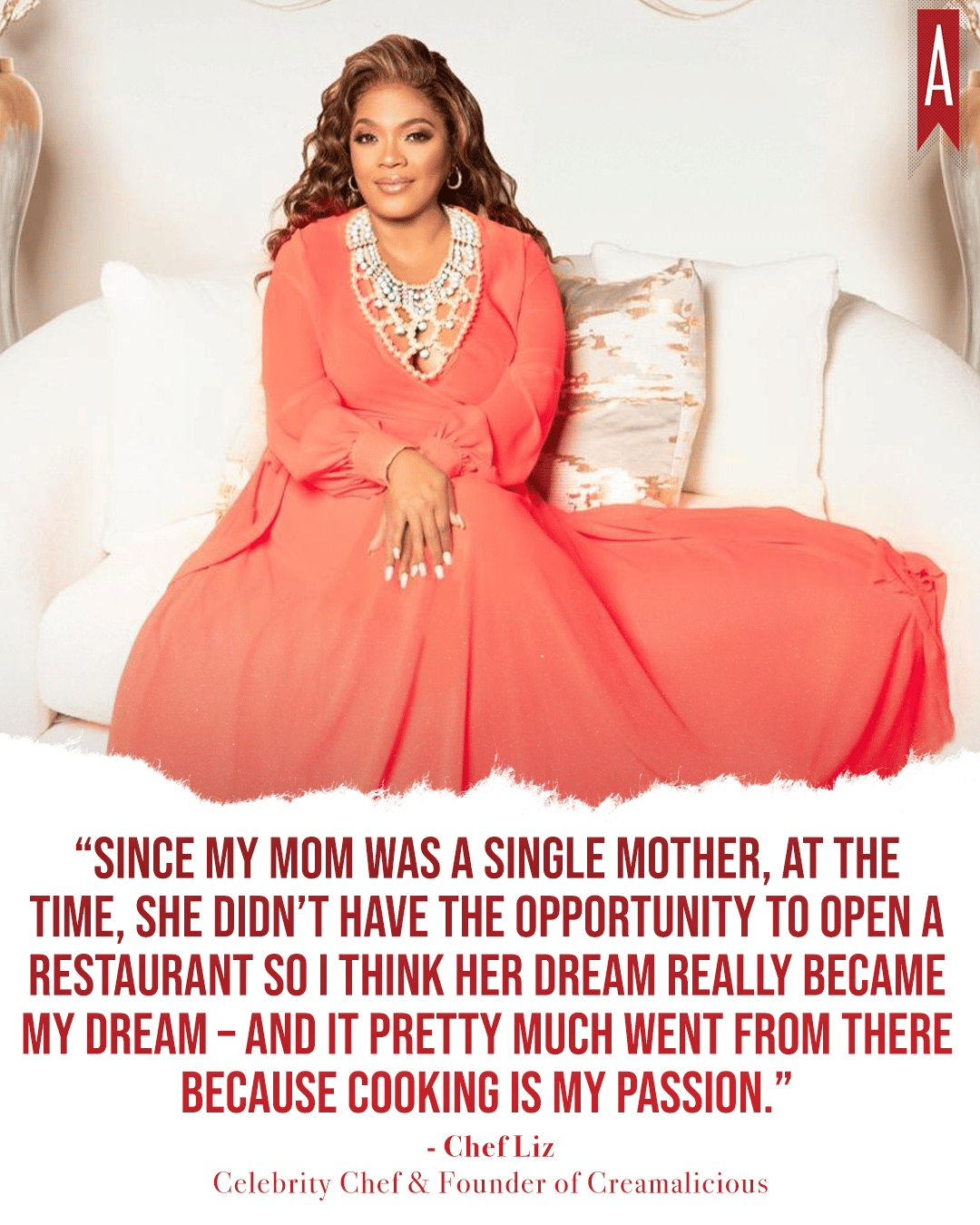 Article continues below advertisement
Her Agenda: What inspired you to become a chef?
Chef Liz: What inspired me the most was that my mom always wanted her own restaurant. She was a single parent and there were four of us; I'm the oldest and I have three brothers. I would cook for them all of the time and this is something that I did with my mom and my grandmother. Since my mom was a single mother, at the time, she didn't have the opportunity to open a restaurant so I think her dream really became my dream – and it pretty much went from there because cooking is my passion.
Her Agenda: Speaking of being a chef, we often hear that it's a struggle to become successful in this field. Has that been true for you and if so, what was the biggest hurdle you have to overcome on the journey of becoming a (celebrity) chef?
Chef Liz: I would have to say a strong yes to that because in the culinary field and being an executive chef, it is really a male-dominated category. We have some amazing women who are chefs out here that are just awesome and I would love to see more of them get notoriety. It has been a struggle especially if you're opening restaurants and different things like that because there's just a lot more to own in a business; you're dealing with employees, funding, and the ever-changing ebbs and flow of the business. But if it's something you love and you're passionate about, you hang in there.
Article continues below advertisement
Her Agenda: I agree that it's about passion and dedication which brings me to my next question speaking more on just being a woman who is a chef in the industry. Does building a career as a woman differ from men chefs and if so, what do you believe helped you specifically succeed in the industry?
Chef Liz: Yeah, I think there is a difference between the opportunities that are available. What really helped me was creating my own opportunities, putting things in place where I can create my own opportunities, open my own restaurant, and build from there. Being a restaurateur has been one of the most challenging things in the world, but I realized a lot of lessons and I was able to grow and forge ahead in my career path. I understood that this is exactly what I wanted to do for the rest of my life.
Article continues below advertisement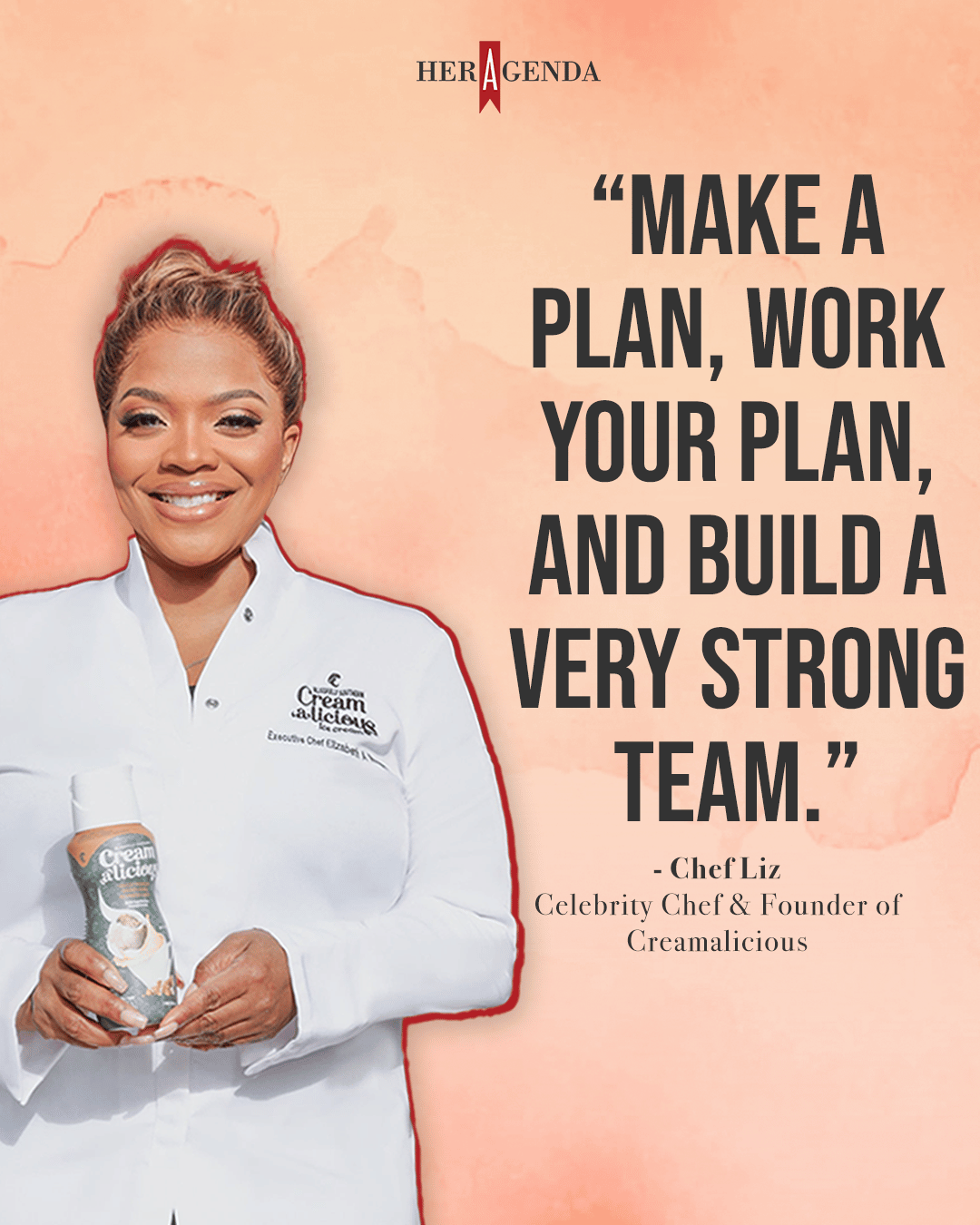 Her Agenda: I totally agree especially with creating our own opportunities. I always tell people that you can't just sit around waiting for opportunities, you have to go and create your own. That's how you get to the next level in your life. On the topic of women chefs, do you have any specific advice for other women who want to build a business in the food sector?
Article continues below advertisement
Chef Liz: Definitely understand that this is something that you want to do and give a lot of thought to it. Make a plan, work your plan, and build a very strong team. Leadership is extremely important. You want to build leaders around you, you want to make sure that you have strong people that are around you, that are extremely passionate, and that's interested in helping you build a brand. If you're going to spend a lot of time on something, make sure it's a brand.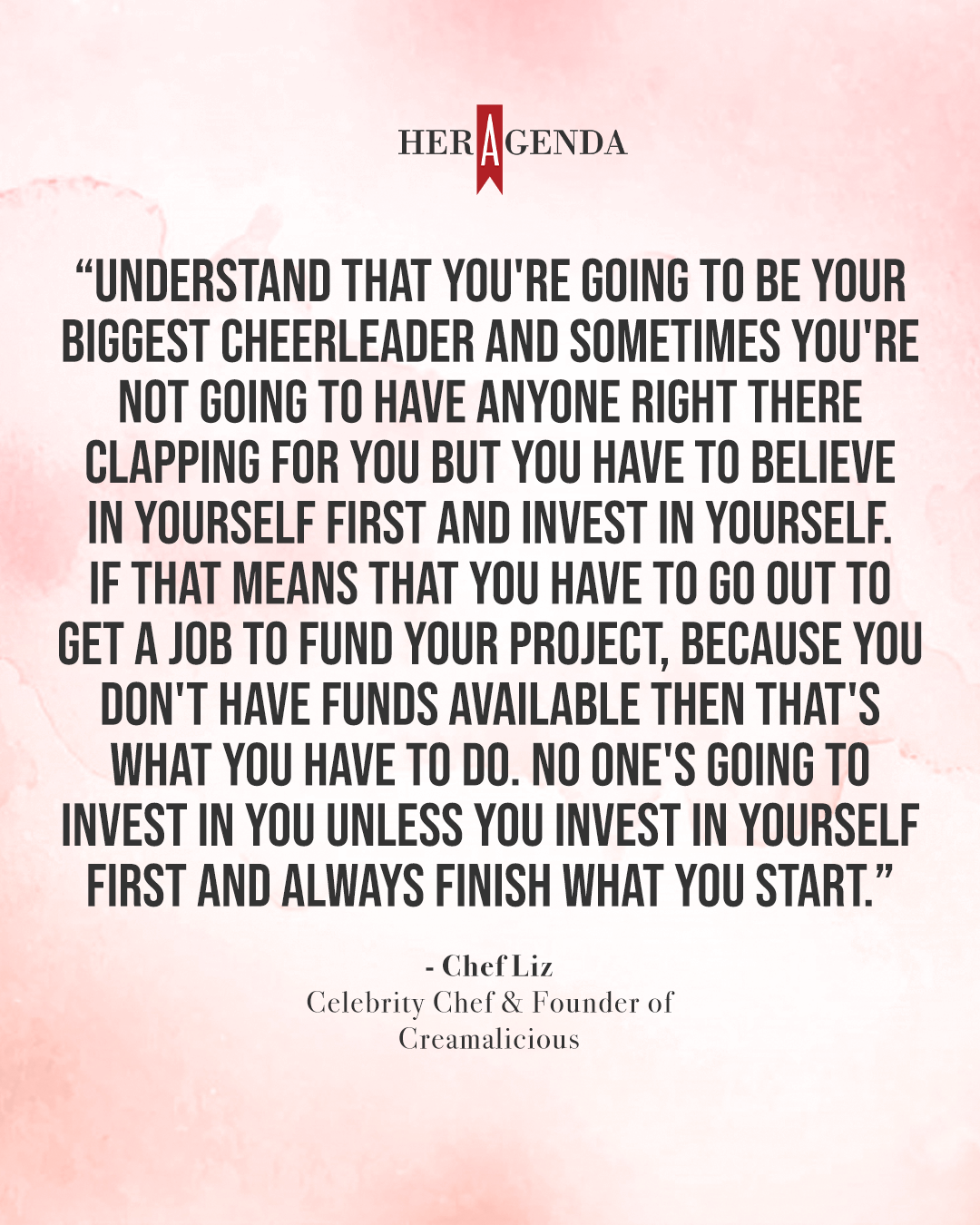 Article continues below advertisement
Her Agenda: I definitely agree with that! Do you have any practical tips for the kind of entrepreneur who's feeling very motivated and they want to get into the industry but they just don't know where to start. What would you say to that person?
Chef Liz: I spoke about building a team – that's really huge. They should always make sure they have a business plan and make sure that you're willing to do the work, you know? Understand that you're going to be your biggest cheerleader and sometimes you're not going to have anyone right there clapping for you but you have to believe in yourself first and invest in yourself. If that means that you have to go out to get a job to fund your project, because you don't have funds available then that's what you have to do. No one's going to invest in you unless you invest in yourself first and always finish what you start. Don't be afraid to go for your dreams – and that's a really big thing for me because people are afraid to fail and failure is not a bad thing, it's actually a great thing because the most successful people can't have success without failure, and those are some of the really, really big things that I personally live by because the great thing is you can keep starting over no matter how much you try something that doesn't work. You will eventually find what works for you.
Article continues below advertisement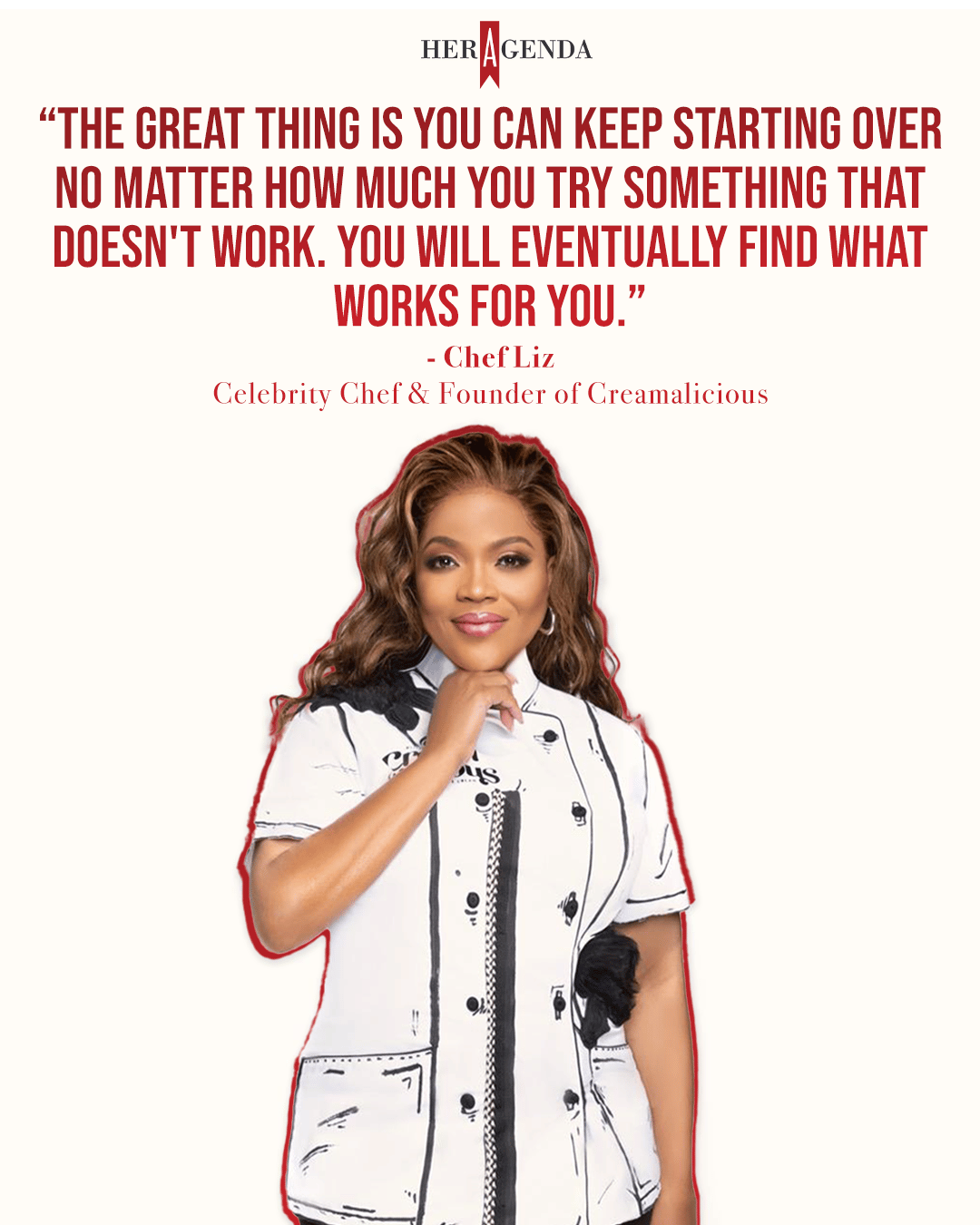 Her Agenda:Ok, so speaking of your ice cream brand, Creamalicious. It has been gaining a lot of success, traction, and blessings overall. I also saw that you've been getting celebrity shoutouts from people like Janet Jackson, Big Boi, etc. So how has that journey been for you from the moment you had the idea to the moment you started to attract success?
Article continues below advertisement
Chef Liz: I was super excited about it because I want people to understand this is one of the first and only African American ice cream manufacturers in the world on the shelf today in mass production and that's really a big deal. It's bigger than me. It's going to open doors for other minority businesses to be able to be on the shelf – and not just as ice cream, overall being in the big box stores and the retail market. This is really huge just to be able to get that support and to be able to stay on the shelf. It's very hard to get on the shelf but it's even harder to stay on the shelf and get people to get out here and buy it. So even when you mention these celebrities, that's great and just to have that support from someone that is a celebrity and a public figure who takes the time to help a small business, I always thought that was very, very admirable.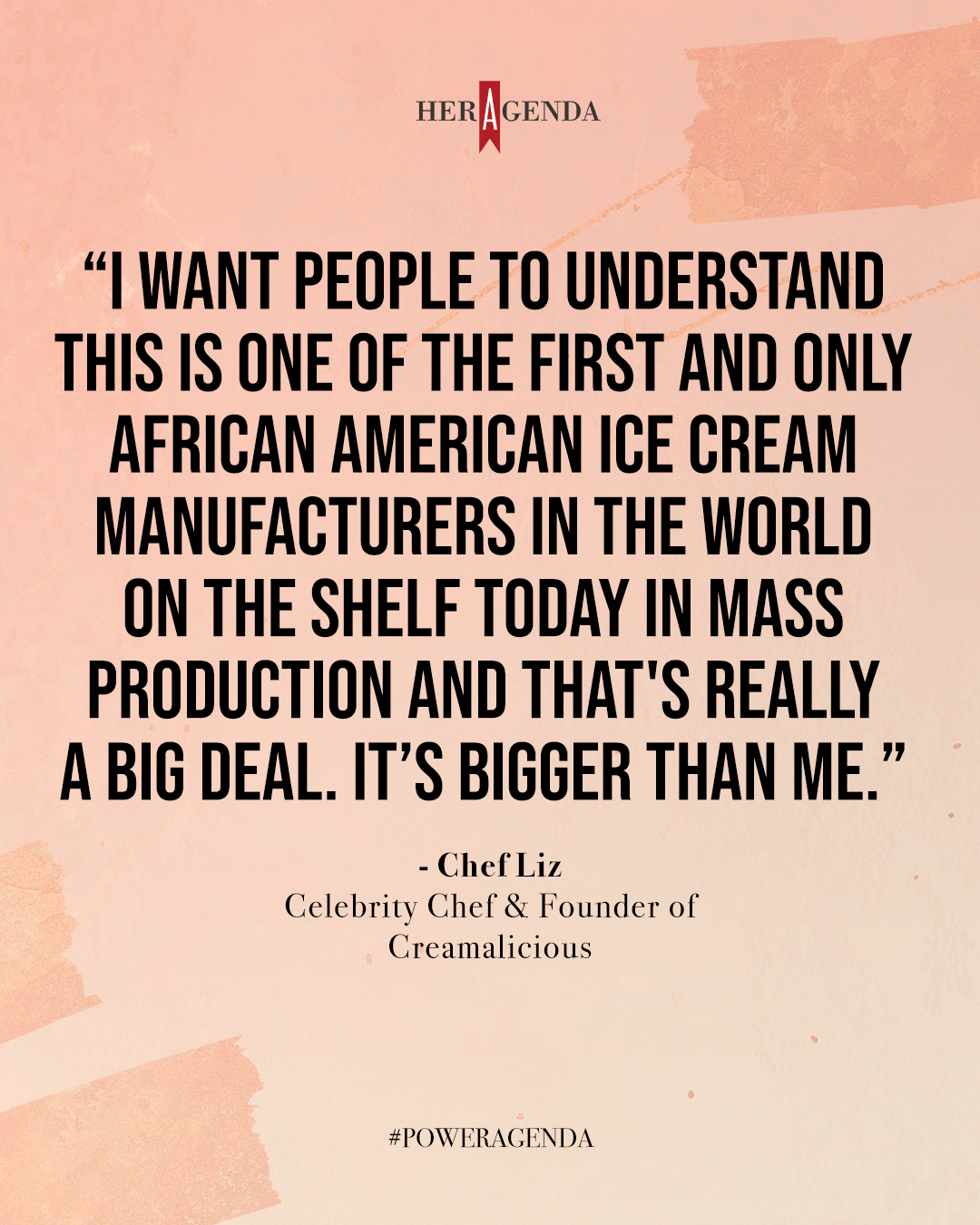 Article continues below advertisement
Her Agenda:I love that. I always say that it's all about the process because the prize is really the process. Speaking of entrepreneurship, I noticed that you have a foundation called, The Elizabeth A. Rogers Visionary Foundation that helps entrepreneurs. So let's talk about that a little bit more. What inspired you to launch the foundation and where do you see it going?
Chef Liz: I feel like it's going to go worldwide. I get letters and correspondence from all over the world from people saying how I inspire them. But it's really others that inspire me to do what I do – and I want to build a foundation that I can help other entrepreneurs realize their dreams. I want them to understand to not ever be afraid to go for their dream. You know, people have brilliant ideas. They just don't know where to start and they don't have people that believe in them. I think one of the things that I personally want to do, not just as an executive chef, not just as a regular person or a stranger. It's all about hope and just being that person that somebody out there believes in, you know? I may not be able to change the entire world but if I can reach out to touch one person, and that person can touch someone else, we now have a reach across the country. Those are some things that I want to put in someone else's life and bless other people with the blessings that I'm receiving right now.
Article continues below advertisement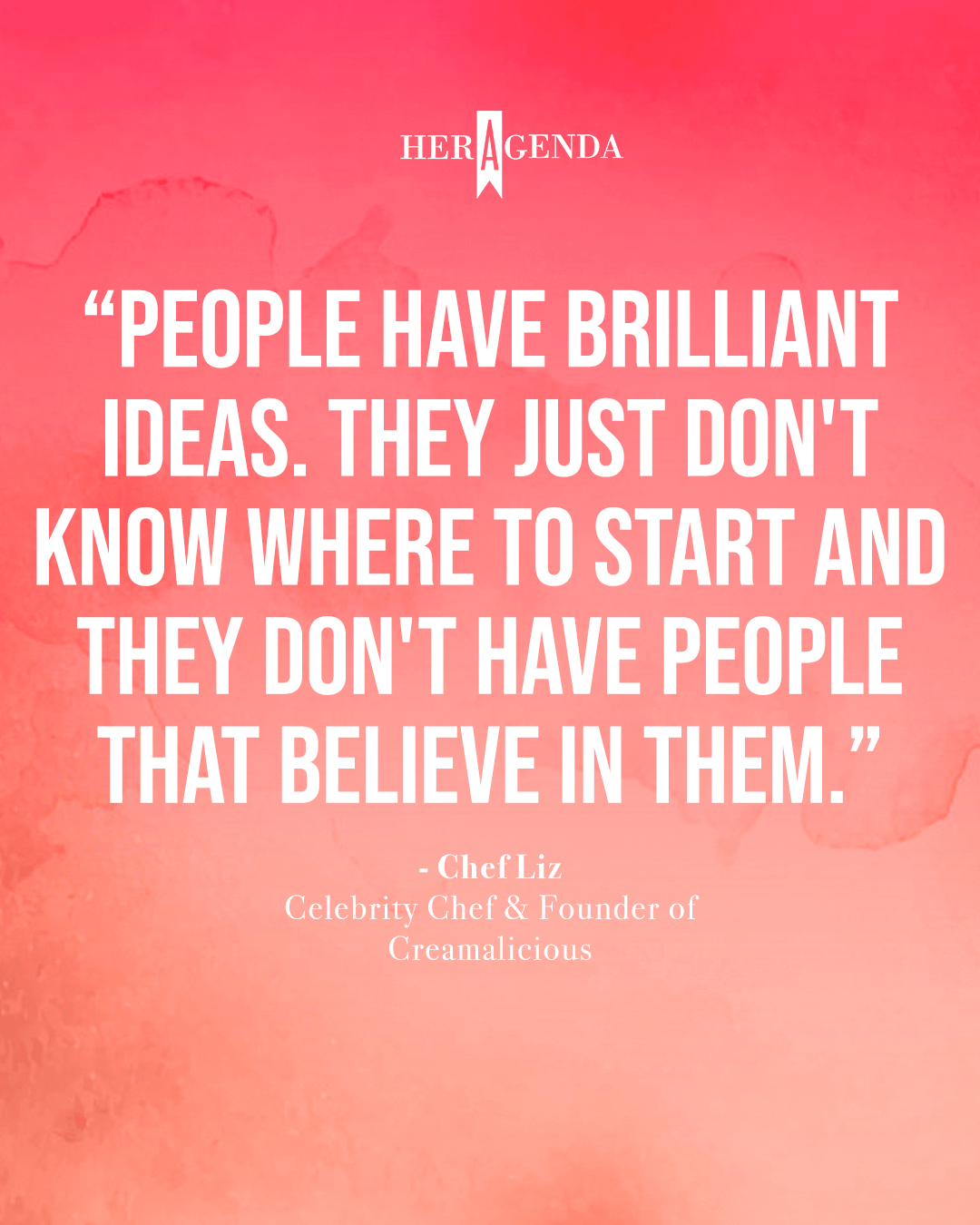 Her Agenda:Do you have any specific advice for women, especially Black female entrepreneurs, moving into 2023?
Chef Liz: Get a good strong team behind you. You can do so much more with a team. As African American women, we're so strong and that's something that I'm so proud of because my mom instilled that in me. I never knew how strong I was until I needed to be at that point. But we can't do everything and sometimes we think we can go into business thinking that we can just do all things and everything and we can't. If you want to expand your brand, and if you just want your brand to really grow and be stable, you have to find a couple of good people that are going to help you build a good solid foundation so that you can build your brand.
Article continues below advertisement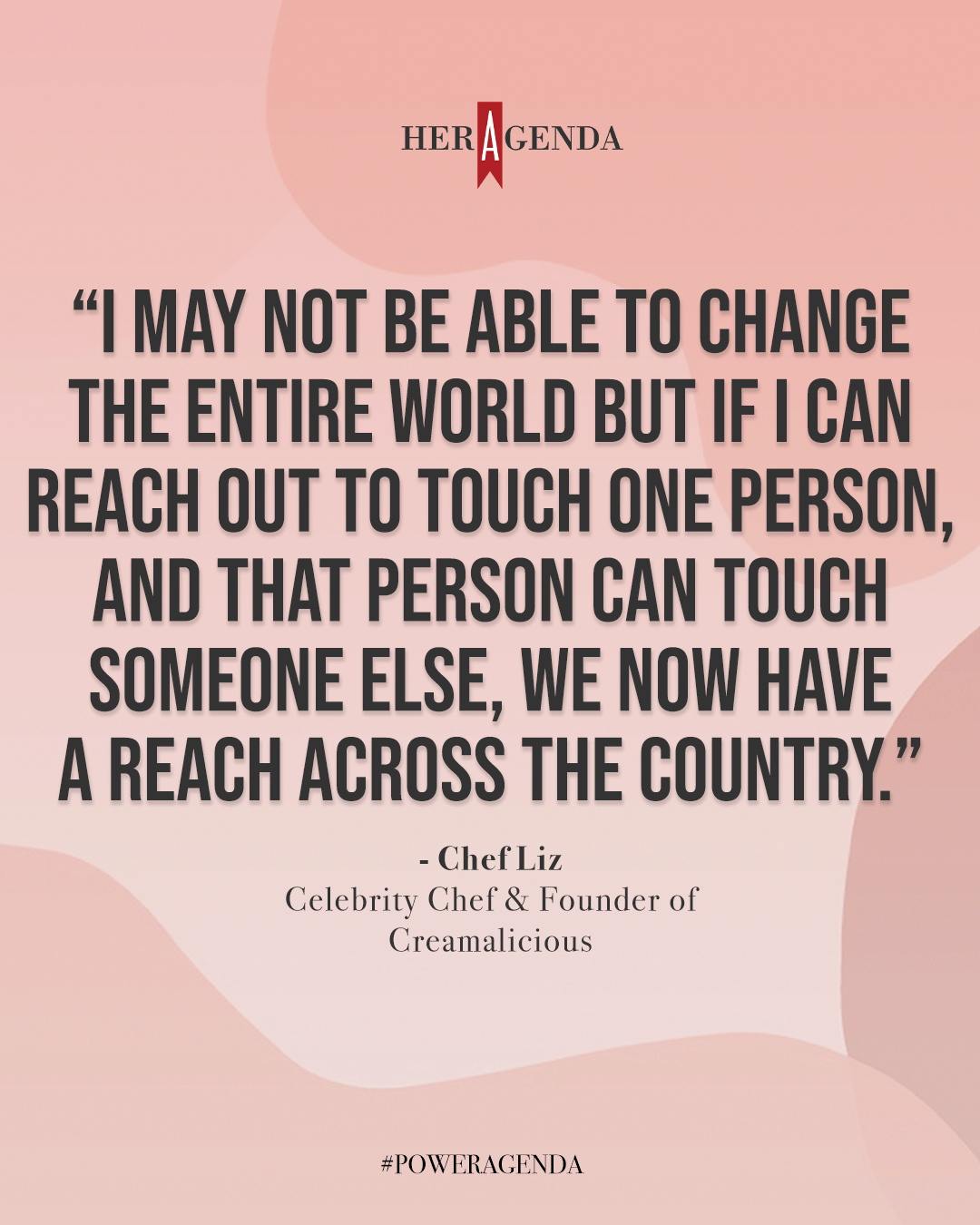 Her Agenda:Building a team can come with challenges though. Do you have any advice for people who are in that position where they can hire or build a team but they just don't know where to start or the best way to go about it?
Article continues below advertisement
Chef Liz: It's really interesting because sometimes your help comes from other places like good partnerships or friends and family that may be good at marketing and maybe good at different things that could lend support and services to you so that you can build from there and make agreements with people that you want to be. You may find a lot of people that just want to be a part of your team because they see something bigger than what it is today. That's why I talk about being a visionary. You really have to focus on like-minded people and a lot of family-owned businesses, I feel like this is one of the reasons.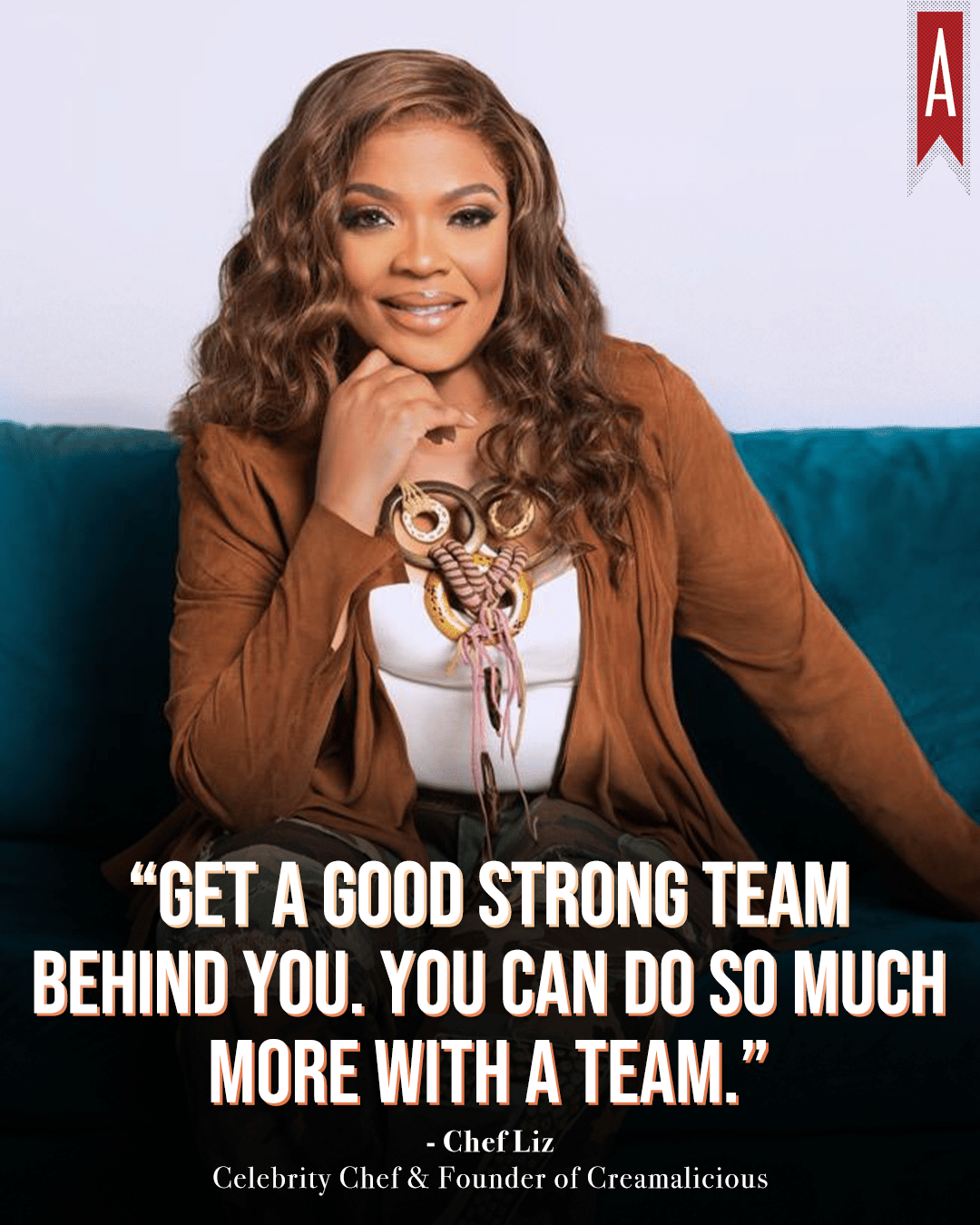 Article continues below advertisement
Her Agenda: Building a team can look different and doesn't necessarily mean staff. It could be partners, family or friends so I do love that you pointed that out. I think entrepreneurs need to remember that there are other options instead of paying thousands of dollars to hire someone. But just like you said, there are different ways of going about it. So regarding your ice cream, which one is your favorite flavor?
Chef Liz: My favorite flavor would be the Porch Light Peach Cobbler and the sweet potato because those are mama's favorite. She would make sweet potato pie and peach cobbler every Christmas and Thanksgiving and so those are some really good memories that I personally have and those are my favorites. But the top-selling flavor is the Slap Yo' Mama Banana Pudding.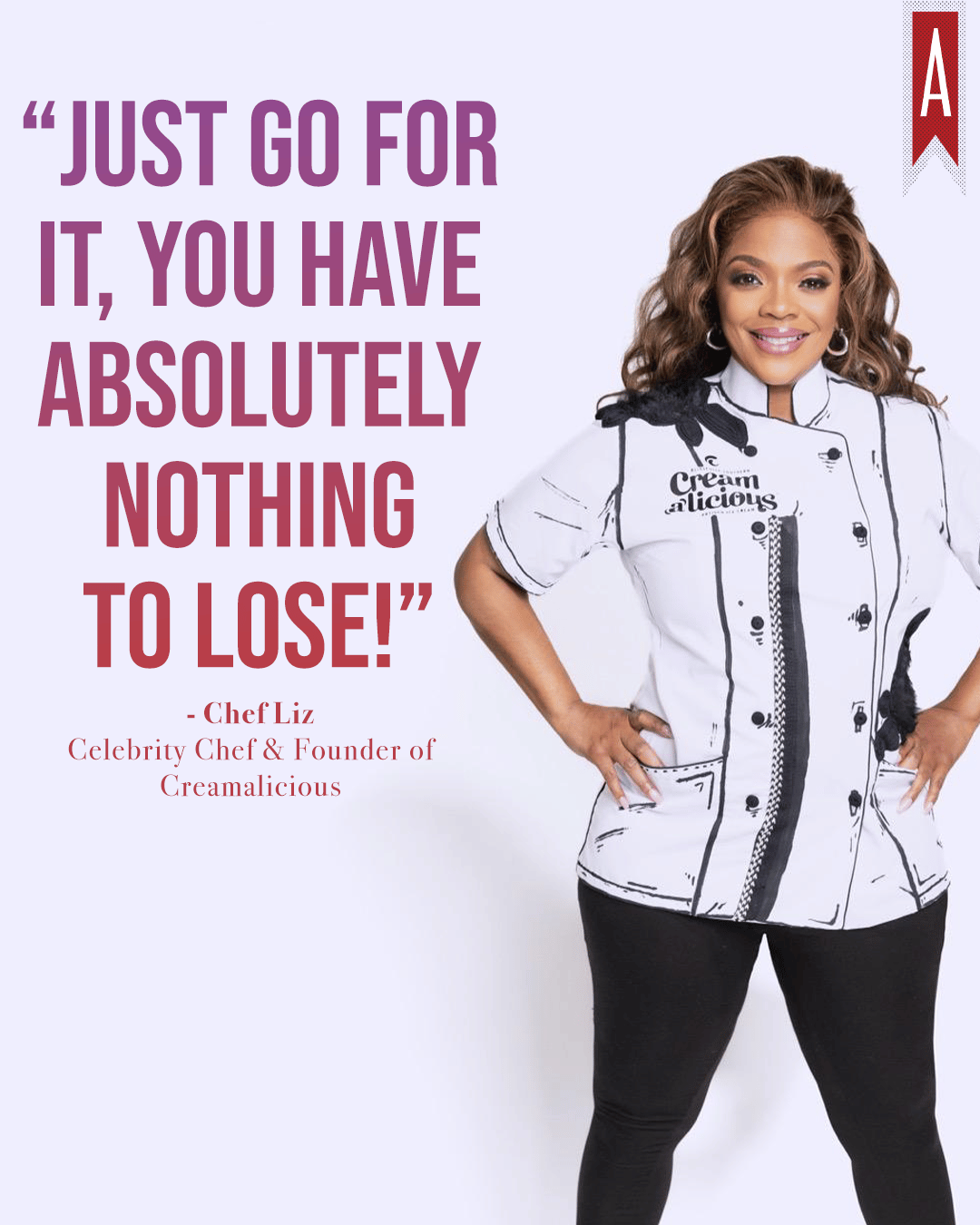 Her Agenda: Last question I have for you, what is your personal motto?
Chef Liz: My personal motto is to just go for it, you have nothing to lose, you know!? It's like Nike, you "Just do it," but for me, it's just go for it, you have absolutely nothing to lose!
[Editor's note: This interview has been edited for length and clarity.]