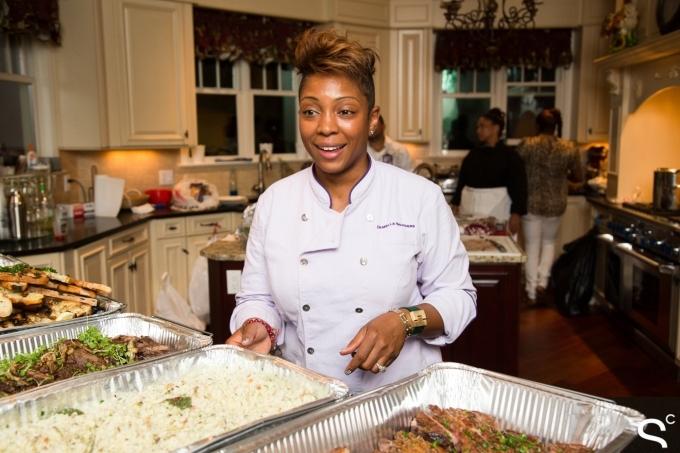 Chopped Champion Danielle Saunders' 5 Best Tips For Entrepreneurs
By
The Well
Mar. 24 2017, Published 4:00 a.m. ET
Cooking makes my heart full – it has for as long as I can remember.
But rewind 18 years, and I was a college student trudging through chemistry class while selling home-cooked meals to classmates on the side. If you'd told me I would make a career out of making things in the kitchen, I'd have told you that you were wrong.
It wasn't that I lacked self-confidence. It's that I didn't imagine the experiences I could create for myself as a chef – from being the first Black woman to win the Food Network competition show Chopped to traveling to South Africa through the Black Culinary Alliance and the United Nations. I've cooked on The Today Show on Mother's Day with my parents in the audience and repurposed my grandfather's recipes for the likes of Sean Combs, Mary J. Blige, Oprah, and Alicia Keys. Having recently moved into the business side of the restaurant industry, the new experiences and challenges continue. With each first comes a healthy dose of personal growth and career opportunities I could never have dreamt up.
Now, as I focus on getting my New Jersey-based business off the ground, I see exactly how important it is to pave your own way. Whether you're a chef, an entrepreneur or some combination of the two, you can't know what you're truly capable of until you conjure up an idea and work really hard to make it your reality. Here's my ever-evolving recipe:
Article continues below advertisement
Image: Danielle Saunders/The Well (Jopwell)
1. Realize it's never too late to go your own way.
I went to a four-year college to study pharmaceutical chemistry because I thought that college was what you were supposed to do after high school. But the whole time I was in school, I took the money my parents sent me to help cover living costs and bought ingredients I'd use to cook and sell food instead. By my sophomore year, I knew college wasn't going to get me where I wanted to be, so I packed up my stuff, moved home, saved up money from working at Nordstrom, and enrolled in culinary school. There, I gained a different perspective on how I present myself in my work. I studied with award-winning chefs who exposed me to their greatness and, as I built up my skills, identified greatness in myself too.
Article continues below advertisement
2. Work with your past.
Soul food is the first type of cuisine I learned how to cook. It makes sense given that I believe all cooking comes from the soul. I'm all about finding ways to make soul food more mainstream. My father grew up in New Orleans, and I remember being five years old and sitting in the French Quarter with beignet powder all over my face. I try to recreate that feeling of love, joy, and family when I cook.
Growing up, my family would get together for dinner after church every Sunday. When I was six, my grandma taught me how to cut collard greens. We would pull all the stems and cut them really thin. It wasn't until a few decades later, in culinary school, when I found out that there's a technical French term for what she taught me: chiffonade.
Meanwhile, my grandfather was actually the first chef in my family. He wasn't called a chef back then, though – he was a cook at Harlem Hospital for 35 years. He passed away the year I was born, but he left me 250 handwritten recipes, which my mom gave to me on my 27th birthday. I still build off of them, and I also still chiffonade my collard greens.
Article continues below advertisement
3. Ask for what you think you deserve.
One of my mentors is Marvin Woods, a renowned chef who, in 2004, invited me to help him open his new restaurant in Miami. I went, and one day, P. Diddy came in for dinner. He liked the food so much that he asked Marvin if he was interested in becoming his personal chef. While Marvin declined, he recommended me for the job. I wasn't sure I wanted to leave restaurants, but Marvin told me I should broaden my horizons.
It's hard to say no when the people who believe in you want to help you. I went to the interview, and while I had never made six figures before, I asked for what I thought was an astronomical salary. I was told that people didn't usually make it more than two months in this job, but that if I could, the salary was mine. And it worked out. When I was a young girl and my grandma was teaching me to cook collard greens, I never imagined celebrities would be eating my food, or that I'd host demos in $25-million New York City penthouses or teach people to make mac 'n cheese at SoHo House. That was before I knew how far cooking could take me.
Article continues below advertisement
4. Keep going.
This is a lesson I learned from my fiancé, Tod. He used to own a big bakery in Somerset, NJ, until it was destroyed in Hurricane Sandy. It was devastating, but he went on to become the first contestant to receive funding on Shark Tank. This led to a huge amount of publicity and growth for his business, Mr. Tod's Pie Factory .
That's the thing: When it all seems impossible, you just have to keep going. If you give 300 percent, nothing can stop you. Knowing your vision, aligning yourself with people who share that vision, and delivering consistency are the keys to success.
5. Use your firsts to get seconds.
Right now, Tod and I are trying to leverage all of our individual firsts to help us launch a major joint first: Our own brunch business. It's called Burn N Bake (I burn and he bakes). Our previous experiences have definitely helped us get certain people's ears, but finding capital to grow your business isn't easy.
Article continues below advertisement
As Black entrepreneurs who don't come from a slew of money, we've had to work a little bit harder and a little bit longer, especially when it comes to finding capital to scale. I work 12 to 15 hours a day, and when I'm not on the road cooking for Mary, I'm working on the New Jersey business. It takes time to find the right funding, but I know we have a good product, a shared vision, and strong work ethic, so I'm confident things will eventually work out. (Our customers must agree since our brunches have sold out for three months straight!) As Tod and I dive into our first journey together as entrepreneurs, we'll do what we always do: Keep at it, one pie and one meal at a time.