Power is not given to you, it must be taken. As the reigning Chief Operating Officer of the Academy of Motion Picture Arts and Sciences, Christine is hyper-aware of her influential, often praise-garnering role in Hollywood. Her road to success, however, was not always paved in gold.
Raised alongside her three sisters by a single mother, Christine was not born into affluence but was raised to believe that she could achieve it.
Despite her humble beginnings, Christine credits tribulations as the propeller to success and wants to teach you the same. Once mentored by NBA legend, Magic Johnson, Christine is now a beloved mentor for Brown Girls Dream, an organization dedicated to uplifting women of color. Yes, Christine has broken a lot of ceilings, but her purpose is not rooted in accolades or professional titles. Instead, she is dedicated to distributing that power to the right hands.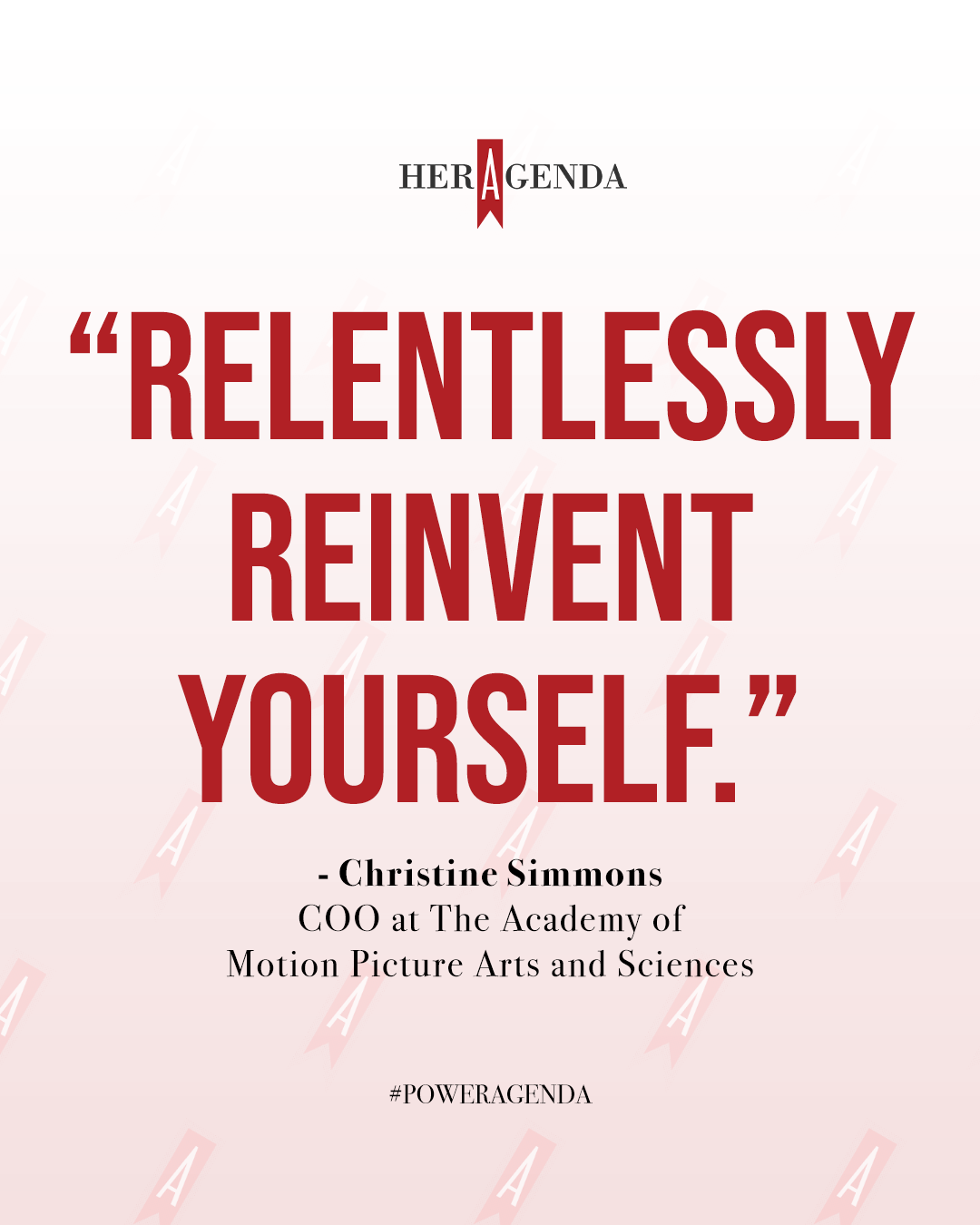 Article continues below advertisement
Her Agenda: I'm aware that you went to UCLA in the 90s! It seemed like a great time culturally, but there was, of course, a lot going on in the country racially. I also read that you were an activist on campus. What was your experience like?
Christine Simmons: It was a really beautiful but challenging time. My first memory of UCLA was actually witnessing the [1993] Chicano Studies Hunger Strike that took place on campus in an effort to gain more support for the Chicano students at UCLA. That left such a footprint in my mind. It was right around the time when Prop 187 [a 1994 ballot initiative to prohibit undocumented immigrants from using non-emergency health care, public education, and other services in the State of California] and Prop 209 [a 1996 approved initiative to prohibit state governmental institutions from considering race, sex, or ethnicity, specifically in the areas of public employment, public contracting, and public education] were being pushed out and voted on in California. Both of those disproportionately affect people of color in significant ways. For me, being able to express and help mobilize folks to bring light to this issue was critical. [When] Prop 209 was passed, we literally saw the [enrollment] of students of color drop significantly. It was this beautiful time in the beginning because you had perspectives from all walks of life, and then we saw effects on those populations. I loved being able to give back and make an impact in the community, whether it was hypertension screenings on Crenshaw Boulevard or mentoring young children in Watts with the African Brothers and Sisters program. We had so many different programs and initiatives for both students on campus as well as for the community outside of UCLA. It always inspired me. That's where I got my biggest education on how to run a business, mobilize, and make an impact in ways that are authentic yet truly move the needle. Those leadership opportunities for me, really shaped who I am today and have literally been the foundation of every role that I've had throughout my career.
Article continues below advertisement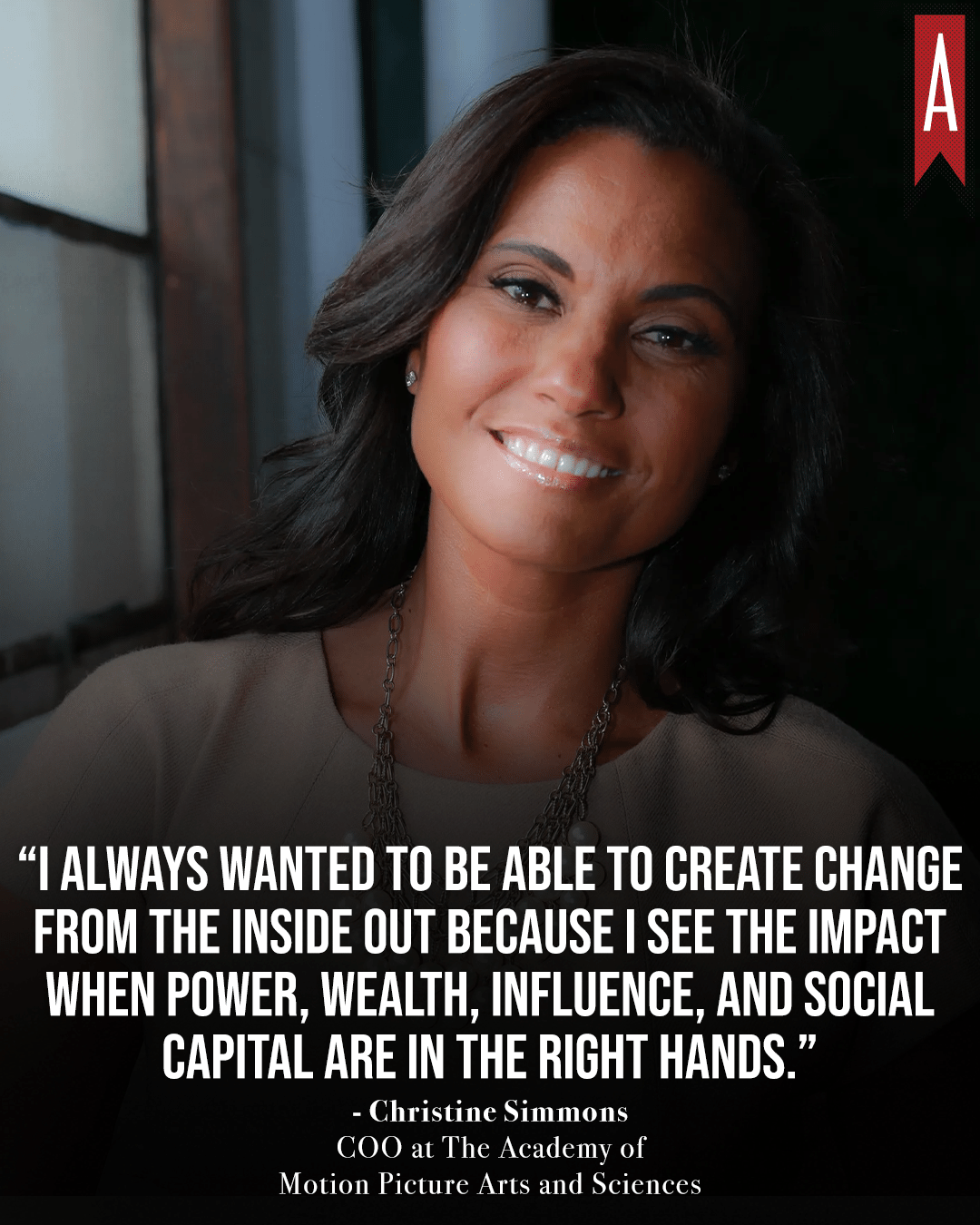 Her Agenda: When describing you and your career journey, Cari Champion said that you 'go where the power is' which I think is super accurate because you've been extremely successful. What attracts you to go where the power is?
Article continues below advertisement
Christine Simmons: I always wanted to be able to create change from the inside out because I see the impact when power, wealth, influence, and social capital are in the right hands. [I know] the difference it can make and the trajectories that it can change. It's been [the same] for centuries, but in my lifetime, we're starting to see other people with that power, wealth, influence, and social capital. The impact that they're able to make is going wider, deeper, and into communities that need it most. Imagine what it can do if you put all of those things in the power of those folks. It would only lift everybody. I'm a fan of those who go independent routes, and I love things that are specific to various communities as well.
I also believe that those institutions, corporations, or entities that are historically described as mainstream or white male-dominated, should be more accessible to the real mainstream, which is everyone. We have to work until that is the case so that everyone has the option and accessibility to go whichever path they want. Right now, we have to redefine the word 'power' because power is not that which you hold and hoard for your own gain. The more power that you can give away by empowering others, and still be successful, truly makes a person powerful. That's my perspective on how we have to reshape and redefine power and I hope to model that myself with the roles that I've had.
Article continues below advertisement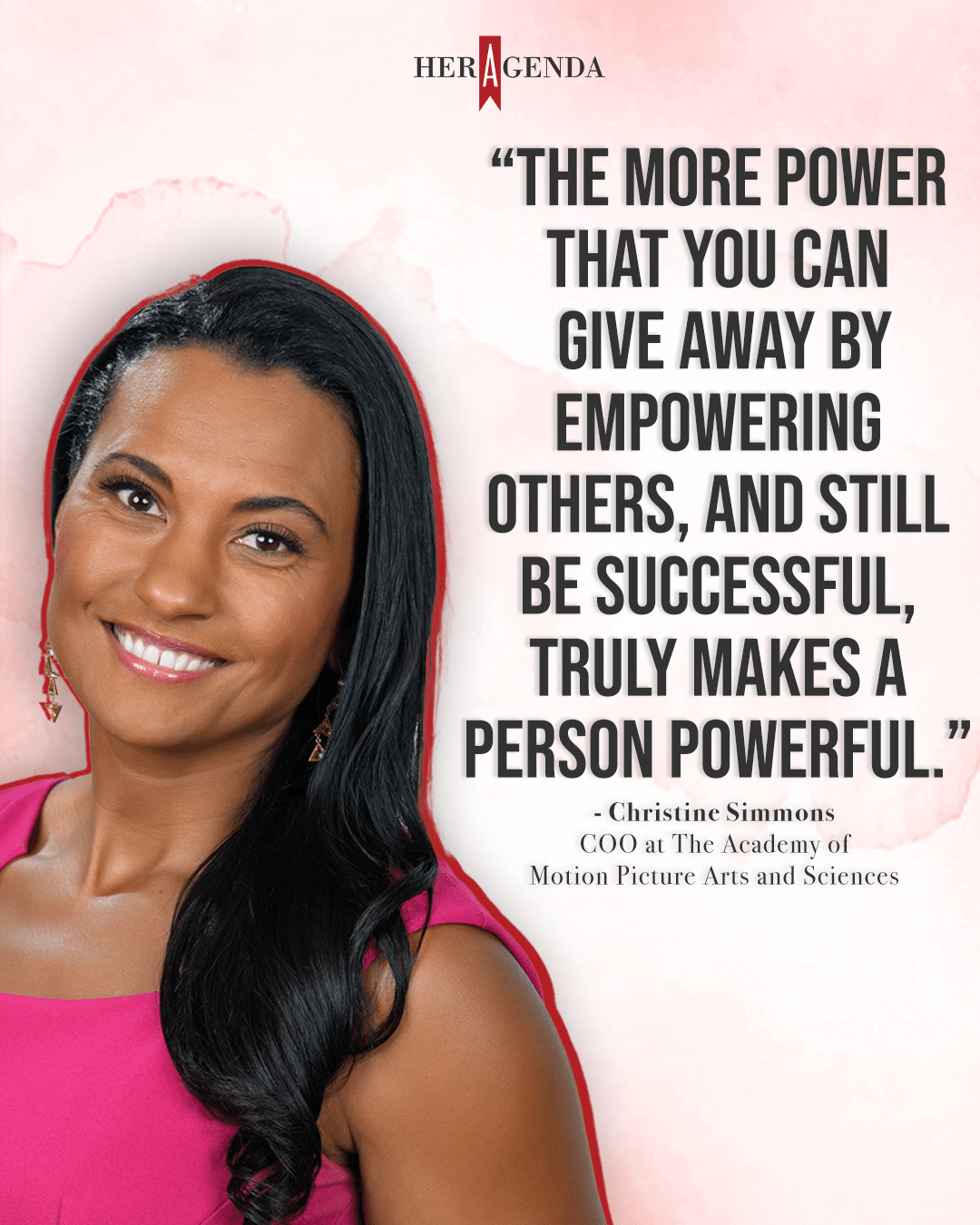 Article continues below advertisement
Christine Simmons: That fact didn't come to the forefront of my mind, until maybe a year or so ago, when someone quoted it. You know that you're the 'only' but I hadn't thought about the organization's history in that regard. The weight had been there from the moment that I accepted the role. It is tiring and challenging at times, but at the same time, I welcome that. It's a blessing and privilege that I do get to bear so that it can be easier for you and other women from other backgrounds. Yes, we can celebrate, yes I am grateful, and yes I see it as having broken a couple of ceilings. But, we need to hold organizations accountable and it shouldn't take this long nor should there only be one. The work that I'm doing here at the Academy is making sure that we're providing career growth for everyone, especially at the executive levels. They always want to celebrate the firsts and that's fantastic, but let's also celebrate the fifth and the tenth. We are really winning and really need to celebrate when we have parity.
I'm humbled and still think of myself as the temp executive-administrative assistant that I started out as. The title is one thing, but I don't see myself that way. That being said, it's not lost on me. We know that we've gotten to equality and equity when mediocrity for everybody is okay. Right now, it's not. This higher standard that we're held to is not sustainable. I want other people of color and women to take care of themselves and know that it's okay to make mistakes. In fact, you should be making some mistakes because it means that you are pushing yourself out of your comfort zone.
Article continues below advertisement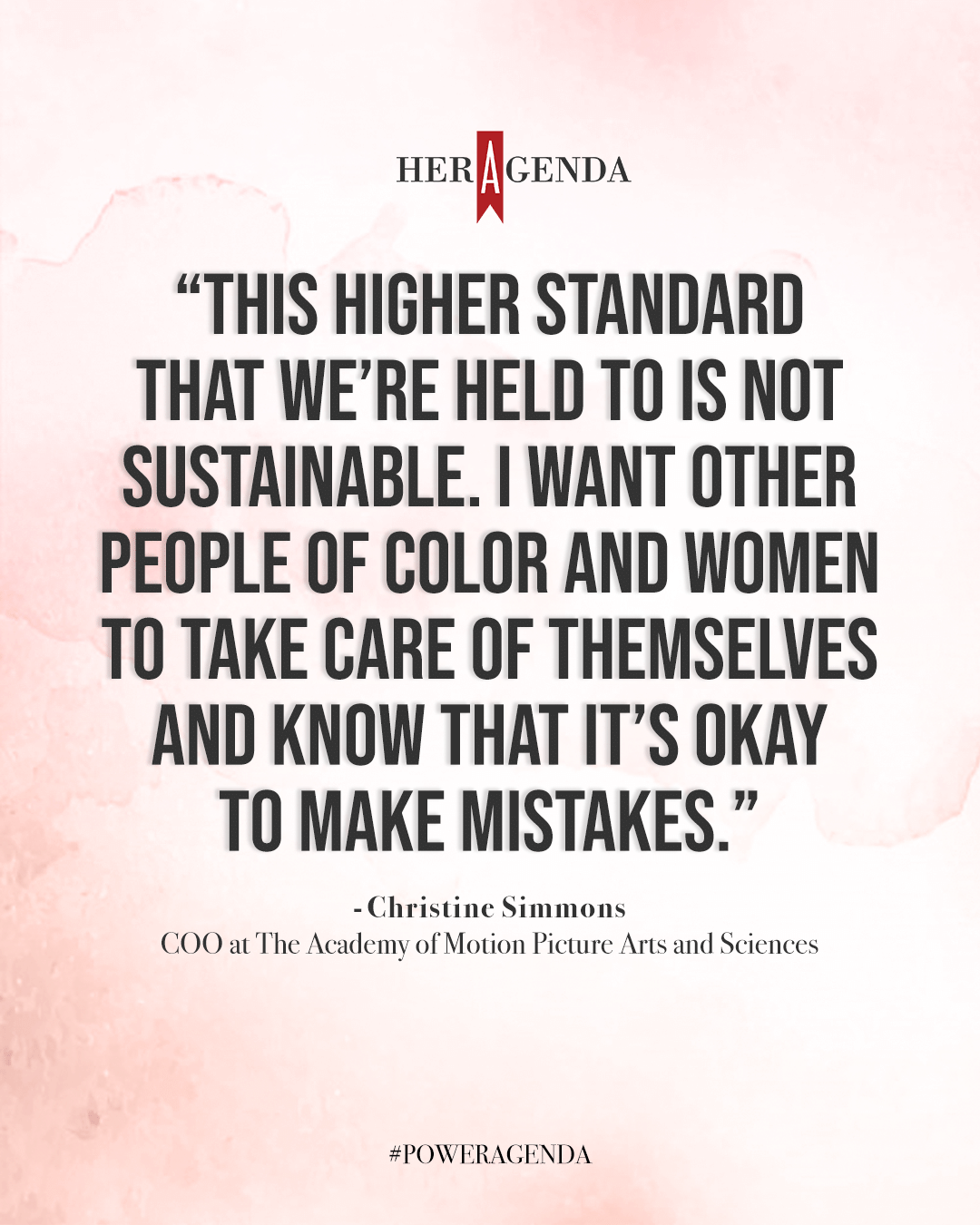 Her Agenda: We just spoke about challenges and I think it's necessary to ask about how you professionally pivot when something you've worked hard on takes a turn or something unplanned happens?
Article continues below advertisement
Christine Simmons: I have a saying that I cherish and that's 'Relentlessly reinvent yourself.' The best characteristics and skill sets that any leader [needs] are pivoting, adapting, and using creative solutioning. Because I don't have a business degree and have primarily been self-taught in everything that I've approached in my career, creative solutioning is my go-to. A lot of us, who have faced adversity in our lives, who did not come up with a lot of affluence, access, information, or money, like me, have to create stuff. You get real innovative when you don't have any money. That is the true flex. When you are handed something and it doesn't go as planned, how do you adapt? Quickly survey the situation, the people involved, and all of the other problems you have to solve. There's an immediate problem in front of you, but if you are only looking at that problem, and not thinking of problems that could or could not result from that, then you are truly not ready for executive leadership. That's what this is about.
You have to be able to come to a solution with all of the different inputs involved. I cherish adaptation, flexibility, and reinvention of self. It's something that only experiencing challenges can bring, so if you're never challenged then you're never going to learn that skill either. Give yourself grace because there's no way that anyone can make every perfect decision and certainly not everyone is going to be happy. You have to balance that too, especially if you're an empath who really cares about people, it can be really hard. I think so many of us who are really passionate about making an impact are those types of people. Find your balance because you're going to hear a lot of people's opinions when your decision doesn't serve them. It's okay. When you are doing it with your values and integrity, then it all works out in the end.
Article continues below advertisement
Her Agenda: We know that you were previously the President and COO of the LA Sparks before you transitioned to your role at the Academy. You even got a certificate from Harvard Business School in 2019. Where do you credit your desire for wanting more?
Article continues below advertisement
Christine Simmons: I am so competitive that I want to win. I don't care what it is, I want to win. If I'm playing with my son, he better have his jump shot ready because I want to win. In order to continuously win, you have to continuously learn. For me, I knew that in order to be successful and win in business, I had to [sharpen] my knowledge when it came to finances. Also, learn from everyone. You can learn from people that are more or less experienced than you. I always tell my mentees, you've got to know the numbers. My mentee got that same certificate at Harvard Business School first and told me about it. I learned from my mentee and went and got the certificate too to [sharpen] my knowledge on finance since I didn't get a degree in it. It's a constant hunger for knowledge and education, and the world is evolving so quickly. My industry here in film is evolving so quickly as we look at theatrical vs streaming, our social constructs, and the way that we are looking at representation. There's so much to learn and in order to be competitive at what you do, you have to study your craft.
When the opportunity came to work for Magic Johnson at Magic Johnson Enterprises on two separate occasions, I learned things every time. That second time around, Earven [Magic Johnson] and the other gentlemen who owned the Dodgers, bought the [Los Angeles] Sparks. So, I got to solve business problems for a professional sports team and it was a lot of fun. I didn't play in college but I was a three-letter athlete in high school and injuries sidelined me. Once you're an athlete, you're always an athlete. Being in sports is always fun and I loved it tremendously. The Sparks are an amazing franchise that stands for so much. We were able to do amazing things and they are continuing to grow which is beautiful. I knew that it was time for the next challenge and this opportunity [being COO at the Academy] came about. It's crazy that I've described it as nontraditional but in retrospect, it makes perfect sense.
Article continues below advertisement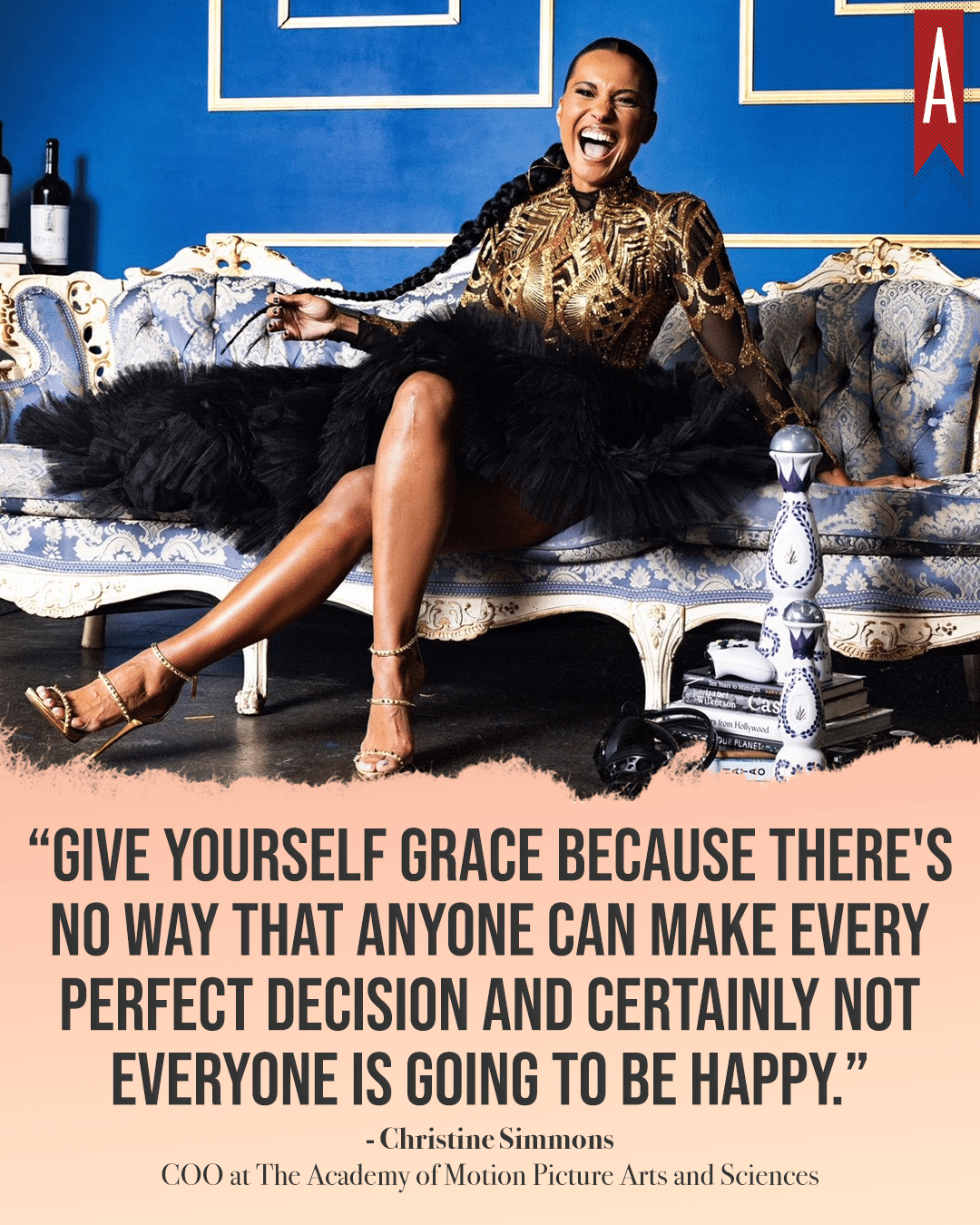 Her Agenda: I read that Magic Johnson was your mentor. What? Now, you are a favorite mentor with Brown Girls Dream, which is how I met you. I believe that your legacy is every life you touch, but what do you want your legacy to be, not only professionally, but as a mentor and figure in your community?
Article continues below advertisement
Christine Simmons: You're going to make me cry! The titles and the accolades are the vessel and mechanism. The true legacy is what lives on after you're gone. What will live on is you inside others. From every mentee that I've had to every barrier that I've been able to break. Don't strive to get to where I got, go higher. If you guys aren't bigger, better, or more successful, however, you define that, then I've failed. If you're still fighting these fights that we're fighting now, then I've failed. My legacy, I pray, is that I have made it easier, I have made an impact, and that will only be through the success of everyone. It brings me such joy every time I see someone else achieve one of their dreams. Impacting as many people as I can to get them to their goals, their success, and their joy is what I hope my legacy is.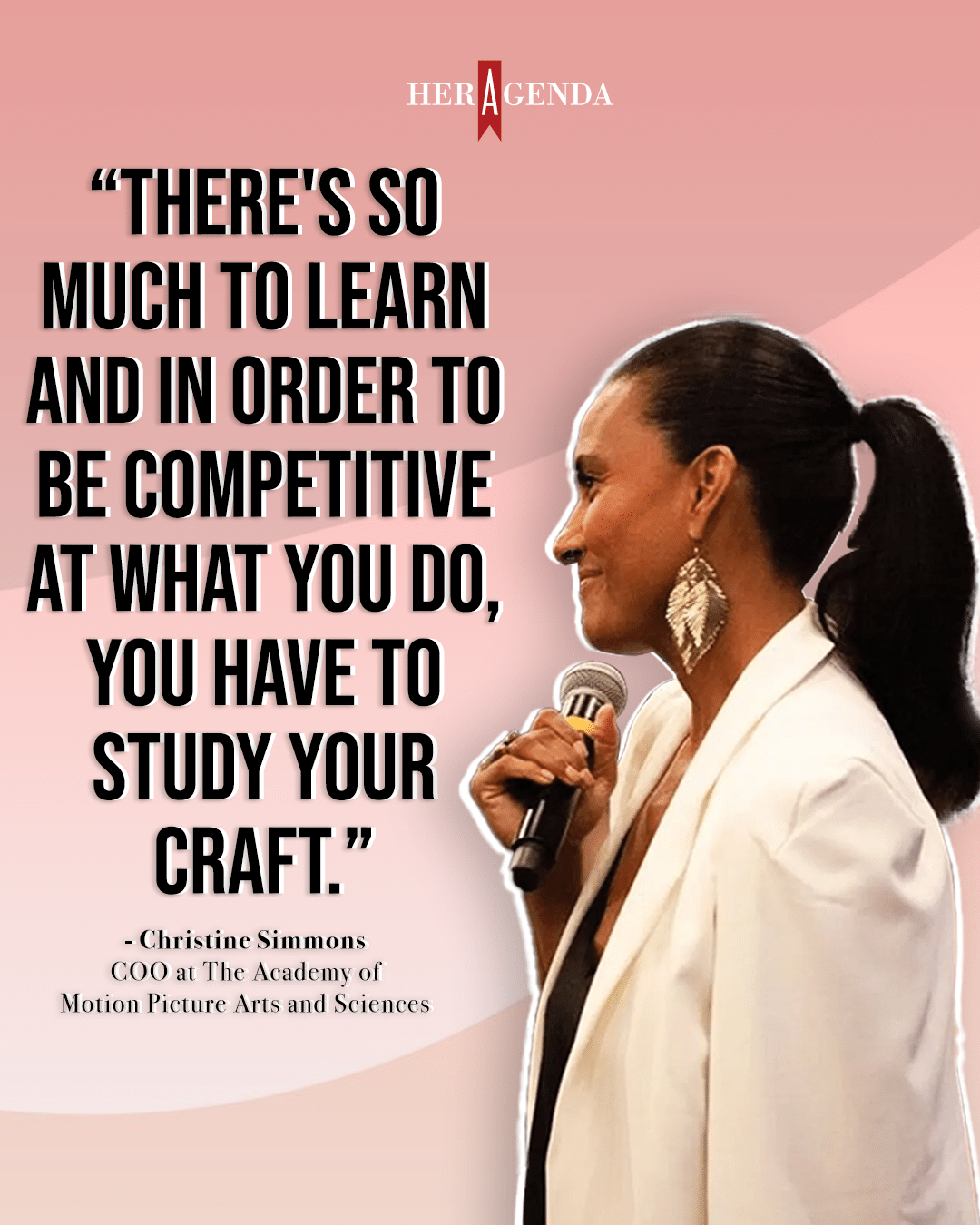 Article continues below advertisement
Her Agenda: You have some upcoming ventures: a children's book and an online professional development class for young professionals in the career. Tell us more!
Christine Simmons: In the same vein as trying to help people to get to their success quicker and faster, I have little tips and tricks that I feel are tangible and applicable. We need to have specific tactics because sometimes we don't have access to tools, networks, or social capital. We have to find ways to create that for ourselves. I've put together a course to help young professionals utilize tips and tricks regardless of what you have or don't have access to. It will help you get there faster, leverage your social capital, and understand failure sooner than later, and what that really means. Half of the time, we take ourselves out of the game before we even get to play because of the fear of failure. It will be launched online by the end of the month on [my website].
The children's book, in essence, is shining a light on how children view their working moms and how they see us as superheroes in beautiful, magical ways. [I want] to help mothers see themselves through the eyes of their children because our children do see us as superheroes. It's also meant to be aspirational for, both boys and girls, to see the different opportunities that are available to them.
[Editor's note: This interview has been edited for length and clarity.]