These Colorful Home Enthusiasts Offer The Decor Inspo We All Need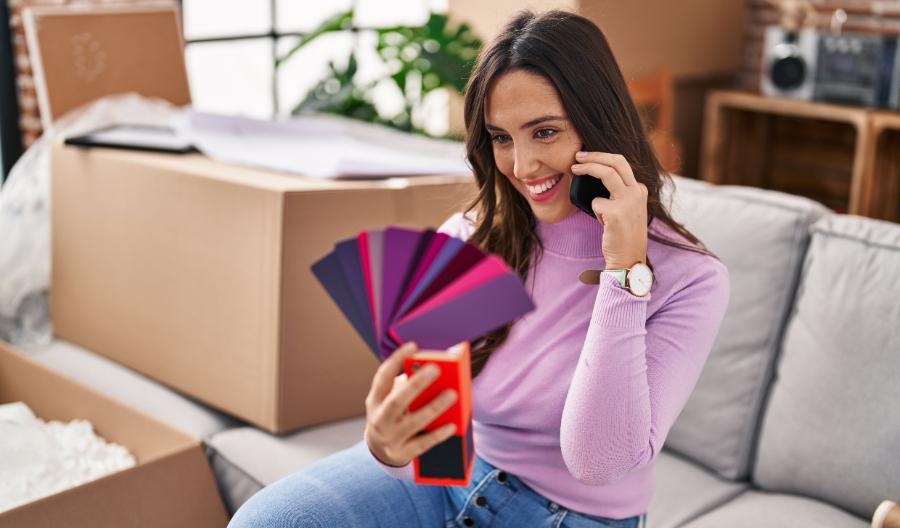 Let's face it: Many of us have felt like we could spruce up our apartment or home with some color, but lack the creativity or home decor to do so.
If you don't, that's OK. Let's get some inspiration from TikTok and Instagram influencers. Their photos of pastel apartments, before and after videos of renovated rainbow-colored rooms, and budget-friendly decor that won't break the bank offer just what you need:
@danidazey
Dani Dazey is a colorful interior, fashion and print designer in Los Angeles who was featured on HBO Max as the interior designer for Trixie Motel, a luxury boutique motel owned by drag queen Trixie Mattel. Her maximalist style on Instagram features photos of rooms and office spaces she's designed with vivid colors like ginger orange, lime green, and pastel pink centered around geometric shapes and patterns.
If you want to shop and find some rare and stylish items for your home, she occasionally features items from home decor stores around the Los Angeles area.
@53houseplantsandme
If you're not a maximalist, then look at Catherine's page on Instagram for some ideas on minimalistic but colorful decor. She includes videos for an in-depth look at her pastel-colored decorations and simple transformation of rooms that show off an elegant vibe.
If you're looking to support artists, she regularly tags art shops and designers that sell posters, wall art, or colorful products that work great for apartments or rentals.
Even if you're not interested in renovating your home, her shelf-styling and home decor videos with plants, pastel pillows and rainbow-colored decorations are soothing to watch.
Article continues below advertisement
@kelly.marcelo
Kelly Marcelo is a Latina home decor influencer living in the midwest who also posts self-care tips on her TikTok page. Along with tips on how to unwind and make your home a private sanctuary, she also includes rare buys she finds from Facebook Marketplace and World Market.
If you're into skincare, she also includes clips of skincare products she uses for her morning routine. Kelly also posts her mantras and self-care reminders for those who struggle to practice self-care for themselves daily.
@tropicali_haven
Sarah Caligiuri, a nurse who's also a home decor influencer, features her latest beach-inspired design ideas for her home in Carlsbad, CA. Her style centers around tropical chic and items you would imagine at a bohemian beach resort, like pink poinsettias, palm tree plants in pineapple planters, and baby blue-colored walls.
For inspiration, she'll tag small online home decor shops that include renter-friendly items for small spaces.
@alexadays
On TikTok, Alexa, an aesthetic home decor influencer, posts affordable finds for your home and ideas for preparing holiday-themed parties. She also has videos on decorating your home for different holidays and seasons, like adorning your home in a gingerbread and candy theme for winter or making an orange fall garland set with pumpkins and fall leaves for your table.
Home decor enthusiasts trying to save money on gifts can find Alexa's videos for cheap goods a lifesaver and a great way to find cute decor for their home. For example, her "budget-friendly gift guides" are under 50 dollars and feature luxury goods like a rose-colored tea box or a crystallized jewelry holder.