Create Your Professional Image Without Losing Your Personality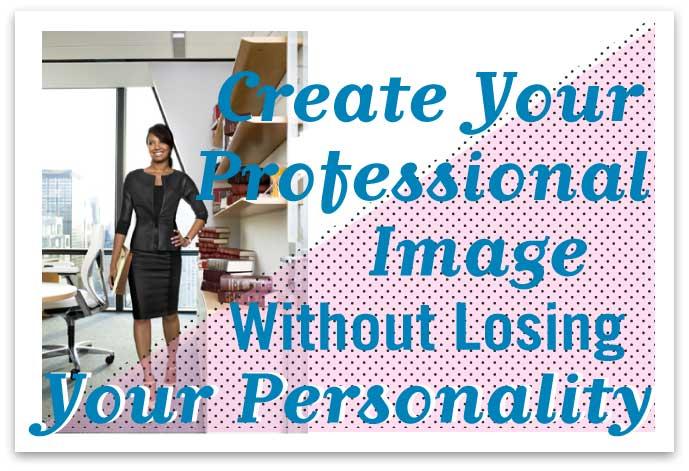 As a young professional, sometimes it can prove difficult to maintain the balance between showing your personality and dressing according to what's appropriate for the job. But in order to be taken seriously, you need to find a happy medium.
Dressing professionally does not mean you have to hide beneath frumpy turtle necks and over-sized slacks. There are several ways to make sure your personality can shine through, even when all hope seems lost in the business casual section.
The first thing to do would be to summarize your style in general: Do you like to play around with hairstyles? Is your favorite store is Sephora? Are you known for your mix of prints and textures? While these things may not seem acceptable in a business setting, there are ways to sneak those bits of your personality into your professional wear. But first, always consider your environment. Does your profession or workplace allow for creativity, or is the environment one that has a set and clear level of expectation? By understanding the vibe of your environment, you can garner a sense of what is acceptable presentation when you come to work each day and are fabulous! If you work at a place the embraces the arts (museum, theater, music studio) then they may allow you to be a little more ecclectic when it comes to dress. If your workplace is cut and dry in terms of expectations, and has a more business feel, then outfits that play on the safe side ensure your job.
If you still need help, just follow these simple tips as you go to your closet each day.
If you're one to never rock the same mundane ponytail, there are several ways you can change your look without being too eclectic in the office. Experiment with different buns: braided, high, or low. As far color goes, nothing too bizarre like green or bright pink, but opt for natural looking colors or highlights if you're one to switch up dye jobs.
If You Like To Show Skin:
Article continues below advertisement
Instead of punging V-necks, play around with ruffles in that area, or different neck cuts along the collarbone and chest. If you're fond of your legs, try switching up the tightness of dress pants and play with length. Pair a skinny dress pant with a heel to accentuate the leanness of a leg, or try a peplum skirt to play up your hips/legs.
Your use of colors and dramatic eyes is perfect for a night on the town or going out with friends, but not in the corporate environment. There's a way to to tone this look down for work. Pick one area you really want to dramatize and stick with it! For example, if you're going to go with a (slightly) bold lip color such as red, make sure the rest of your makeup has simple and neutral colors. If you use a colored eyeshadow and keep the mascara and lip color simple. Just pick one area on your face to really stand out.
Article continues below advertisement
An old rule used to be that going with solid, neutral colors is the safest guess when assuming what is acceptable in the workplace. Though with the changing times, prints, colors, and playing with texture is becoming more acceptable. However, in this instance less is still more. Wear a patterned blouse with a solid pant. The only printed pants you should wear are ones with stripes or small polka dots. Try to steer clear of printed blazers, but if you must jazz up a pantsuit, opt for a printed top underneath, or even wear a bold brooch.
If you're going to wear a "flashy" shoe (one that's multicolored, has various straps, or an amazon height) make sure the rest of your outfit is tamed. A show deemed "flashy" should be left for a night on the town, not the workplace. Though if your job involves fashion, a couple risks can be taken when pulling out the closing piece of any outfit: the shoe. As with the rest of the elements of fashion, less is more with shoes. If you feel the need to add a bold touch to the shoe, choose one aspect and rock that. For example, chose a shoe in bold color, with simple design. Or if you want to add a bit of "wow" appeal, chose a heel with an intricate strap or a few jewels to catch the eye of your co-workers!