The name 'Darian Symoné Harvin' first entered my orbit when I attended a virtual panel in 2021 reflecting on Black creators and the future of media. As a panelist, her professional insight caught my attention but there was something more about her as a visionary that I resonated with. At the intersection of beauty, pop culture, and politics, is where you can find Darian meticulously forecasting the trends of tomorrow while dominating the multimedia landscape.
After a decade of striving in the media industry, Darian's unique approach did not go unnoticed but the pay disparities as a result of staying in one lane left a tainted view of the industry. By removing herself from the box others attempted to place her in, Darian was finally able to focus on her calling – creating without bounds. Now, as a news curator, social media maven, and recently taking on the role of Beauty Editor At Large for Los Angeles Times IMAGE, Darian doesn't need to adhere to your labels. She's the one in charge.
Her Agenda spoke with Darian about hosting Instagram's 2022 Trend Report, navigating your worth as a Black influencer, and being 'that girl.'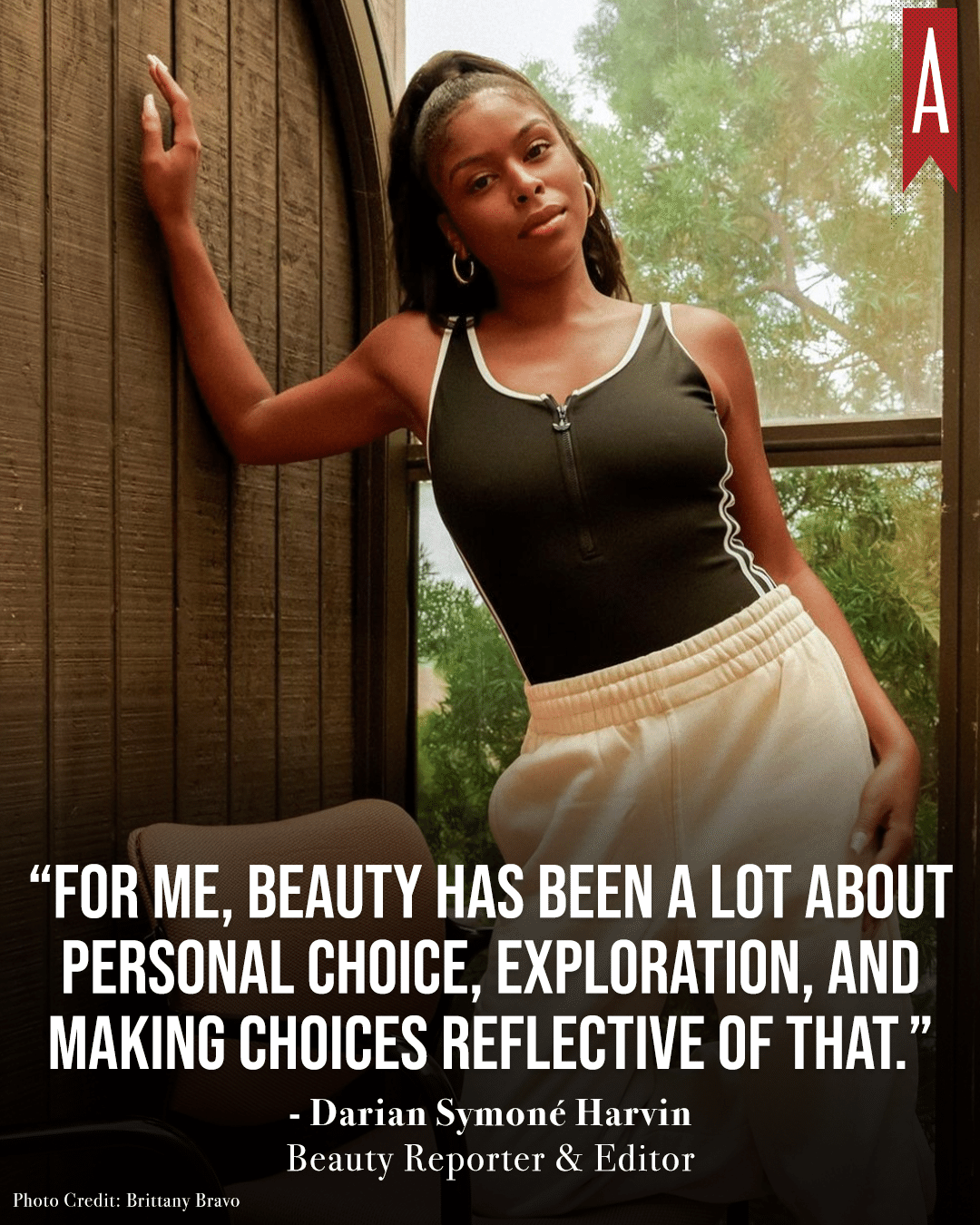 Article continues below advertisement
Her Agenda:I was listening to the most recent episode of the Naked Beauty Podcast that you were on, and heard you mention that you were getting a relaxer. We have been in a Black liberation, natural hair movement for the past decade, so how did you separate your voice from this movement and realize that this is the best decision for you?
Darian Symoné Harvin: My decision, ultimately, was the result of a lot of self-discovery and really being honest with myself about my own desires, taste, function, and the choices that best fit my lifestyle. What I have learned through this whole movement was less about what I should and should not be doing, and more of developing a compass around doing what works for me and makes me feel best. For me, beauty has been a lot about personal choice, exploration, and making choices reflective of that. Getting a relaxer was both thinking about how I normally wear my hair anyway, which is straight, and convenience.
Article continues below advertisement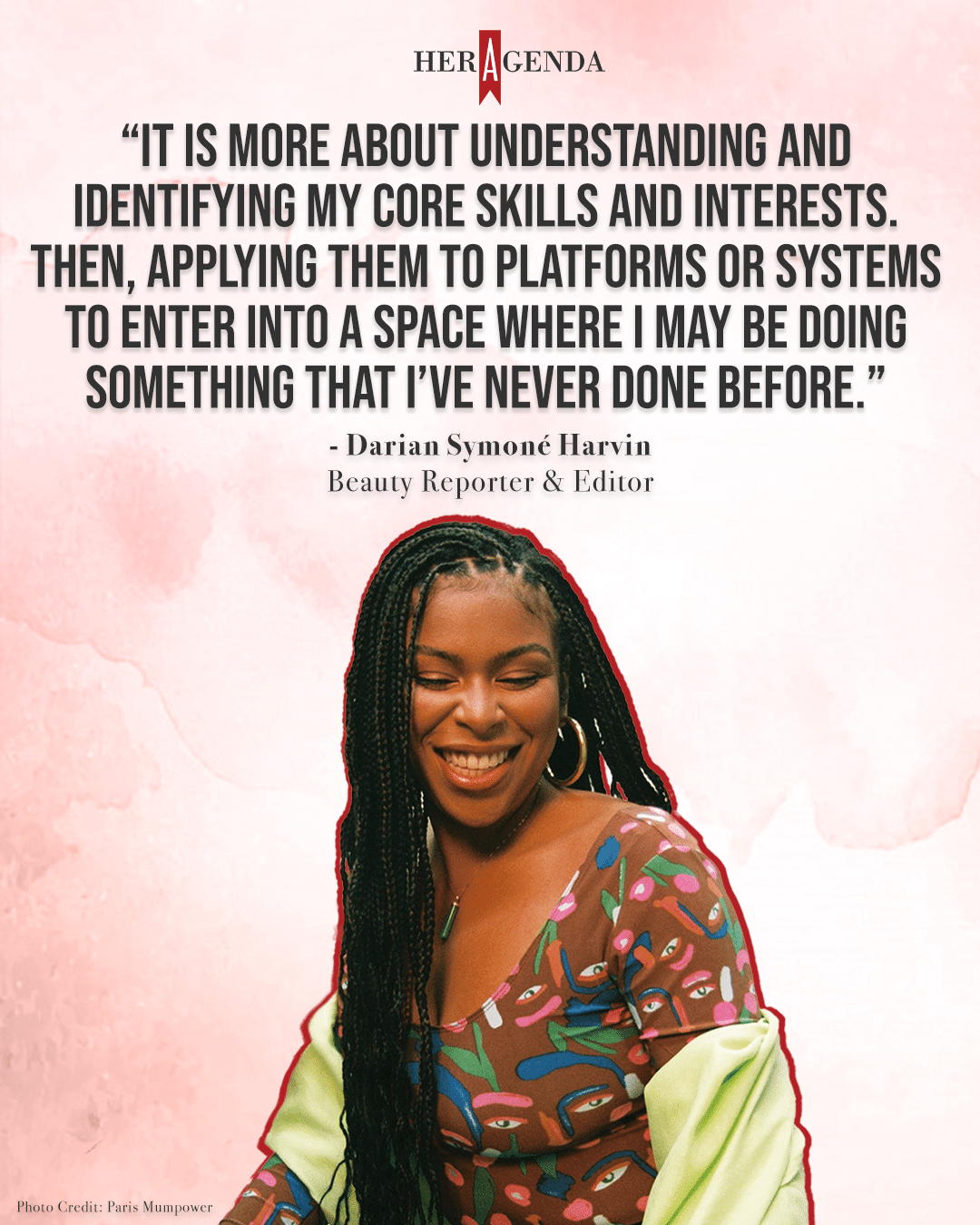 Her Agenda: I took a deep dive into your background and stumbled across your old podcast, 'Am I Allowed To Like Anything' and I read that you hosted, booked, produced, and edited everything. As you've been building your brand and developing your projects, do you ever have to say, 'I'm not sure how this works, let me watch a YouTube tutorial,' or do you only take on things that you are experienced in?
Article continues below advertisement
Darian Symoné Harvin: I recognize the core foundational skills that I have [which] translate to me figuring out that I can holistically bring together my projects. For example, I went to Emerson [College] for broadcast journalism. Through that, I took courses on how to edit audio, or at the very least, I knew the tools. Or, I was writing a variety of headlines, news stories, or something more essay-based. Ultimately, what I have found is that it is more about understanding and identifying my core skills and interests. Then, applying them to platforms or systems to enter into a space where I may be doing something that I've never done before, but I'm willing to try it out or do it.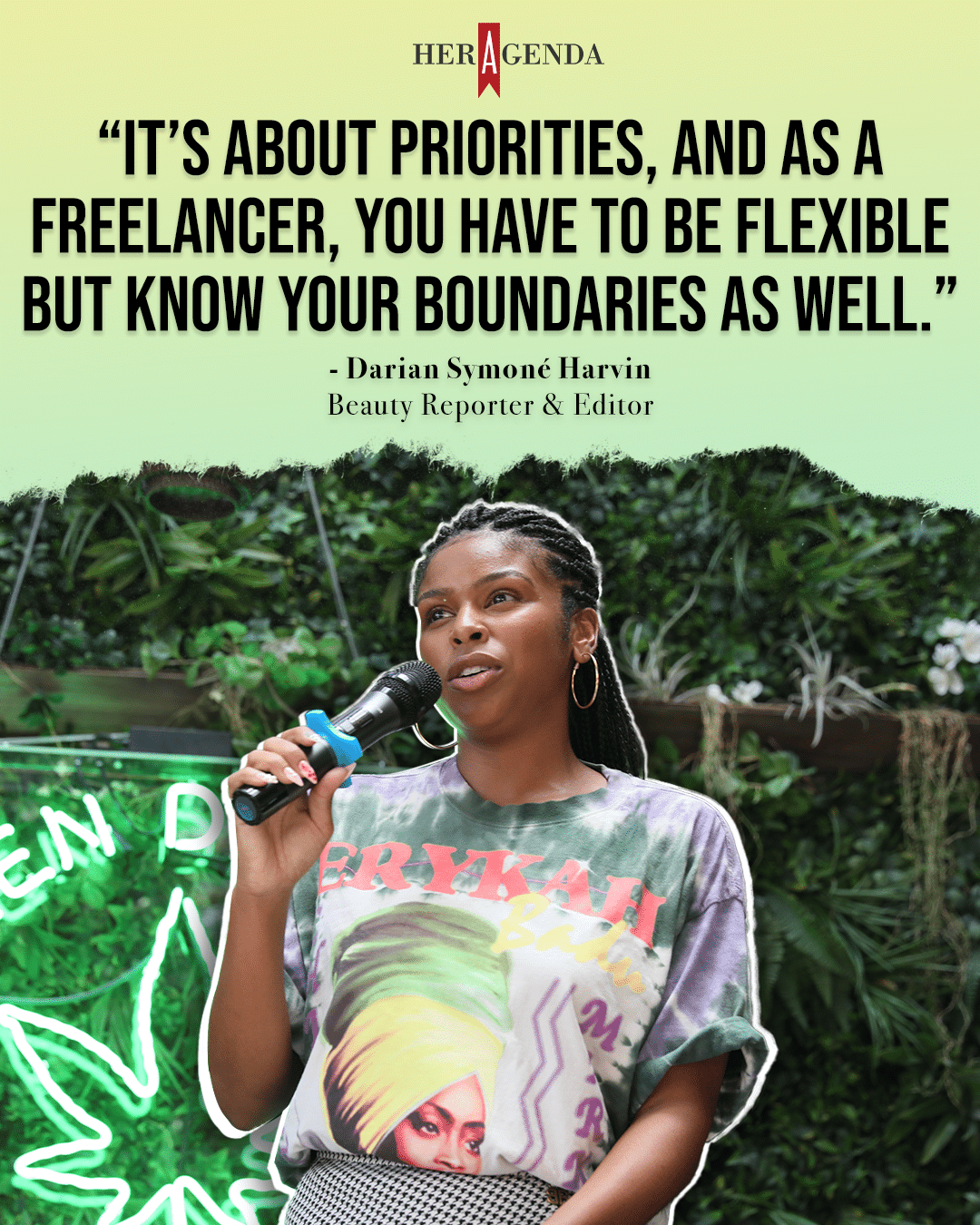 Article continues below advertisement
Darian Symoné Harvin: I had been working specifically with Instagram in the capacity of hosting and moderating which started during [the pandemic]. I felt that the trend report was the direct result of work I had already done with them and the way I had already been working with Instagram to talk about journalism, culture, and beauty. The trend report felt like such a great fit and also it was such a great reflection of how I view myself and how Instagram viewed me as a business. Going back to your first question, I recognized that I wanted to open up revenue streams for myself and work with social media platforms, less as a "pen on paper" writer but more as a multimedia reporter. I wanted to be able to translate my skills as a trend reporter, researcher, and writer, and I wanted to [utilize] that to host conversations with people on air or on video. I think that Instagram recognizes both my passion for writing for publications and also telling stories [while] having conversations with people where they are, which is directly on Instagram. It was really a team effort.
Article continues below advertisement
Her Agenda: In your January 2022 issue of the Beauty IRL Newsletter, there was a line that really caught my eye from the letter from the editor section, 'The moment I realized I could be more than a reporter, was also the day I realized I didn't have to be broke while doing what want I do.' In the media industry, so many people are boxed in by their title and so many people go broke trying to make it. So, how did you come to that realization?
Article continues below advertisement
Darian Symoné Harvin: This is something that the industry forced me into. A lot of the time, why we don't see as many Black and brown folks reporting and doing the stories that they truly want to do, is because the industry makes it really hard for writers to make a living doing this. You either need support or savings to at least initiate doing this work. Instead of feeling like I needed to fit into the box of being a struggling writer, who could barely make enough money to not only support herself but to have the things in life I know that I can have, I decided to make my own rules. I came to the point where I realized that if I not only have a foundation of skills but also morals, integrity, and responsibility for what I do, then I could use that compass to create a career that no one could tell me I wasn't allowed to have. No one could tell me that I'm allowed to do this or I'm allowed to do that in this industry which is in flux. Sometimes, my creativity is only valued on paper but doesn't translate to me financially. I don't want to be in those situations any longer and that has [worked in parallel] with my own self-discovery.
Her Agenda: I hear a lot about how Black and brown influencers aren't paid as much as white influencers or will be offered free products as compensation. As an influencer and freelancer, how do you negotiate your rates and ensure that you are being paid your worth?
Article continues below advertisement
Darian Symoné Harvin: That is a learning process, especially if you don't come from the world of business, marketing, and understanding how people make money. A lot of this has been informed [through] my better understanding of media business models and how the creator and influencer economy has evolved. Right now, I don't have a manager or someone who manages my deals for me so I really had to figure out what my rate was. That really came down to asking the question: based on your living expenses, and the time you think you will be spending on this, how much would I like to make? I think that combined with a lot of open conversations I had with other artists and creators helped me figure out how to do that. A lot of it came from friends and allies who were open to helping me figure it out.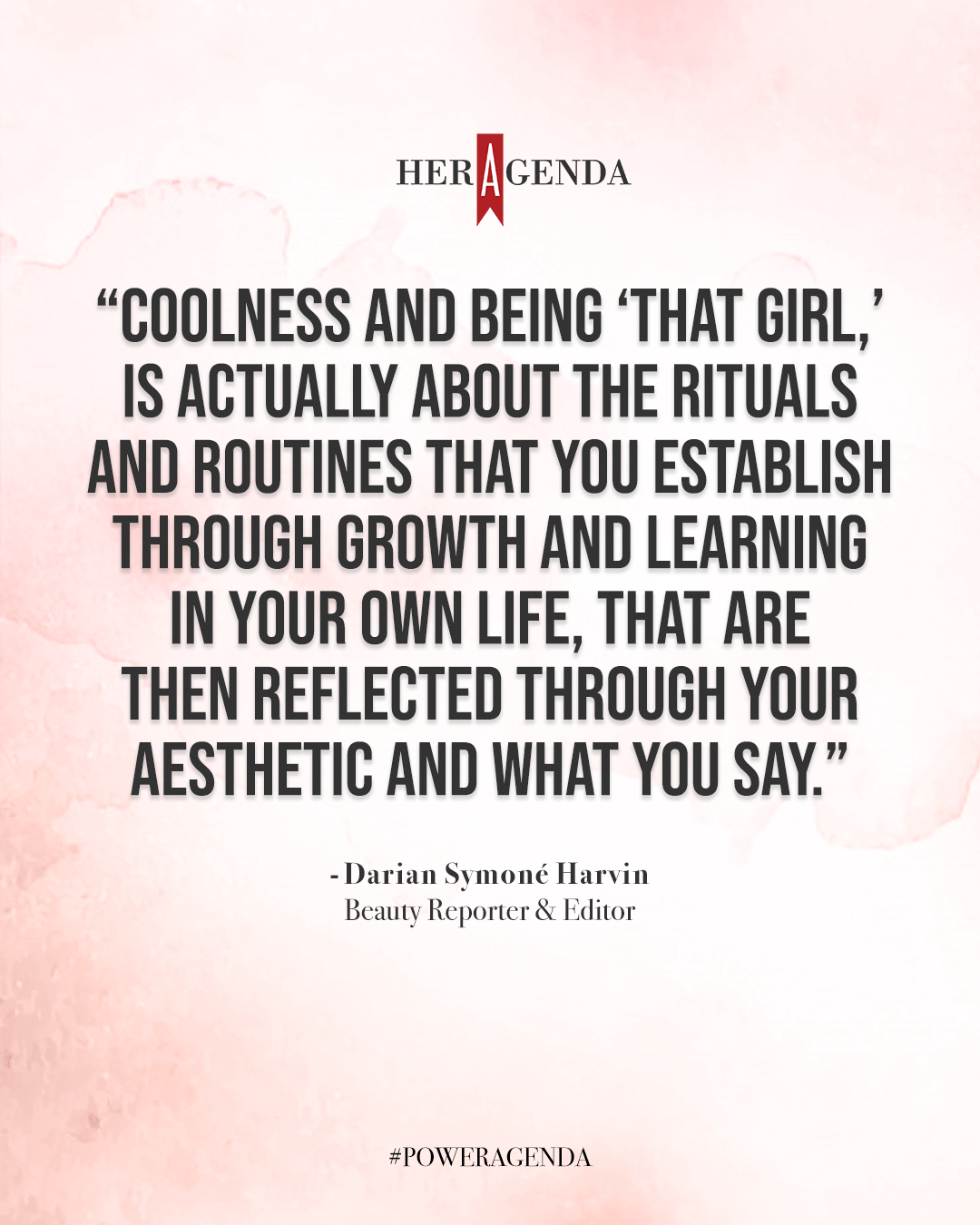 Article continues below advertisement
Her Agenda: As a creator, can you please break down how much of your time actually goes to creating and how much goes to other stuff?
Darian Symoné Harvin: Currently,I would say that within the span of a week, I spend like 70 percent of the time creating, which is a lot, but it took me [a long time] to get here. I spend the other 30 percent on my emails, negotiating, and organizing. Even [doing] stuff like eating, cleaning my apartment, and other things that reflect my wellbeing and affect how I work within my space. I now have better time management and priority skills that have allowed me to create. Creating could be writing, brainstorming, and a variety of things that are outside of strategizing. Right now, I have a lot of assignments on my plate that require a lot of creative energy; I'm creating an art book through Chronicle Books. I have to research, write and give myself for all of these things because I may set aside 4 hours to write, but I can't always control the amount of writing I'll get done. I just have to give myself the space to try to work and to work through it. It's about priorities, and as a freelancer, you have to be flexible but know your boundaries as well.
Article continues below advertisement
Her Agenda: Every day that I wake up there seems to be a new celebrity skincare line and I am over it! Be honest, how do you feel about this oversaturation? What's your opinion on celebrities dominating the beauty space, especially when it doesn't fit their brand and when you can tell they didn't contribute much?
Darian Symoné Harvin: It's very clear to me, now that we've seen a lot of celebrity beauty brands come out, who is into creating a beauty line based on their own interests, whether that be skincare, hair, or makeup. Then, there are those who are mostly doing it because they know that it is a great addition to their brand and an additional revenue stream. We have gone through a variety of different product categories that we have seen celebrities go into. One that has never gone away has been fragrance. I just think that right now there's an emphasis on beauty, especially as more people realize how resilient of an industry that beauty is. Personal care will always be an industry that is on the up and up. One category may be down while another one may be up. During [the pandemic], we saw a decrease in people wearing red lipstick because they had masks on but we saw an increase in skincare buying and DIY nail products. I think there's just a lot of appeal and now it is just easier than ever to see which celebrities genuinely do care and want to make something interesting, and others whose teams suggested they do it.
Article continues below advertisement
Her Agenda: In my opinion, you really embody the 'That Girl' trend. How do you embody being 'That Girl' and being the main character in your own life?
Darian Symoné Harvin: I have learned that coolness and being 'that girl,' is actually about the rituals and routines that you establish through growth and learning in your own life, that are then reflected through your aesthetic and what you say. I think being 'that girl' is about having a voice and a POV matched with how you want to show up through your clothes, hair, nails, and makeup. It really starts with arriving at these processes and routines, which are based on what I learned about myself and how I want to care for myself. Me finding this really cool shirt, trying out a hairstyle, or deciding to go with a nail color, is honestly a reflection of my own self-exploration. I don't have to wait for anyone to tell me that something is cool. I don't have to wait for somebody to tell me something is acceptable. If I say something is cool, something is cool. If I think about it from my compass, no one can tell me what is and is not cool. I can determine that in my life. It's a collective experience because I wouldn't be who I am without the people who also affirm me as being 'that girl.' I see so many other girls who are 'that girl.' I just started an Instagram account [@studio.symone] that is very much about that. It's about creating this community that is about me being 'that girl,' you being 'that girl,' and us appreciating each other.
[Editor's note: This interview has been edited for length and clarity.]