Dayna Lynne North is a legend. The Kansas City, Missouri, native is a film and television writer, executive producer, and founder of Loud Sis Productions. Dayna's immersive journey to becoming a multi-hyphenate storyteller began in early childhood as Dayna acted in musicals, wrote poetry, and analyzed her favorite plays, films, and television shows. Her love for storytelling led her to study filmmaking at the renowned University of Southern California, where her college crew quickly became her creative tribe. Years later, Dayna teamed up with one of her tribe members and fellow USC Trojan, Prentice Penny, to co-executive produce the hit HBO comedy series, Insecure.
A self-proclaimed "delightful disruptor," Insecure was not Dayna's first time illuminating the television landscape. She has writing credits for Veronica Mars and Soul Food: The Series and writing and producing credits for Single Ladies and Lincoln Heights. Now, Dayna is poised to share her latest gem with the world.
Dayna teamed up with film director and creator of The Best Man film franchise, Malcolm D. Lee, to executive produce and co-showrun the upcoming Peacock series, The Best Man: The Final Chapters. After two box-office blockbuster movies, The Best Man franchise is coming to an end with an eight-episode series set to release on December 22nd.
The romantic comedy-drama movie came out in 1999 and followed old college friends reuniting for a wedding that was full of betrayal and drama. Then in 2013, the cast reunited for The Best Man Holiday Christmas sequel. Now, Dayna and Lee have reimagined the film franchise into a series. The series will bring the friends back together and stars Morris Chestnut, Melissa De Sousa, Taye Diggs, Regina Hall, Terrence Howard, Sanaa Lathan, Nia Long, and Harold Perrineau.
Her Agenda talked with Dayna about her career journey, showcasing a woman's perspective in The Best Man: The Final Chapters, the future of Loud Sis productions, and more.
Her Agenda: I've read a lot about you through the years, and I'm familiar with you and Prentice's relationship from USC to Insecure, but I don't think I ever read how you got into TV writing. What inspired you to want to become a TV writer and producer?
Dayna Lynne North: I was one of those theater kids and artsy kids from the time I was really young. I'm from Kansas City, Missouri. Shout out to KC and my brother, Morgan Cooper [creator of Bel Air on Peacock]. Being from Kansas City, Missouri, at the time that I came up, unlike Morgan who came up in the era where you could grab a camera and throw your stuff up on YouTube and all that, I came up at a time when I was watching the behind-the-scenes interstitials on HBO and the making of the Star Wars movies. I was always really fascinated with the behind-the-scenes stuff. I also was a theater rat, and I actually was an actor when I was young. I loved storytelling. I was writing poetry as a kid. I started off like many people thinking I wanted to write for film, but I loved television too.
My oldest sister was a television writer before I was and she was also the one dragging me to the theater and being like 'you want to see Oliver, you want to see My Fair Lady.' I grew up watching the shows that my sister would watch. I was immersed in all of it and but once I found out there was a film school…that blew my mind. You can go and study to be a filmmaker, I just thought that was the coolest thing. So for me, it didn't feel like there was the same access to work in film and television [in Kansas City]. Also, at that time not being a size 2 girl, being a plus-sized Black girl in Kansas City, the thought of being able to be a multi-hyphenate [did not seem like an option]. I didn't have an Ashley Nicole Black, a Natasha Rothwell a Lizzo. I didn't have any of those images or any of those role models in my life so I thought, even though I love acting, I'm going to have to put acting to the side. So, I [told myself] I'm going to go to USC to study to be a filmmaker. I came out to USC where I really found my tribe, Prentice Penny, Jay August Richards, whose on another Peacock show, and this tribe that I'm still very close to today. We're all killing it in all these different aspects of TV and film.
I remember when Malcolm [D. Lee] first reached out to me. I got the email 'Malcolm, would like to meet with you,' and I was like 'okay, cool, for what?' I didn't initially know why and then found out what was going on!
- Dayna Lynne North
Article continues below advertisement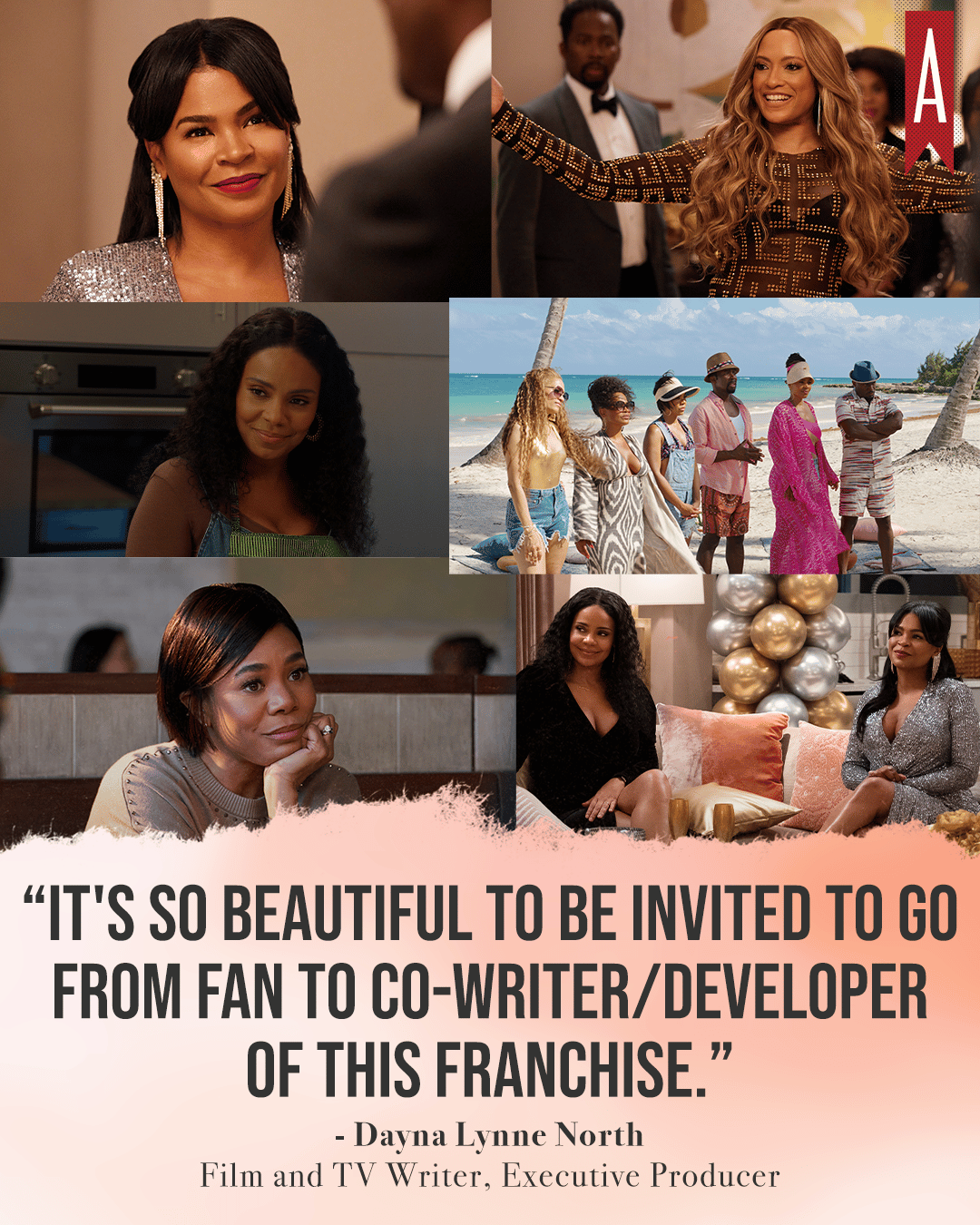 Her Agenda: You and your college friends are long-time fans of the 1999 film The Best Man. How did it feel going from a viewer of the film franchise to the EP/Writer of the series?
Dayna Lynne North: It's still mind-blowing, and it's such a beautiful privilege. It's surreal in a way. I remember when Malcolm [D. Lee] first reached out to me. I got the email 'Malcolm, would like to meet with you,' and I was like 'okay, cool, for what?' I didn't initially know why and then found out what was going on! Imagine watching your favorite player, like Patrick Mahomes, and he's like 'hey you want to come down and get on the field with us?' It's amazing! It's true my USC crew and I have watched these iconic pieces of Black culture and this beloved franchise. When Malcolm and I first sat down after he reached out to me, he was like 'have you seen The Best Man films' and I was like 'No I don't know wha-... Of course, I have!' There are these films like Love Jones, Waiting to Exhale, Boyz in the Hood, these films that every generation whether it's my 20-year-old niece or somebody in their thirties or me or whomever, everybody has seen these films! They're passed on like a good sweet potato pie recipe. They get passed on, and everyone gets to enjoy them. It's so beautiful to be invited to go from fan to co-writer/developer/ of this franchise. It's really fun.
Malcolm and I, our sensibilities, our tastes, our sense of humor, blended well and so that was also really fun to be able to sit down and brainstorm about where we think Jordan would go in her life at this point, where we find this character, how is Lance grieving and then hopefully moving on in his life while still honoring his marriage, what's going on with Harper and Robin's marriage? We might have different points of view on all those things, but it was fun to find a way to blend our points of view. It was fun to be the fresh energy. I think it was important for Malcolm to partner with a woman to adapt this franchise for television. I think that was something he really wanted to do to bring in a [woman's] perspective as he brought it to series which I appreciate. It was important to me to bring in more of the [a woman's] perspective and to deepen the women's stories which we have an opportunity to do in a series. He wrote The Best Man, it's right there in the title. I think he wanted to write a romantic comedy from a Black male point of view, which he did. Coming into the series, it was important to me to deepen the women's stories and let them [become] more arced-out, [and] three-dimensional.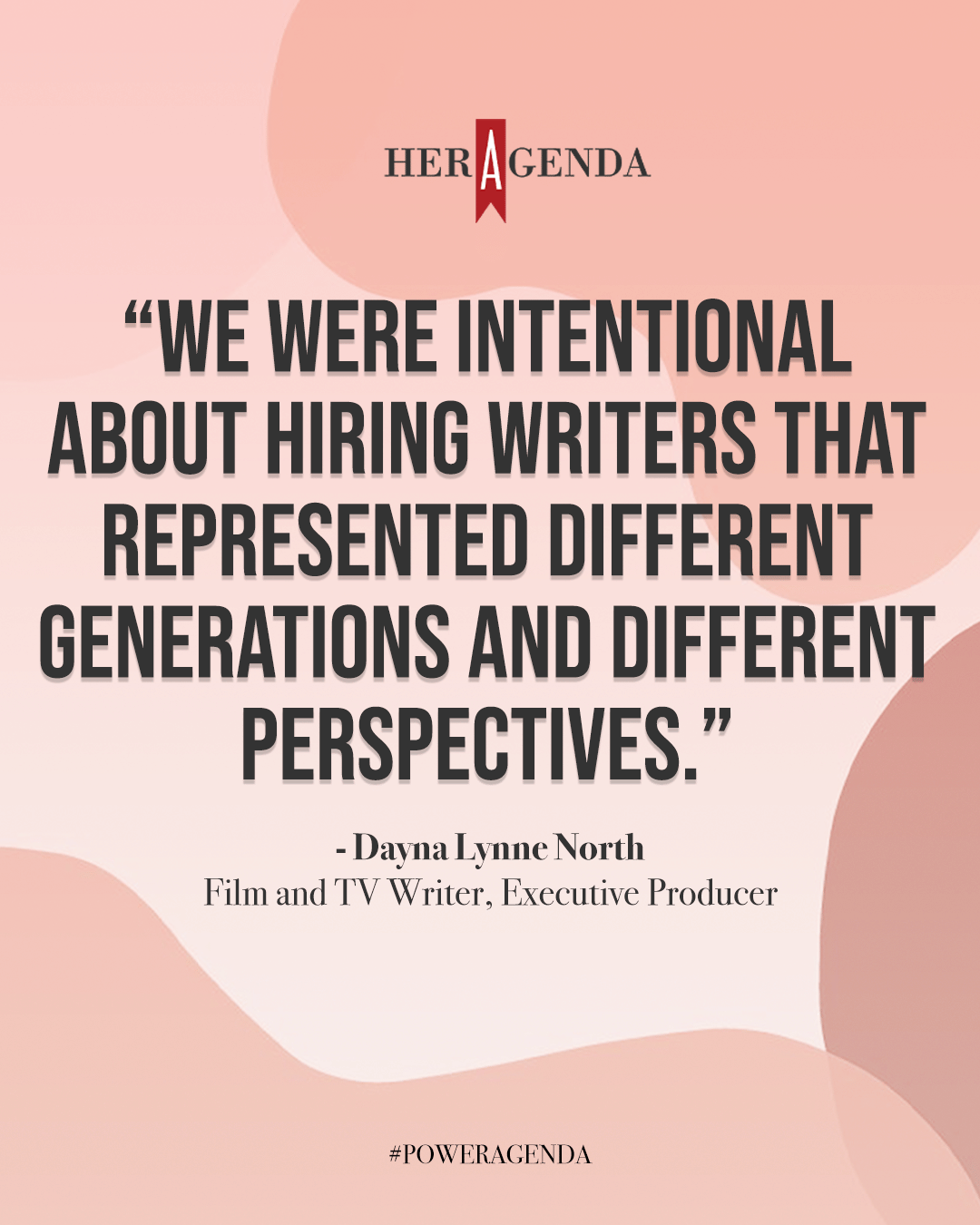 Her Agenda: In the films, the stories center on male characters. In the series, the women get meatier storylines. What informed the perspectives in the writers' room in telling the women's stories?
Dayna Lynne North: For me, being a Black woman in America. Coming into it with my lived experience is truly one of the first things that informed it, and coming into it knowing that as much as I love the films, I think [the films were] something where the women's stories were often counterpart to the men's stories as opposed to being right on the same plane. For me, it was definitely a goal [to expand the women's storylines] because we have more room in the series. It was a priority for [Malcolm D. Lee] too. I think that's part of why he wanted to partner with someone like me now that we have this opportunity now to fill in their stories more. We had more women in the writers' room than we did men. We were intentional about hiring writers that represented different generations and different perspectives. We had some parents in the room. We had some single women like me representing Jordan's POV in the room and women that could represent Robin's POV in the room. We were being intentional about things like that so that we could make sure that we were honoring the POVs that didn't necessarily get serviced in the same way in the films.
Article continues below advertisement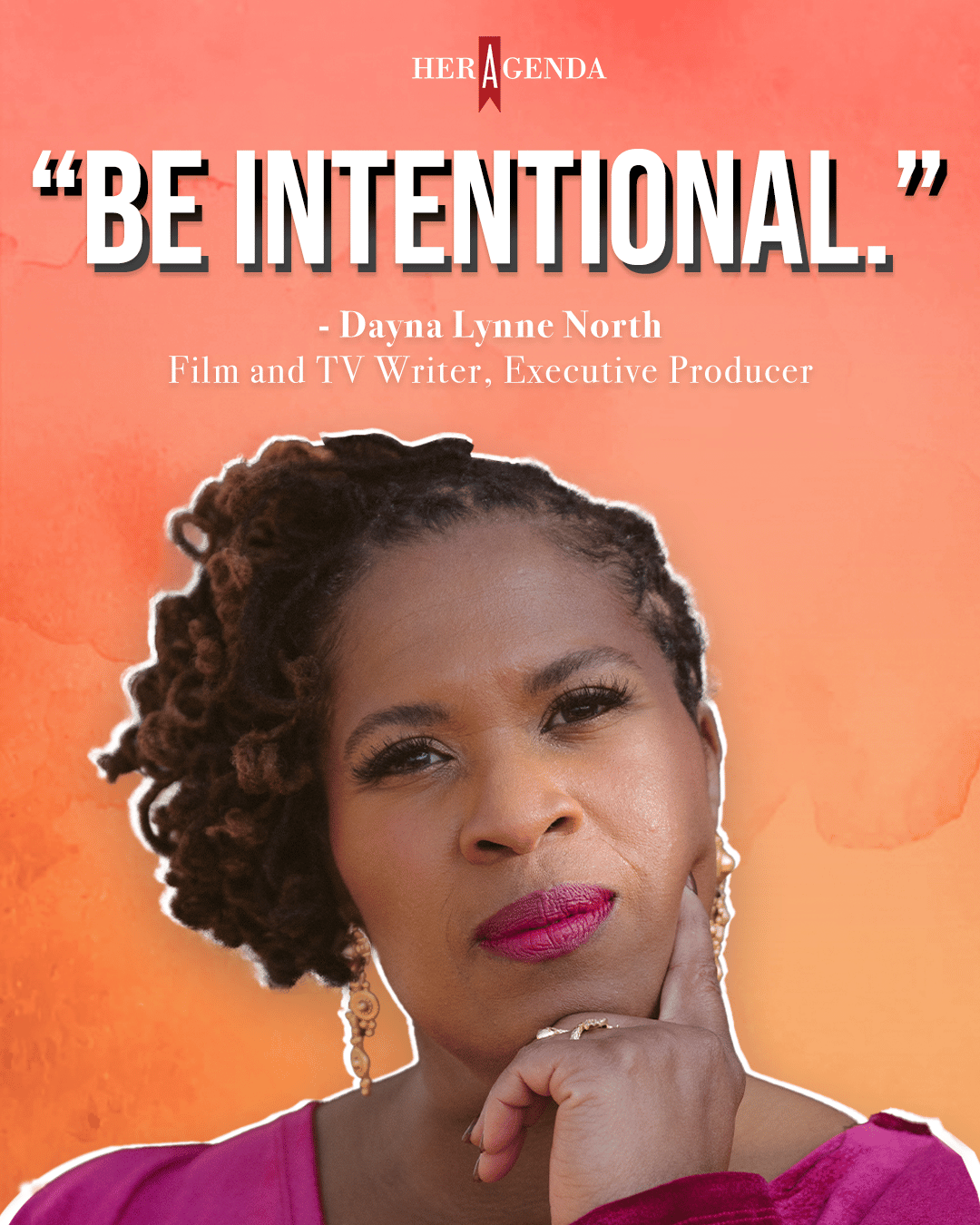 Her Agenda: Our world has evolved so much since the original film in 1999. What topics did you prioritize covering in the series?
Dayna Lynne North: As we looked at how we want to expand the women's stories, it was also how do we want to challenge all of these characters and reflect the world that we're in right now. It was like, where do we want to catch up to each of them, how do we want to challenge them and where do we want to leave them as we started to arc out with the writers.
We had an amazing writers' room and I want to shout that out because it started out just being Malcolm and I virtually brainstorming on Zoom. I'm in LA, and he's in New York. It was the two of us against the world, then we hired an amazing group of writers, and it became the eight of us in the room talking about where we want to meet each of these characters. We're in a post-ish pandemic world because we're in a virtual room which means we were still in a pandemic world in what I like to call this pandemic revolution. We were hit with the pandemic first then all of the things that it brought - all of the political, social, racial, and gender - all of the things that we are dealing with and looking through the prism of in different ways. We're catching up to the characters 20-something years later from the first film. What's going on in each of their lives? How are they being challenged in a post-pandemic world that's going through a lot? We're all going through a lot, and we wanted to be authentic to that. For each of them, how are they being challenged in their lives? What's going on in their friendships? Because when you have been friends with people and have this college crew, then it's 20 years later [things change]. What's going on in their marriages? What's going on in their lives now? What's going on in the world? Putting them through the same kind of stuff that we're all going through [in real life] was important. [We also cover] issues around gender and identity.
Some of them have kids that are in high school now, and as a parent, you might want something for your child, and that child is old enough to say I don't necessarily want for me what you wanted for me, so we're challenging them around those things. We as the writers' room asked all of those hard questions and then tried to put those characters through those things.
Article continues below advertisement
Her Agenda: Last year, you signed a two-year overall deal with Sony under your woman-centered company Loud Sis Productions. What's next for you and Loud Sis Productions?
Dayna Lynne North: Loud Sis is a social impact-driven production company, and that's important to me in all the work I do whether that's The Best Man or anything else so I'm super excited. We have a few things that are in development at Loud Sis. I also work in both television and film, so I have a couple of things I'm working on with Jay Ellis that I'm excited about on the feature side.
Morgan Cooper and I are developing a project called Black Coffee that we're working on with Gabrielle Union that we're excited about so we're probably taking that back out very soon like in 2023. I also have a project with Macro called Ain't That A Mother that's an adaptation of an amazing memoir by the same name. That one is about inclusivity and a woman who is a mom to a special needs kid, but she's like this badass burlesque-dancing incredible woman who has a daughter with cerebral palsy. It's about the way that she's determined for the world to see them. It's got a little bit of Fleabag meets hilarity, and I'm excited about that, so those are a couple of things I'm working on! I'm excited to get back to the business of Loud Sis and being noisy with intention.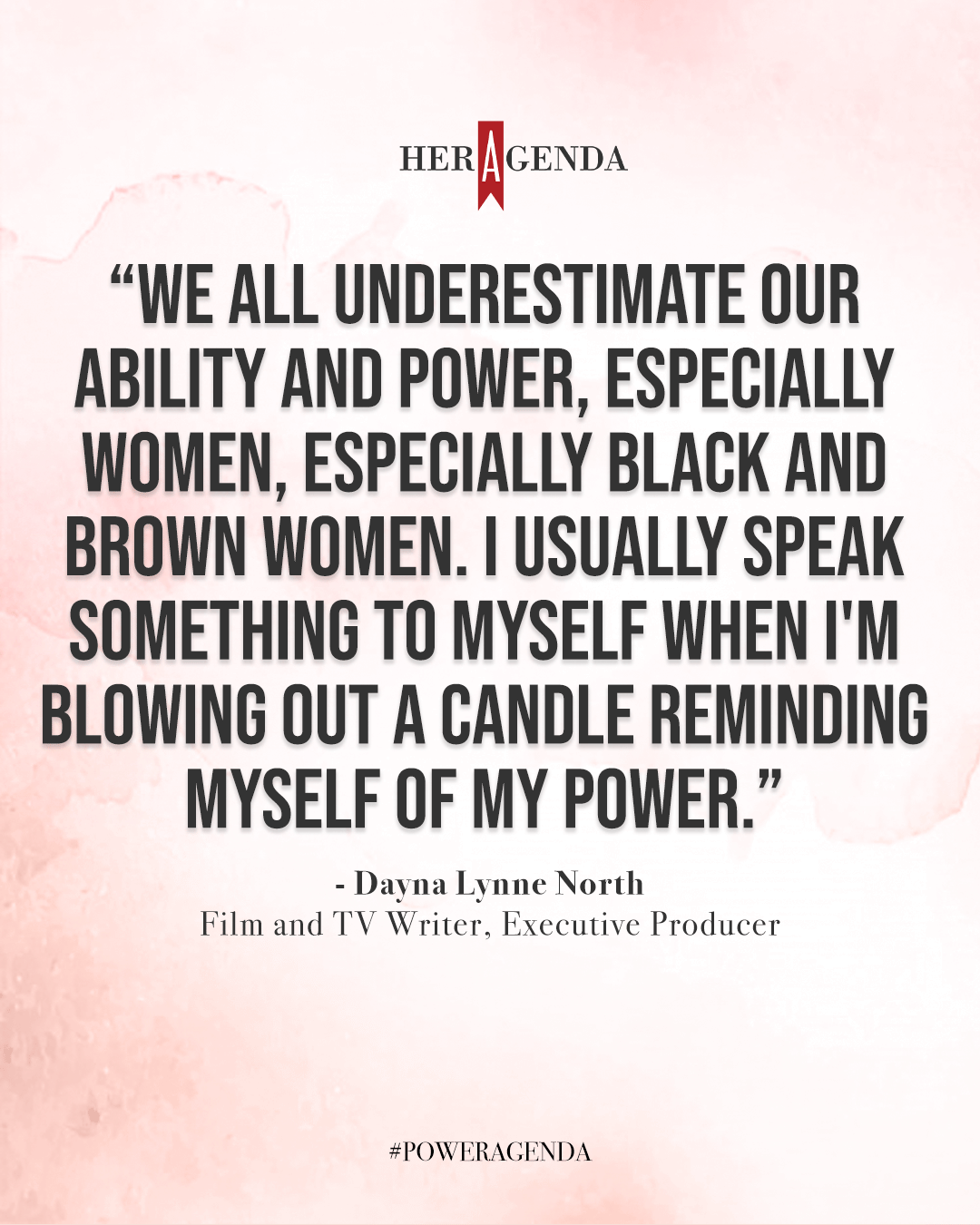 Her Agenda: What is your motto?
Dayna Lynne North: I think we probably just touched on it. I don't know if I have anything beyond that. I'll tell you a secret that I don't tell a lot of people. You know how there's the making a wish on your birthday thing that people do, I light candles when I'm writing. It's not that I make a wish every time I blow out a candle, but I try to speak an intention anytime I blow out a candle, like any time. So, it kind of falls under the life motto thing but it's just being intentional. Usually, I tend to speak similar things whenever I do it, and so usually it has to do with creating the life that I want. I think we all underestimate our ability and power, especially women, especially Black and brown women. I usually speak something to myself when I'm blowing out a candle reminding myself of my power.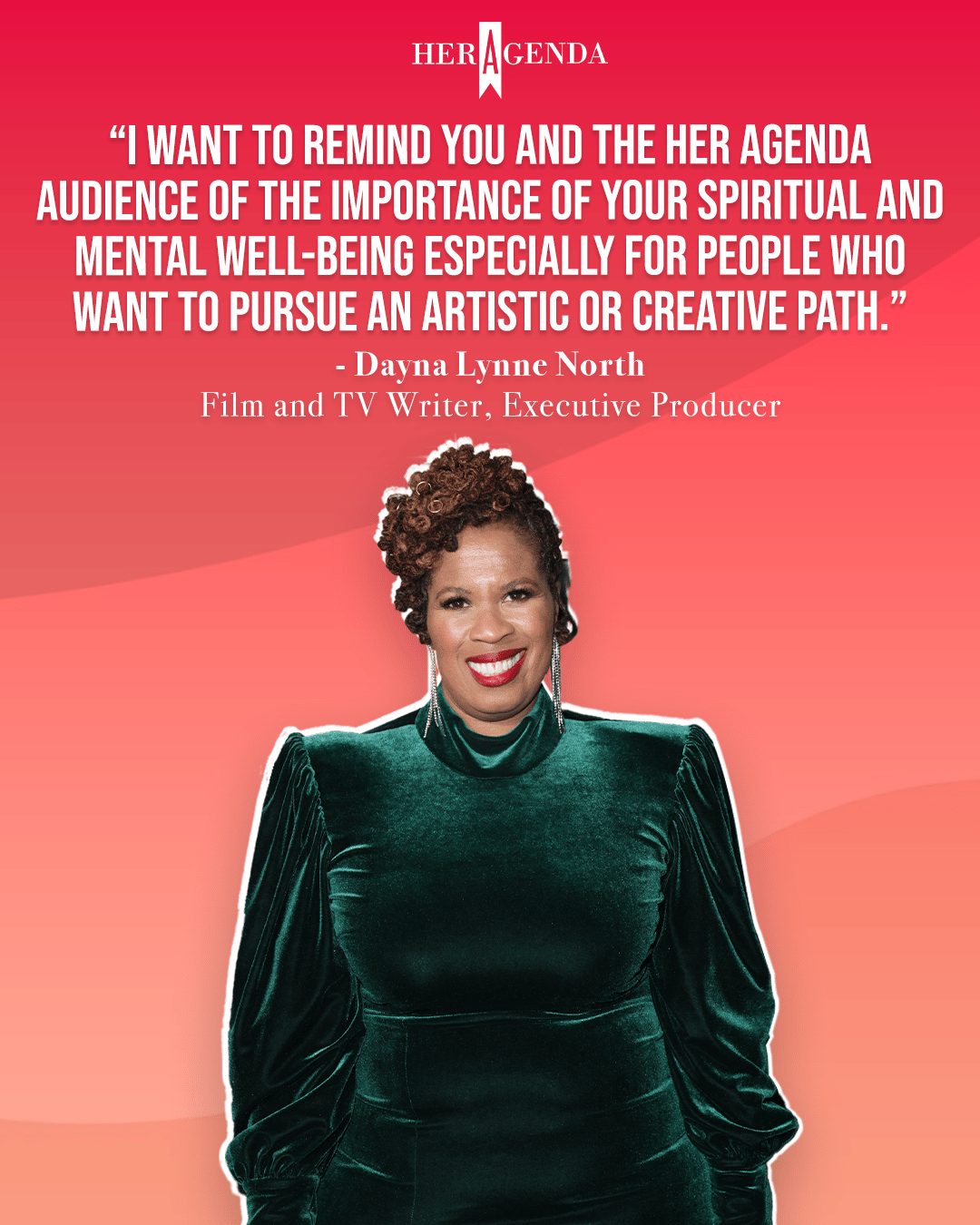 Her Agenda: I love that! Is there anything else you want to share?
Dayna Lynne North: I want to remind you and [the Her Agenda audience] of the importance of your spiritual and mental well-being especially for people who want to pursue an artistic or creative path because I think that's more of a path of uncertainty, as fun and wonderful as it is. My other motto is about the importance of having a kind of spiritual squad or whatever the thing is that helps keep you grounded in your spiritual and mental well-being. It's important to remember that.
[Editor's note: The Best Man: The Final Chapters hits Peacock on December 22nd. This interview has been edited for length and clarity.]