Debbie Allen, Michaela Coel, And Women Directors Shine At The 2021 Emmy Awards
Known for honoring the best in television, The 73rd Primetime Emmy Awards returned to an in-person awards ceremony last Sunday night. Despite being in the midst of the COVID-19 pandemic and a delta variant spike, this year's award ceremony was an in-person, mask-free commemoration. Hosted by Cedric the Entertainer, the ceremony was met with historic wins, heartwarming acceptance speeches, and of course, controversy.
Here are a few significant moments of the event-
The Magnitude Of Michaela Coel's Victory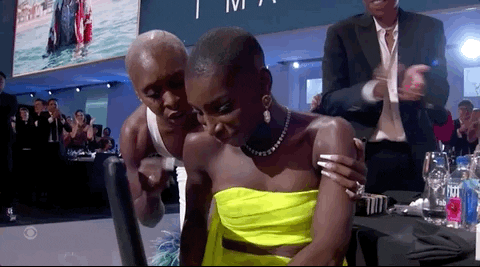 On Sunday, Michaela Coel became the first Black woman to take home the Emmy award for Outstanding Writing for a Limited or Anthology Series or Movie for her HBO drama, I May Destroy You, which she wrote, directed and starred in. Despite appearing astonished while huddled over in her chair, Coel was met with a standing ovation to compliment her fully deserved honor. I May Destroy You was not only a sensitive exploration of sexual assault among Black Londoners, but it also presented a dramatic depiction of sexual assault and its unsettling aftermath that felt true. In her glorious acceptance speech, Coel declared:
"Write the tale that scares you, that makes you feel uncertain, that is uncomfortable. I dare you…In a world that entices us to browse through the lives of others to help us better determine how we feel about ourselves, and to, in turn, feel the need to be constantly visible, for visibility these days seems to somehow equate to success..Do not be afraid to disappear, from it, from us, for a while, and see what comes to you in the silence…I dedicate this story to every single survivor"
Article continues below advertisement
Historic Wins For Women
Women directors hit a major milestone when The Crown's Jessica Hobbs won Outstanding Directing For a Drama Series and Hacks' Lucia Aniello Won Outstanding Directing For a Comedy Series. According to Deadline, this marks the first time women have swept both directing categories in the same year. During her acceptance speech, Hobbs professed, "Not a lot of women have won this award so I feel I'm standing on the shoulders of some really extraordinary people. I'm very grateful for the path they led, and I particularly would like to pay tribute to my mom who at 77is still directing." Aniello, Hacks co-creator, is the fifth woman ever to win the Outstanding Director For a Comedy Series Emmy.
Celebrating Debbie Allen
Debbie Allen, the legendary and multi-hyphenated entertainer, accepted the Governor's Award at Sunday's Emmy Awards. According to Variety, the award is intended to honor "an individual or organization in the television arts and sciences whose achievement is so exceptional and universal in nature that it goes beyond the scope of annual Emmy Awards recognition." Allen is the first Black woman to receive the honor. In her inspirational speech, Allen reflected on her career saying-
"To see that the value of your work stands tall says that I have to keep doing it. Time is what I'm up against. I have so much to do. It's not a moment to rest on laurels. [This award] means I have to keep my hands on the plow, as I always say."
Her Agenda would like to congratulate all of the winners from the 2021 Emmy Awards, and all of the women who create the stories reflect our truth.