Speaking up is what DeDe McGuire is all about.
After working at WBLS FM and being mentored by radio pioneers such as Doug Banks and Tom Joyner, one of the key things DeDe says she learned is that the most important way to stand out as a woman in the radio industry is to be your most authentic self. DeDe is now the host of her own radio show DeDe in the Mornings on K104 FM Dallas and also puts in the work to help women and families succeed through her non-profit, The DeDe McGuire Foundation.
We had the opportunity to speak with DeDe to learn more about her journey into radio, becoming a top radio host, and how she overcomes the challenges she faces in the industry.
Her Agenda: What inspired you to become a radio host and start your own show?
DeDe McGuire: The inspiration for me started from my mom. When I was a little girl living in Seattle, my mom had a friend who was on the radio, and she was really into acting and singing and all that stuff. I'm also the youngest of five and all of us do it. My brothers and sisters, all of us were into theatre, speech, drama, and singing – and so it just felt natural.
Her Agenda: You mentioned that you're in 80 cities and people still don't know that! So how can women speak up and be heard? Do you have any advice on how women can speak up and be heard?
DeDe McGuire: I always feel the way I speak is through my success because you can't deny it. The proof is in the pudding, it speaks volumes, and it speaks loud. But again, you just have to be patient sometimes. People will figure it out. They're going to find out and people are finding out now – and it's speaking for itself, the success of this show. We're going to be five years in syndication in August. I'm watching how some shows are making adjustments and hiring comedy writers and this and that and wanting to do what we did. Then to me, you heard my voice, and I didn't have to say it loud. But the proof was in the pudding.
Article continues below advertisement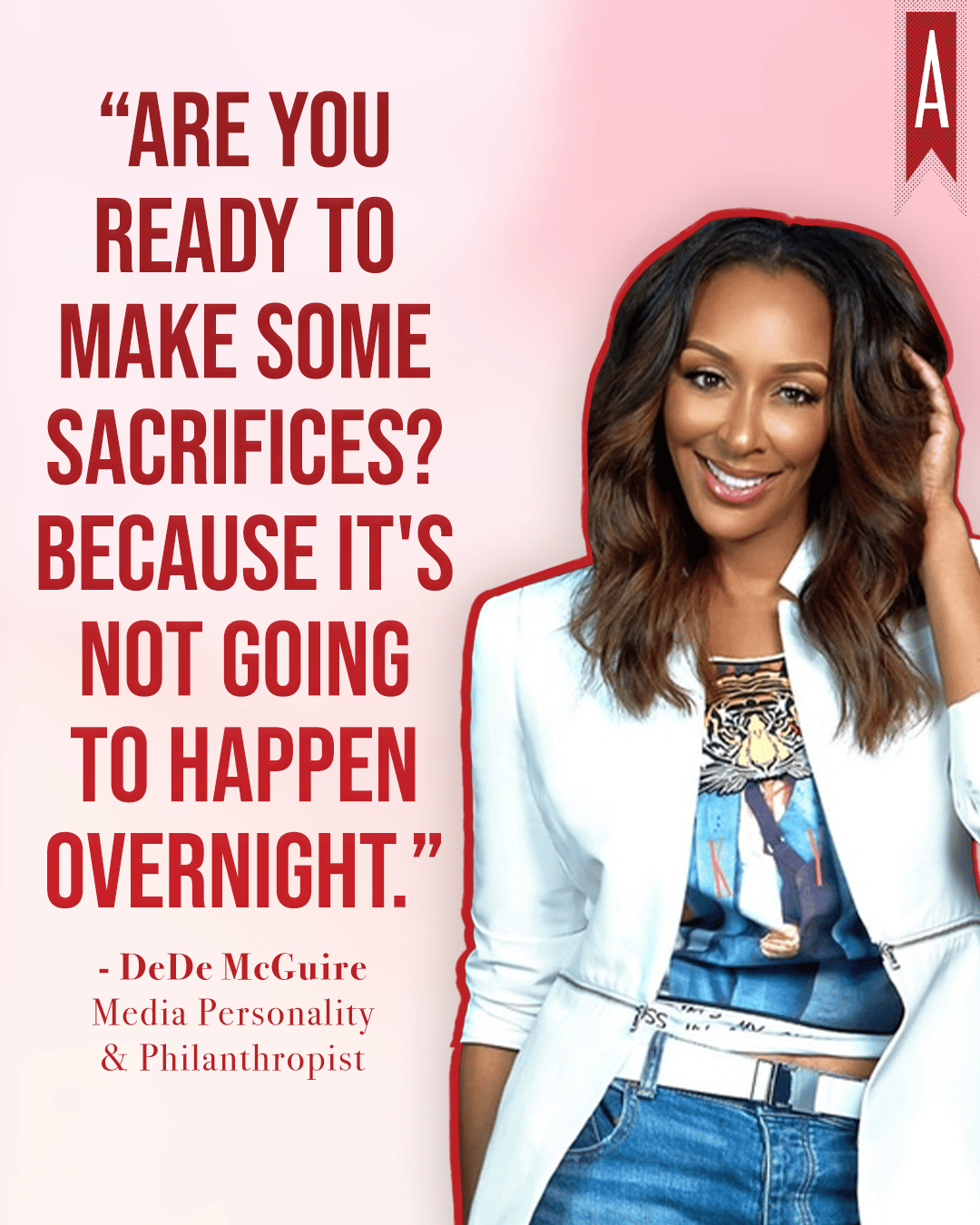 Her Agenda: I love that. That was powerful. So, let's stay on the topic of being a woman in this industry. Do you have any specific advice for other women trying to become radio hosts?
Article continues below advertisement
DeDe McGuire: I would tell them to take it seriously and to understand that it is a business. A lot of people want to get into this because they want to meet the celebs, and yes, you will meet all the celebrities that come to the station. You get to go hang out at the clubs and get the VIP sections. The perks are amazing. You go, 'oh my god, I get to do all this.' But I often tell everybody when they do this, I say remember, it is still a business – and sometimes people personally can get too attached to their positions. Sometimes people get too personally attached to their own goals, and not understand that the owner of the company, the program director, doesn't care about that. They just care about if you're winning. Are you ready to win? Are you ready to work? And you have to take it professionally and seriously.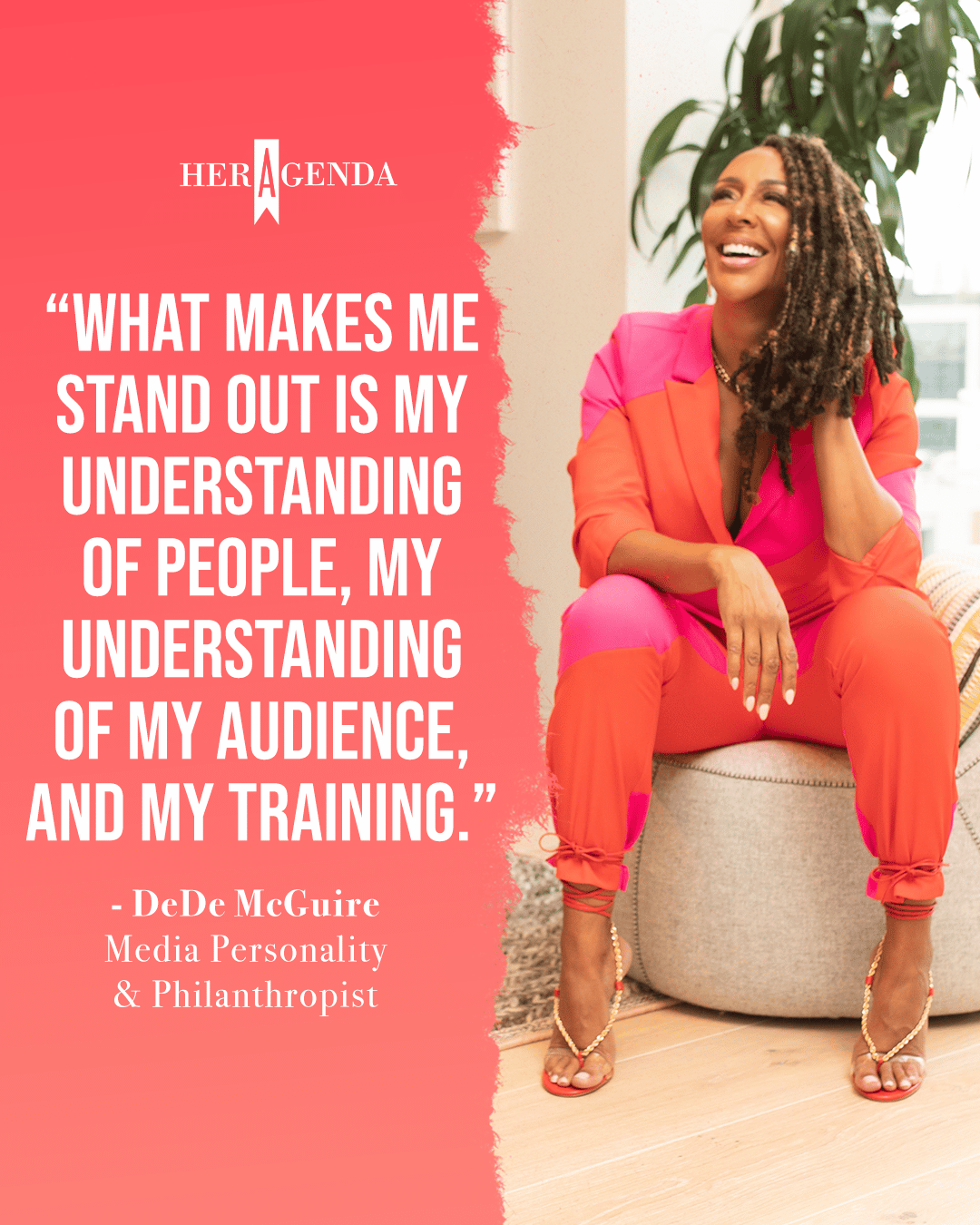 Article continues below advertisement
Her Agenda: One thing that really stood out for me in your answer was that we have to trust the process, and you have to be good with the process. So, I love that you pointed that out. What do you think makes you specifically stand out as a radio host in a male-dominated industry?
DeDe McGuire: What makes me stand out is my understanding of people, my understanding of my audience, and my training.
I got a chance to witness and work with the best, the top two best-ever to do radio, that many have talked about, and the most decorated in radio: Doug Banks and Tom Joyner. I got a chance to witness and learn from them.
But the other part of it is my sense of humor and my honesty. I'm a chick who gets on the radio and tells everything; I don't have kids, I married a younger man, I'm the youngest of five, and my mom started having kids at 16. I [put] it all on the air, and I think that's what probably stands out for people in the audience.
Article continues below advertisement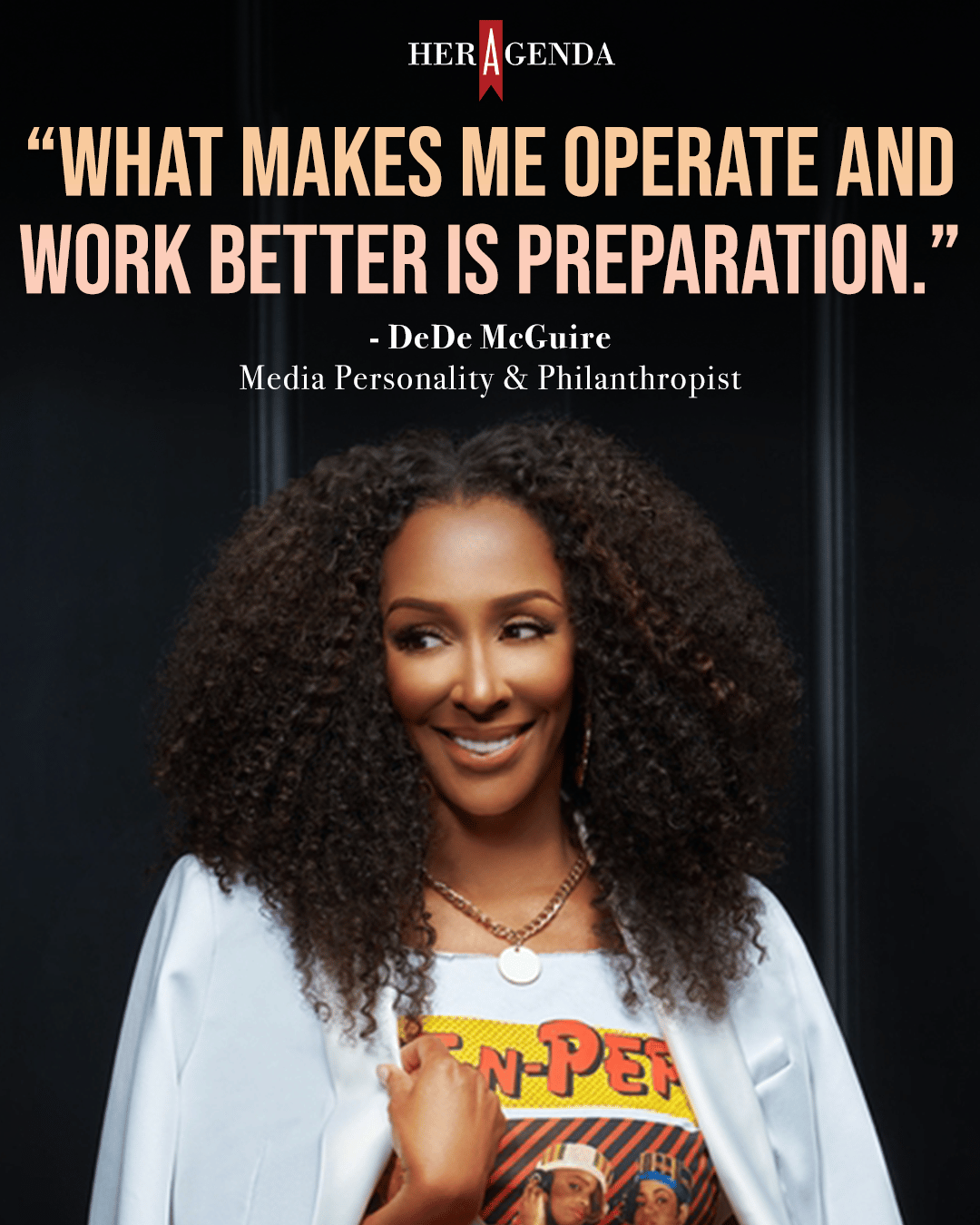 Her Agenda: You do have a lot on your plate, a lot of projects, a lot of affiliates and brands that you're a part of. So what helps you to perform your best even though you have all these things going on?
Article continues below advertisement
DeDe McGuire: Sleep helps me to perform my best! I'm up every day at 3:15 am, and for the show, I have to be there because nobody realizes that on the East Coast, they are basing it on the Central Time Zone. So on the East Coast, when it's 5 am here, in the Central Time Zone, it's 6 am, and so we start our show off at 5 am, period, no matter what. So that's 4 am to me. So I'm up early every day. What makes me operate and work better is preparation. That's number one; prep. I do show prep every day at night, every time of day. I'm going to the game today because I'm a huge LeBron James fan. So I tell my husband, 'When LeBron comes, I gotta go see LeBron, right?' But guess what I'm going to do? Take notes. So tomorrow, I'm gonna be able to talk about it. Every moment and everything I do, I'm show-prepping, and so preparation and sleep will get me to perform. So when people go, 'Oh my gosh, this chick is unbelievable,' it's because I had a lot of sleep and preparation.
Article continues below advertisement
Her Agenda: Okay, so my last question for you is this: What is your personal motto?
DeDe McGuire: I've said this for years, and there are two that I always use; One of them is, 'If you're afraid of failure, you'll never succeed.' It was a quote that I remember from being in high school. If you're afraid of failure, you will never try. It's about taking chances. It's about going in. So I love that – and never being afraid to fail because if you're afraid to fail, then you will never try. That was when I was 18 when I saw that quote, and I always believed in that with my life and everything that I do.
The other one is, 'When was the last time you did something for the first time?' I love that because that talks about living again too; take a chance. My motto is based on taking a chance living your life, grabbing hold of life, grabbing hold of opportunities, creating opportunities, and just living and taking that chance!
Article continues below advertisement
My mother used to tell me, 'Never have regrets.' She's always said that. She said, 'Try your best not to have any regrets. Do it all.' The other one [is] 'Well-behaved women rarely make history.' And when I said this in a meeting one time [they laughed]. The program director and everybody were trying to tell me how to do me. They were trying to tell me how to be great, how to be on the radio, how to be whatever – and they got mad at me because I did me. And I said, 'You guys are trying to put me in a box and I cannot be contained in a box. You're trying to make me be well-behaved the way you want me to, but I can't, and women who are well-behaved rarely make history and it is absolutely the truth. I believe it.' So I didn't behave within the confines that they wanted me to behave and had I done it, I wouldn't be syndicated today. If I would have done what they told me to do and how they wanted me to do radio and do my show, I would not be syndicated. So I took it and said, 'Eff it.' It's my life. I'm going to do it my way, and I'm gonna take a chance and that's it.
[Editor's note: This interview has been edited for length and clarity.]