Did You Know There Are Two Women's Strikes? Here's What You Need To Know
By
Shanthi Blanchard
Feb. 16 2017, Published 6:50 a.m. ET
After a long pause post Women's March, lingering on the question of what's next?, leaders of the million + protest have announced on March 8th, women will go on strike. The date also coincides with International Women's Day, and will be the organization's next big call to action.
The strike is called, "A Day Without A Woman," however, the organizers of the Women's March have yet to release details of what this strike entails, or the logistics of the event. Either way, it is certainly gaining traction.
Great points made here. Iceland once had a women's strike that shut down the entire country. It CAN be done, but it takes a LOT of work. https://t.co/SxBQuwgChk
The Instagram post made by the organization strongly hints that the strike will be focusing on challenging the ethics of businesses.
A quote from the Instagram post states, "We ask: do businesses support our communities, or do they drain our communities? Do they strive for gender equity or do they support the policies and leaders that perpetuate oppression? Do they align with a sustainable environment or do they profit off destruction and steal the futures of our children?"
Article continues below advertisement
A post shared by Women's March (@womensmarch) on
Interestingly, before this announcement was made, a group of prominent feminists including Angela Davis, also announced that on March 8th, they would be organizing an international women's strike.
Unlike the Women's March organization who is yet to release their vision statement, this group has a pointed purpose: protest against male violence and in defense of reproductive rights.
Further detail reveals the group's position is a more pointed anti-capitalistic platform, set to empower the 99% who "do not have access to individual self-promotion and advancement, and whose conditions of life can be improved only through policies that defend social reproduction, secure reproductive justice and guarantee labor rights."
Article continues below advertisement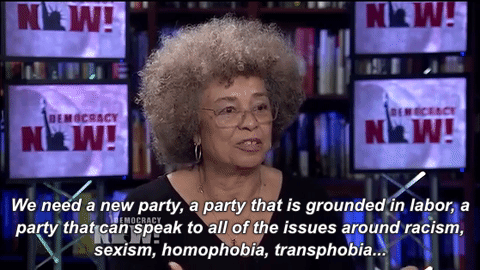 As outlined in an op-ed in The Guardian, the group details how women's fundamental rights have deteriorated drastically over the past 30 years, in large part to 'financialization' and global corporate institutionalism.
This strike will be held in conjunction with 30 other feminist organizations around the world. Beyond striking, the day will consist of marching, blocking roads, abstaining from domestic care and sex work, boycotting, calling out misogynistic politicians and companies, and striking in educational institutions.
Article continues below advertisement
The legislative successes of women-led strikes around the world have historically ignited mixed reactions. However, Iceland a strike known as, 'The Long Friday' was made up by men who were forced to take on women's household, childcare, and work responsibilities for one day, did create legislative changes for the betterment of working women within the country.
Though it remains unclear whether or not the Davis camp and their 30 partners will join the Women's March leaders, one thing is for certain – March 8th will be the next day America, and the world, reckons with women and their place within it.