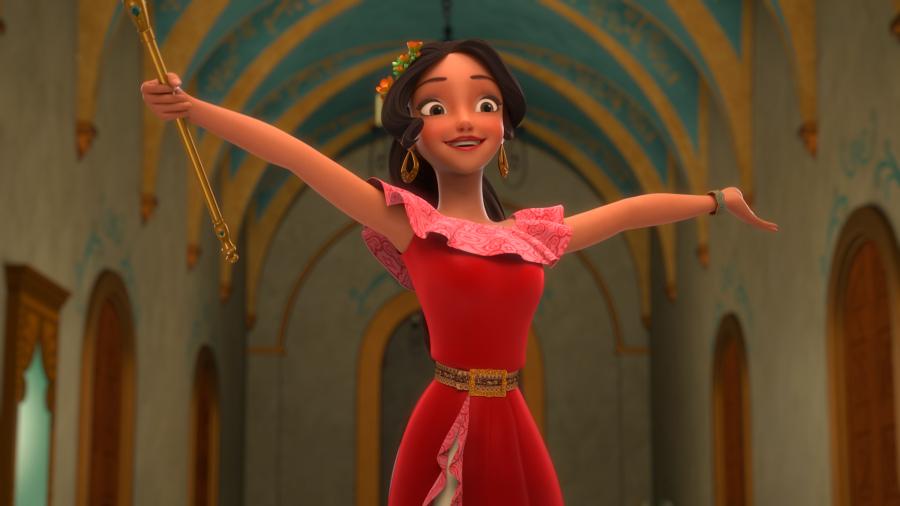 Disney's New Princess Is Valiant, Clever and Latina
By
Kristiana Monterosso
Aug. 3 2016, Published 9:57 a.m. ET
Disney has long been a staple household name, and for some, like myself, makes up an entire childhood. When that familiar tune came on screen and the arches stretched across the castle, I was glued to the television.
I sang alongside Jasmine, Ariel, Cinderella and the likes of many others Disney princesses. While I loved each princess for unique reasons, none of them actually reminded me of myself (a first generation Latina). I would try to align myself with Pocahontas or Jasmine because of their dark skin complexion, but still it didn't quite fit. Now, young girls of Latin descent can rejoice! Joining the royal family is Princess Elena of Avalor, a Latino inspired princess who is described as "bold, caring, funny and clever."
Widely, Disney has been under fire for the lack of diversity among these royal figures. Some of the classic tales, while product of a certain time, could send messages unfitting for modern young girls. Let's examine: Cinderella escaped her evil stepmother and became royalty, but marriage was highlighted as her highest achievement. Not to mention the fact that her prince couldn't remember her if not for a shoe?
Princess Ariel traded her voice for legs in order to be with her prince and Princess Jasmine, while spunky, ended up changing a law regarding, you guessed it, marriage. So, to begin to address this "Whole New World," Disney welcomed African-American Princess Tiana of The Princess and The Frog in 2009. Then in 2013, Frozen put the spotlight on sisterly love rather than romance. Later this year, they will introduce Moana, a Polynesian princess.
Article continues below advertisement
Since premiering on July 22nd, Elena of Avalor has received praise for being a great role model for young girls. Within the first episode, she exemplifies diplomacy, bravery, family values and tenacity with the added charm of an authentic teenage girl. "She's her own hero… when she fails, she always, always tries again," says Aimee Carrero, Dominican-born actress of Freeform's Young and Hungry and voice of Princess Elena.
Further, there are no plans for a romance storyline. Not that we don't love a good love story, but Elena's focus is on her leadership and role as a ruler; similar to modern women focusing on career first and finding love later in life.
Atop being a great role model, Princess Elena "is influenced by culture and traditions that are familiar to the worldwide population of Hispanic and Latino families." In a statement, Disney's Nancy Kanter said, "our creative team has delivered a universal story with themes that authentically reflect the hopes and dreams of our diverse audience."
Article continues below advertisement
It's more than her dark complexion that makes Elena accessible to the Latino community. First, the Disney Junior show opens with an upbeat merengue song. Secondly, character's names are in line with Latin culture. For instance, Elena's grandfather is "Francisco," her friend is "Mateo" and "Luna" is one of the magical winged jaguars. Elena's grandparents (Francisco and Luisa) speak with accents and use common Latin terms of endearment like "mija," meaning daughter or sweet word for young girl. Lastly, her kingdom of Avalor is completely inspired by Latin American culture.
Still, some feel Elena is not actually "Latina." Such controversy surrounded Sofia The First back in 2012, another Disney princess who was supposed to be the "first Latina princess." Audiences argued Sofia's blue eyes and fair skin did not fairly represent the Latino population.
Elena on the other hand is dark with brown eyes and long brown hair. However, some are questioning this broad stroke approach since there are many different cultures within the Latino community (Colombian, Dominican, Guatemalan, etc). Some fear "Disney will flatten and generalize the diversity of Latino identity."
Article continues below advertisement
The question now will be: Is Princess Elena Latino enough? Call me a loyal fan, but I believe Disney puts the right people in place to help produce the best product possible. In this case, the creative team conducts extensive research, hires consultants and has Latinos in the house to advise on accuracy. I think Princess Elena will compliment all Latino cultures while still keeping the classic Disney magic we love alive.
Princess Elena is certainly a milestone for diversity among Disney princesses. Rather than focus on skin tone, Latina girls can finally relate to a character with similar heritage. Elena is a strong role model for girls to be brave leaders and face challenges head on in an authentic way. We witness Elena problem solve in real-time, we see how she navigates her new journey as a leader and find her confidence.
Elena learns to assert her true self in what she feels is rightfully hers. During the first episode Elena's friend Gabe says, "it's my job to protect you" to which Elena replies, "and it's my job to protect everyone." I believe she will show young girls to have determination and the courage to rise to their throne.