Here's Why 7 Famous Actresses Are Sharing The Abortion Stories of Real Women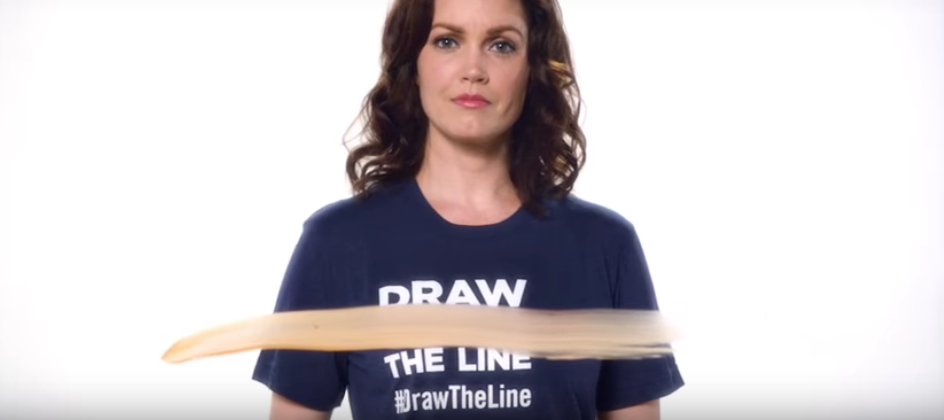 In March of this year, abortion provider Whole Woman's Health is heading to the US Supreme Court for a case that will have a major impact on access to abortion services. The decision will determine whether most of the abortion clinics in the state of Texas (and potentially elsewhere) will have to shut down.
The Whole Woman's Health v. Cole case has the power to drastically change a woman's right to decide on her reproductive health. All of this conversation and pending legal action prompted The Center for Reproductive Rights to launch the Draw the Line Campaign. The campaign shares the stories of real women across the nation, in a series of videos by celebrities you may know, such as Dascha Polanco from the Netflix original series Orange is the New Black and Bellamy Young from the ABC drama Scandal.
Elizabeth Banksshares Rebecca's story:
Article continues below advertisement
The college student in an abusive relationship: "I told her that I could not have my abusers baby. I did not want to create a life with such a hateful man, and then I waited for her judgment. But it never came, she even drove me to the clinic…what I remember most about my experience is how the women I love stepped up to support the decision I was choosing to make."
Dascha Polanco shares Kayleigh's story:
Article continues below advertisement
"I am a woman who trusts her own opinions, I was not about to allow anyone to bully me. I was surprised to find that the process actually made me braver; it was an active choice that I made."
Bellamy Young shares Faith's story:
Article continues below advertisement
"I was made to feel like a criminal instead of a patient in need of care."
Mercedes Mason shares Laura's story:
Article continues below advertisement
"She said being a parent should be a gift, not a punishment. My AMAZING mother drove me to the clinic; she even paid for the procedure. Our nearest option was hours from where we live, and at a time where I could barely afford gas or time off work, she was my only lifeline, I was really lucky to have that lifeline".
Mary McCormack shares Susanne's story:
Article continues below advertisement
"In the darkest moment of my life, I was denied the constitutional right that gave me options. I was denied a safe and legal abortion".
Retta shares Rosario's story:
Article continues below advertisement
"As for all women my reproductive care is a life long issue…being treated with care and dignity should not be a matter of luck."
Amy Brenneman shares Whitney's story:
"Even out of uncertainty and sorrow there can come great joy, just as there was for us, when exactly one year after my abortion I gave birth to a happy, healthy baby boy."