Dynamic Black Girl Duo Wins Harvard Debate Competition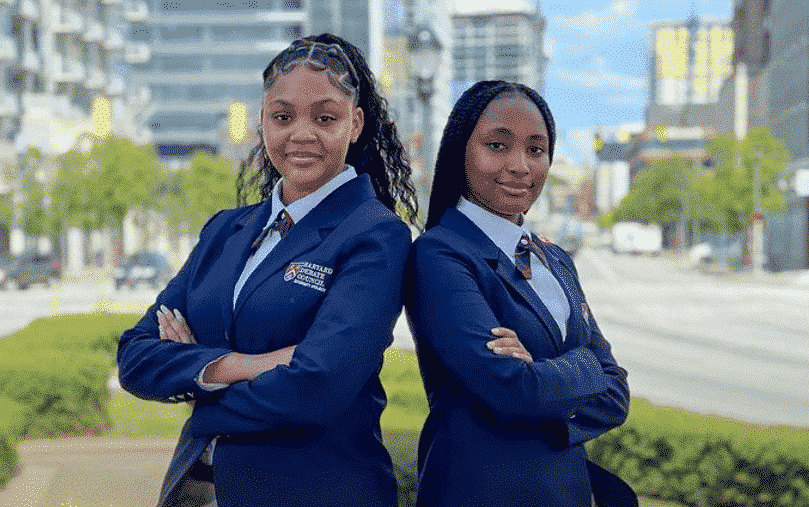 Black Girl Magic has taken center stage again! Two black teens won Harvard University's annual summer debate competition this year. 16-year old Jayla Jackson and 17- year old Emani Staton are the first Black female pair to win the competition at Harvard University.
Every Summer Harvard hosts a debate competition sponsored by the Harvard Debate Council. Students from around the world are invited to compete. For two weeks students take up residency at Harvard University and study for up to two weeks to gear up for the competition. Unfortunately, this year students could not live on campus and compete in person due to Covid-19 procedures. The competition took place virtually.
Jackson and Staton are from Atlanta, Georgia. Staton attends North Atlanta High School and Jackson attends Atlanta's Holy Innocence Episcopal School. Both students are a part of the Harvard Diversity Council Project; a program that recruits Black youth of Atlanta to participate in the annual international competition.
Brandon P. Fleming, Harvard's award-winning debate coach founded the organization in 2017. The project includes training for up to a year and is dedicated to a special curriculum centered around debate.
A Historic Win
So far, the initiative had four cohorts win in the past 4 years. Staton and Jackson were the first female pair to win within the 4 consecutive wins.
These trailblazer's win is cemented in history. The pair was undefeated for 10 rounds of the competition. As you can imagine the rounds became harder and harder but they held their ground and were undefeated. The question that leads to victory was "Resolved: The North Atlantic Treaty Organization should substantially increase its defense commitments in the Baltic States."
The girls were praised on different social media outlets. Harvard Diversity Council Project and their coach Brandon P. Fleming took to Instagram and Twitter to share congratulatory comments.
On Instagram the excitement was shared. "WE DID IT AGAIN!" stated the program.
Article continues below advertisement
On Twitter Brandon P. Fleming, the founder of the Harvard Diversity Council Project stated
"#BlackGirlMagic We did it AGAIN! 🏆🏆🏆🏆 Our 4th consecutive championship was brought home by Jayla & Emani with an #UNDEFEATED record, becoming the FIRST EVER Black girl duo to win Harvard's international debate competition against over one hundred debaters from around the 🌎"
Comments on those social media posts show an out-pour of love and support for the dynamic duo.
"The bar has been raised, and that's a good thing for people and for girls of color all around the world," Jackson, a rising junior at Holy Innocents' Episcopal School in Atlanta, told NBC affiliate WXIA. "It is still mind-blowing for us. We went in there, and we did it."
Harvard Diversity Project has already accepted its new batch of students and will begin the education and training for 2022.