Erica's Table For 20 Offers Attendees Transparency and Intimate Networking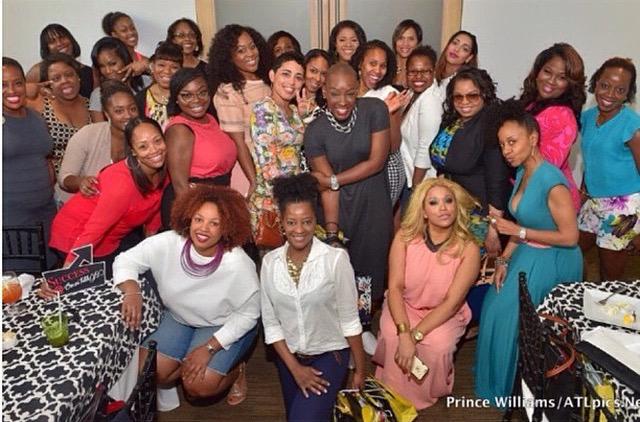 The 10th Table of 20 Luncheon
Set in chic, intimate, private dining areas in Neiman Marcus café's across the country, Erica's Table for 20 offers guests the opportunity to network and hear transparent stories of career women and men. Creator of the luncheon series and founder and co-owner of The B Firm PR, Erica Dias shared insight on networking, mentorship and creating new opportunities with Her Agenda.
Her Agenda You're originally from California, how did you network and build a support system in Atlanta?
Erica Dias: Growing up, I developed solid networking skills from my mother by going to events with her and seeing how she worked the room, and built her relationships. She taught me the gift of gab- getting the most out of conversations, and building your own personal network. I used those skills and applied them to my own personal daily life. I already knew what I wanted to do in my own career and I used that skillset and navigated my way through Atlanta. I researched people who I felt were at the top of their game, people in and out of the industry who were making moves, and I sought them out. I would go to events, I would cold call, take people to lunch, and just build real relationships with individuals.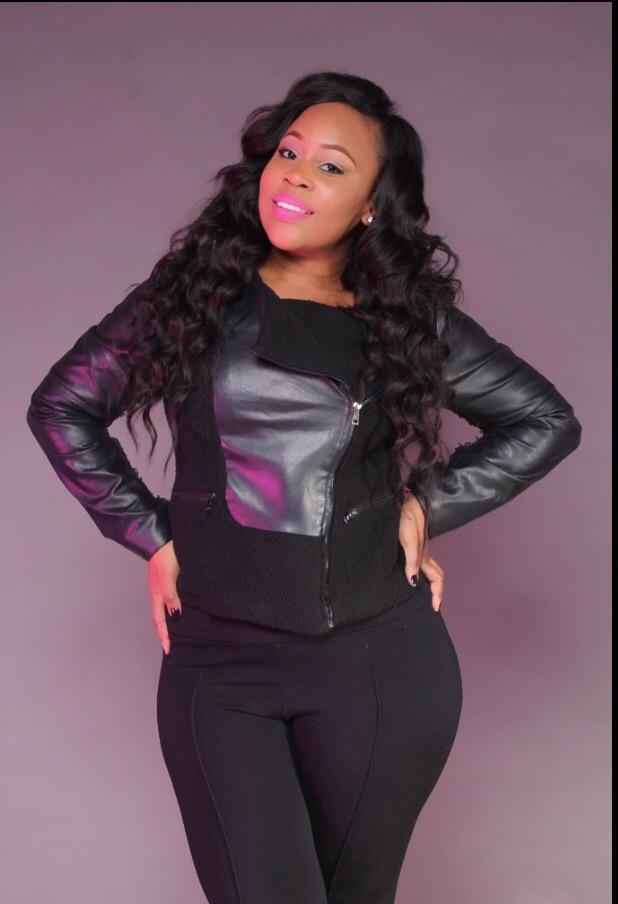 Article continues below advertisement
Founder and co-owner of The B Firm PR, Erica Dias
Her Agenda: How would you explain networking to someone who has no experience networking?
Erica Dias: As a Public Relations professional, I can't stress enough about professionalism. Interacting so young with my mother taught me the importance of cultivating real relationships with people and that's the most important part about networking. If you can, try to research information about the people putting on the networking event so that you can have a speaking point to open up conversation. Also, be transparent in your networking. Be prepared to talk about what you do, and what you're looking for in your networking experience—Be able to show people how you can help them, and how they can help you. I make sure when I'm networking in PR to connect with the people putting on the event behind the scenes, because they hold a lot of value to me in the work that I do; so I connect and follow up within 24-48 hours, and that's with every business card I collect. I personally found my niche by being the person who is just very clear-cut and to the point. It's important to arrive polished, be assertive, and always professional. When you exude professionalism, and confidence, most of the time networking will just come naturally, even if you have nervous jitters.
Article continues below advertisement
Her Agenda:What qualities do you look for in a mentee or intern?
Erica Dias: I think I'm very up front about what I expect from my interns as well as the give and take relationship of a mentee, and it stems from my ambition early in life. When I was 15, I got the contact information of June Ambrose, fashion stylist and famous costume designer. I reached out to her and basically asked her if she can give me "the game" on how she got started, and promised that I would work for her for free upon high school graduation. Although now they encourage you to start interning in high school to help guide you in college, she was stunned that a 15-year old on her lunch-break in middle school reached out to her in such a professional and direct manner. She ended up giving me a telephone internship on and off for 2 years, and also provided me my first opportunity in the industry working on the video set for Missy Elliott's "I'm really Hot," at the age of 18. I say that to say that I look for people with ambition, fire and spark. Since both offer a sense of investment in their future, I like to work with people who are confident, driven, and results-based in a fast paced, ever changing industry.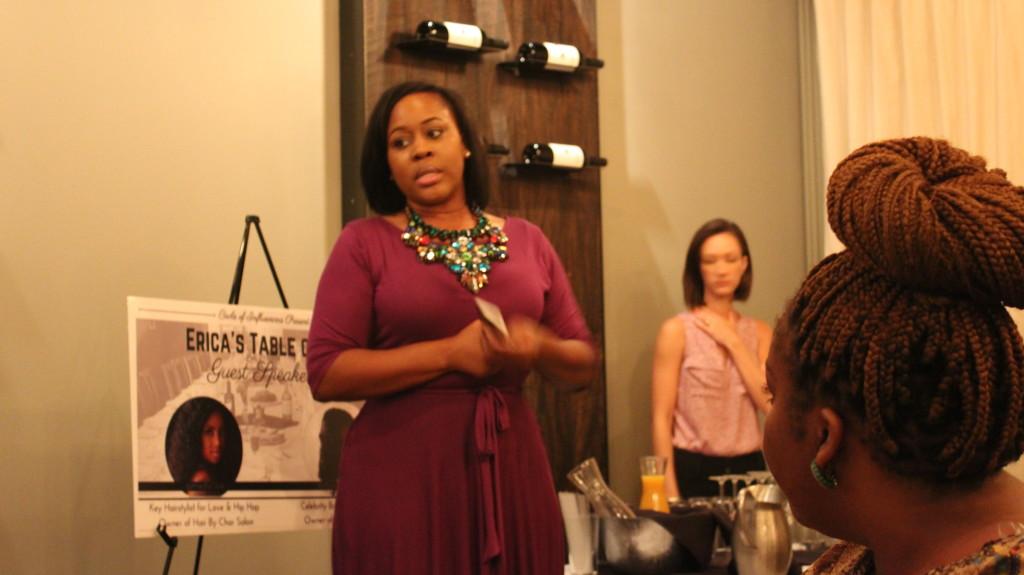 Article continues below advertisement
Erica Dias at the 10th Table of 20 Luncheon Courtesy of Alicia Williams
Her Agenda: That's a huge feat at such a young age. How did you end up leaving California to come to Atlanta and where did the idea of an intimate luncheon come?
Erica Dias: Erica's Table for 20 was born a couple years ago after a lot of prayer and frustration. I was talking with another young lady about the lack of transparency in Atlanta and how it seemed like everyone was living the dream life. I just asked God, introduce me to women and men in Atlanta that are really doing things within their purpose; cross my path with people who are driven and that are just aspiring to be great. A few days later the idea came about and I started planning and launched the luncheon series.
Article continues below advertisement
Her Agenda: What is your vision behind the Table for 20?
Erica Dias: The vision is to have this luncheon that would put women and men in a room with featured speakers from different industries, who would be really transparent and tell their success stories. In Atlanta, you can sometimes get caught up in the fake Hollywood thing—and I wanted to meet the real people who were grinding like me. I knew there were people out there who had a story, that weren't taking no for an answer, and didn't let their past dictate their future; and I wanted to let them tell their story of how they got to where they were thus I decided an intimate setting for a limited amount of people would be that avenue. I've been blessed to have featured speakers like Shateria Moragne, fashion designer, Sarah Elizabeth-Reed, first lady of the city of Atlanta, Char Wilson, Mimi G., and many more.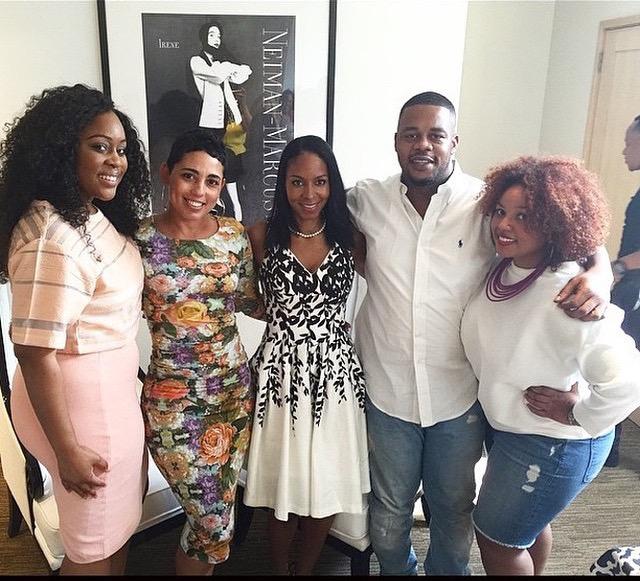 Article continues below advertisement
Her Agenda: Where are your luncheons held and how can people attend in the future?
Erica Dias: We have another luncheon coming up October 31, 2015 in Atlanta, but we also have luncheons in San Francisco, and we're expanding to New York and Houston in the very near future.