Erika James, Dean Of Wharton, On Whether You Should Get Your MBA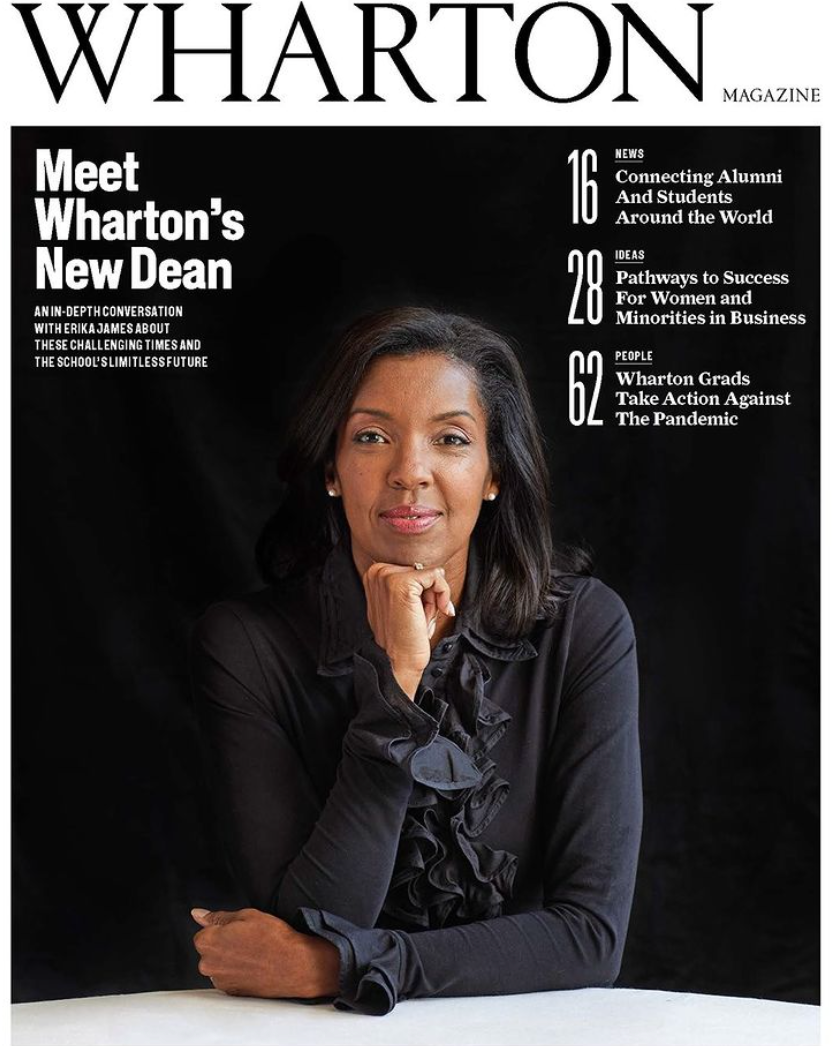 By
Devi Jags
Sep. 10 2021, Published 5:54 a.m. ET
Erika James is not just the first woman, and person of color to be dean of the Wharton School at UPenn, she is also an incredible leader who continues to push the bar. Surprisingly, James doesn't personally have an MBA, but with her background in crisis management, and organizational psychology and behavior, she brings a holistic approach to business education making her students and alumni the professional world is not always as polarized as people perceive. On the Skimm's 9-5ish James shares everything from how to evaluate if you're ready for an MBA, whether you should get an MBA if you think you don't have "quantitative skills," the financial and opportunity cost, and the growing diversity in business schools.
The Holistic View Of An MBA Program
Erika James comes from a liberal arts background. A background she believes isn't a polarized as the professional world perceives it to be, and arguably one of the main reasons for her career success. "As a leader, so much of what you do is about understanding the constituents around setting a strategy and articulating a vision around coordinating people to align with that vision. You have to know enough about the core product, in our case, business education, that you can do those things. For example, even within liberal arts, there are Math and Physics majors, Chemistry and Economic majors. People who are studying disciplines that are quite quantitatively focused. Likewise, business education has a strong emphasis on quantitative skills but at the Wharton School, we have healthcare, legal studies, management & leadership. We have aspects that are not hardcore quantitative courses. The more that we can create holistic learning experiences and opportunities for ourselves, the quantitative and qualitative play off one another in really profound ways allowing successful leaders to emerge."
Evaluating If You Are Ready For Your MBA
James believes there are a series of fundamental questions one must ask themselves before jumping into an MBA program: why are you even considering this, what do you know about the MBA degree, what do you think it will do to facilitate some aspects of your life? These are some of the main ones but James makes it clear, although it is a popular degree, not everyone is ready for it when they think they are. "There is a perception that it creates a certain type of professional in the world so I think people make choices based on that perception without asking themselves: what do I want to gain or learn from business education? What you gain in an MBA Program is a fundamental understanding of how society functions from an economic and business perspective, how commerce manifests. Most successful societies are driven because there have been successful commerce. Understanding that, although you can learn that in other ways, you are intentionally learning from others how commerce manifests when you attend a business school."
Article continues below advertisement
James is precise in saying you are not ready for an MBA when you can't articulate what the degree is, or how one may want the degree to advance a career pathway or goals they're looking to achieve. "It is not a degree for everyone. For those who have a very clear pathway of what they want to achieve, it might very well be," James says.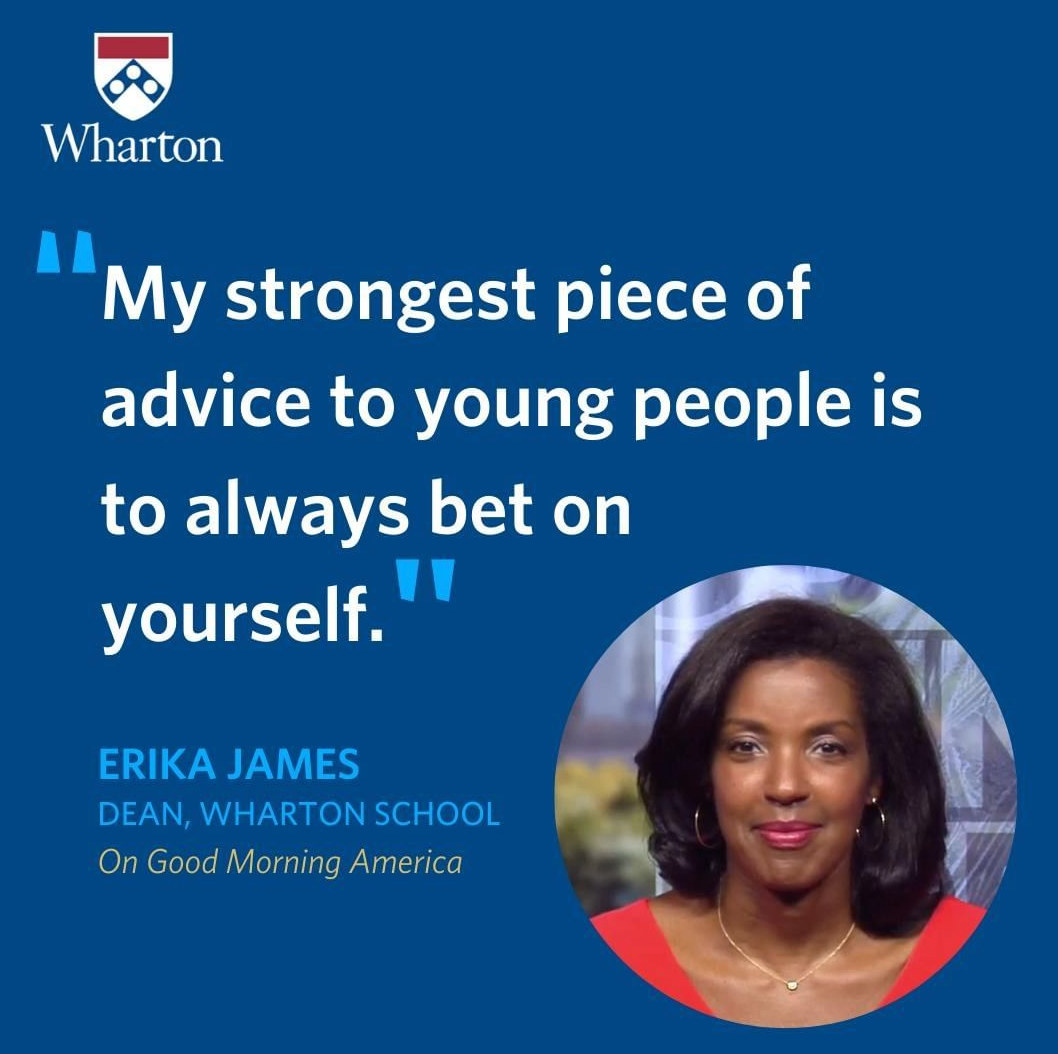 Article continues below advertisement
The Financial And Opportunity Cost Of An MBA
When posed with the question of the financial burden of entering an MBA program might place on someone James said this, "it is the same as any financial cost of any investment you are making in yourself. If you were considering higher education and it was not the MBA but a Masters in Fine Arts or Masters in Fashion Design, there's still a cost associated with that. You have to look if the cost of that, both in terms of the financial cost but also your time and the opportunity cost of what you could be doing in lieu of earning that advanced degree. That argument applies regardless of which degree you are looking to pursue. There is ample evidence to suggest that a degree in business does in fact have a pretty significant return on investment because the market in this country tends to reward or show gains for people that have the skills for what comes from the business degree."
How To Know Someone Isn't Ready For An MBA:
If they can't articulate what the degree is, then they're probably not ready. Or if they can't articulate why they want the degree and a pathway of how this degree will help advance some set of goals they want to achieve, then they probably aren't ready. Might they be ready later in their life? Yes, absolutely because we all evolve, mature, and grow but I wouldn't necessarily advise to automatically assume that once you graduate college, then do the prerequisite of 3-5 years of work experience and automatically go back to an MBA.
Article continues below advertisement
Advice For Applying To An MBA program
James thinks by the time you're applying for an MBA, you have enough life experience to know what you enjoy, what you're good at, what you gravitate towards. Most importantly she thinks doing an audit of those various things while also planning a vision of how you want your life to unfold is vital in applying for an MBA program. Second, having an idea of what is offered and what kind of expertise different programs have is important in narrowing down a choice of schools. Lastly, like much success-focused advice, talk to people. "The more you talk to people, especially alumni, the more you get a better handle of what the experience was of that program. Get a sense of what happens to those alumni from those programs afterward such as, what are their career trajectories have been, what is their network like, and how much access do they have to the people in the fields that they want to pursue," James articulates.
Diversity (Or Lack Of) in Business Schools:
To those that feel they do not belong or would benefit from a business school education, James busts the myth that there is no diversity in business education. "There are fundamental things one should do to educate themselves on the degree, the opportunities, where there is an intersection between why they are considering this degree and what the degree can help facilitate in one's personal or professional life. I think there is also this misnomer that there is a monolithic and homogenous population that attends business schools. The number of people who come from different parts of the country, different parts of the world, different socioeconomic backgrounds, different racial and ethnic groups, different sexual orientations, all of those things, we are seeing far more diversity within the business school pipeline and application base. When we see diversity in those areas, we see the diversity in the classroom. Increasingly, we are finding people that represent that world at large enter business education than in the past. I'm really working on changing the narrative and the myth that business schools are no longer diverse because in fact, most of them are quite diverse and most of them are really working to prioritize creating a holistic pipeline and class," James explains.
Article continues below advertisement
We wish Erika James incredible success in her new role!