Eve Rodsky's success all started with the "Sh*t I Do List." When she totaled up all the unpaid, and invisible labor she was providing for her busy household, her husband's response was underwhelming. On her journey, Rodsky discovered identifying issues of the imbalance of domestic duties was not enough, but a universal problem she would aim to fix. As a Harvard lawyer and with her years of experience in foundational management at JP Morgan, Rodsky realized her skillset could be applied to the home – a system to rebalance the home and reclaim lives, especially the lives of women.
Now, Rodsky is the author of the New York Times Best-Seller Fair Play and the newly released, National Bestseller, Find Your Unicorn Space. Rodsky's work is backed by Reese Witherspoon's Hello Sunshine, and she continues being an advocate to elevate the cultural conversation about the value of women, unpaid labor, and their role in our workforce. Rodsky is not only a representation of the personal being political, she is a woman taking action for us all.
[Editor's note: This feature was originally published on March 7, 2022. We are republishing in honor of the release of the Fair Play film on Netflix.]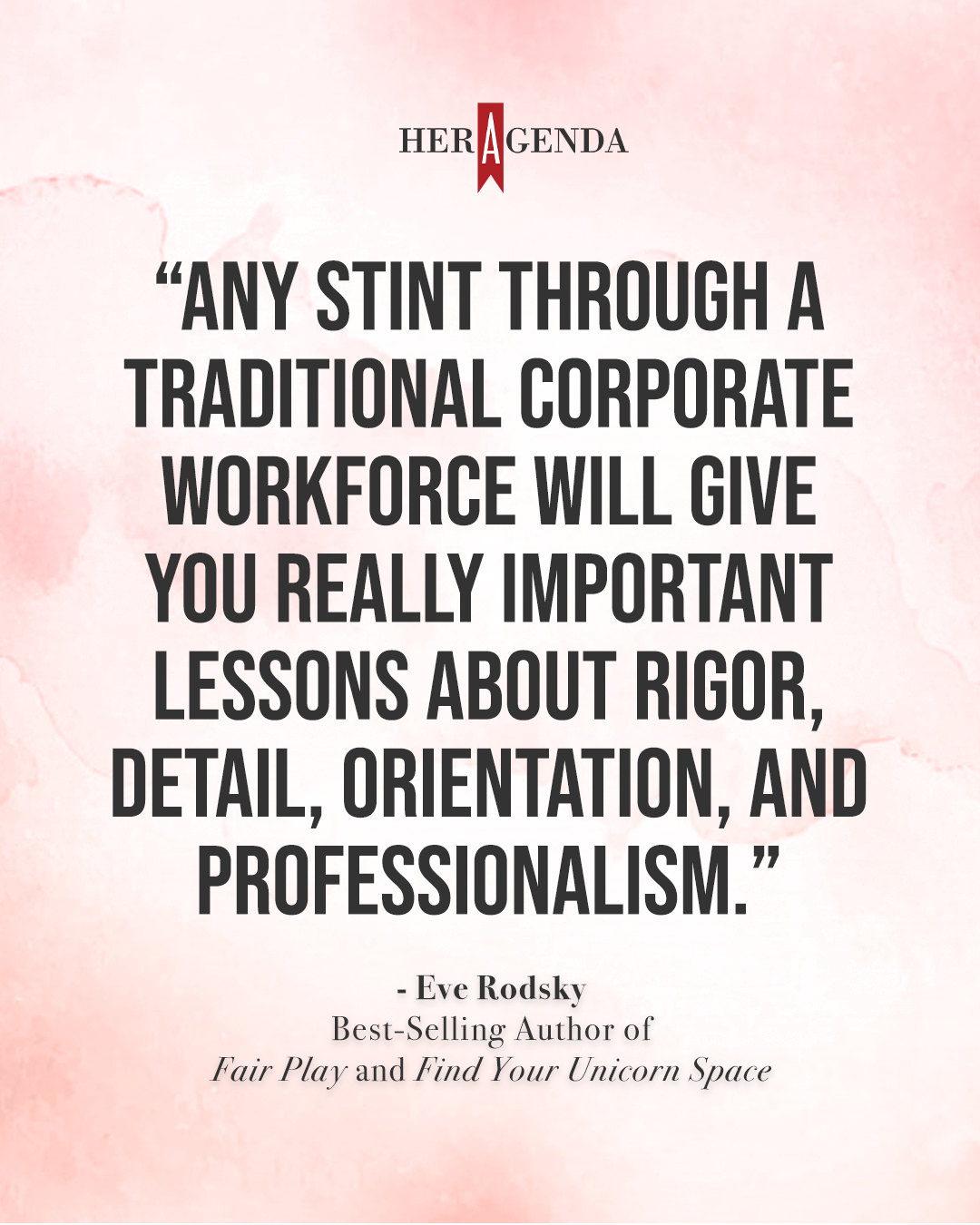 Article continues below advertisement
Her Agenda: I'd like to begin at the beginning of your career journey. How was your experience working at JP Morgan valuable to launching your vast career experience in organizational management?
Eve Rodsky: It was really integral for me. In my work there, I worked in a private bank, and what we did was provide a special type of organizational support to high-net-worth families, which helped me launch my career. It bridged the gap between being a lawyer and being a philanthropic advisor, which led to the firm, Philanthropy Advisory Group that I founded after. But I would say the best part of JP Morgan for me, is that any stint through a traditional corporate workforce will give you really important lessons about rigor, detail, orientation, and professionalism. It will also expose you to the roots of gender bias, which is how I felt. Even the best companies aren't always prepared for different types of family structures.
Article continues below advertisement
The other amazing thing I will say is, I was able to bridge two different jobs. One was structuring systems for high net worth families, organizational family businesses, and family foundations. But on the other hand, we had stewardship of the foundation. So I was in charge of vetting nonprofits and giving multi-year capacity-building grants to those organizations. From two sides, I got to see the insides of how many different organizations work through the proposal writing process and the grant-giving.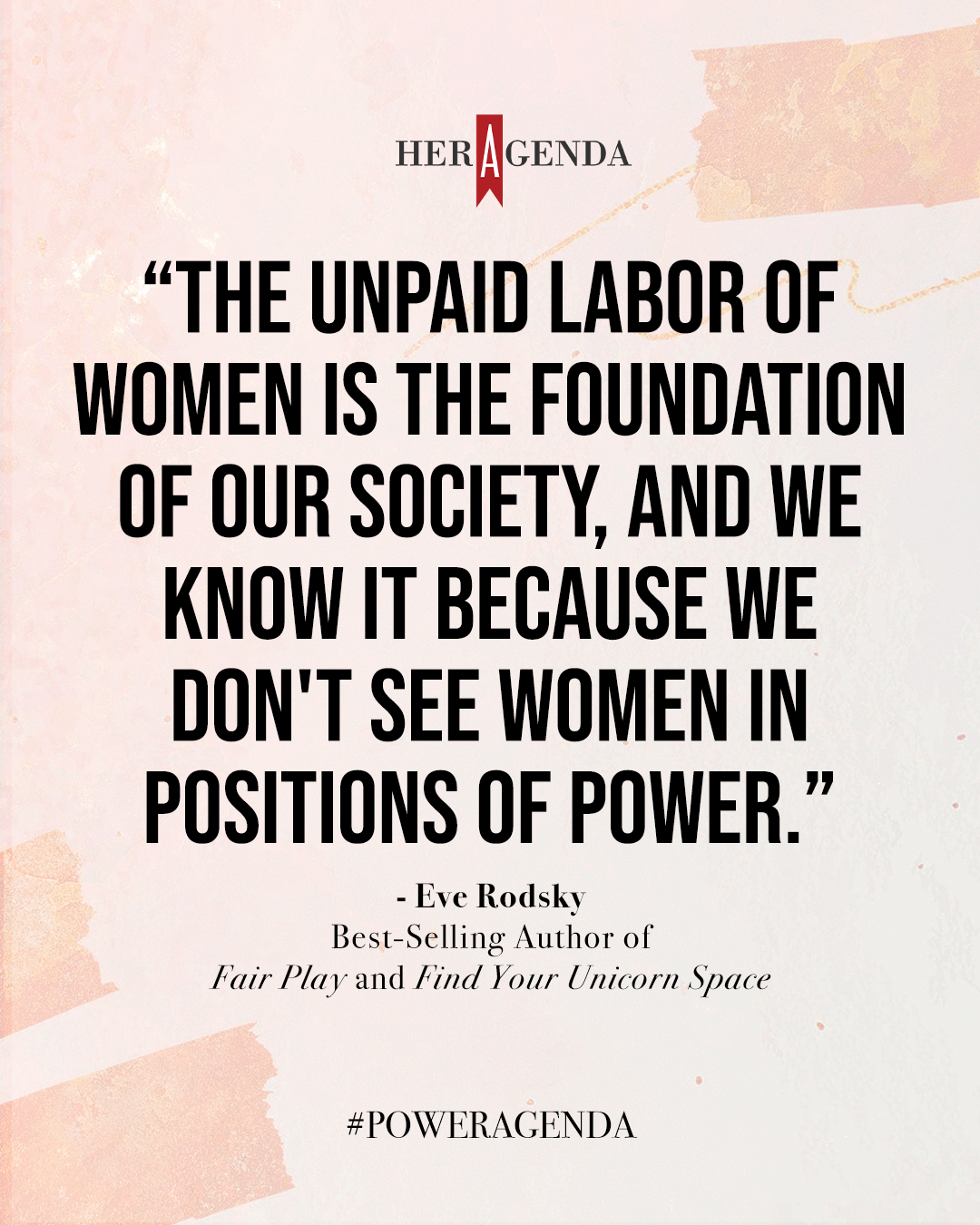 Article continues below advertisement
Her Agenda: Can you describe your "blueberry breakdown?" What were the immediate steps you made afterward toward your mission of creating domestic rebalance in marriages?
Eve Rodsky: The most important thing to remember is I felt that I had these special skills where I thought, "this shouldn't happen to me." Being the product of a single mother and living in a house where a psychologist called me a parental child, I was already very used to being a partner to a single parent, helping my mother with eviction notices and utility bills. On top of that, as we just said, I'm trained in difficult conversations. And still, I found myself, crying on the side of the road and feeling completely isolated and alone. It is a product of understanding that the home can present very dangerous because it's this one last frontier of equality where we were fighting over a sponge in the sink, or whose last done the dishes, or why you didn't empty the diaper pail. We don't understand that these small breakdowns, whether it's my husband assuming I was just fulfilling his smoothie needs, we don't realize that this is a systemic devaluing of women's labor.
Article continues below advertisement
I was talking to a man today whose wife died in childbirth. They can't get a dime from the courts because they say her life was worthless. 'Why would we pay you malpractice money for her death? She was not working. She is worth zero.' We see in the family law courts that people that women are not afforded alimony because why would they need to be paid? Their time is worthless. We say things to women like, "breastfeeding is free" when it's a job requiring 1,800 hours a year. ​​
We've been completely gaslighted for generations to be put into a bind of literally being the foundation of our society. The unpaid labor of women is the foundation of our society, and we know it because we don't see women in positions of power.
This idea of a Fair Play lifestyle starts to invite men into full power in the home so that women can step out to full power in the world. That is really the only way that we're going to get to a fair day in the future of work – where there is predictable flexibility and fair pay, which is, paying women what they're worth.
Article continues below advertisement
All of those understandings came to me from the small, individualized, personalized moments which could have stayed personal. One of my favorite sociologists C. Wright Mills says, "private lives are public troubles." Once you can start connecting it to these bigger systemic ills, then you start becoming the canary in the coal mine. So much so that I went to Davos in February of 2020 literally saying, "we are one crisis away from losing thirty to forty years of labor force participation of women."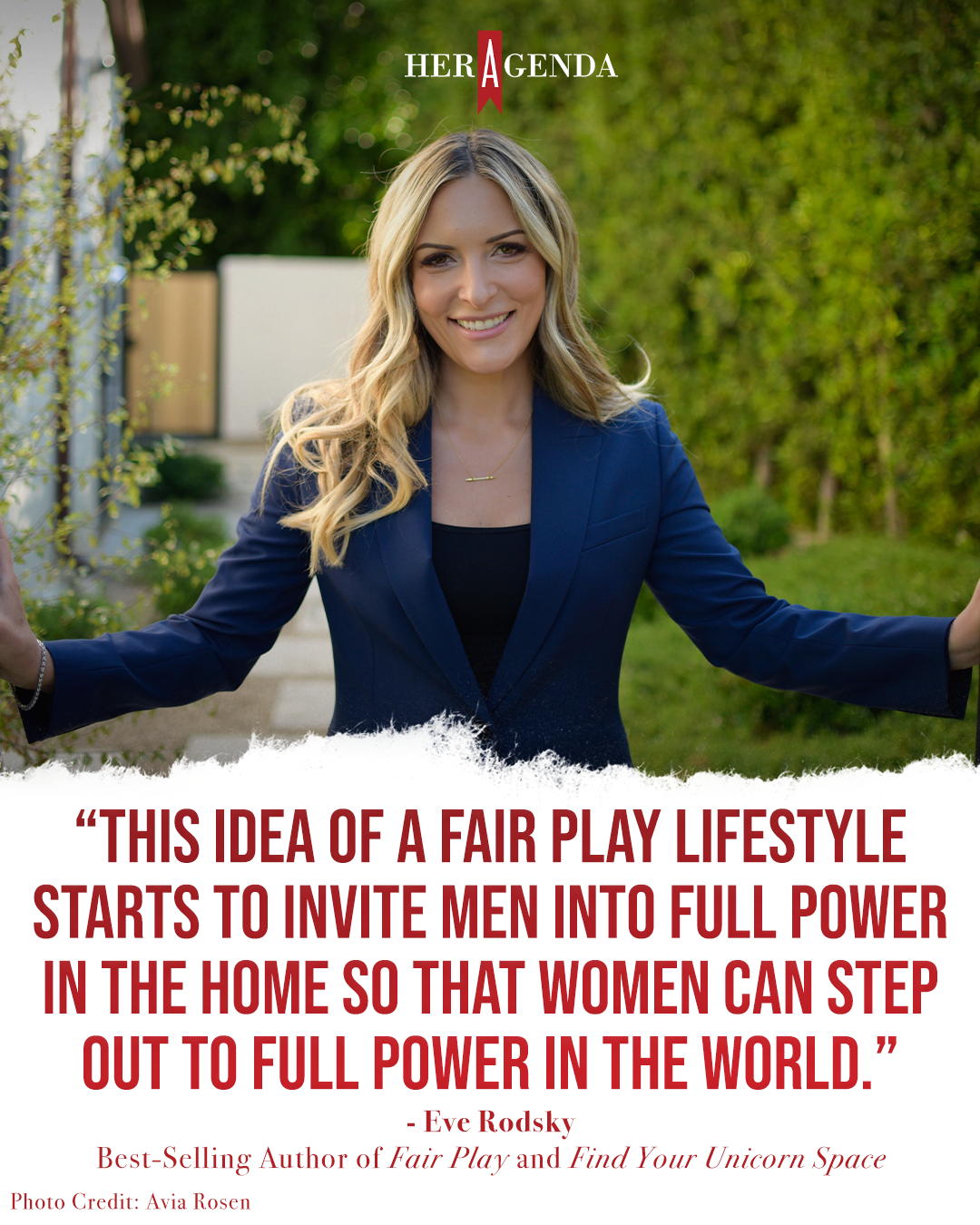 Article continues below advertisement
Her Agenda: Not only do you have multiple books, Fair Play and Unicorn Space but your projects are backed by Reese Witherspoon's Hello Sunshine. Can you describe some of the experiences you have had working with a company that is founded on women storytellers?
Eve Rodsky: It's been unbelievable. It has been so interesting because there are different facets of Hello Sunshine. I don't work with every facet, but I do work most closely with Sarah Harden, the CEO. The nature of how we came to be was, she had my early version of my cards. I still have some of that which makes me laugh, the old school Fair Play cards that I was using to beta test the system. I've known Sarah for a while when she was working for The Chernin Group, which was a different media company before she became CEO of Hello Sunshine. She was an early beta tester. As my data grew, the system became more solidified, people reported back that it was a life-changing moment for their decision-making in Fair Play.
Article continues below advertisement
When I realized what was happening with the Fair Play system, Sarah was really on board with saying, "okay, well, you're going to make this into intellectual property. I want to support you." Having her behind this project changed my life.
Her Agenda: How do you think women can eliminate the guilt and shame while tapping into our creative selves? Specifically, while creating our art?
Eve Rodsky: You have a life of guilt and shame ahead of you if we're not careful. I think the biggest lie we ever told women, especially [Millennials and Gen Z], was that you could be anything. It's just not true. Basically, women have ten years left to live when they turn twenty-one. Because then the reign of bias comes down on us. While we're going to fight for systemic change, we also have to be realistic. Women are not given the same opportunities, and if there are intersectional issues, if you're a woman of color, it's going to be incredibly painful to be in a workplace. I think anything else that we tell people is a lie. I try to help people understand that feelings of guilt and shame are incredible tools of a patriarchal capitalist society to keep people small.
Article continues below advertisement
Her Agenda:When you were interviewing men for both of your books, what was the most shocking information you discovered about the people that you were interviewing?
Eve Rodsky: The most shocking thing to me was how much empathy I start to feel for men. What was happening was, women were saying to me, the hardest thing about home life was that they couldn't shut their minds off. It was leading to autoimmune diseases and complete breakdowns and stress. Men were reporting to me that they couldn't get anything right, especially in a hetero/cisgender relationship – that they didn't know their role. Some said they sort of felt like outsiders in their own home organization. That sounds like a terrible place to be as well.
Article continues below advertisement
Her Agenda: In Unicorn Space, you have a chapter where you discuss redefining success. In it, you tell readers to "find their community." How do you think the pandemic has impacted women to make space for creativity and community? In these unprecedented times, what can we do to reclaim ourselves?
Eve Rodsky: The best thing to do is to really step into the things that make you come alive, the things that make you interested in your own life. Then the friendships and the community follow. That is why connection is the second piece, not the first in Unicorn Space. I saw people getting curious and then their community followed.
The key here is to recognize that once you start becoming interested in your own life, community is everywhere. It's really the law of attraction and also that unavailability that says, 'I'm doing this no matter what anybody says.' It has a sort of defiance to it and unavailability that makes you sexy to other people. I don't mean that in a romantic way, but it just does. It makes you attractive. At the end of the day, it's really about self-worth. Like, I deserve a community. I deserve to be loved. I deserve to be seen. I deserve to be known. The bigger we become in our curiosities, the more we attract communities. For me, it started with my "The Sh*t I Do" spreadsheet community ten years ago. I just started to ask people all across the country and a lot of those women stay with me, and they became the first beta testers and early readers of Fair Play. I would have been scared without them.
Article continues below advertisement
It will always rain on us. We can either choose to drown in the rain, or we can grab an umbrella.

Eve Rodsky, Best-Selling Author of 'Fair Play' and 'Find Your Unicorn Space'
-
Her Agenda: What excites you most about this new chapter in your writing career?
Eve Rodsky: How it corresponds to advocacy. I don't look at my work as just self-help or personal growth books. I look at them as self-compassion, which allows for connection to broader communities that will lead to change. Once you realize that we're breathing that polluted air, you can't unsee it.
Article continues below advertisement
When you create these communities and you put yourself out there, it's very scary of course, you don't know what's going to come of it. But to me, as long as the work is centered, and I understand that everything I do is in service of believing that our society will change. If we believe that, an hour holding our children's hands at the pediatrician's office is just as valuable as an hour in the boardroom then to me, nothing can go wrong. Of course, things will go wrong along the way, but for me internally, as long as I can keep my eye on that prize, even when there's a ton of rain, I can still have that compass of where I am going.
Her Agenda: What is your motto?
Eve Rodsky: For too long we have been focused on an illusion of happiness. That somehow if we stay on this path it's going to lead us to happiness. As women, we stay straight and narrow, we get the 'A-pluses,' and we think things are going to be fair. Then we go into the real world and things don't work out the way that we thought they were. We get surprised, we leave, we get dejected, we lose our power center. It will always rain on us. We can either choose to drown in the rain, or we can grab an umbrella.
[Editor's note: This interview has been edited for length and clarity. This feature was originally published on March 7, 2022. We are republishing in honor of the release of the Fair Play film on Netflix.]