Event Recap: The Making of Her Agenda
On January 31, 2013 women from all over New York City traveled into the most prestigious Financial District for a night of networking and conversation. The purpose of their meeting was to learn how to find a mentor and hear from those who are already established in their career. They gathered to hear these women share their journey in a conversation titled The Making of Her Agenda.
The Making of Her Agenda was moderated by the founder of Her Agenda, Rhonesha Byng. Her Agenda is a digital source of empowerment brand that serves as an inspirational hub for millennial women. Her Agenda highlights women who are breaking barriers in their industries while also providing educational and career opportunities for young women who are developing their own path.
Article continues below advertisement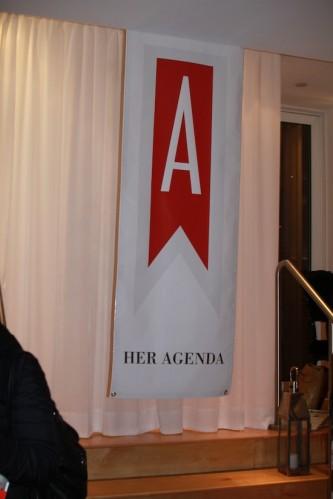 The inspiration for this discussion was mentorship. One out of five women in the United States does not have a mentor. Therefore, these women usually lack the necessary guidance they need to achieve their visions. The Making of Her Agenda opened with a networking hour and then transition into a greeting from Rhonesha Byng who also moderated the panel discussion. The panelists were Alia M. Jones-Harvey- Broadway Producer, Lora LeSage- VP of Digital, NBC Local Stations, Lauren Scala- Reporter, WNBC and New York Live, and Marvet Britto- President & CEO of the Britto Agency.
The event also featured a laptop raffle from Microsoft, treats baked by AssataSays, wine and giftbags courtesy of Miss Jessie's.
Article continues below advertisement
The most important take-away from the panel discussion is to not only build a solid foundation for your career but to make sure you find a constant in your life where you are able to recharge. The lack of recharging makes women no matter their age, feel lost and unsettled with the life they have produced. All panelist agreed, it is important to understand what will be important to you in five years and shape your now towards those goals. Last but not least, never find yourself operating from a space of fear.
But don't take our word for it. Check out the highlights and quotes from twitter:
[<a href="//storify.com/HerAgenda/heragenda-com-panel-event-mentors-milestones-and-m" target="_blank">View the story "HerAgenda.com Panel Event: Mentors, Milestones & Motivations" on Storify</a>]<br /> <h1>HerAgenda.com Panel Event: Mentors, Milestones & Motivations</h1> <h2>HerAgenda.com hosted a panel inviting 4 dynamic women to share their career journey and their advice on mentorship to a room full of young professionals.</h2> <p>Storified by <a href="http://storify.com/HerAgenda">Her Agenda</a>· Fri, Feb 08 2013 12:48:41</p> <div>Congrats @lolamimi on your win. She came by the #heragenda office today to pick up her prize! Thanks @microsoft! http://pic.twitter.com/wySd72qhHer Agenda</div> <div>"@HerAgenda: This was our winning tweet for the laptop! Congrats to @lolamimi! http://pic.twitter.com/sSpkodKs"Miasia</div> <div>More coverage from tonights The Making of Her Agenda will be available at http://iamreserved.com #HERAGENDA #RESERVED http://pic.twitter.com/ARUBsLILSunny Elle P.</div> <div>Had an amazing time at The Making of #HerAgenda. Always super proud of @NeshasAgenda.Sunny Elle P.</div> <div>Amazing panel and discussion #heragendaAmber Nefertari</div> <div>@NeshasAgenda great panel discussion!! Heragenda is on the move!Such as Life©</div> <div>@NeshasAgenda The event was AMAZING…no one's gonna slow MY agenda 🙂 Thanks for telling me about it!Just Whit</div> <div>@LaurenScala4NY is so very awesome. She is such a strong woman. No one is slowing #heragendaJust Whit</div> <div>@loralesage and aliostar-awesome speakers @HerAgendaSuzanne Sinatra</div> <div>Great energy and wisdom from @MarvetBritto at @HerAgenda's Mentors and Motivation event!Zora Magazine</div> <div>Great event @heragenda! Miss Jessie goodie bags, FTW. http://instagr.am/p/VK-zNajWWA/America B.</div> <div>There's so much estrogen in the room, I LOVE it! #heragenda @NeshasAgendaRaeana</div> <div>@marvetbritto's spiels resonate!America B.</div> <div>Books/Things the panelists are reading: "Measuring Success", Harvard Business Review, "6 Weeks to Startup"America B.</div> <div>Have the pedigree to back up your aspirations. -Marvet BrittoAmerica B.</div> <div>What does success look like to you? How will you know that you're successful? Read the memoirs of people you admire. -@marvetbrittoAmerica B.</div> <div>You shouldn't have to pursue what you attract. -@marvetbrittoAmerica B.</div> <div>In life you shouldn't have to pursue what you can attract! – so profound!!!!!! @MarvetBritto #heragendaRaeana</div> <div>Rejection is god's protection! #heragendaSuch as Life©</div> <div>I'm having so many revelations. Inspired.America B.</div> <div>Time is currency. Once you've spent it, you can never get it back. -@marvetbrittoAmerica B.</div> <div>With your dreams will come sacrifice. #heragendaSuch as Life©</div> <div>You always want to do something that's a little bit harder than it should be…. #heragenda -Lora LeSageRaeana</div> <div>You have to discern between people who want to be who you are and people who want to learn how you got there. There's a diff. -@marvetbrittoAmerica B.</div> <div>If you're the smartest one in your group. Get a new group. -@marvetbrittoAmerica B.</div> <div>Wake up everyday and esteem YOURSELF …it's called self esteem. @MarvetBritto #heragendaRaeana</div> <div>You cant play the game if your not in it. Get in the game. #heragendaSuch as Life©</div> <div>"Hard work is what gets you there" @LaurenScala4NY #heragenda panel !! @HerAgendaDiasia Robinson</div> <div>@marvetbritto is a phenomenal speaker. #heragendaAmerica B.</div> <div>You have to keep your face on, even though your makeup is no longer. -Lauren Scala #heragendaAmerica B.</div> <div>"I am a sponge for being more efficient" @loralesage Go Lara! #HerAgendaPanel @HerAgenda #heragendaDiasia Robinson</div> <div>Esp loving Lauren Scala's personality and engagement at this @heragenda panel. #powerwomen #media #bossmoves #networkingJanell Hazelwood</div> <div>There is nothing wrong with asking for help. #heragendaSuch as Life©</div> <div>If you do what you love, it will never be work. It sounds maybe you know cliche, but its the truth. -@MarvetBritto #heragenda panelDiasia Robinson</div> <div>My day starts at 2am everyday. -Lauren Scala #wnbc #trafficreporter #heragendaAmerica B.</div> <div>As they say, change is the ONLY constant in life. #heragenda @HerAgenda @jphazelwoodCity Chick</div> <div>We having church!! Preach! #heragendaSuch as Life©</div> <div>In order to live life that is enriched, to fulfill purpose, you can't wake up and expect anything to be typical. -Marvet Britto #heragendaAmerica B.</div> <div>All these women get up at 5am and go to bed at 1am. #heragendaAmerica B.</div> <div>"I am fearless because I have faith" – @MarvetBritto #heragendaRaeana</div> <div>I get up at 5:30am and I read/tweet the news. I'm at work by 8am, but no two days are the same. -Lora Lesage #heragenda #grindAmerica B.</div> <div>"Be your best self in every circumstance, bring your best skills" – @MarvetBritto #heragenda cc: @NeshasAgenda curating!Raeana</div> <div>Passion is what keeps you #heragendaSuch as Life©</div> <div>Realize that there are no coincidences in life. Destiny lies in every person you meet. -Marvet Britto #heragenda #networkingAmerica B.</div> <div>Listening to the amazing panelists at The Making of Her Agenda: Mentors, Milestones, Motivations panel event. #heragendaAmerica B.</div> <div>At the very first #heragenda panel listening 2 @MarvetBritto speak "every individual that you meet will play a greater part in your destiny"Raeana</div> <div>Happening Right Now !!! So excited to hear from our amazing panelists @MarvetBritto@aleostar @loralesage @LaurenScala4NY tonight !…Diasia Robinson</div> <div>Mentors are important. Ladies find yourself a mentor. #heragendaSuch as Life©</div> <div>Room full of #PowerWomen @heragenda event. Marvet Britto, NBCs Lora LeSage, Broadway's Alia Jones-Harvey, WNBC's Lauren ScalaJanell Hazelwood</div> <div>Live from the @HerAgenda event! #heragenda http://pic.twitter.com/UpoN3p3OJust Whit</div> <div>Founder of @HerAgenda – werqin it! http://pic.twitter.com/tDDmPClWSuzanne Sinatra</div> <div>Panelist for @HerAgenda Alia Jones Harvey (Broadway), Lora LeSage(NBC), Marvet Britto (publicist), Lauren Scala (NBC) http://pic.twitter.com/ayhGw56uUrban Suite PR</div> <div>At @heragenda's amazing event. Networking galore. http://pic.twitter.com/eLN7lLC3America B.</div> <div>"The Making of @HerAgenda" — great panelists here, beyond inspired. Thx #HerAgenda http://instagr.am/p/VK2P2_Edys/THE CULTURE LP</div> <div>Thank you @HerAgenda and @NeshasAgenda for having @Miss_Jessies as a sponsor for your fab and inspiring event tonight. http://pic.twitter.com/aoy6v5shUrban Suite PR</div> <div>Meeting new friends and old friends at @NeshasAgenda event! Network network network!Miasia</div> <div>The hashtag for this event is #heragenda. Live tweet if you're here.Her Agenda</div> <div>@HerAgenda – ready to hear all about mentoring. I really need one. Would love input-how did you find a mentor? Tweet me please. SSuzanne Sinatra</div> <div>@HerAgenda -I want to win the @acer laptop because it would be nice to apply for jobs without having to go NYPL everyday.Suzanne Sinatra</div> <div>#Heragenda I recently gave my laptop away to my sis to kick start her college career so I'm without one… http://instagr.am/p/VKmtM9FClx/Miasia</div> <div>A laptop would help me when applying 2 new jobs, applying 2 law school & digitally branding myself #HerAgenda http://pic.twitter.com/KtxrALGvSunny Elle P.</div> <div>Major love to 2 amazing females! @neshasagenda & @sydnthecity congrats on your feature! ❤ #Cantstopwontstop http://instagr.am/p/VMdlsbAr-v/Mel C. </div> <div>#HerAgenda giveaway! A good one too! Winning this laptop could help me move further with… http://instagr.am/p/VKyJe0J_JS/assataSAYS</div> <div>Girls should b about #HerAgenda.My agenda with an Acer laptop is 2 brand & inspire others with my new show #Reserved http://pic.twitter.com/GNHSr88NSunny Elle P.</div> <div>A new laptop would definitely help me push out those after hour press releases & media alerts.PR never ends! #heragenda http://lockerz.com/s/280617852cam. </div> <div>#heragenda This laptop would help me move forward with my photography business building my website and photo program http://pic.twitter.com/LrjZdLOXSuch as Life©</div> <div>Don't just interact with technology, help create it #HerAgenda http://pic.twitter.com/Fz8qpxB3Pooja Pasawala</div> <div>@heragenda !! This laptop would be an awesome way for me to research casting directors, agencies, & jobs… http://instagr.am/p/VK1RAfTScY/Molly Cyrus </div> <div>@HerAgenda – want the laptop http://pic.twitter.com/1ju5ZUqWSuzanne Sinatra</div> <div>#HerAgenda w/ this laptop I can continue to make videos featuring people of color that are small business owners http://pic.twitter.com/ds6ZFH1zJust Whit</div> <div>This laptop will be used for the nonprofit I'd like to start to help young women find their poetic voices. #heragenda http://pic.twitter.com/81kB9lwjAmerica B.</div> <div>Live at #HerAgenda panel! I would give the laptop to an intern or asst who's in need.Enhancing their opp to grow! http://lockerz.com/s/280618266Mel C. </div> <div>I'm in school/blog on the go. On my journey 2 becoming a successful fshn&culture writer this will assist me! #heragenda http://pic.twitter.com/3l57q69NAmber Nefertari</div> <div>Our HerAgenda give a way features an acer laptop AND a Marc Jacob laptop case! WOW! @HerAgenda http://pic.twitter.com/kSB6ER1Diasia Robinson</div> <div>@miss_jessies rockin @HerAgenda. Just met @urbansuiteent – great too meet youSuzanne Sinatra</div> <div>Tonight @miss_jessies sponsors @heragenda Mentors Event #heragenda #beautyPR @ 15 Broad Street http://instagr.am/p/VKt1eWxsBZ/Urban Suite PR</div> <div>http://instagr.am/p/VKy9e3J_KH/ #BakedbyAssataSAYSassataSAYS</div> <div>RT @TheCultureLP: #Cupcakes by @AssataSays here at the "Making of @HerAgenda" event in #NYC http://instagr.am/p/VKqdmykd1S/assataSAYS</div> <div>Tonight @miss_jessies sponsors @heragenda Mentors Event #heragenda #beautyPR http://fb.me/yhbt6mdLUrban Suite PR</div> <div>In the lobby of the @heragenda event yesterday. Dope. http://instagr.am/p/VNn0e_DWUc/America B.</div> <div>"Please wait in the gold room." From last night's @HerAgenda event. http://instagr.am/p/VMAH4orKxb/Jasmine Henderson</div> <div>Heading to @HerAgenda panel discussion sponsored by @miss_jessies #clientwork #beautyPR #prettyPoweRfulUrban Suite PR</div> <div>Her Agenda Event! #HerAgenda (@ 15 Broad Street w/ 8 others) http://4sq.com/Ti9mpAJust Whit</div> <div>Here for Nesha's HER AGENDA event. Proud of her!!! #heragenda (@ 15 Broad Street w/ @annnaa_xp) http://4sq.com/XWnqlQcam. </div> <div>Early for the @HerAgenda women's entrepreneur event in NYC. #girlpowerAmber Nefertari</div> <div>I'm TOOO excited for the @HerAgenda panel this evening! SO neededMel C. </div>