Film Academy Takes Small Step Toward Making Oscars Less White
By
Eve Stern
Jun. 30 2016, Published 11:32 a.m. ET
The Academy of Motion Picture Arts and Sciences has caught everyone's attention inviting a record number of new members, 683 within the group 46 percent are women and 41 percent are people of color.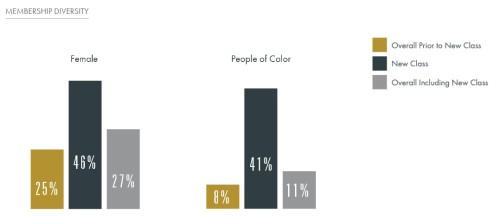 Article continues below advertisement
Newly invited members include recent Oscar winners and stars like Brie Larson, Alicia Vikander, Idris Elba, Nate Parker, Greta Gerwig, and Ryan Coogler who was invited to join both the directors or writers branch of the Academy (full list here).
The #OscarsSoWhite hashtag started by April Reign forced the public and the media to take great notice of the inequity that exists within the film industry, in every facet.
I can't take credit when Harry Belafonte, Viola Davis, Don Cheadle, etc. have said the same FOR DECADES. Social media helped. #OscarsSoWhite
Article continues below advertisement
The New York Times released a series of interviews and reports on the stark realities facing women and people of color in television and film, including behind the scenes. These opportunities allowed us to learn about just how underrepresented these groups and their experiences are often marginalized, left out, and incredibly pigeonholed by their physical appearance.
The public learned real numbers of women in the director's chair – only 1.9 percent of 100 of the top-grossing movies were directed by women. As well as the horrid experiences many people had encountered. America Ferrera spoke:
"I was 18 and putting myself on tape for a movie I really wanted. I got that phone call: They cast a Latino male in another role in the film; they're not looking to cast [a Latina]. So I definitely bleached my hair blond, painted my face white and made the audition tape. I never heard back. I just remember feeling so powerless. What do you do when someone says, 'Your color skin is not what we're looking for'? Let me tell you: Blond does not suit me. I try not to prove my point on audition tapes anymore."
Article continues below advertisement
The question serves whether or not this was truly the Academy's best move. Is it genuine, is it strategic, will it reach the outcome of membership it needs – a larger representation of marginalized groups in the industry? Or does the new onslaught of invitations represent another typical "diversity day" attempt to please and quiet down the mass media, advocacy groups, and Twitter hashtags?
In her introduction, Academy President Cheryl Boone Isaacs acknowledges the new members without acknowledging diversity writing, "I am honored to extend membership invitations to 683 distinguished filmmakers, artists and executives who represent the best in our global film community, and who have made a lasting impact on movie fans everywhere."
However, despite whether the invitations offer a place and mission to the new invitee's, deeper work needs to be done as the Film Academy should be pressed not to extend mere representation, but a level of understanding and leadership as well. Even if all 683 new invitee's accept membership, the statistics won't change that much. Instead the Academy will only change from 75 to 72 percent male and from 92 to 89 percent white, in sum a population change of 3 percent.
The conversation needs to be furthered as we saw blow up during HBO's Project Greenlight, as Matt Damon so arrogantly expressed his own views of diversity in film below.
Article continues below advertisement
In an interview with the LATimes, #OscarsSoWhite creator Rieign shared, "a lot of work still must be done. For women, if the academy is supposed to be representative of the population, it should be a lot closer to 50 percent. And the 11 percent [people of color], while that may be representative of black people in this country, it definitely is not representative of all people of color in this country. Work still needs to be done. It confuses me because I literally don't know how they are going to reach their own objectives. … But I'm not going anywhere. The goal they set for themselves is laudatory, but if they don't reach it, that tells me they didn't completely think through how their own goals would be implemented."
As with all systemic issues of gender and race in America, the problem cannot be solved over night or without admittance, yet change can still happen, if truly desired. The time will arise during the next Oscar's as viewers will decide the most befitting hashtag of the night, whether that be #OscarsStillSoWhite or #OscarsNowLessWhite.