The Fourth Annual Intern Queen Party Recap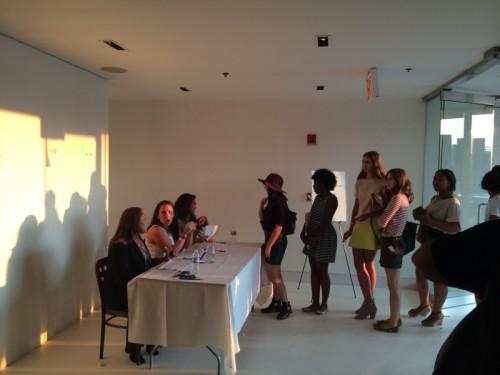 Just before 7pm, a group of 14 panelist posed for last minute pictures, a line of eager interns wrapped around the 404 Restaurant venue and Intern Queen campus ambassadors manned their positions by the door. With the blink of an eye the Intern Queen, Lauren Berger arrived dressed to impress and ready for the whirlwind that was about to commence. She clasped her hands and exclaimed to a room full of panelists, press and ambassadors "Who's ready for the fourth annual Intern Queen party?" The room cheered and with that she threw her hands into the air and exclaimed "Let's get started! Play the Fancy song!"
Like clockwork, as soon as the electro hop sounds of Iggy Azelia filled the room the door was open and hundreds of eager interns began pouring in. Despite it's appearance this is not your average after work gathering of college students. The purpose of the Intern Queen party is to celebrate the end of the summer internship season but also prepare attendees for their next move. Coupled with fun activities (like this year's free hair and makeup makeover stations), there is also a segment that is dedicated to answering any and every question you may have on being employed. With panelist from companies like Chanel, NBC, US Weekly, The Huffington Post , NYC PR Girls, DoSomething.org and much more, attendees came prepared with resumes and elevator pitches.
We can't imagine what the process is like for preparing for an event like this so I caught up with the Intern Queen herself to hear how it all goes down. Berger shared "In the past it's been a longer process. This year because my book, my new book 'Welcome To The Real World' was released in April, it's been sort of a shorter process which is always tough but this is a party that we've done [before] and we've done it three years in a row, this will be the fourth year so I think we're well equipped and we're ready."
Article continues below advertisement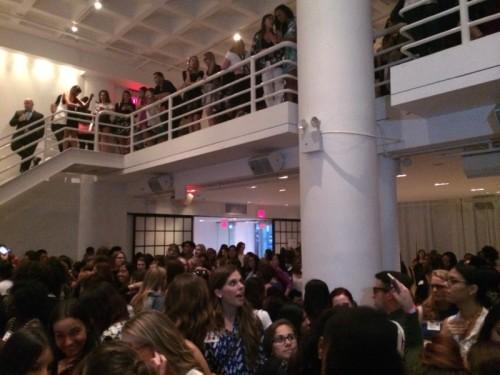 The Intern Queen staff proved to be everything other than under-prepared as they welcomed over an estimated 100 guests! Berger is very proud of the success of the event so far, she shared "Sometimes you get wrapped up in the Intern Queen party and this and that but at the end of the day I started this business to help young people connect with internships and if that's what they're doing then my job is accomplished and if we can be a part of the process then 'hey!' we are extremely happy about that."
Article continues below advertisement
After an hour of networking amongst interns the panel began. They covered topics like rejection, how to nab a job post grad, and applying to internships with no experience. For convenience I've compiled some of the event's FAQ's with the best answers so that you may benefit from the advice given too.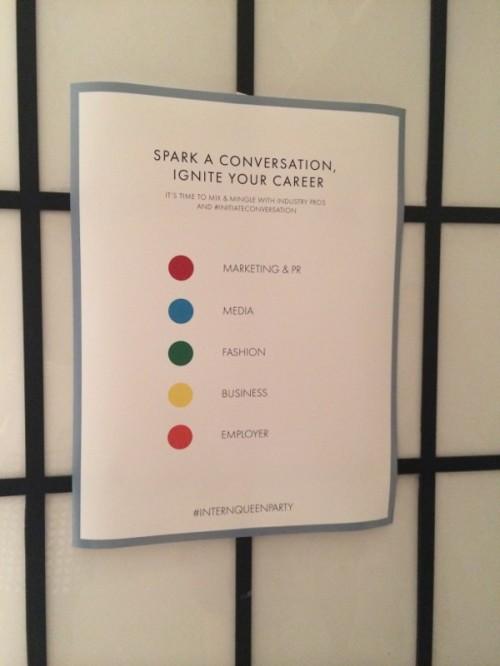 Article continues below advertisement
Question 1: If I'm a recent grad, what are some of the most important things I should be doing post grad to ensure job security?
An editor of US Weekly shared, "You are a result of two things, you are what you know and who you know. You need to start networking immediately if you haven't done it already it's not too late. You have to realize you're not being hired by a company, you're being hired by people. People want to connect with you, they want to know who you are more importantly know who they are."
Question 2: What are some of the biggest mistakes interns make?
The panel unanimously agreed on interns that "aim to big too soon." Take each day one at a time, learn the motions and mood of the office before trying to change bigger things. Observations will get you far and probably even help you determine which way to fix the problems you initially hope to address.
Question 3: Does the Intern Queen really work?
Article continues below advertisement
Surprisingly, some people doubt the Intern Queens credibility however, there were people (even panelists) in the room that night who are employed because of the site. Berger shared, "We have a lot of intern queen campus ambassadors who are helping out with this event, who have all been really successful in following our blog and applying for internships on the site and it's always fun when someone comes up to me and says "I got an internship this summer and it was because of you!" because at the end of the day that's really why we do this."
Question 4: What do I do when I apply for a job that asks for experience when I have none?
Another unanimous panel answer in which they suggested using any and every experience that you have whether it may be classroom, group/school project orientated. It doesn't always have to be an internship but it must be something to display that you have the skills for that specific position.
Overall, it was a great experience and we are certainly looking forward to next year, we know for a fact that the Intern Queen's agenda won't be slowing down anytime soon!
Missed this amazing event? Don't miss the next party, networking event or conference, keep tabs on our Your Agenda database of events to stay in the loop, here.