Free Speech, Equal Access, and Protecting Your Digital Self: Lessons From Internet Week NY 2015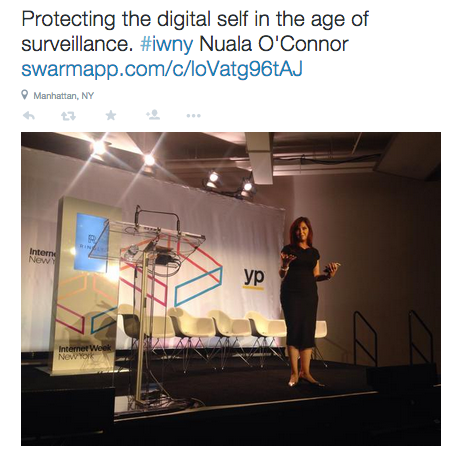 If I had one complaint about Internet Week NYC, it would be that it only comes around once a year.
My time was certainly well spent and interactive. I was thrilled to have my LinkedIn headshot taken for #FearlessTalent, enjoy warm lunch from local shops, and of course exploring vendor's innovations and technologies that will make are lives easier and a lot cooler. My favorite part however, was attending panels in one of two theaters set up for brilliant innovators, influencers and technologists to share their work, opinions, and personal stories.
I also learned important lessons, like protecting my personal data amongst growing technologies. As we fully integrate into the digital world, we must consider how our information will be used, protected and shared. Much like our real selves, our digital selves need protection and boundaries. Here's a few of the key lessons I learned from the "Protecting the Digital Self" talk featuring Nuala O'Connor President and CEO, Center for Democracy and Technology.
Free Speech
The Internet is of course credited with innovation, connections across the globe and opportunities to make the future better. Technology will continue to make our daily lives easier from transportation, the environment, healthcare and more. To the contrary, Nuala explains, "We really need to be more diligent about technology as a new form of communication" as our free speech could be threatened. The Internet opens us to hate speech and the ability to tear each other down. Nuala spoke about Sony as a recent example of "our free speech under attack."
Article continues below advertisement
Fragmentation Of Society
Nuala and her teams at CDT are especially concerned about the fragmentation of society. As we continue to input our likes and dislikes of our digital self, we create a "digital bubble" and end up with people only like ourselves. CDT encourages democracy of the Internet, therefore diversity and "fairness in the algorithm" are necessary.
Additionally, large economical and social problems emerge when the Internet is not a democracy. Nuala revealed a search for C-suite jobs were open to 88 percent of men and only 12 percent of women. The results were based on generic profiles and past sites. The alarming news meant women were being closed out of jobs before they had a chance to apply. This dangerous trend could affect education and finance, leaving even more people out of important opportunities. Nuala worries "what this could mean for a truly equal world."
Government
Nuala advises corporations to "not give over any data without a subpoena. She views the government as a big threat to our digital selves when they do not take the proper legal steps to get it. "The congress is not headed in the right direction" with regards to the US freedom act, a bill meant to stop the bulk collection of data by the government. Nuala declared, "our digital self is ours and the government needs legal predicate to have that data." To stay updated on CDT efforts, visit https://cdt.org.