From A Dream Deferred To A Dream Realized: Mom Goes Back To School At 40 To Become A Nurse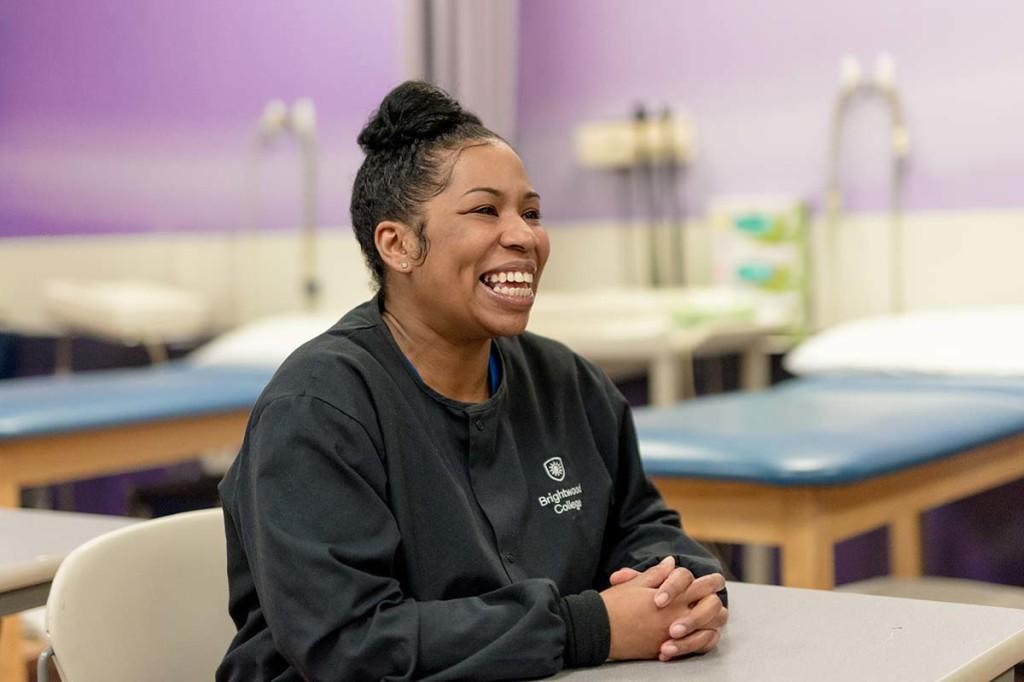 Never give up on your dreams. Pursue your goals no matter what. If you believe in it, nothing should stop you. You've likely heard this advice before. Well, what if the thing that stood in your way was simply the perception of time? What if you had multiple dreams and you didn't simply pursue just one, but instead prioritized one over the other?
In this era of instant gratification, it's difficult to imagine putting a goal on hold and still managing to find the energy and time to pursue it. At age 40, after satisfying her first goal of being a stay-at-home mom and wife, Fredonia Johnson is fulfilling a dream deferred. This fall, the mom of three graduates from Brightwood College's Licensed Practical Nurse Program.
Although Fredonia is not yet an official nurse, she's going into the job with 20 years of experience as a caregiver. She always knew she wanted to be a nurse, and although time has passed, she never gave up on the idea of pursuing that path. The path was not the most straightforward but she's making it work with the support of her family, and her and the Brightwood College staff and community.
Read on for some inspiration, advice and insight on pursuing your goal no matter what.
Her Agenda: What influenced your choice to stay home and raise your family instead of pursuing nursing in your 20s?
Fredonia Johnson: I wanted to be a full-time mother while they were growing up. I homeschooled and was very involved with PTA, Boy Scouts and Girl Scouts, Vacation Bible school, etc. I have held office in each activity they have been in.
Her Agenda: Why did you never give up on your dream? What kept you motivated over the years to still one day pursue it?
Fredonia Johnson: Sometimes it is important to put your family first, and I've done that for 20 years, and I could not have been happier during that time. But now that my kids are older, I can focus on me a bit and revisit my dreams. I think it's never too late to [pursue] your dreams.
Article continues below advertisement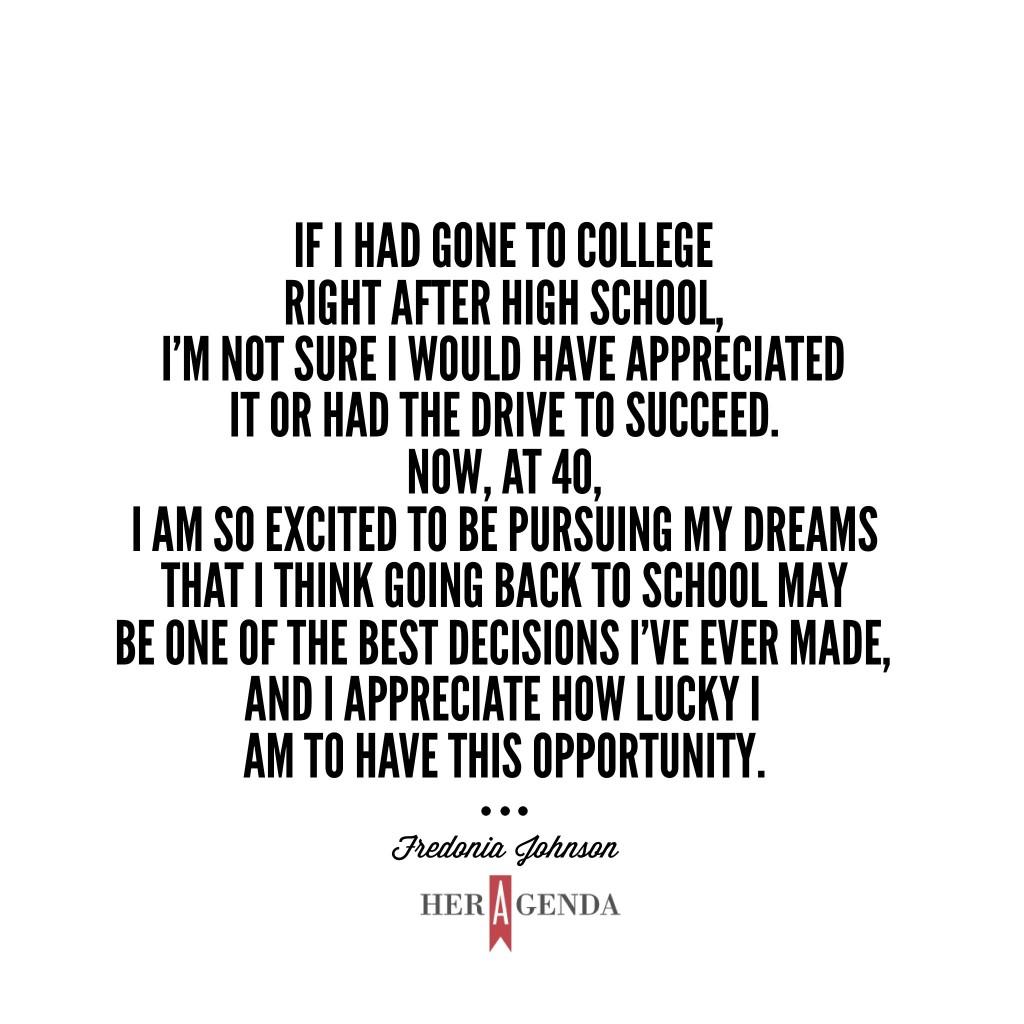 Her Agenda: How did you discover Brightwood College and what motivated you to apply?
Fredonia Johnson: I discovered Brightwood via internet research. I liked that Brightwood had a track record of excellence in nursing and that the classes were conveniently scheduled so I could spend time with my family while pursuing my studies. The application process was also very simple.
Her Agenda: How do you feel about being in school now?
Fredonia Johnson: I love it. The faculty is so amazing and supportive. They really push me to learn more and work harder. I know that this degree is just the first stop towards becoming a RN, which is my real dream.
Her Agenda: Was it difficult to adjust to being a student again?
Article continues below advertisement
Fredonia Johnson: After 20-plus years out of school, the adjustment was definitely difficult. Pushing myself to do homework after class is the hardest. Sometimes, I just want to relax and forget about class when I get home. But my family keeps me motivated and pushes me to finish studying every night. I think once you just decide you're going to do it, the adjustment is easier. Once you're committed and excited it's less difficult.
Her Agenda: How do you manage your time? Are you taking courses full time?
Fredonia Johnson: Yes, I am attending Brightwood full-time, and while managing that course load and my family can be difficult, it's all about balance and organization. The other great thing is that Brightwood College lets students schedule classes around their schedule. So I am at school all day and then I am home by five and am able to devote my attention to my family. I definitely have some jam-packed weeks, but for the most part, it's easy to fit everything in.
Article continues below advertisement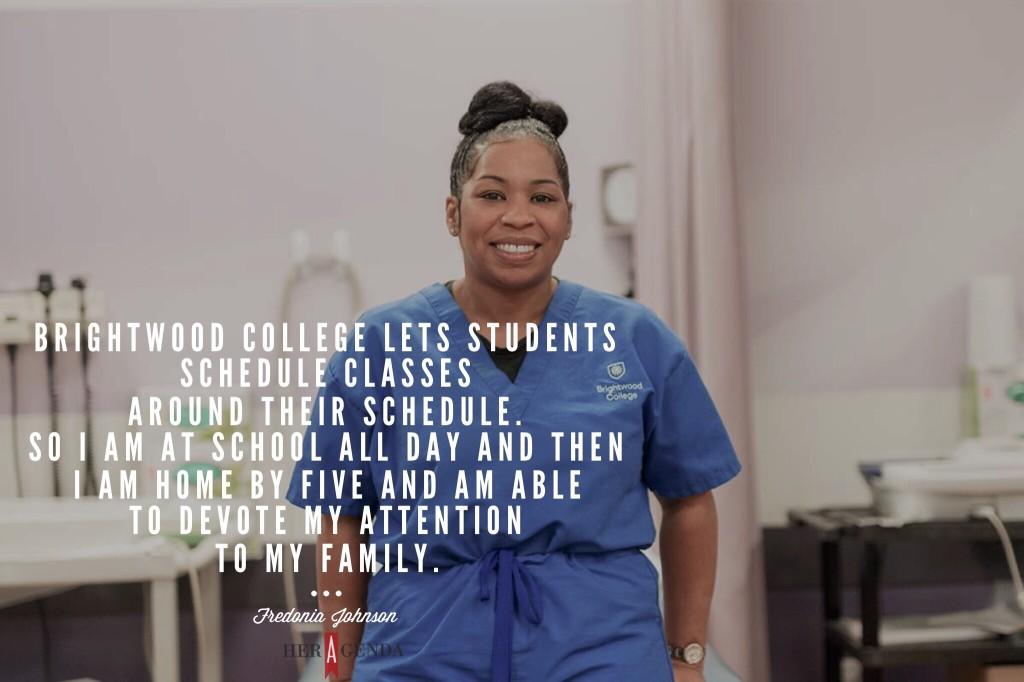 Her Agenda: What's the biggest lesson you've learned since taking this major step to fulfilling your dream?
Fredonia Johnson: I think the biggest lesson (outside of my class lessons) is that the people in your life, no matter how involved, really do want you to succeed. Of course my family was going to be supportive and helpful, but everyone at my campus, from faculty and instructors to the admissions representatives all the way to the campus president has been right by my side cheering me on and helping me along the way. It's amazing, really.
Her Agenda: Do you have advice for moms that feel like it's too late or they don't have time to go back to school?
Article continues below advertisement
Fredonia Johnson: Go for it! You will never know what you can do if you don't try. And if you have a dream you want to chase, school is the best way to achieve it. I didn't think I was cut out for going back to school. In fact, I almost didn't go to my admissions meeting at first. So if I can do it, you can, too! As far as time goes, yes balancing everything is difficult sometimes, but everything will fall into place.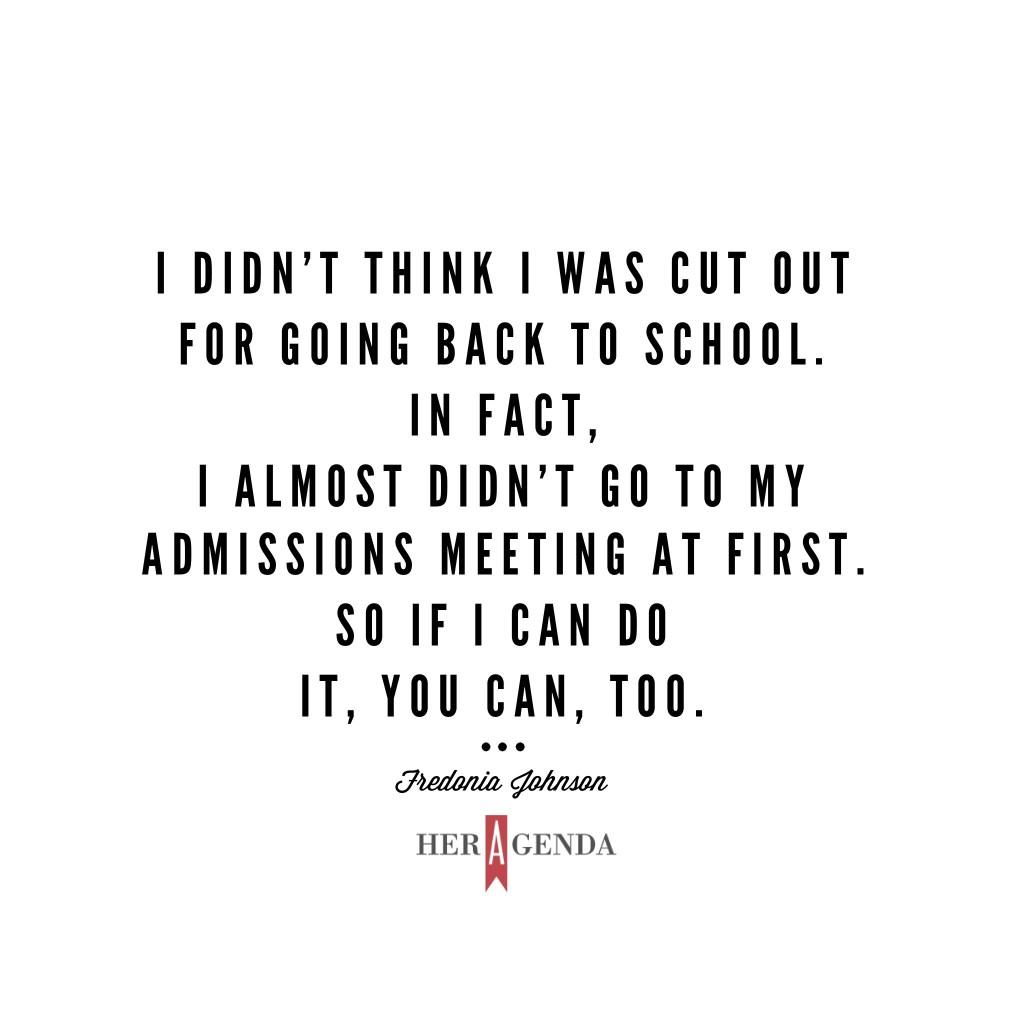 Article continues below advertisement
Her Agenda: What's been the hardest thing since starting this journey?
Fredonia Johnson: I think the hardest thing about this journey was starting it, actually. Yes, classes have been hard and stuff, but once I got myself to campus everything else was simple. Like anything else in life, the hardest thing is committing, taking action and following through.
Her Agenda: What's been the most surprising thing?
Fredonia Johnson: The most surprising thing is how much I love school. Growing up school was always… school. And if I had gone to college right after high school, I'm not sure I would have appreciated it or had the drive to succeed. Now, at 40, I am so excited to be pursuing my dreams that I think going back to school may be one of the best decisions I've ever made, and I appreciate how lucky I am to have this opportunity.