No, Germanee Gerald will not lower her price for you. After putting in years of work and styling high-profile clients, Germanee knows her worth and it's time that you do too.
For over a decade, Germanee was climbing the ranks of the corporate fashion world as a merchandiser, never intending to be a stylist. But, after teaching and educating her friends who worked in tech spaces how to style themselves confidently for their body types, a career pivot was on her horizon. On her ten-year anniversary working for Gap Inc., she left her office job at Banana Republic to pour her heart into GG+CO Styling Firm full-time.
After hopping off a red-eye flight to join our conversation, Germanee's voice echoes the humdrum cost of her career: working on the weekends and frequent business travel. But, it's Germanee's hustle and the network she has built from it that has helped her reach this level of success. As the stylist to the golden state's most prominent influencers and executives like Bozoma Saint John, Latasha Gillespie, Valeisha Butterfield Jones, and Robin McBride of McBride Sisters Wines, Germanee is showing women that professionalism is fashionable.
Her Agenda recently spoke with Germanee about the lessons in clothes, how to build your wardrobe, and not negotiating your prices.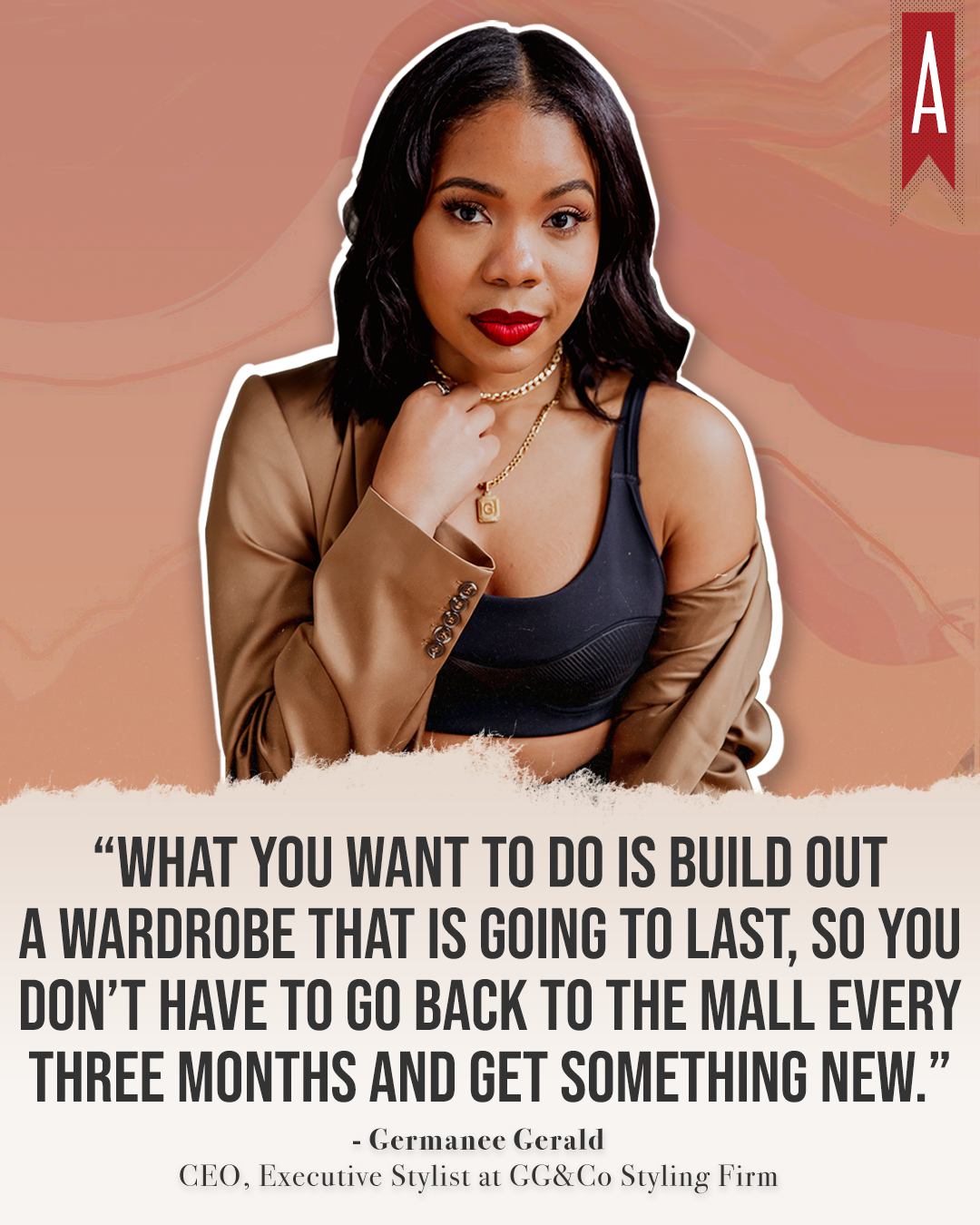 Article continues below advertisement
Her Agenda: I know that you style a range of people with different budgets, backgrounds, and styles. And, everyone wants to be boujee on a budget these days. What are the biggest differences in clothing when you are shopping for your average person or professional as opposed to high profile clients?
Germanee Gerald: I never think of it as a difference. For me, I will always harp on versatility and quality regardless of the budget. Keeping that in mind, regardless of what the client has asked me to send, I will always keep that on the forefront because at the end of the day they are investing in me but they are also investing in the style. What you want to do is build out a wardrobe that is going to last, so you don't have to go back to the mall every three months and get something new. You want to be able to build on those things, keep them in your wardrobe, sustain it, and continue to build your signature style. Regardless of budget, I am always big on quality as well as versatility.
Article continues below advertisement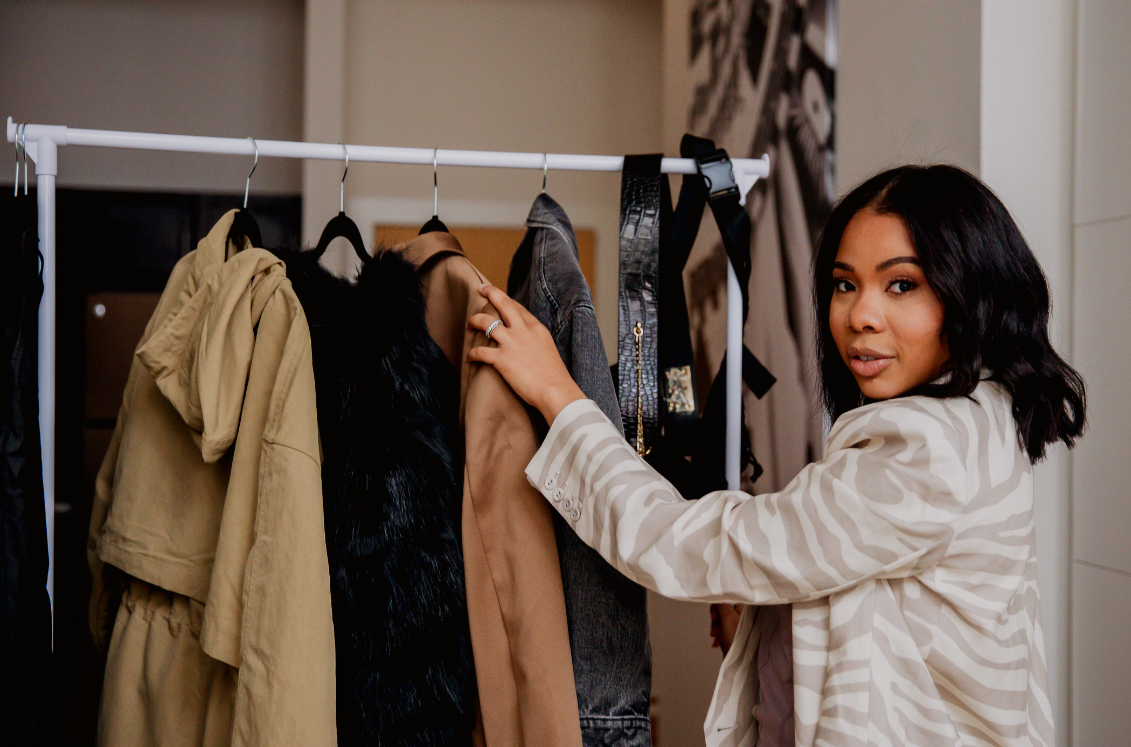 Her Agenda: What is your opinion on fast fashion? Do you recommend it in general? Do you recommend a specific brand?
Germanee Gerald: I think as far as fast fashion is concerned, it's terrible for the environment because a lot of companies are just putting out products very fast. The timelines on these things are ridiculously crazy. I used to work in merchandising at GAP corporate and the timeline there was about 30 weeks to get clothes out, whereas a Missguided or a Zara takes from 5-7 weeks to get clothes out. Because quality sometimes isn't always there, you buy these things for a more affordable rate. Between Forever 21, Missguided, or Zara you could get something for between $10 and $40. But, at the end of the year, could you still use some of those things? Maybe, maybe not.
Article continues below advertisement
Holistically, I'll say fast fashion is terrible for the environment because it is, but when it comes to these brands, it's sometimes all you can afford. When I was in college and when I was starting my first role at my corporate job, PrettyLittleThing, Missguided, and Zara were all I could afford. Think not only about the trends, but what you can find that could potentially sustain you for 6 months to a year with these brands, and not just thinking about a fashion haul. I would never tell someone 'Don't shop fast fashion' but fast fashion isn't going to stay in your wardrobe forever because it wasn't made with quality in mind. You still want to protect the environment and look cute.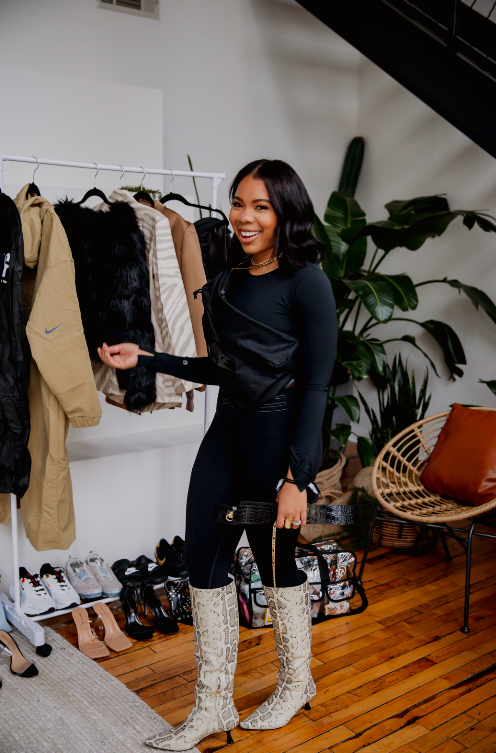 Article continues below advertisement
Her Agenda: As a stylist, how has the pandemic personally altered your style?
Germanee Gerald: I think the pandemic has made my style a lot more casual and a lot less focused on what the cutest thing is. I still think I will go for something that is cute and stylish but I am big on comfort now. We spent almost two years in the house, so now when I get to style a client or hang out with my girlfriends, I want to be comfortable. I think more than anything, the element of comfort has come into play. I used to wear a lot of fitted silhouettes, but now I've become a lot more focused on oversized looks. I like to be in loose fitting clothes as much as possible because they feel like pajamas.
Her Agenda: I was reading a 2019 interview you did with xoNecole and you mentioned that you usually work on the weekends. Is this still true?
Germanee Gerald: Absolutely! I still work on the weekends and actually just got off a red-eye. I always work on the weekends. The thing about my clientele is they are mainly executives who work at Fortune 500 companies and most of the time, the only time they have off is the weekend, or I'm doing a brand shoot, or I'm out shopping for a client, or doing returns. Nothing's changed, I work seven days out of the week. No lie!
Article continues below advertisement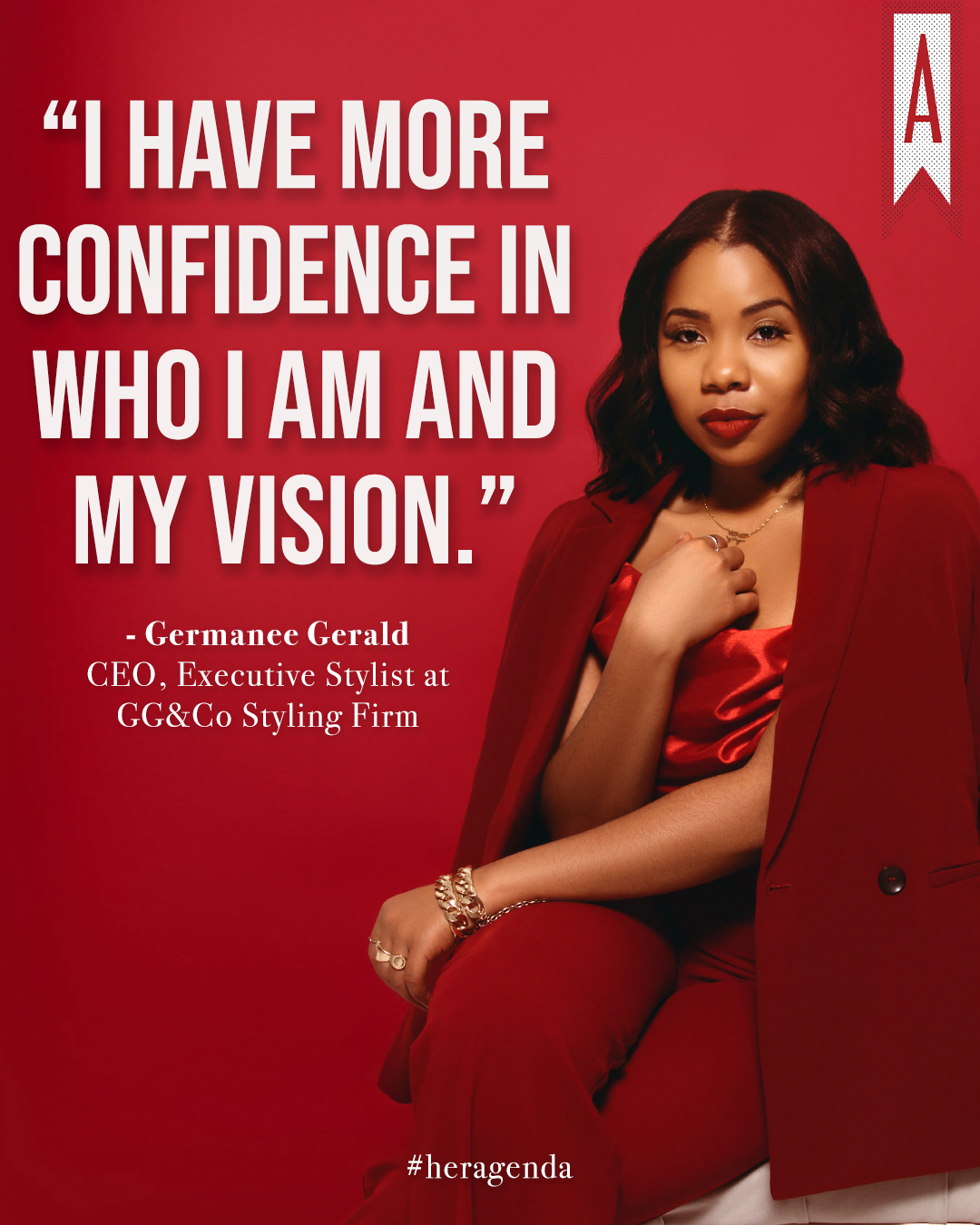 Her Agenda: I don't know if you've ever experienced this before, I've been reading a lot about how many entrepreneurs get told that their prices are too high or that they should give discounts. Has anyone ever tried to convince you that your fees were unreasonable?
Article continues below advertisement
Germanee Gerald: Absolutely! But, [over time] I've become more confident in who I am, the business, the quality that I provide, and how niche my services are. [So now] I've gotten to the point where my price is the price. People come to me for a reason and you shouldn't compromise your price, especially when you are at a point in your life when you are confident and this is what people are coming to you for. You are not seeking out clients, clients are now coming to you. We get a lot of discovery calls now saying, 'Oh my gosh, your prices are too high.' But, when you sign up to even have a discovery call, you have to check the box saying, 'I understand that this is the minimal fee.' So, when you get on the call, you can't say it's too high because you already knew what the price was going to be. There is no more negotiating. For me, the best thing is that I have more confidence in who I am and my vision. But, now I also have a team that says, 'If you want to work with GG&Co, that's the price.'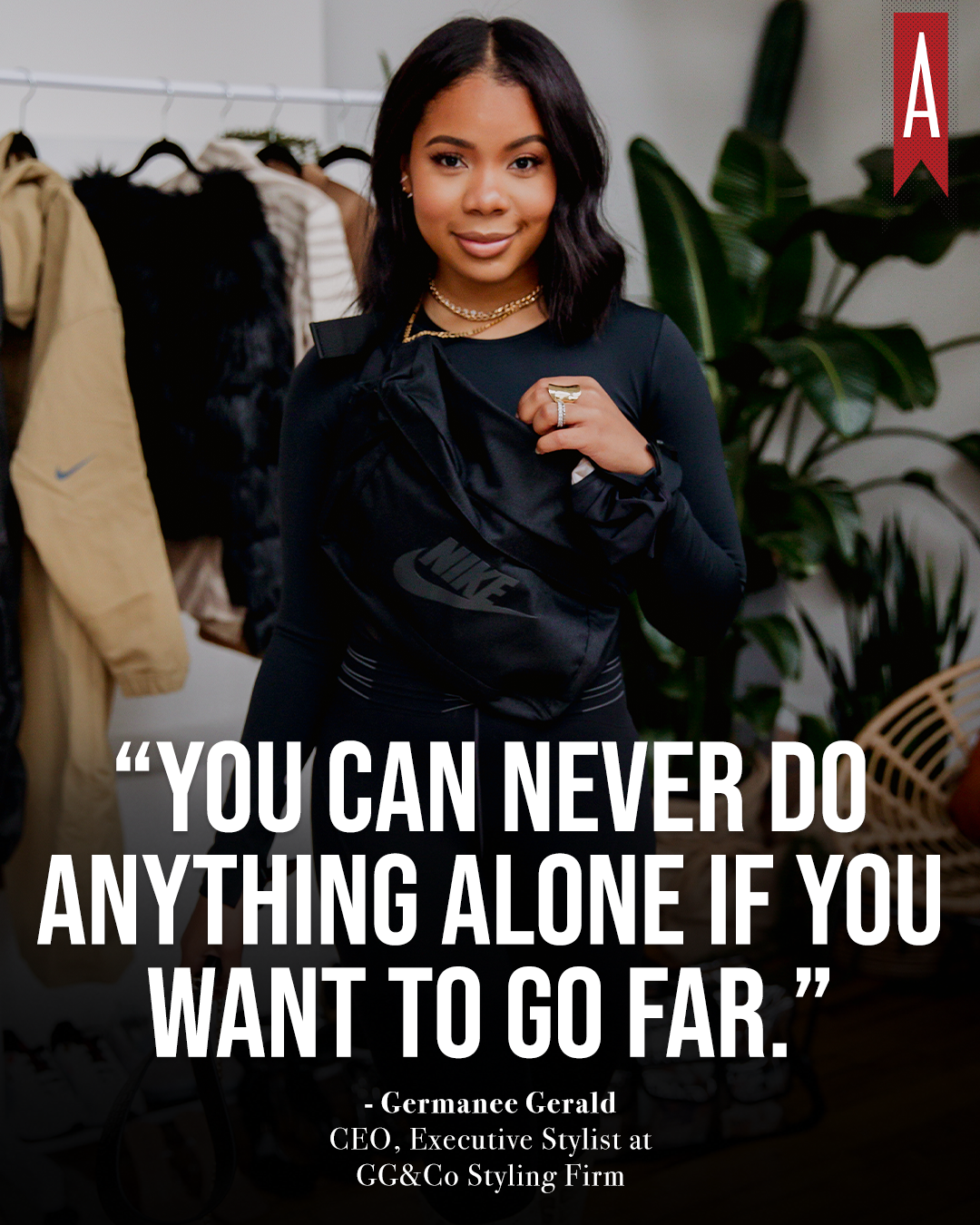 Article continues below advertisement
Her Agenda: I read that your popular event Sip N' Style grew from five people in your living room to hosting 250 people at event spaces. Talk about growth! Is there a certain trait that you contribute to your growth?
Germanee Gerald: I would definitely say my network and the people that I have around me who push me into uncomfortable places. I was very much comfortable with Sip N' Style being intimate when we were doing them. I had an amazing business partner who really wanted to push me to make it grander and on a larger scale. He saw things that I did not see. Having great people in your corner, who can see those blind spots and how much greatness they see in your idea to take you further, will take you further. You can never do anything alone if you want to go far.
Her Agenda: Is there anything that clothes helped you learn about yourself?
Article continues below advertisement
Germanee Gerald: It's definitely taught me how to be expressive, rebellious. Clothes in general say how you're feeling about yourself and how you want to show up. It says exactly what you are trying to say about yourself to the world. You are basically branding yourself. For me, growing up, I always wanted to wear things that my mom hated. Even to this day, she hates parts of my style and there are things that she likes. But, in that act of rebellion, I was able to find myself and my confidence. I'm really shy, so I'm able to speak volumes through what I'm wearing because most of the time, people will say 'Your outfit is cute,' which will help start our conversation. [Clothing] provided me the opportunity for self-expression but also the chance to network through what I'm wearing.
[Editor's note: This interview has been edited for length and clarity.]