Gloria Steinem Reflects on the Progress of the Women's Movement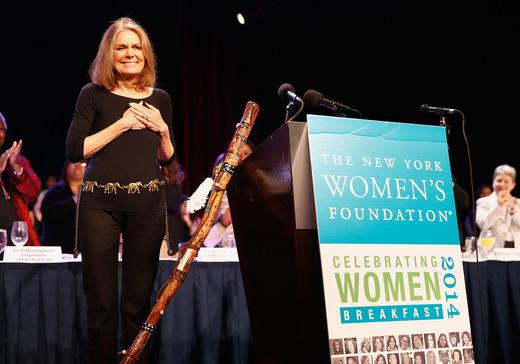 Gloria Steinem says she fears becoming the José Greco of feminism.
On May 8th, at the New York Women's Foundation annual Celebrating Women Breakfast, Steinem was presented with the Century Award, however Steinem graciously deflected any praise stating that she wants to be a "Trojan horse" — acting as a vessel to shine a spotlight on modern day feminist champions.
"Sometimes I'm asked who am I passing the torch to," she explained. "I always say I'm keeping my torch thank you very much. I'm using my torch to light other torches because unless each of us has a torch we can't see where the hell we're going."
That morning, she along with the NYWF showcased the light shining brightly from amazing women working to make a difference. Over over 2,200 men and women gathered at the Marriott in Manhattan, raising $2 million to be distributed to women-led community based non-profits throughout New York City.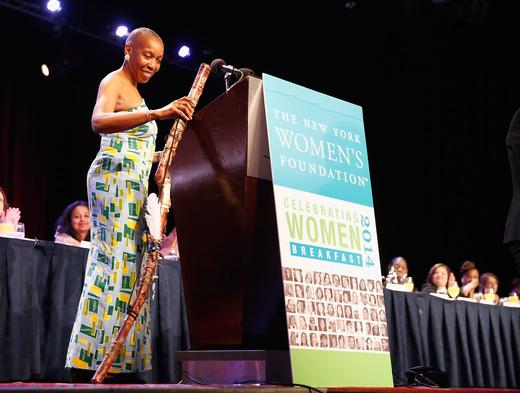 Article continues below advertisement
Soffiyah Elijah accepting her award at The New York Women's Foundation 27th Annual Celebrating Women Breakfast.
Women like Bennie Edgerson who escaped domestic violence went on to become homeless but eventually found work and became an entrepreneur. Women like Soffiyah Elijah, who is the Executive Director of the Correctional Association of New York. Elijah shared the importance of being our "sister and our brother's keeper" pointing out that while just four percent of the world's women are incarcerated, 33 percent are in the United States.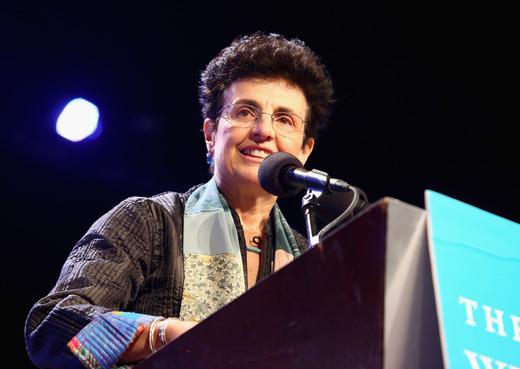 Article continues below advertisement
President & CEO of The New York Women's Foundation Ana Oliveira speaks onstage at The New York Womens Foundations 27th Annual Celebrating Women Breakfast at the Marriott Marquis on Thursday.
Ana L. Oliveira, the president and CEO of the New York Women's Foundation riled the early morning crowd up with mention of the kidnapped Nigerian girls. She said the NYWF is looking to see how they can assist because we can't leave it all to the government.
Oliveira described the breakfast as "a sitting march of our movement — there's a humming for justice and for fairness."
Then, came the moment for Gloria Steinem to receive her award. The presenter shared that while Steinem may have been shoved to the front of the movement for all the wrong reasons, she turned out to be the best person for the job.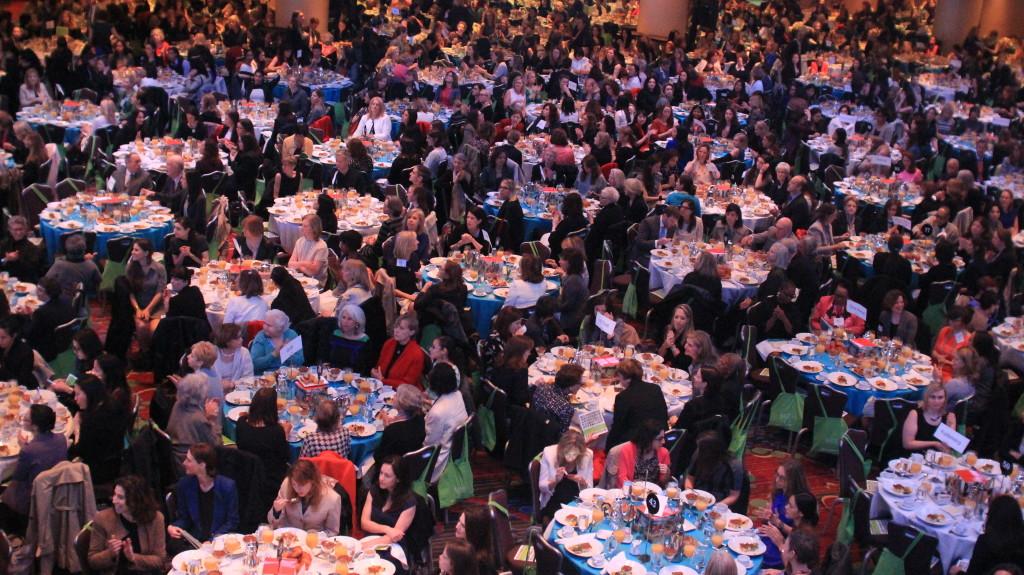 Article continues below advertisement
Over 2,200 men and women attended the breakfast.
Steinem came out gracious and elegant. She wanted to simply speak about the amazing work that the women she knows are doing to push equality forward (who happen to be half her age). She also made sure to mention other women in the movement's early days like Shirley Chisholm adding, "there were so few of us we were 12 crazy ladies." However, at the request of the organizers, she also took a moment to reflect upon the progress of the Women's Movement — what's been done, and what still needs to be done.
On Equal Pay…
Steinem points out that the argument before was women don't need the money and now it has majority support but it still hasn't happened yet. "We still let companies profiteer off of women's work. Equal pay would be the best economic stimulus this country could have. Women are not going to put it in a Swiss bank account they're going to spend it."
Article continues below advertisement
On Equality In General…
"We've proved that women can do what men can do but we have not yet proved that men can do what women can do. It's impossible for anyone male or female to have it all if it means we are doing it all."
On Rape…
"We have proved that rape is not sex, it's violence." But she explained we have nowhere proved that erotica is enforcing and empowering the violence. For that, she says we need to get angry.
Article continues below advertisement
On Civil Rights…
"The Civil Rights movement inspired the women's movement. Native American women inspired the suffrage movement. Racism cannot be defeated without equality for women. It is not possible to be a feminist without being anti-racist."
On Domestic Violence…
"It is a serious time. It is a dangerous time. We need to get angry we need to do something. More girlfriends have been killed by their husbands and boyfriends than Americans killed on 9/11, in Iraq, or Afghanistan combined," said Steinem who referred to it as "domestic terrorism."