Graduating To A Pay Gap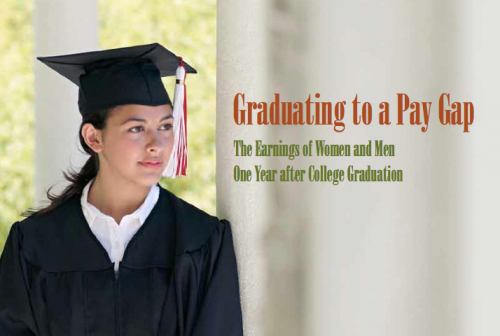 It almost reads like a work of fiction, or something from out of a history book. Women still do not earn equal pay. They earn just 82 cents to the dollar that men make according to the latest study put out by the American Association of University Women.
We hear the percentages and the cents to the dollar all the time. But to put this in a different perspective, this report found the average working woman working full time one year after college earned $35,296 while men earned an average of $42,918 in the year of 2009.
"'Graduating to a Pay Gap' paints a disturbing picture for college-educated women, who are losing out financially, from their first paycheck to their last Social Security check," said AAUW Executive Director Linda D. Hallman in an interview with the Huffington Post. "We must address this workplace barrier so that our daughters have the same economic opportunities as our sons."
Women and men are paying the same amount for their degrees but are not reaping the same rewards. The impact of that is seeping into everything from student loan burdens all the way into retirement. According to the report, women and men borrowed the same amounts to finance their education, about $200,000 however women spend a larger part of their paychecks paying these loans back.
The report found the reasons for the existence of a gap to have several roots. Factors include college majors, occupation choices, and the number of hours worked. In the report they found that men tend to choose majors that pay more. Majors including engineering and computer science that allow them to enter into high paying fields. Fields connected to majors in education and social sciences tend to lead to lower paying jobs and these majors, according to the report, are likely to be chosen by women.
But differences in major don't explain away the entire gap. The report also found that even men and women with the same major had a difference in their paychecks. The example cites business majors. Women business majors earned just over $38,000 while men earned just over $45,000.
Article continues below advertisement
Another part of this is salary negotiation. Men were found to be more likely than women to negotiate their salary. Its more part of the norm for men to negotiate their salary than for women and so many women felt hesitant to initiate a salary negotiation on their behalf. The study also looked at hours worked as a contributing factor but found that men still earned more despite the number of hours worked.
The consequences of this are high. It impacts not just women but their families and communities at large. The study cites one estimate that says women with college degrees earn more than a half million dollars less than their male peers over the course of a lifetime. Married women are forced to be the ones to make the most sacrifices because priorities tend to center around the spouse that earns the most money. As a result, they're more likely to have to relocate, and stop/start their careers more often.
Article continues below advertisement
But not every part of the gap in salary between men and women could be explained by choice of major, occupation or negotiation skills. Some of it, according to the report was simply gender discrimination at work, which is illegal ever since the Equal Pay Act of 1963 was signed into law. There's also the Lilly Ledbetter Fair Pay Act of 2009. But the number of claims filed with Equal Employment Opportunity Commission are rising. The AAUW points out that in 2011 the EEOC received more than 28,000 complaints of sex discrimination. The report notes that this is an increase of about 18 percent compared with a decade earlier.
"This is part of the reason why we want to pass the Paycheck Fairness Act," Lisa Maatz, AAUW director of public policy and government relations, told The Huffington Post. This is a proposed law to to make sure women's salaries are equal to their male peers. An attempt to pass this law was blocked in June.
To combat this great inequality we will need two very important things: knowledge and transparency. There's too much of a veil of secrecy and shame about openly discussing your salary or asking someone else what their salary is. This is not so much a problem with public service or government jobs but in the private sector more than half of employees are "discouraged or prohibited" from discussing salary information– a statistic pointed out in this study.
Some resources that can help you gauge the amount you should be earning or expecting include websites like Payscale.com or Glassdoor.com. AAUW also offers $tart $mart negotiation workshops to give college women both the knowledge and skills to negotiate salaries and benefits when they enter the working world.
"Women cannot choose to avoid the pay gap, but they can make choices that enhance their earning potential," explained the report. Very wise words. Women also cannot do it alone. Women need government support, and education needs to begin as early as high school.
Here is a link to the study to see the results in depth: click here.
What do you think about these disturbing numbers? Do you feel you are earning the amount you deserve at work?