Companies are restrategizing which is leading to mass layoffs across the tech industry. One often forgotten sector impacted heavily by the recent job cuts are the DEI teams responsible for pushing company diversity initiatives forward and advocating for underrepresented groups.
Research shows that DEI jobs are declining at a faster rate than non-DEI roles and this rate continues to increase with the start of the tech layoffs last year, according to research from Revelio Labs. But carrying the torch for keeping conversations around DEI at the forefront despite the current state of the field is DEI practitioner and public speaker Hady Mendez.
Hady has served as a thought leader for equality best practices; led Latinx and Women employee resource groups and volunteered in Bolivia mentoring young women. Her most recent position was at Slack a Salesforce Company, leading their Office of Equality focused on advancing belonging opportunities to create inclusive environments for underrepresented groups. Although she is no longer with them, today Hady shares her DEI expertise with her digital community and founded her speaking and facilitating business Boldly Speaking.
Hady proves DEI work is never done and the approaches we take to DEI do not have to be linear.
Her Agenda: The future of work is flexible, inclusive, and connected. What do you think most companies get wrong when it comes to inclusion and belonging?
Hady Mendez: Companies have a checklist of goals that they're trying to achieve. I have often seen that when companies achieve those specific goals they believe the work is done. However, DEI work is never done.
I believe equality and inclusion is a journey, and there are always going to be more opportunities to include more people. There are still many underrepresented groups that are not getting the jobs that they deserve, or the promotions that they're entitled to.
Article continues below advertisement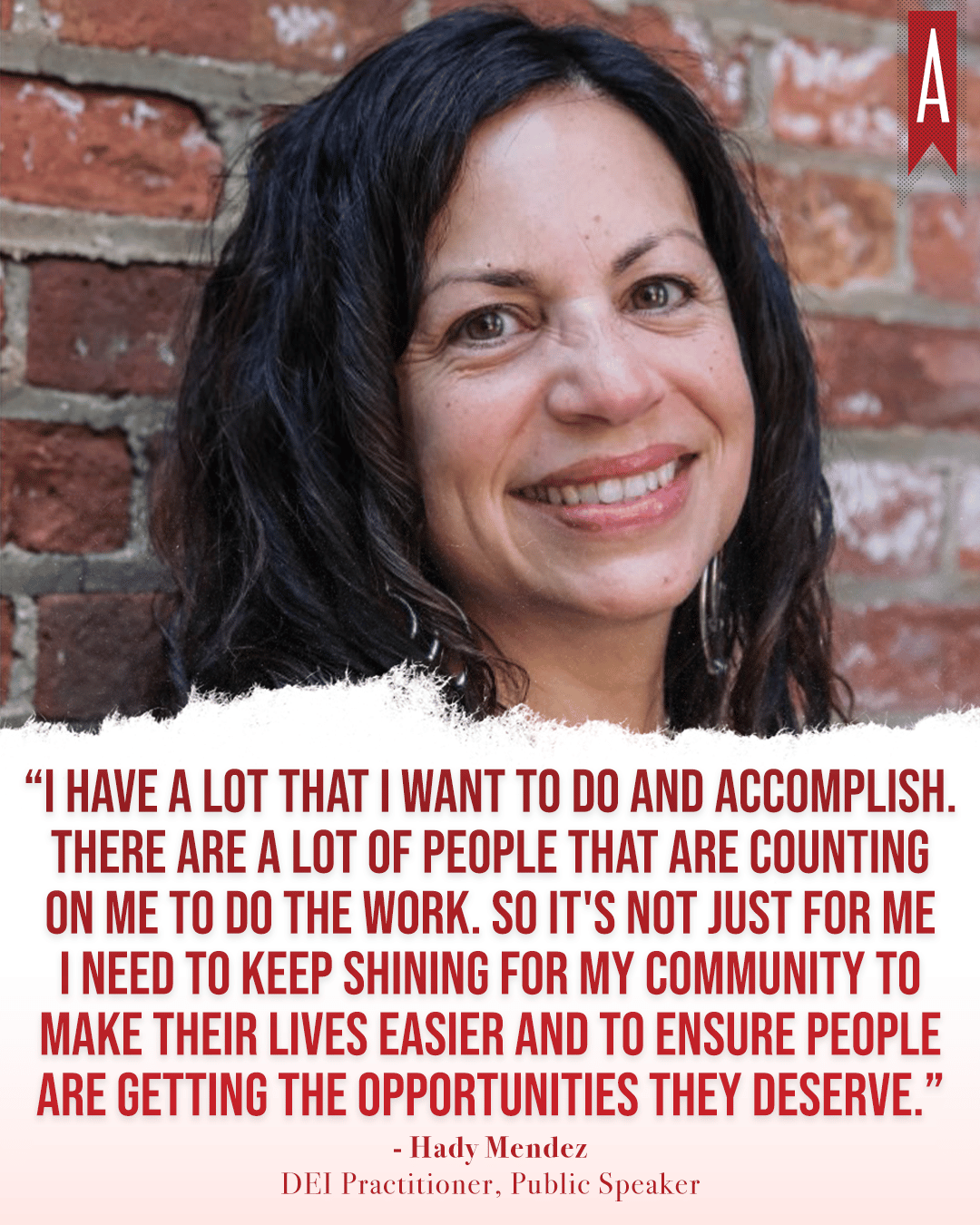 Her Agenda: How did you leverage your role as the former Director of Equality at Slack to change the narrative on workplace equality?
Hady Mendez: I focused on two areas. One around the employee resource groups (ERGs). I was responsible for bringing the ERGs together from two different companies. We called it harmonization. Throughout the process, my team also had to think through what harmonization looked like when combining two different naming conventions. We had ERGs at Slack and Equality Groups (EGs) at Salesforce. To keep workplace equality in mind we had to decide: What are we going to keep? How are we going to combine two different approaches? What are the best practices for bringing together two separate organizations that looked at quality from two different lenses?
Article continues below advertisement
The goal was for me to uncover where some of the unmet needs were. I mainly leveraged my role to shepherd the Slack employees toward the work that's already being done through the Office of Equality at Salesforce. That was first and foremost, my priority.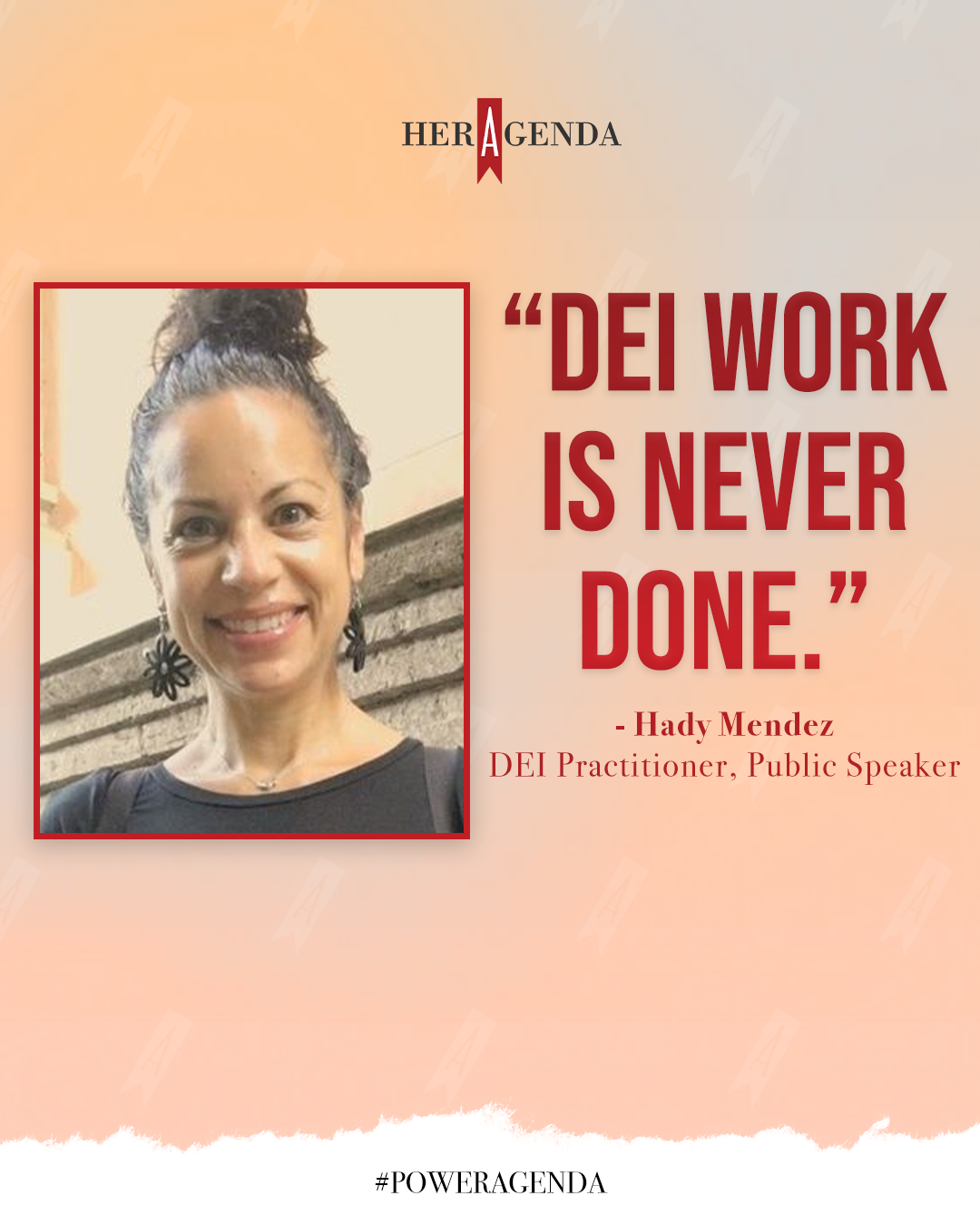 Article continues below advertisement
Her Agenda: Currently we're experiencing a very volatile job market. As an expert coach, what tips do you have for women of color who are currently in the midst of pivoting into a DEIB, or social impact-driven role?
Hady Mendez: This is very difficult work; Make sure you know what you're stepping into. This work is not easy and can be draining at times. Be sure that you are well-equipped when walking into DEI work with your eyes wide open. There will be disappointments and difficult days. That is a major piece of advice I would give to women that are considering this area of work.
Give yourself credit not only for your lived experience but for other work that you may be doing that you can count as experience leading into DEI. A lot of people who come into this field of work, similar to me, probably never did the equality and inclusion piece before. I didn't officially get paid to do DEI work until I took the role at Slack leading equality initiatives. However, I held leadership positions in employee resource groups, ran a reverse mentoring program at a former company, and did tons of diversity recruiting over the years. I in fact had a ton of DEIB experience, I just never got paid for it. When you are building your resume, make sure you are leveraging lived experiences that may be beneficial in the DEI role you are applying to. This is great if you do not have direct DEI expertise.
Article continues below advertisement
Lastly, work with a good resume writer or career coach that can tap into your past experiences as a woman of color but also through your projects. It is not the job of the interviewer or the recruiter to connect the dots, it's your job to connect the dots, and it's your job to tell that story.
Article continues below advertisement
Her Agenda: At the start of the pandemic we saw an increased budget for DEI work as a result of police brutality within marginalized communities. Given the volatility in the market, we are seeing those very same departments impacted by major cuts in budgets and job opportunities. How can employees continue to keep DEI top of mind in the midst of a financial downturn?
Hady Mendez: I still feel like a lot of that equality work is even more important now. You know, I think there's an inclination for people to be like, I'm going to go start my own business, or 'I'm going to switch industries and go where there's more stability, right now, tech is not a good place to be.' That might very well be the case. At the same time all of the work that was underway around advancing underrepresented talent and creating more opportunities for underrepresented talent to be hired and perform in key positions, is still important. The goals haven't gone away, there are still DEI goals.
Article continues below advertisement
Her Agenda: In what ways are you leaning on the same community that you have dedicated your career to empowering and providing opportunities to as you navigate your own personal journey job searching? Anything you have learned in particular so far?
Hady Mendez: I do have a solid community of business associates, people that I either have worked with in the past, met online, or have interacted with by way of a professional organization. People have been quite generous, everything from reviewing my resume early on and providing me some guidance around restructuring my resume all the way to, almost on a daily basis, sending me jobs.
I have been amplifying my voice online sharing my current journey and leveraging opportunities. I had the opportunity to even be featured by Talent Acquisition Specialist, Jalonni Weaver at Slalom. During Women's History Month Jalonni launched a LinkedIn campaign called "Women's Jobseeker Highlight" featuring members of her social community weekly who in light of the recent layoffs are looking for their next opportunity.
Her Agenda: Anything you have learned in particular so far in your job search that can help other C-Suite level executives looking for their next job opportunity?
1. Consider transitioning to a different industry.
2. Being open and saying yes, to whatever comes your way is very important.
Article continues below advertisement
3. Finding a balance from an emotional perspective. I get disappointed when I get rejection notices, however, I am hopeful and excited about finding the right company and the right role for me when that time comes.
4. Talking to my community about roles that interest me and not limiting myself to speaking to only certain types of people about job opportunities has made my universe exponentially bigger.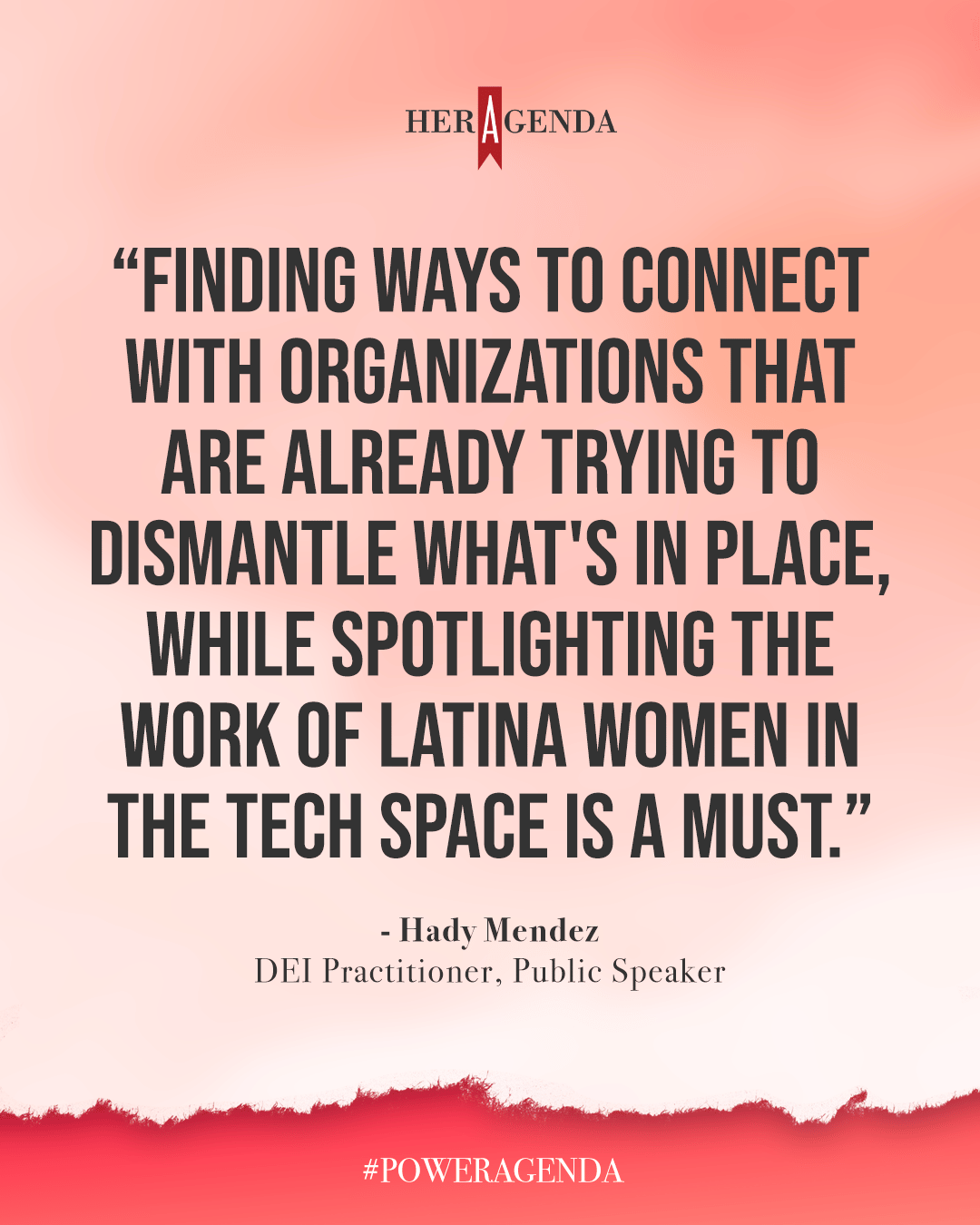 Article continues below advertisement
Her Agenda: In a recent Forbes article, statistics showed that women comprise 28.8% of the US tech force, but only 2% of those roles are filled by Latina women. As a Latina leader with over 30 years of work experience. How are you bringing awareness to this statistic?
Hady Mendez: It is a bit alarming. When I hear that my first thought is 'Wow,' it's shocking. I partner with organizations working towards dismantling the system that allows this to happen. Volunteering with organizations like Latinas in Tech reminds me that there are many of us out here. They are talented and accomplish so much to change this narrative. I serve as a mentor. This mentorship program is an example of how I help to guide the next generation of leaders in the corporate world. Finding ways to connect with organizations that are already trying to dismantle what's in place, while spotlighting the work of Latina women in the tech space is a must.
Article continues below advertisement
Latinas in Tech ran a fun campaign in partnership with Korbel called Luminarias spotlighting 30 women from a variety of different industries. I happened to be one of those women, and let me tell you, it was awe-inspiring to reflect and see myself featured.
I partner with organizations working towards dismantling the system that allows this to happen.

Hady Mendez
-
Article continues below advertisement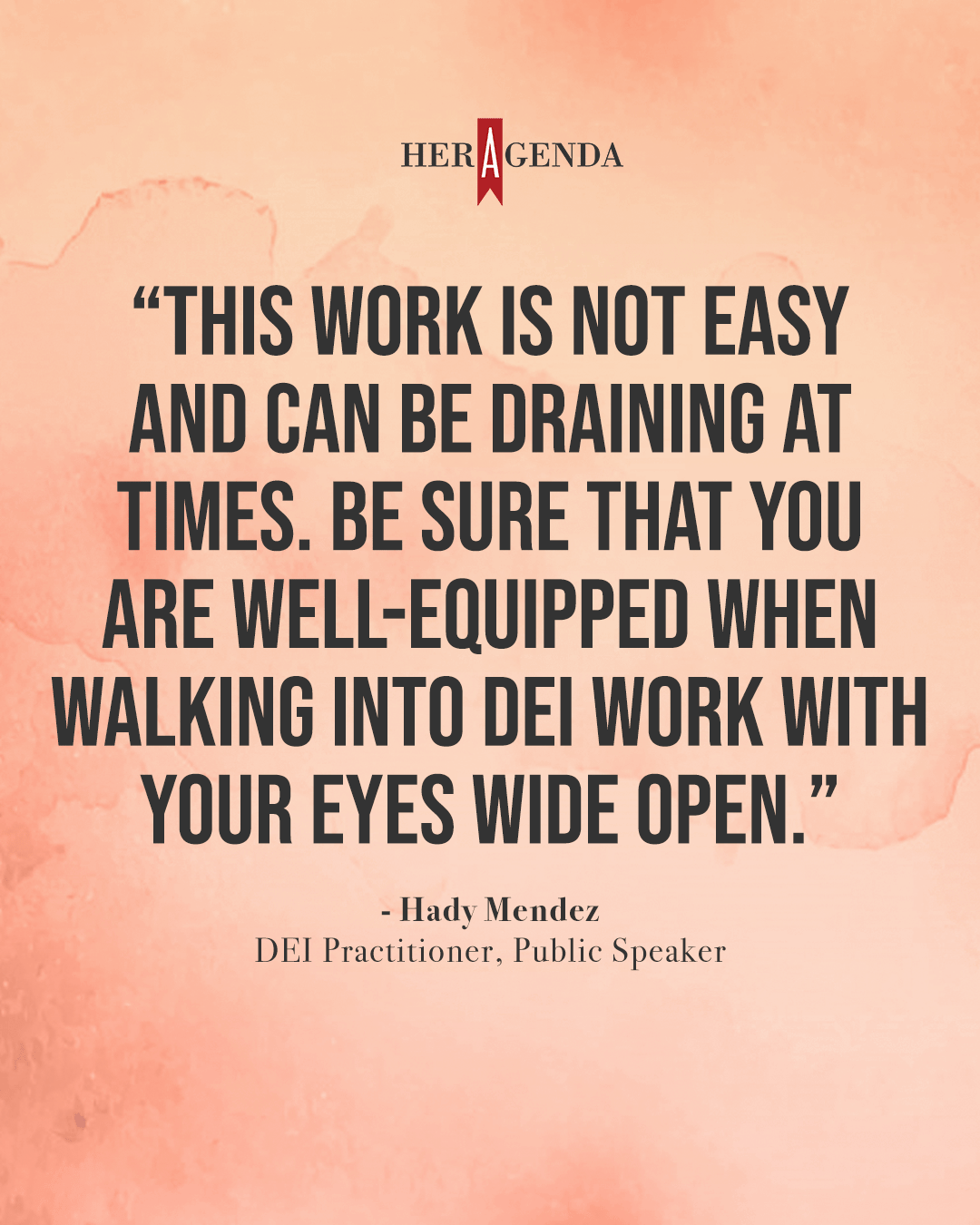 Her Agenda: What is something that you live by that inspires you to continue doing the work that is DEI?
Article continues below advertisement
Hady Mendez: I will not say I have one thing, in particular, I live by as I have many. The one that I read most recently that spoke to me, said 'keep shining.' It was so simple yet so beautiful at the same time. Oftentimes we miss the opportunity to shine our light. This reminder motivates me because sometimes, workdays can be challenging, hard, and a little bit draining. I have a lot that I want to do and accomplish. There are a lot of people that are counting on me to do the work. So it's not just for me I need to keep shining for my community to make their lives easier and to ensure people are getting the opportunities they deserve. That's the Latin X community, but it's definitely the women of color community and underrepresented groups in general.
[Editor's note: This interview has been edited for length and clarity.]