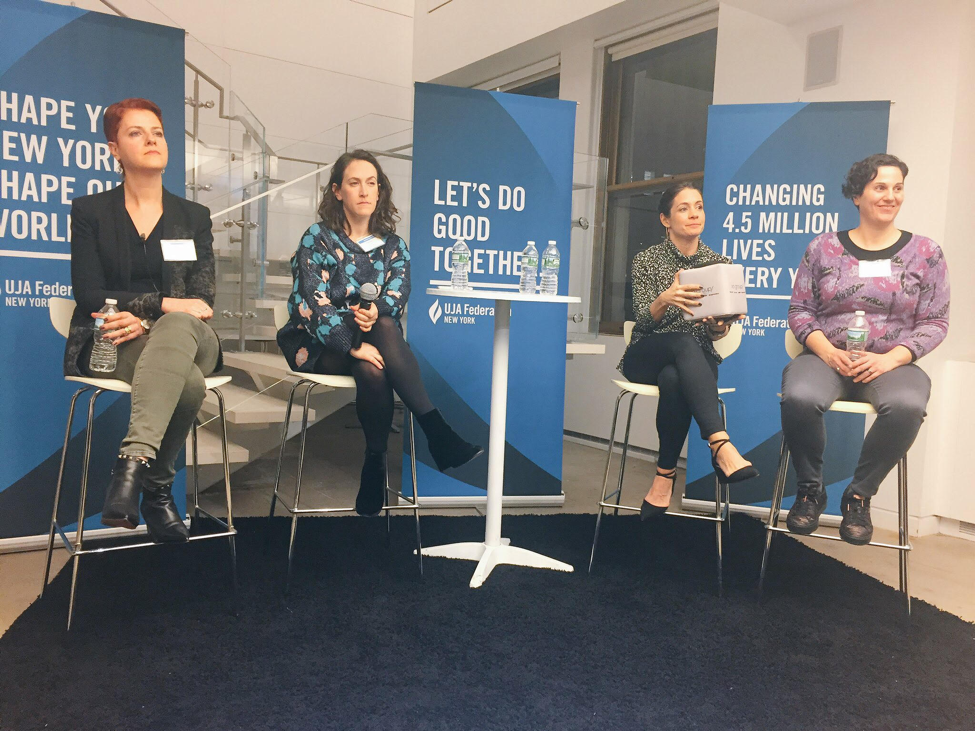 This Women In Tech Panel Was Everything
By Chante Harris

Jan. 19 2018, Published 8:46 a.m. ET
Tuesday night women packed out XO Group Inc.'s event space in NYC for a conversation with women leaders in the tech industry. The panel included Founder and CEO of Daily Harvest, Rachel Drori, Vice President of Engineering at XO Group Inc., Irina Krechmer, Chief Marketing Officer of ClassPass, Joanna Lord, and CTO of Meetup, Yvette Pasqua. Moderated by Diane Brady, Founder of dB Omnimedia, the panelists explored what it means to work in lifestyle tech, scaling a business, mentorship, innovation and much more.
According to a program evaluating 63 companies accounting for more than 574,000 technologists across a variety of fields, women held only 22.95 percent of technical roles, up 1.2 percent from 2016. Additionally, Susan Fowler, an engineer at Uber, broke the internet in February of last year with her story detailing incidents of sexism and sexual harassment at the company. Given the nation's recent attention to the lack of women in tech and the hurdles women must overcome once they're there, it is no secret that women are breaking and expanding norms in an industry dominated by men. What distinguished this event organized by UJA-Federation of New York from the many others and the current conversation, was its focus on the lessons, fears, and success that women experience in the industry just like men.
Article continues below advertisement
"I think people are often looking for the right time to start something. I can't see when there is a good time. I had an idea and I was like we're going to do this," Rachel shared with the audience, describing her experience with starting Daily Harvest after having two kids and juggling multiple responsibilities. When you think about the pressures that fall on women when starting their own business. There is no right time. My advice is dive in headfirst," she added.
On mentorship and recovering from failures, Joanna discussed how helping others learn and not repeat her mistakes has become therapeutic. Additionally, Yvette explained, "I had active sponsors who gave me opportunities," and encouraged women to embrace as many failures as possible instead of fearing them. Irina acknowledged, "Pushing myself to say yes has been one of my biggest lessons." Highlighting the triumphs and hardships that assisted each of the speakers in getting where they are today, the conversation unfolded authentically, still acknowledging the difficulties women face. "I had people ask me how do you plan on being a good mom and a good founder," Rachel shared.
Article continues below advertisement
What became clear as the conversation wrapped up is the fact that women are solving real problems through their ventures. "The world is looking to spend their time better. Is it more enriching or fulfilling? A lot of companies led and ran by women are addressing those problems," said Joanna. People are looking to connect and build relationships. Women are helping individuals do just that.
According to a 2016 report commissioned by American Express OPEN, across all ethnicities, the number of women-owned firms is increasing faster than the number of men-owned businesses. Women entrepreneurs in and out of New York City are contributing significantly to innovation and redefining what business looks.
Look at the possibility and stay positive vs. what you could be doing: looking at obstacles
"We do get in our own way. I'm not ready." There's something really special about surrounding yourself about honest bold women.
Aspire for the upward slope because being an entrepreneur is filed with ups and downs
– Rachel Drori- Yvette Paqua
Check out some of the tweets from the event below!