Her Agenda Live Panel Discusses Managing Personal Lows While Chasing Professional Highs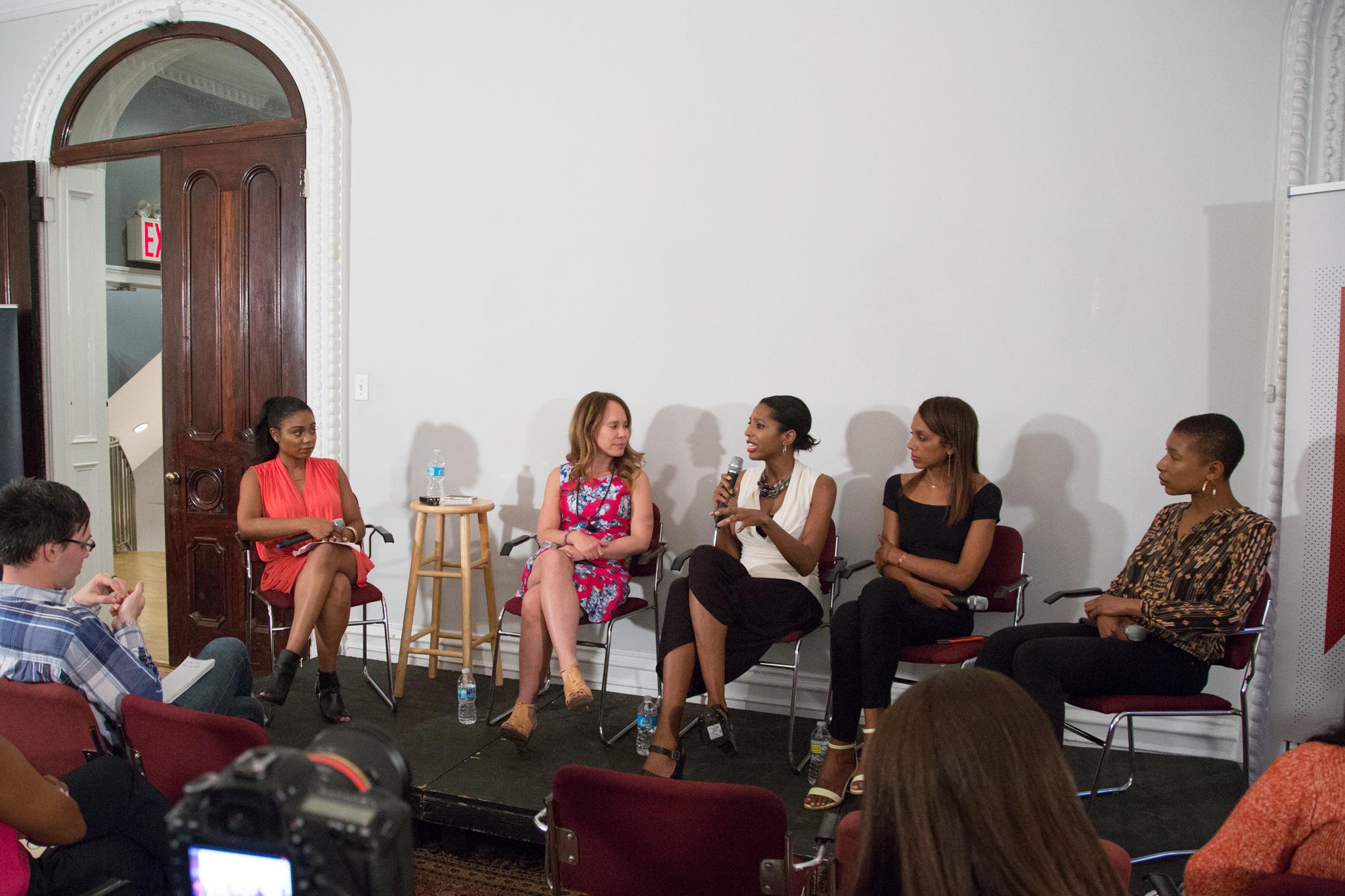 When you're driven to succeed you don't let anyone or anything get in your way, not even your emotions.
But personal drama and dilemmas that manifest while we work to grow our careers can shake up our lives at any given moment. To handle this, some utilize a strategy called compartmentalizing. Panelists Keli Goff, Dina Kaplan, Tia Williams and Raqiyah Mays shared their experiences and coping mechanisms on how to deal with it at the Her Agenda Live panel event "Real-Time Resilience."
"You have to have self-preservation, no one is going to save you," said Tia Williams, author and copy director of Bumble and Bumble. "You have to be the one to say 'Why am I still here?' You don't owe anybody anything, and nothing good is going to come from the frustration and anxiety. The good stuff is on the other side of there, so get there."
At just 25, Williams became Glamour Magazine's first black beauty editor. Yet despite being a trailblazer and making her family proud, she suffered a great deal of stress from work abuse.
"The editor threw a bagel at my head." At the time, she also dealt with an unhealthy relationship, and didn't eat for a year.
Yet she had a wakeup call. For her the resilience wasn't in toughing out the unhealthy environments she was in, but leaving them.
WATCH THE VIDEO OF THE PANEL BELOW:
"Finally I was like, what good can come from all this negativity? It doesn't matter if I'm the first black anything if I haven't eaten in five months," said Williams. "So I quit and put all my stuff in storage and broke up with the asshole and I moved to Spain and I wrote my first novel."
Dina Kaplan founder of The Path shared a similar story of resilience in knowing when to walk away.
After working as a news reporter, she founded a tech company, Blip.tv, and worked as a leader for all seven departments within it.
In a market with no other known women influences, she decided to follow the route of men- or at least how she thought men acted- tough and no nonsense.
Article continues below advertisement
"I wasn't true to myself and that ended up manifesting into panic attacks," she shared. For two years, she was paralyzed by fear and couldn't walk on a street alone in New York City. After a night of terror attempting to cross the street in 2011, she left the company and bought a one way ticket to Bali. She traveled the world for two and a half years.
Her key to survival now isn't compartmentalizing, but being honest with herself and her emotions.
"I think we should bring ourselves to everything. If you have a bad day say it, find someone to hold hands with and let's bring all of us to everything, because I think that compartmentalizing thing can lead to dangerous things for our body."
Raqiyah Mays, author, journalist and radio personality's world fell apart when she lost her job at 98.7 Kiss FM while dealing with a tough divorce. But letting go of her hard exterior to truly feel the moment she was in helped her move forward.
"It's like a dark tunnel, the light is at the other end of the tunnel, you have to walk through it and feel all those emotions," she said.
She told the audience, "You can't tell anyone else about the truth until you tell yourself the truth, that's where it begins. You talk about working, and working all day, that's being emotionally unavailable, that's an addiction."
Article continues below advertisement
Keli Goff, journalist and screenwriter for projects including season three of BET's Being Mary Jane, made three categories of rules for herself and if things didn't fit into them, she wouldn't do it. They include something for someone she loves, something she just wants to do, or something that advances her significantly financially or professionally.
"What we need to be successful, what works for you as long as it's not harmful to anyone else is not something you have to apologize for."
Many of the guests left the night feeling relieved learning that feeling stressed or unhappy is normal for many women.
Arielle Peters, an audience member and former worker for New York City's District Attorney spent many nights working until 3 A.M. before realizing it was time for her to quit her job. After feeling like a failure for leaving, the panelists' discussing their issues hit home for her.
"When I heard them talking about hating their job and what they were going through I was like 'oh my god that was me, ok that was normal,' and no one ever told me that."
Tanira Wiggins, who also dealt with similar issues said she learned from the event that if you're unhappy it's ok to forego the attitude of doing hard work in order to be happy.
"It's conversation I've been having with myself and my friends for a long time but until I came to the panel today I didn't have confirmation that what I'm doing is right."
[wonderplugin_slider id="12″]