Here's What We Learned From Michelle Obama's Interview With ABC's Robin Roberts
By Victoria Shoots

Nov. 12 2018, Published 8:10 a.m. ET
In anticipation of her memoir release on November 13th, former First Lady Michelle Obama sat down with Good Morning America's host Robin Roberts in an ABC News special, to discuss the story of the person behind Becoming.
Set in Chicago between her childhood home on Euclid Ave., and her pre-White House Kenwood home, Mrs. Obama and Roberts went down memory lane. The women discussed everything from life prior to Barack to her family's values and upbringing. This interview was not the Michelle Obama that hit the world stage over ten years ago. She was graceful as usual but also evolved…as if she has realized that every part of her journey was there to prepare her to carry a torch that blaze a trail around the world.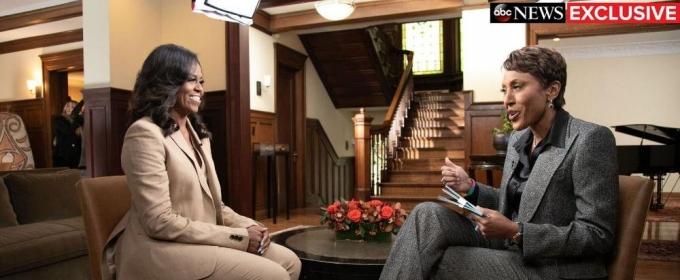 Article continues below advertisement
"When you grow up in the neighborhood…you grow up learning two languages…People couldn't figure out who I was and who they thought I should be."
As they sat in her living room, Mrs. Obama explained that Chicago is not only her home, where she learned the value of hard work from her father and how to think from her mother, but it was also the birthplace of a love that changed the rest of her life. She admitted that as much as she had suspicions about President Obama when he so casually strolled into Sidley Austin, LLP, and how 'tacky' she thought dating the only Black summer associate would be, there's was no way she could resist him. She described their love from the very beginning as "passionate" and that twenty-six years later, the flames between them still exist with no plans to burnout anytime soon.
Article continues below advertisement