Here's What We Learned From Michelle Obama's Interview With ABC's Robin Roberts
In anticipation of her memoir release on November 13th, former First Lady Michelle Obama sat down with Good Morning America's host Robin Roberts in an ABC News special, to discuss the story of the person behind Becoming.
Set in Chicago between her childhood home on Euclid Ave., and her pre-White House Kenwood home, Mrs. Obama and Roberts went down memory lane. The women discussed everything from life prior to Barack to her family's values and upbringing. This interview was not the Michelle Obama that hit the world stage over ten years ago. She was graceful as usual but also evolved…as if she has realized that every part of her journey was there to prepare her to carry a torch that blaze a trail around the world.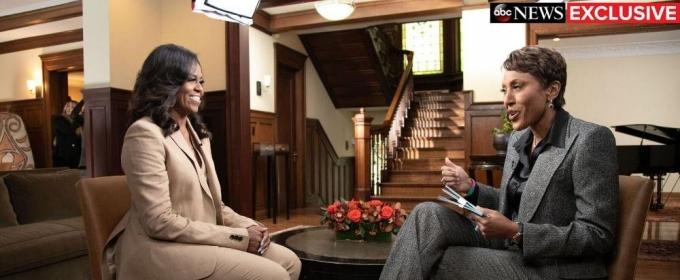 "When you grow up in the neighborhood…you grow up learning two languages…People couldn't figure out who I was and who they thought I should be."
Article continues below advertisement
As they sat in her living room, Mrs. Obama explained that Chicago is not only her home, where she learned the value of hard work from her father and how to think from her mother, but it was also the birthplace of a love that changed the rest of her life. She admitted that as much as she had suspicions about President Obama when he so casually strolled into Sidley Austin, LLP, and how 'tacky' she thought dating the only Black summer associate would be, there's was no way she could resist him. She described their love from the very beginning as "passionate" and that twenty-six years later, the flames between them still exist with no plans to burnout anytime soon.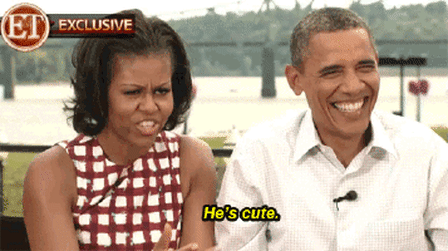 Article continues below advertisement
She also shared with Roberts that even with the deep connection she and President Obama share, friction found a way in and tested them as individuals and as a unit. For Mrs. Obama, who had been checking off all of the right boxes her entire life, explained that she felt like failure and was "lost and alone," after experiencing a miscarriage and never being informed on how common they were for first time mothers. At 34 and 35, she discussed receiving in-vitro fertilization to conceive Malia and Sasha but felt as if she had nowhere to actually talk through her pain. As Mrs. Obama explained, "I think it's the worst thing we do to each other as women, not sharing how our bodies work and how they don't."
"I think it's the worst thing we do to each other as women, not sharing how our bodies work and how they don't."
As she and President Obama continued to excel in their careers, it was no surprise to hear their ambitious natures would lead them to marriage counseling, it was the lessons Mrs. Obama shared from that period that can arguably be said to have prepared her for the eight years she spent as the most adored woman in the world. She realized that finding her happiness was 100% her responsibility.
Article continues below advertisement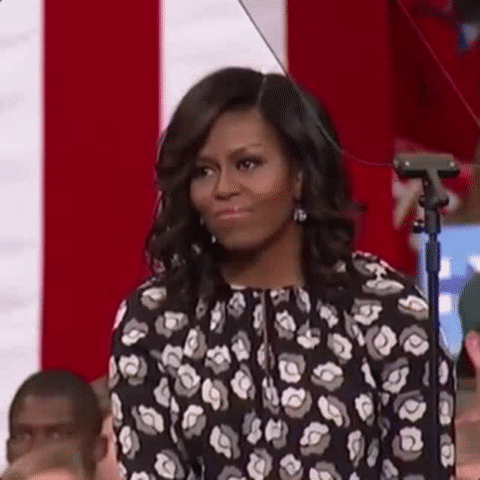 "What I learned about myself was that my happiness was up to me. And I started working out more. I started asking for help, not just from him, but from other people. I stopped feeling guilty."
As they continued talking, Mrs. Obama reflected with Roberts on the growing joys and pains that came with her role as the wife of a Presidential candidate, to her ascension to First Lady. She admitted that when the campaign started, she didn't have the initial hope to believe the same America that had enslaved her grandfather's grandfather, would elect the black man who was her husband to run this country.
Article continues below advertisement
The trial and error of earning the people's grace and having those corners of the country, who didn't know there existed a spectrum of what it means to be a 'Black woman,' understand what she represented. It seems Mrs. Obama knew that everything had a place, even the critiques, and because she took her role so seriously, there was no time to acknowledge that pain because she always focused on the bigger picture. But she found that suppressing pain was not a practical idea over time, as she told Roberts,"we do a disservice by not admitting when hurtful things hurt."
"We do a disservice by not admitting when hurtful things hurt. That's what I've come to. I need to own that hurt, to talk about it. I need to process it for myself so I can heal. But at the time, I wasn't going to allow myself to feel victimized. There was no time to hurt in that role."
Article continues below advertisement
In the most discussed soundbite over the weekend, Mrs. Obama read a quote from Becoming on the disdain she felt and still feels after Donald Trump's initiation of the birther movement. As the protector of her family, especially her two daughters, she wanted to make it very clear to Donald Trump where he stood in her book. She candidly discussed how that even translated over to his inauguration. With feeling of both pride and deep disappointment, because she knew what Trump represented, she explained that she had to make an optics adjustment and stop forcing herself to smile.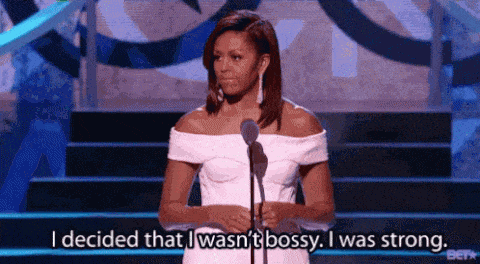 Article continues below advertisement
Closing out the hour, she explained to Roberts and a group of high school dancers from her alma mater Whitney Young High School, that challenges present the perfect opportunity to rise and silence the doubters. She was told that she wasn't Princeton or First Lady material and she made it her point to prove them all wrong. As the show ends and Mrs. Obama reads a final quote, it is as if she realized that finding her authentic voice and making it count for something was the greatest lesson, she's gained from it all.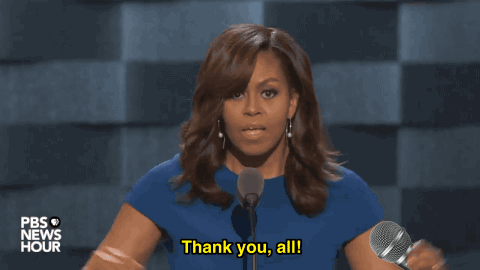 Article continues below advertisement
Although no longer the Mom-in-Chief of the White House, so many people still look to her for guidance, in this tumultuous climate. It's as if every time this administration throws a fast curve ball, Mrs. Obama's voice can always be heard chanting "when they go low, we go high," representing to every American that hope still lives here.
The light she and President Obama brought to 1600 Pennsylvania Avenue and how they infused every fabric of American culture into the 'People's House,' will be felt for years to come. To so many, Mrs. Obama represents this dream of what the next generation of young women can achieve when their pursuit of excellence is the priority.
In this interview it became even more clear that Mrs. Obama understands with her position comes great responsibility, as she continues to inspire us all with her grace, intellect and infectious smile. However, through her memoir, she wants the world to also know that she is just as human as the rest of us.