Here's What You Need To Know About The Backlash Against 'A Day Without A Woman'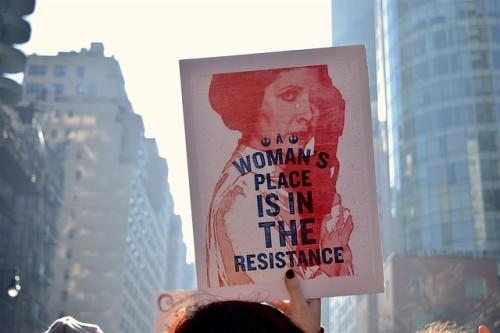 Yesterday's International Women's Day premiere event – A Day Without A Woman – was celebrated across the nation and around the world. The strike's objective was to bring attention to the paid and unpaid labor of women's work in America. Women were encouraged to step out of their roles at work, not to participate in unpaid household chores, and to refrain from making purchases at any non-women owned stores or companies.
Although the day was acclaimed for its many protests, viral moments, and media buzz, it was not without pushback. One female conservative group at the forefront of this counter-movement was leading an anti-protest called #WeShowUp.
"With disproportionate media attention going to the recent Women's March movement, there is a very important story that is not being told," says Right2Speak founder, Toni Anne Dashiell.
"This is the story of the women in America who have been cast to the side by the spectacle of the extreme far left. We believe all women have the right to speak, the right to participate and the right to express their values without being dismissed."
Right2Speak events included power lunches in specified cities across the U.S. The group also encouraged women to share photos of themselves on social media 'doing what they love' using the hashtags #NotMyProtest and #WeShowUp.
The group currently has just over 2,000 Facebook members but still gained media attention thanks to larger conservative media syndications like Fox News and The Blaze.
Article continues below advertisement
More legitimate concerns about 'A Day Without A Woman' were raised surrounding issues like the Women's March's staying power. Earlier this year millions of women and men took to the street to protest Donald Trump's views and looming legislative threats against women and their bodies, engaging in what is believed to be one of the largest single day protests in the history of the United States.
However, exact numbers of participation in the International Women's Day protest are harder to count and thus, measuring the success of the day proves harder. Much of this was due to many women's inability to fully take a day off of work, leading a common critique of the protest to be its lack of accessibility to all women – particularly those in lower socio-economic jobs who can't afford to take a day off.
More conservative-leaning voices have criticized the event as ensuing anarchy against America, pitting the now worn words of 'identity politics vs Trump' as the framework for dialogue against A Day Without A Woman.
But many voices – devoid of political affiliation – have been just as quick to defend the choices of women who did choose to participate in the event. "I'm really proud that so many teachers want to participate in the Day Without A Woman," says mother Heather Ignatius, whose child attends Alexandria City Public Schools, a Virginia based area school district that chose to shut down for the day due to staff shortages. "It takes a lot of courage. So glad these women are teaching my daughter."