History Of Abuse Driving An Increase Of Women In Prison
Look around you. One in three women (33%) and one in four men in the room will be (or are) a victim of domestic violence in their lifetime. According to the Vera Institute of Justice, for women in prison this statistic sores to 86% (or 6 in 7 women).
Since 1970, women's incarceration has increased a startling 14-fold. Like their male counterparts, these women are also overwhelmingly women of color.
The issue of female incarceration astounded me when I first learned about it. I had no idea how it all related to child abuse, molestation and sexual assault, domestic violence as an adult, drugs, terrorism, and so much more. I thought, perhaps like many, that if you ended up in prison, you deserved it because you did something very bad. That assumption quickly crumbles when you realize 80% of women serving time behind bars are in jail for non-violent related crimes—these can include anything from check fraud, to smoking marijuana, to being caught with drugs on them, otherwise known as "drug mules."
As a Women's Studies minor at the University of Oklahoma, there were two very big issues that were omnipresent but never addressed head-on in my classroom gender studies—Oklahoma is the fourth in the nation in number of women murdered by men and Oklahoma is ranked first in the nation for locking up women.
How could I not know this? I am a proud Oklahoma woman (living in NYC now) and I never knew these serious statistics were swirling all around me—even though I saw them come up in my own life experience without knowing they had names like "domestic violence" or "sexual assault."
Article continues below advertisement
I learned the most about this issue when I was fortunate to help filmmaker Amina Benalioulhaj produce a documentary about female prisoners in Oklahoma using the research of Dr. Susan Sharp. We set out with a simple question. Oklahoma has the highest incarceration rate of women in the United States—why? According to the Oklahoma Department of Corrections, Black women are incarcerated at about 2x the rate of their representation in the state's adult population. For Native American women, the disparity is almost 3x their share of the population.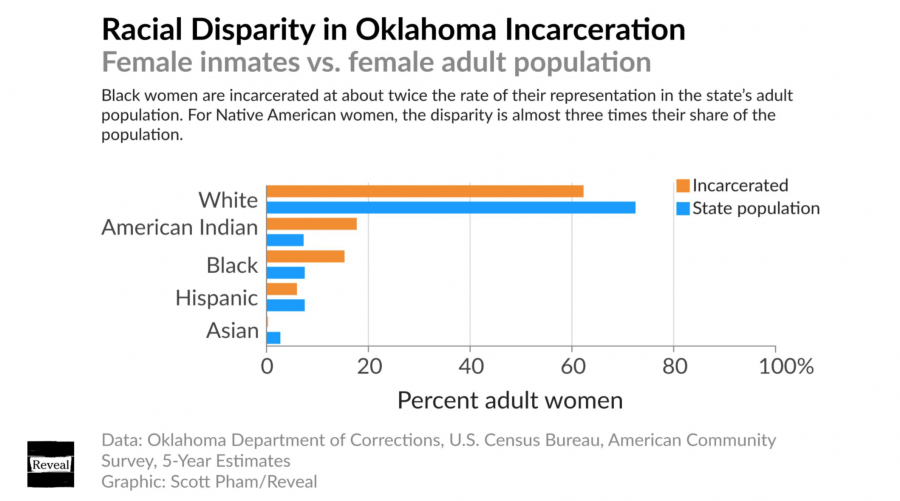 Article continues below advertisement
In 2010 when we were filming the documentary, 28,000 children were displaced by the incarceration of a parent in Oklahoma. The statistics haven't made a lot of movement in the past seven years—80% of Oklahoma's female offenders are in prison for non-violent, drug related crimes. 80% are also mothers. Many of them will leave prison facing harsher conditions than they did before the entered, with responsibility of caring for their children. 91% of them have been involved in domestic violence as a victim. 86% are victims of sexual violence. Often times women serve more time than men for the same crime. While the statistical number of women in Oklahoma prisons outdo any other state, the experience in this state mirrors a national pattern. According to the statistics, women in prison are:
Primarily people of color
Mostly mothers
Serve more time than men for the same crime
Have a history of severely violent sexual or domestic abuse as a child and/or adult
Are serving time for mostly non-violent crimes
And suffer a lifetime of poverty affects with employment restrictions
There's a lot stacked against women and the stigma of prison prevents people from understanding the conditions that lead people to drug use or illegal behavior. But there is some positive movement in this arena.
Article continues below advertisement
On July 11 of this year, Sen. Cory Booker (D-NJ) introduced the Dignity for Incarcerated Women Act, or the "Dignity Act," on behalf of himself and Senators Kamala Harris, Elizabeth Warren and Richard Durbin. If passed, the Dignity Act would require a more generous visitation policy for incarcerated mothers, prevent restraining pregnant women by shackling them or putting them in strait jackets, would provide parenting classes and trauma-informed care, as well as make available basic healthcare products like tampons.
What else can make a difference on this issue? Experts say:
If you're lucky enough to be the 2 out of 3 women for whom domestic violence doesn't impact your life, you may reconsider that impact when you learn that domestic violence is linked as a driving factor in mass shooting. According to the research of Everytown for Gun Safety, in at least 54% of mass shootings, the perpetrator shot a current or former intimate partner or family member.
Article continues below advertisement
The sooner we vote in civil servants into office who understand the correlation between the issues of violence against women, prison, and national security—the better off society will be.
Share this article for National Domestic Violence Awareness Month
Women Behind Bars by Amina Benalioulhaj