Holiday Hustle: 'Tis The Season To Make Connections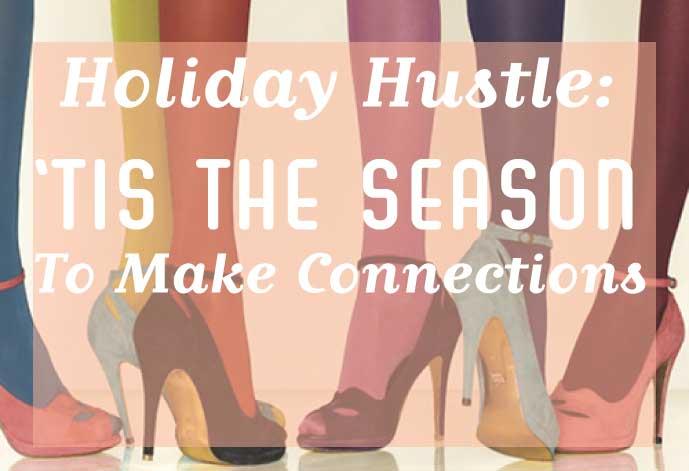 Make a list, and check it twice, in order to to make sure you're on the right lists for the right parties this holiday season.
The holidays bring the chance to spend time with loved ones and show the people in your life how much you appreciate them. But the hidden gifts of the holiday season are the potential opportunities to make connections with people that can be influential in your life and career.
They say 80% of success is showing up. You're going to get a lot of invitations to holiday parties, go to as many of them as you can. From company holiday parties, to friends' parties and everything in between each type of party is a unique opportunity to make a connection.
The company holiday party: It's here that you will get face time with the executives you've always wanted to meet but could not get a spot on their calendar. Don't be afraid to walk up to these folks and share a laugh, ask what their holiday plans are, or what the highlight of their year was. Keep the conversation light hearted and try to find a mutual interest or connection deeper than work. Another perk to the company holiday party is meeting new people. On a day to day, chances are you don't get to see many of the people who work outside of you department, so this gives you a way to make new work friends.
Keep in mind however, during these type of parties to limit your drinks! It's so easy to forget how much you've been drinking when there is unlimited drinks free of charge but set a limit.
Article continues below advertisement
The nonprofit holiday fundraiser: You will likely have to pay for a ticket to something like this but it will be worth it for two reasons. One, it will likely have an open bar. Two, it's likely that the board members from said nonprofit will be in attendance along with the sponsors of the event. Do research ahead of time so that you know who you are looking to connect with and so that you know a bit about them and what they're passionate about. Now, this sounds slightly stalkerish but it's smart. Of course, you do not need to reveal to the person that you already know their whole life story–that would be creepy. Be casual about it, and use the information to steer the conversation in a way that will allow you to build a connection to the person. Remember, it's a holiday party so be relaxed in your approach.
The alumni organization party: This is a must for the holiday season because it allows you to mingle and network with your peers. You already have a common experience with everyone in the room– your youth was shaped or impacted in someway from being part of X org as a child or teen. Some of them have gone on to work at amazing companies or launch exciting projects and initiatives and you are among this elite group. It gives you a chance to connect with alumni you knew way back when, and some that you never got the chance to meet because they were years ahead of you. Again, do your research, and have fun while connecting with both peers and potential mentors.
Article continues below advertisement
Your friends' holiday shindig: Bring a bottle and let loose, but not too loose because you don't want to be the ongoing joke amongst your peers. If you roll with a group of friends who happen to be productive members of society (i.e. launching promising careers of their own) it could serve as a great chance to connect on an authentic level with other ambitious people. While no one probably wants to talk about work in a party setting, it can't hurt to simply just ask "so what do you do?" Mention it quickly and move on. Get their contact information and follow up for a quick coffee or lunch with them to have the career conversations. You can never have enough people in your age range to both engage with professionally but also vent to about frustrations in the workplace and office politics.
The professional organization holiday party: If you are just starting out in your career you should be a member of professional organizations specific to your industry. These groups almost always have holiday parties and chances are if you are in active member you will know most of the folks there already. Be sure to go, just to have fun and show your face. In any industry it's important to not only do the work but make sure people know you. This is a great chance outside of the dozens of panels and business card networking events to really get to know some of the folks in your industry, make some new friends and strengthen connections.
Article continues below advertisement
And, if you can manage it, try and crash your friends' company holiday parties too! Then, after all is said is done, the follow up is key. If you got a business card with an address, send a note or even a Christmas card. If you got a phone number or email, send a note to get on that person's calendar sometime during the first quarter to connect, to chat, to follow up on that conversation about how weird office politics is in your office or a potential project that might interest the person.
Here's HerAgenda's quick recap for those looking to get the most out of the holiday party season:
Research: Both the parties you want to be invited to and the people who will likely be there. Use social media, Eventbrite, and MeetUp to explore different types of parties in the industries you're interested in. Also, look up the executives and people you want to introduce yourself to so you know who you are looking for and what you can talk to them about.
Connect: Don't be afraid to go up to people you don't know and strike a conversation.
Follow up: Send a card, note, or e-mail to the person for a coffee meet up or lunch.
And of course, have a good time. Between the sips from the red cups and martini glasses there's someone in the room worth meeting. Remember to be yourself, don't be too uptight or aggressive and enjoy the festivities!