How Trusting Yourself And Awareness Of Your Personal Power Can Lead To Healing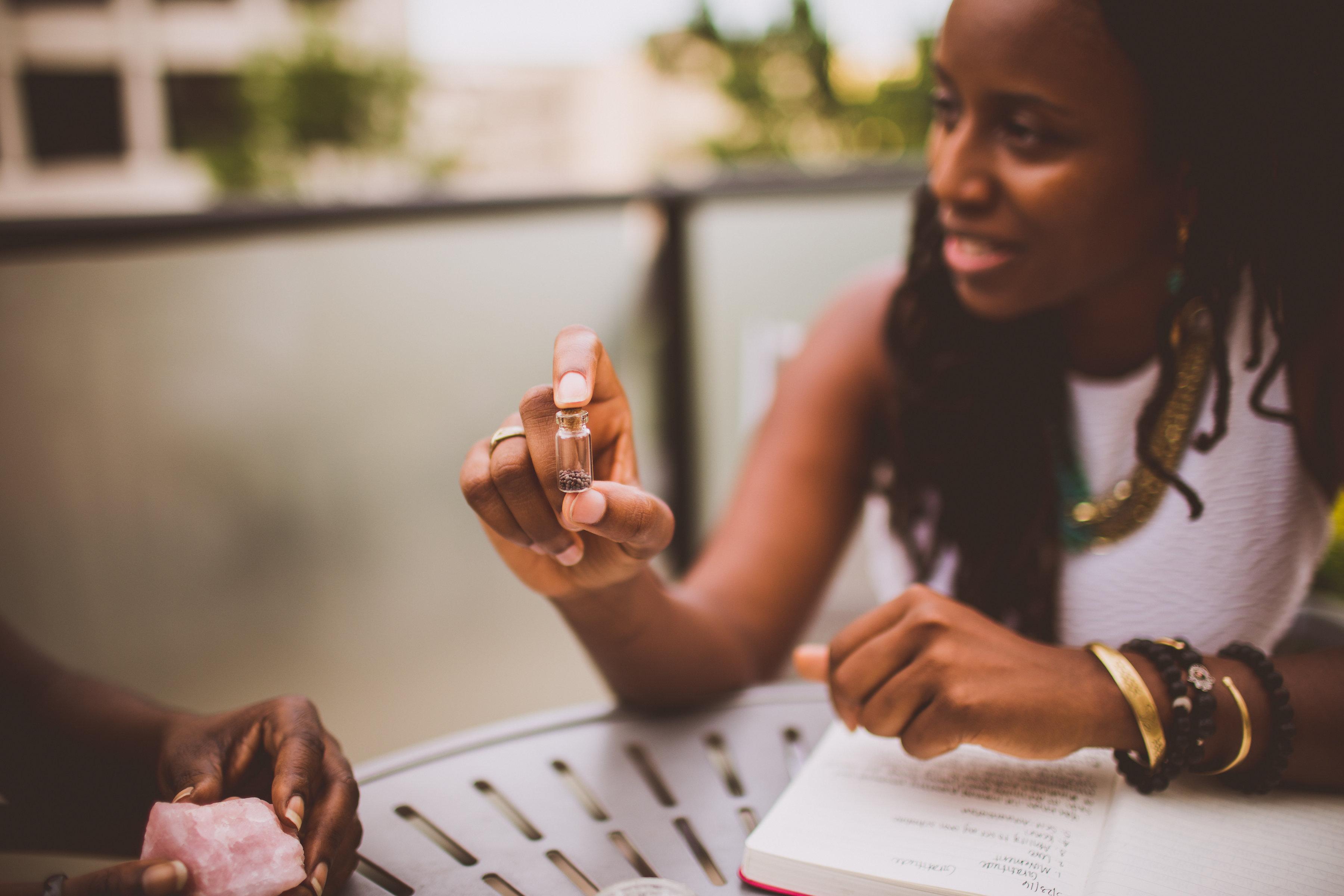 By
Eve Stern
Mar. 7 2017, Published 3:00 a.m. ET
Dr. Crystal Jones is constantly healing, showing others they too, have love and strength undiscovered. Dr. Jones strives to be a model of clarity, healing, and evolutionary truth for each of her clients, but most importantly, herself.
As a doula, chiropractor, reiki master, wellness consultant, and intuitive healing facilitator, Dr. Jones serves a people around the world. In addition to her own practice, she is also the owner of The Healers' Collective, a full service wellness production company in the corporate, startup, entertainment, and event industry. With both of her companies, she cures in her curation of wellness experiences that support women to own their power and explore their truths.
Dr. Jones spoke with Her Agenda on how she transformed into an entrepreneur of healing and learned how to heal others through herself. Keep reading for a #PeekInsideHerAgenda
Her Agenda: What tips do you have for someone interested in becoming an entrepreneur of wellness?
Dr. Crystal Jones: Begin with your own journey then offer your truth and the evolution of that path. I recommend speaking and healing from a place of experience. People can sense what is authentic and, what is forced or overly commercialized. In this field, people are looking for change and they want to connect with that which is real. Most importantly, integrate knowledge with experience and always be willing to learn. Back away quickly from needing to be right about everything. Take a moment to learn.
Article continues below advertisement
Her Agenda: You wrote, "As a collective, our ability to choose is directly correlated to our awareness of personal power. When we begin to place intention on our choices, we utilize our freedom to be one with all." What exactly does this mean and when did you discover this?
Dr. Crystal Jones: I've evolved into this truth for quite some time. Many women came to me to fix them and easily handed over their power to me. They were trained from an early age to trust everything and everyone but themselves. Many women would tell me of their inability to make a choice based on their circumstances. And I honored that. I always honor the truth and experience of others, that's what keeps me curious and ever evolving and adapting.
After listening, I offer the perspective that that their lack of choice is directly related to destructive truths that have belittled their innate power to be free and live freely in this world. As a society, we are not taught how to think and use our power. Often, we are taught what to do within the projection of fear that is placed on us. Seeing women reclaiming their power and placing intention on their choices is the highlight of the journey that they take with me. When we begin doing that as a collective, we will universally shift for highest good.
Her Agenda: How do you take the time to heal yourself when you're constantly healing and supporting others?
Article continues below advertisement
Dr. Crystal Jones: The name of my private practice is Heal With Crystal and I put emphasis on "with." I practice everything that I offer to those that choose to heal with me as their guide. In the awareness that we are all one, the journey is, and always will be, together. Even when I am in the space of serving as a doula, the process is together. I spend my off time honoring myself with movement in stillness (meditation), replenishing my body with rest and nourishment, and doing the things that I love. And because my practice travels me across the globe, it's not hard to be surrounded with ample opportunity to do that. My chosen life path is the healing journey.
Article continues below advertisement
Her Agenda: What major shifts and trends have you seen over the past years in your clienteles needs?
Dr. Crystal Jones: When I began my practice, I saw many women that were just tired. These women were tired of the titles that they had taken on both personally and professionally. A great majority of the women I worked with were told that they were infertile so they were tired of trying. Astonishingly enough, most of these women are birthing this year. What I see now is a lot of anxiety and depression centered around being enough and playing the part. Women that I see now are very polished on the outside but dying on the inside, literally.
Her Agenda: What's your favorite daily affirmation?
Dr. Crystal Jones: I AM, and that is enough.
Article continues below advertisement
Her Agenda: How does your work help your clients become more successful directly in their careers?
Dr. Crystal Jones: Working with the high level executives and the cultural influencers of the world, these women have achieved a high level of success by the standards of the world. These women feel very broken on the inside and are often ready to quit their job because of their lack of balance. They have achieved everything except for true clarity, foundational healing, and the awareness their own personal truth.
We do the intense work together and these women begin living and healing through traumas that they've held on to so many years. These women begin choosing success in their careers and creating what that looks like for them. The experiences plus the bodywork allow them to perform better – it allows better access to their energy and overall vibrancy. These women begin to choose life, and everything, especially their careers, begin to flourish as a reflection of the internal work.
Her Agenda: Lastly, what book has most impacted your life?
Dr. Crystal Jones: Very tough question because everything I've experienced has had a huge impact on my life. A favorite of mine (and often cliche) is The Four Agreements, but there are so many.