Meet Gabrielle Amani, The Creative Who Launched MEFeater Magazine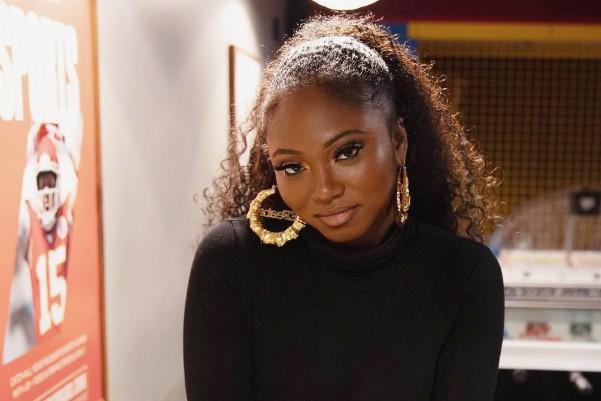 By
Asha Bey
Oct. 19 2022, Published 8:00 a.m. ET
As recently as 2020, we've seen brands shift their attention to infusing Black culture and talent in their advertisements, marketing campaigns, and runway shows. While those brands race to catch up, Black-owned media companies are two steps ahead by driving the discussions for more representation in the creative marketing space and committing action by making a name for themselves.
This has been no small feat for Gabrielle Williams (who goes by Gabrielle Amani), the co-founder and CEO of MEFeater, a digital platform that highlights the most influential Black and Brown names in the music, entertainment and fashion industries. Starting the magazine back in 2012, Amani has gained vast experience in marketing and what it takes to make a name in some of the most creative industries.
Article continues below advertisement
Today, MEFeater's covers have featured celebrities like Saucy Santana, Jayda Cheaves, and Yung Baby Tate — entertainers whose influence can be recognized. "The mission is to showcase and give a voice to women of color and the LGBTQIA+ community. We want to showcase this because people of color are multifaceted and we want to make sure that we're seen in a light that we haven't been seen in before. We also want to represent the younger people like Gen Z and millennials," Amani says.
Article continues below advertisement
When launching the magazine, Amani had one goal in mind. "I created it as an outlet for creativity," she says. Simone Clarke—Amani's mother, who serves as MEFeater's managing director—believed in her daughter's dedication to what was a blog at the time and utilized her business skills to take the blog to new heights. "She knew we needed certain things to actually make this work, so while I was still in school, my mom registered the LLC and put the structure behind it," Amani adds.
By genuinely connecting and creating a space for those part of the community to share their favorites within the music, fashion and entertainment industries, MEFeater has amassed over 151,600 followers collectively on Instagram and Twitter.
Article continues below advertisement
But it doesn't stop there. A few months before the pandemic hit, Amani felt a calling to expand her creative talents into the creative marketing space and launched MEF Agency. "We offer a variety of services like content creation, brand awareness, brand marketing, and event planning to those companies who need diversity in their media and marketing. We're the first mother and daughter duo that I know of in this space that's actually performing," she says. "With MEF Agency, we represent people of color because we are representing it ourselves. We're making sure that we put our footprint in places that we truly identify with."
Since launching, the agency has earned clients in the fashion and beauty space such as Nike, Sephora and NARS, to bring them to the community in an authentic way. In addition to huge brands, the agency also has a niche in showcasing up and coming brands. "I make it my business to know anybody in fashion from New York or from anywhere! With the responsibility of the magazine and agency, it's important to know who is the influence and to also have a personal relationship with them," she says.
Article continues below advertisement
Along with establishing those relationships, MEFeater also engages directly with the community through numerous events. "We just had a block party in our neighborhood, the Bed-Stuy area in Brooklyn, because MEFeater was started in New York. We did a series called 'What's On Your Block,' showing businesses in Brooklyn, Harlem, the Bronx, and South Africa. We hosted our Pride party, our annual Galentines Runway Fashion Show for New York Fashion Week in February, and our New York Fashion Week kickoff party in September, where we partnered with local designers and businesses."
Amani's sauce (as she giggled and referred to it) is what she credits as the factor that has helped her grow MEFeater to what it is today. She has big goals to further establish MEFeater Agency as a contender in the creative marketing space.
She went on to manifest, "In one year I would love five major clients. I would love a strong fashion brand to handle their experital events/marketing rollouts. I would love an entertainment brand. I would love to have a dope musical act or brand. I would love to work with a beauty brand. I would love to work on festivals and someone in the liquor space. For smaller businesses, we would love to do consultations where we have weekly calls. I want to touch as many people as we can, especially those fashion businesses that's looking to excel and expand."