How Hiring Through Diversity And Inclusion Practices Yield More Profitability For Companies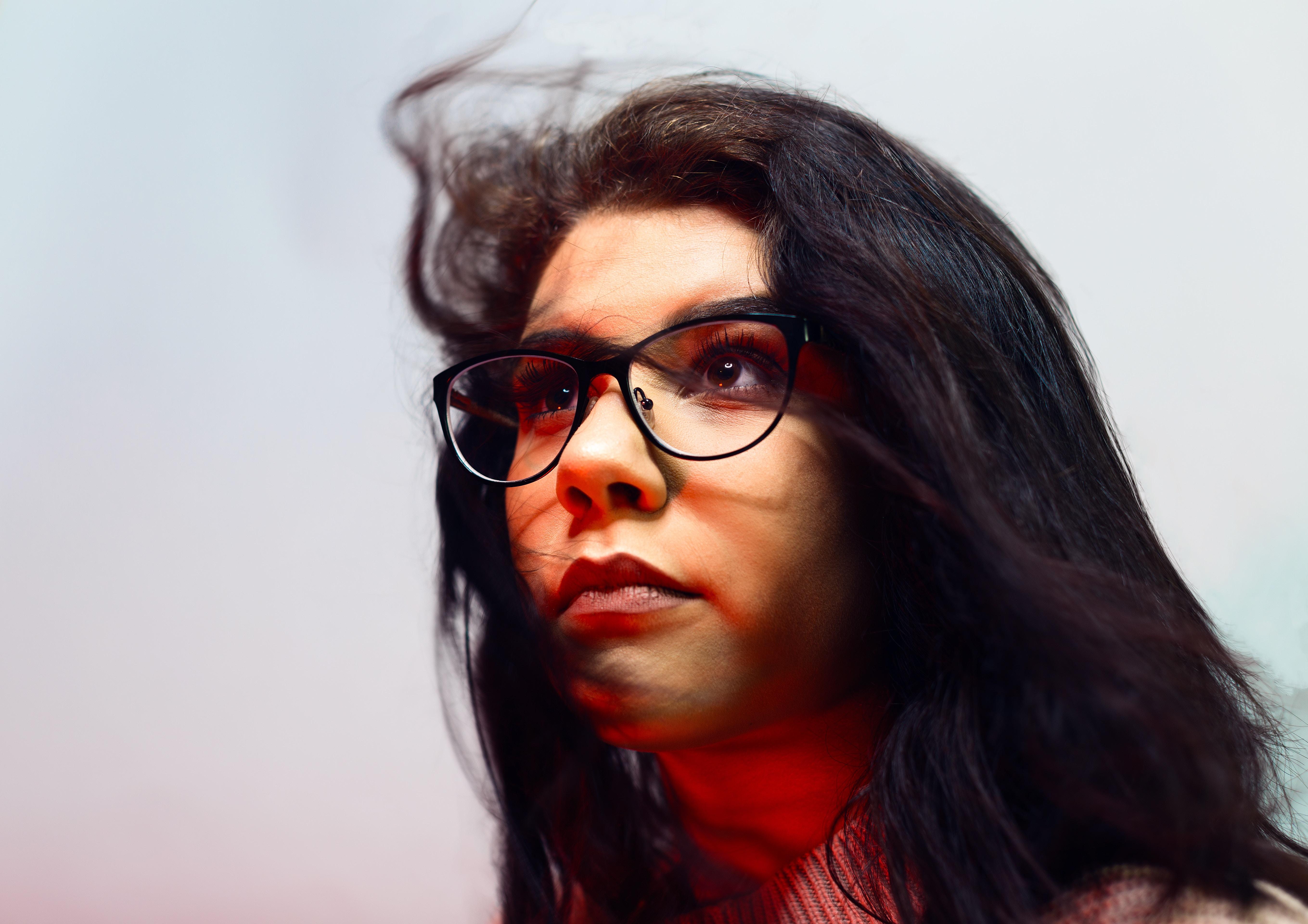 The importance of diversity and inclusion has been a hot topic, as women and minorities continue to break barriers in a number of industries. It is slowly becoming a commonly known fact – but one that has yet to be implemented – that diversity is linked to business objectives and growth strategy. This knowledge is only further backed up by extensive research completed throughout this past decade.
According to a recent report by McKinsey & Co., gender diversity in hiring practices is directly linked to companies hitting their revenue goals. The study, Delivery through Diversity, confirms the correlation between having leadership roles in large companies filled by a mix of women and different cultural ethnicities, and exceeding financial targets. These studies are enabling companies to form actual diversity and inclusion plans to be used a strategic business initiatives for growth and sustainability.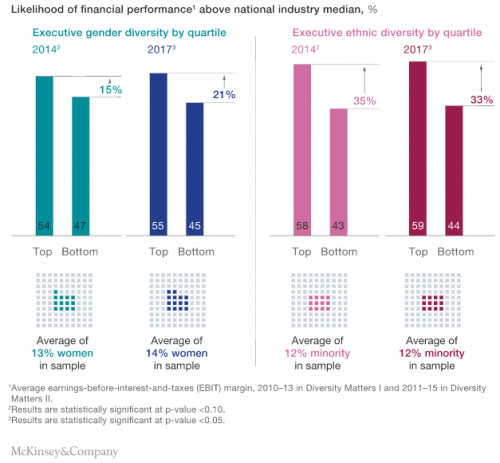 Article continues below advertisement
McKinsey & Co. used Delivery through Diversity as an expansion of their 2015 study, Why Diversity Matters, in which it's also assured that profitability was related to women holding executive positions. Past data that fueled Why Diversity Matters, shows that companies with the most women in senior leadership were 15% more likely to achieve greater profitability and the recent data shows increase in that number to 21%. We can see that over time, the significant role that gender diversity plays in a company's bottom line over time. The presence of women on executive team not only adds to profitability, but value creation and long-term growth and sustainability.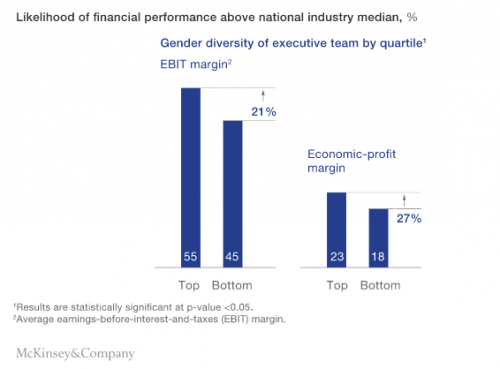 Article continues below advertisement
But why does having women on the executive team have a direct correlation to outperforming those who don't? Companies that are outperforming their competitors have more women in line roles vs. staff roles. When women are on executive leadership teams and are in line roles that have a direct impact on revenue goals, they outperform others and exceed those goals. The answer to greater profitability and seeing better results is not merely hiring more women anywhere in an organization, but placing women in leadership roles where their voices can be heard, and their ideas executed.
The study also found just how crucial being in line roles are for women – even at the executive level. Women who are in executive-level roles, typically fall into staff roles, at a higher rate than their male counterparts.
Article continues below advertisement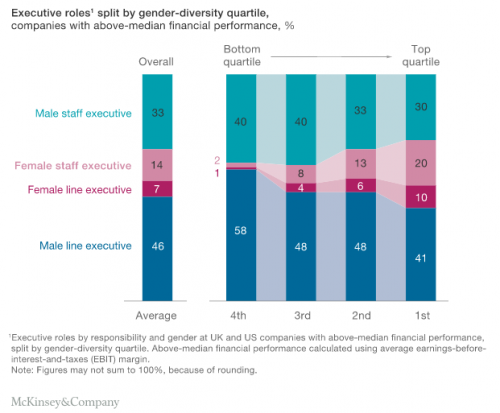 Cultural diversity has similar benefits. In both studies McKinsey & Co. found that companies with more cultural diversity on their executive teams, with a variety of ethnicity, were more likely to outperform peers in terms of profitability by 35% in 2015 and 33% in 2017. Gender and cultural diversity on leadership teams make quite the impact independently but together have greater benefits. On the other hand, when diversity is low on both fronts, the impact is significant. Research revealed that companies that had little to no diversity in their executive teams (in the fourth quartile) were more likely to underperform on profitability goals by 29%.
Article continues below advertisement
But cultural diversity on executive teams seems to be a global phenomenon, and not just unique to the United States. The data sets show that Black people represent 10% of college graduates in the U.S. but only make up 4% of senior leadership positions. The same disparity is true for Latinos and Asians, who make up 8% of graduates but 4% of senior executives; and 7% of graduates but 5% of executives, respectively.
For Black women in particular, the road to becoming the CEO is often longer, harder, but most times it's nonexistent. Reemphasizing the importance of women being in line executive roles instead of staff executive roles, Black women, in particular, are twice as likely to be in staff roles as line roles. Line roles are critical to women climbing the corporate ladder because they often propel executives into CEO positions.
Article continues below advertisement
McKinsey's data showed that not only is gender and cultural diversity correlated to greater profitability but it also revealed that this is true around the world. It also confirms a question posed by research as to why this is true. Companies that are more diverse are able to recruit top talent. The women and minorities who are some of the best in their field are looking to join organizations who see their differences as strengths. Not only are these companies able to attract top talent but improve their customer orientation, employee satisfaction and decision making.
Understanding that diversity and inclusion is imperative to business impact, many companies have devised strategic plans to make diversity a priority and reach their goals. In order for diversity and inclusion initiates to be successful, four things are needed:
Commitment and support from CEO
Defining diversity and inclusion based on specific business goals
Build a collection of diversity and inclusion initiatives
Tailor strategies to specific social and geographical cultures
Article continues below advertisement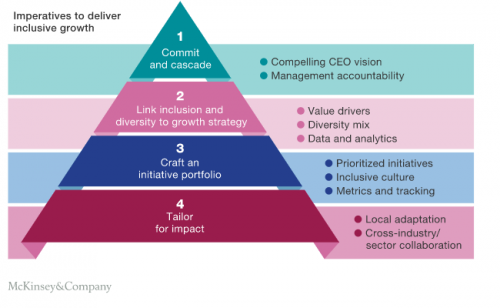 The argument for more diversity at all levels in a company is becoming more inclusive, in that it isn't just about one person but to benefit everyone. Hiring for diversity is now being seen a strategic business initiative, rather than fulfilling a government requirement. Many companies are staying ahead of the curve by integrating diversity and inclusion into human resource department, and building teams just for that. We've seen the tremendous opportunities that can come from building a diverse team, not only for companies but the talent they attract.