How Making Time for Yourself Will Make You Less Stressed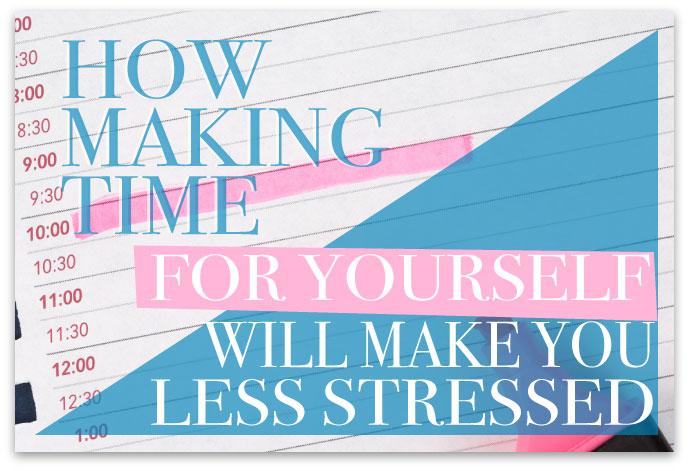 As Her Agenda's motto says, millennial women tend to constantly be on the move.
However, our busy schedules can bring on a lot of stress. We get so caught up in getting things done that it is easy to lose sight of one important fact- it is necessary for us to take care of ourselves in these seasons of stress.
Here are some tips on how to feel refreshed and rejuvenated despite your busy schedule:
1. Make Time in the Morning for Prayer or Meditation
With so many things to do, it is easy to jump out of bed in the morning and already feel frazzled about the day ahead of you. The way in which we start our morning can heavily impact how we feel throughout the rest of the day, so why not start it off on a good note? In his article, "Why People Who Pray Are Healthier Than Those Who Don't," journalist, Richard Schiffman, calls on the findings of Dr. Herbert Benson to explain the health benefits of prayer and meditation:
"Dr. Herbert Benson, a cardiovascular specialist at Harvard Medical School and a pioneer in the field of mind/ body medicine discovered what he calls "the relaxation response," which occurs during periods of prayer and meditation. At such times, the body's metabolism decreases, the heart rate slows, blood pressure goes down, and our breath becomes calmer and more regular."
Take the first five minutes of your morning solely to yourself and have some quiet time. Not sure how to pray or meditate? Schiffman continues and shares, "It doesn't matter if you pray for yourself or for others, pray to heal an illness or for peace in the world, or simply sit in silence and quiet the mind — the effects appear to be the same."
Article continues below advertisement
2. Have Strong Relationships
A busy schedule can definitely impact your social life, so make a conscious effort to reach out and have strong relationships. Hit up one of your close friends and ask if they would like to meet up for a bite to eat. Oftentimes, a quick catch-up session with a friend can be exactly what we need in order to get away from the hustle and bustle of life. Whether you need advice or just want someone to vent to, it is times like these that will allow you to stop and reflect on what has been going on lately. Who knows? Maybe your lunch date will even help you find the answer to dealing with that stressful situation at school or work.
3. Keep a Clean Living Space
Usually, you can tell how stressed I am by the messiness of my room. I get so busy and overwhelmed with my schedule that a messy room is the last thing that I have time to worry about. However, in the article, "Why Mess Causes Stress," psychologist, Sherrie Bourg Carter, shares how a mess can actually play a part in feeling stressed.
Here are some ways in which Carter says that mess can impacts us:
Clutter contributes to the feeling that our work is never done
Honing in on creativity and productivity, an open and clean space helps people to think, brainstorm, and problem solve
Being in and around clutter can lead to more stimulation of the brain (we already have enough on our minds…literally)
A messy living space makes it harder to feel relaxed
Article continues below advertisement
Although you may make time to clean up after your stressful week (like I often do), having a clean living space throughout the week can help you to stay focused when it matters most. If you're finding that your mess has become unmanageable, now is also a good time to get some spring cleaning done!
4. Make Time to Do Something You Enjoy
What if I told you that being constantly on the go can actually make you less productive? In her other article, "6 Reasons You Should Spend More Time Alone," Carter writes, "Constantly being 'on' doesn't give your brain a chance to rest and replenish itself. Being by yourself with no distractions gives you the chance to clear your mind, focus, and think more clearly. It's an opportunity to revitalize your mind and body at the same time."
Find at least one day in your schedule to make time for yourself- spend a couples hours at the beach reading a good book, treat yourself to a new movie, or hang out at that one coffee shop that you've been wanting to try. Having some downtime to do what you enjoy is just as important as the rest of your agenda.
5. Exercise
We all know that making time to exercise is one of the key ways to de-stress, but this can never be emphasized enough!
In the article, "How Does Exercise Reduce Stress?," Meredith Melnick shares insight into why keeping active is so important. She writes, "Exercise promotes production of neurohormones, like norepinephrine, that are associated with improved cognitive function, elevated mood and learning…that can improve thinking dulled by stressful events."
As hard as it may be to get dressed and go to the gym, you'll feel so much better afterwards, as the benefits start to kick in!