How To Fall In Love with Work Again and Find Your Career Sweespot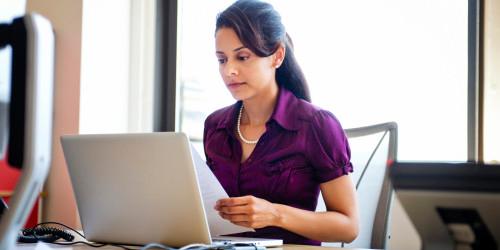 I've done it all: worked low-wage, dead-end jobs where I got paid under the table, been bored stiff, sitting all day in a corporate cubicle literally DOING NOTHING, worked for bosses I despised, been laid-off, living off measly unemployment checks…all the time wondering if things would ever get better.
Is this what it is to work? I've wondered, Is the choice between being bored and under-appreciated or overworked and underpaid?
And the worst is looking for work. Ugh! Sending resume after resume out into the void…waiting on an employer to deem you "qualified."
If you are there now–sending out resumes, bored at work, or just generally thinking to yourself: there has to be more than work and life than…THIS! I want you to know that I get it, and it sucks.
1) Everyone, YES EVERYONE, does their time in that particular quagmire.
2) There is a way for you to proactively set yourself up for more fun, more money, and more career satisfaction.
The trick is to find that sweet spot where your skills meet employer demand and maximum creativity.
And in this moment, in this economy, that spot is in technology. Think about it: hot tech startups, giant tech companies like Google and Twitter, online media, crowd-funding for nonprofits. Just think to yourself how much time you spend a day interacting with technology – nearly every waking hour!
But learning technology skills and navigating how to put them to work can be overwhelming, scary and yes, just freaking complicated. So, here's the other important thing: you don't have to go this journey alone.
Because the only thing that's worse than being unemployed or unhappy at work is being unemployed and unhappy at work and having no one to help guide you in the right direction!
Skillcrush Blueprints are everything I wish I had when I was trying to figure out WHAT THE HECK TO DO WITH MY LIFE.
The Blueprints are a three-month, interactive learning adventure that will empower you to use technology to do whatever it is your heart desires.
Seriously, you can use technology to do ANYTHING you want.
Article continues below advertisement
Plus, as a Blueprint student you will become a part of a lively community of awesome, hilarious, bodacious fellow learners from all over the world, who, like you, are empowering themselves with the skills and know-how they need.
Whether you choose the Web Developer Blueprint or the Web Designer Blueprint, you will learn skills that employers are hungry for, and work on exciting, creative projects that will get you hooked on this Web thing, I promise 😉
P.S. Not sure which blueprint is right for you? Email our team at hello@skillcrush.comand we'll work with you to find the perfect fit!
P.P.S. And as always, if you are out of work, please shoot us an email for a special discount.