How To Shine In Your Interview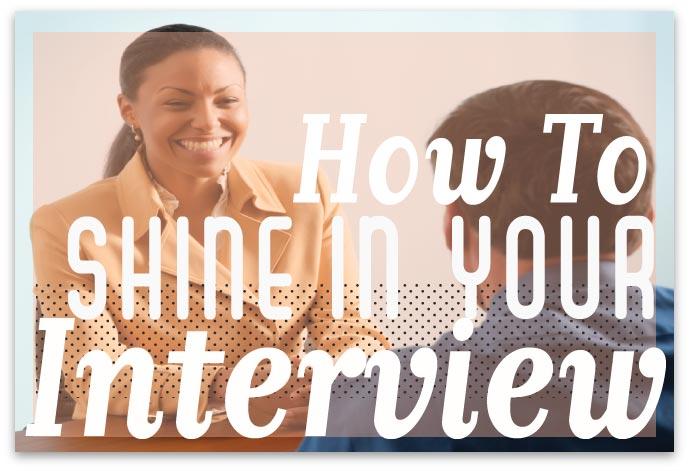 While your resume needs to be strong, a piece of paper won't sufficiently sell your services to a potential employer. You need to shine in your interview, make them remember you long after you've concluded speaking with the employer. You need to have the personality and confidence that makes them remember your name. You have to make your powerful potential radiate through.
Director of Career Services at Miami University, Michael Goldman, spoke with Her Agenda to discuss killer strategies when interviewing with an employer.
It's granted that you're going to know the basics about the company, but dig a little deeper.
"Let them know that you're already paying attention to things about the company and its current employers," says Goldman.
Search their website for news, this is where you'll find information that is important to the company that you can have in the back of your mind as you're interviewing, especially when the conversation is casual. For example, say something along the lines of, "I saw that one of your Executive Directors won (award name here), that's a pretty big deal."
Remember First Impressions Matter
Be the most smiley, cheery, upbeat version of you that you can be. This is the only shot you get give a make-or-break first impression of yourself.
"This is the perfect time to be the most confident person you can be. Be proud of your accomplishments, and also give off a positive attitude," Michael suggests.
Even if your suit wasn't ironed the right way, or your resume printed awkwardly on the paper, don't let a bad day reflect in your interview. Keep a positive mindset and be courteous, kind, and be fully enthused.
When going over employment or organizational history, don't focus on the negative aspects of those jobs or organizations. If you made reforms, or left a particular area, don't emphasize the negative reasons why you did so.
"Point out the problem you had or saw, but the emphasis here should be on how you resolved it," says Goldman, "When you complain, it makes it seem like you didn't enjoy problem resolution. Make this a time where you can use these examples to show how you innovated or expanded something, versus simply fixing a problem."
Article continues below advertisement
So instead of complaining about what those before you did or didn't do, use this as a chance to show your problem solving strengths!
Be Ready for the Routine Questions
There's no escaping the traditional interview questions of "what are your strengths, what are your weaknesses, etc." Since you have a basic knowledge of the types of questions ALL job interviews ask, make sure your answers in this category are solid.
"There's no reason not to have an answer for these kinds of questions you can spit out. Make sure you prep your responses to these beforehand. It'll make it look like you're very familiar with yourself (which is the point of the questions), and you won't have to sit and dissect what you think you're good at and what you're not," says Goldman.
Having these answers in mind can save you time on thinking of a response on the fly, because while these questions may seem straightforward, some people still have trouble answering them. Come up with an answer in your mind, and rehearse it.
Be honest when an employer questions you about things on your resume, or wants you to fill in gaps. Don't lie about why you left a previous job or organization, and don't embellish your involvement with those organizations.
"Even if you have the perfect cover up, all it takes is for your positional employer to call that organization post-interview and inquire why you left, or what your actual role was there," says Goldman, "If you lie, it'll be a poor representation of character."
Article continues below advertisement
If you were fired, or left because you of a discrepancy among colleagues/with management, there are ways to say such things without being dishonest, or again, sounding negative. For example, if you left because you didn't agree with management, say something like "I felt it was time for me to move on." Or if you were fired, be honest about the incident, but be sure to tack on how you learned from that experience.
As a part of the prepping stage, keep in mind two or three questions to ask your interviewer when the interview comes to a close and the infamous, "Do you have any questions?" line proceeds.
"Your answer should never be 'no'," says Goldman. "Always ask for clarification on something that may have been brought up in your interview, or come into the interview with a question to ask at the end."
This not only get a question you may genuinely have answered, but it also lets the company know that you don't think you know all there is to know. It shows that you're inquisitive and ready to learn. It lets them know that if you need help, you'll ask for it, or if you don't fully understand, you'll ask for clarification.
How do you normally prepare for an interview?