Hustle Summit: The New Age Career Fair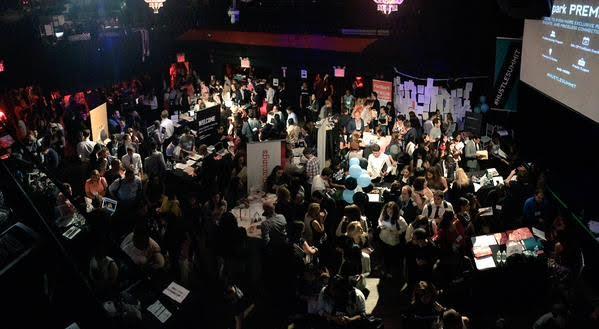 The weekend and its activities are always highly anticipated throughout the week. We can't wait to grab a cocktail after work or just binge watch some new show on Netflix. This past Friday however, happy hour was replaced with handshakes at FindSpark's Hustle Summit, a career fair meets networking party in New York City.
The venue, Irving Plaza, is better known for its concerts and parties like Grits and Biscuits. But instead of party-goers waiting for their favorite song to drop the space was jammed packed with hundreds of job seekers and students waiting to meet recruiters from companies like WeWork, L'oreal, BuzzFeed, Univision, HBO and Time Inc.
Although the place was packed in such a way that I was sure we were breaking some sort of fire code, the energy in the room was unlike any other networking event I have been to. There was excitement, eagerness to make connections and an openness to meet new people for an event that's typically filled with feelings of awkwardness and nervousness.
Job hunting in NYC can be an overwhelming and often discouraging experience, but this room was overflowing with optimism as young professionals across industries chatted while waiting on hour long lines to meet recruiters about full-time and internship positions.
Founder and CEO Emily Miethner reminded us that the best way to network is to be generous, and everyone took that advice to heart. Jennifer Haastrup, a recent graduate from Stony Brook University, felt the event was worth while.
"I had an amazing time networking at Hustle Summit with not only the recruiters, but fellow young professionals like myself. I've been to many networking events where it was difficult to make even one helpful connection. At #HustleSummit, I have made several!"
Article continues below advertisement
The night was filled with actionable tips like this. From the Mentor Lounge where attendees could get on the spot feedback on their resumes to the tables that housed recruiters, to the resume wall that eliminated the constant speculation around what your competition's resume looked like. There were certainly some standouts.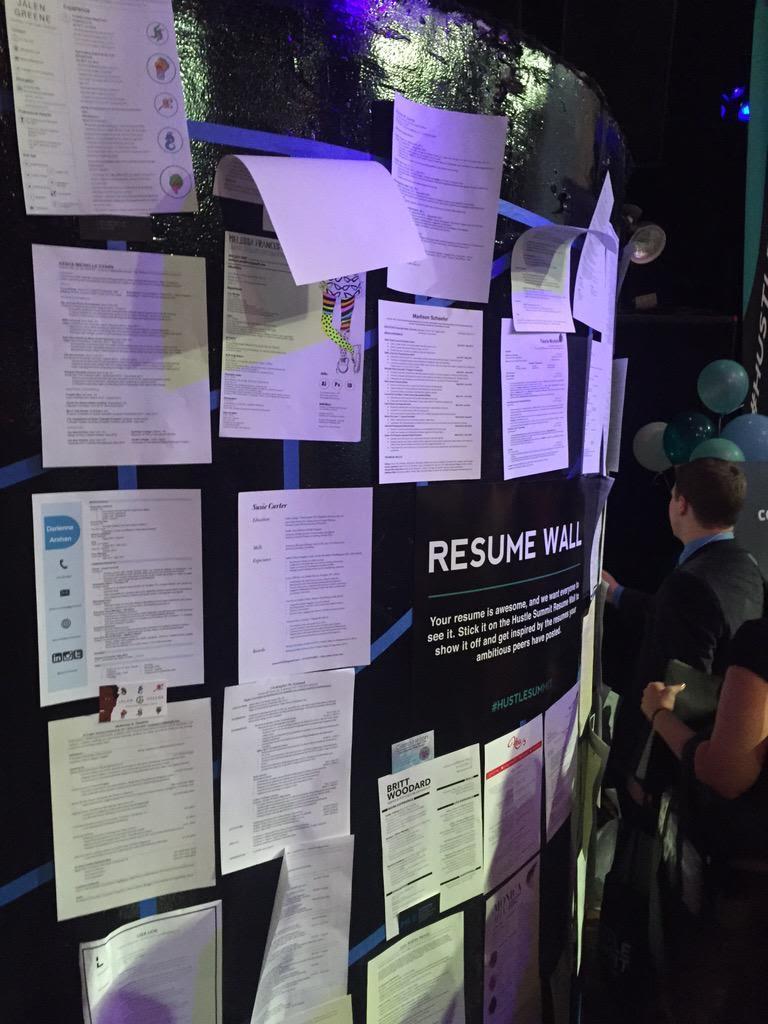 Article continues below advertisement
"I loved the resume wall because I got to see how others showcased themselves on paper, what stood out and what looked appropriate for each career path," said freelance journalist and recent graduate Cook TP.
After a few hours of networking, the night kicked off with four keynotes followed by an after-party complete with a DJ, photo booth and drinks. Before the party started however, Bucky Keady of Time Inc. gave us all a glimpse into what HR professionals are looking for in job candidates.
"I'm a casting director. I try to find out what it is about you and your background and skill set that will do something for us. [Show me what] makes you rise to the top of the pile" When interviewing candidates, she is interested in understanding how their thinking would diversify the company and add value and that they are nimble and fluid thinkers.
Time Inc. is a media company, but Bucky stressed multiple times the importance of having tech skills like research analytics, content creation, technology, data and coding and advised that it would be beneficial to learn those skills sooner than later.
As a trainer and consultant, I couldn't agree more. These skills are in high demand and whether they are directly applicable to the roles you are seeking or not, they make you much more marketable.
The FindSpark team is all about the details and they did an amazing job creating the Hustle Summit Guide filled with actionable tips and exercises. Whether you left the summit with a job offer or not, you certainly left with advice and motivation to find and land your dream job.
A photo posted by Her Agenda (@heragenda) on Jul 17, 2015 at 3:16pm PDT